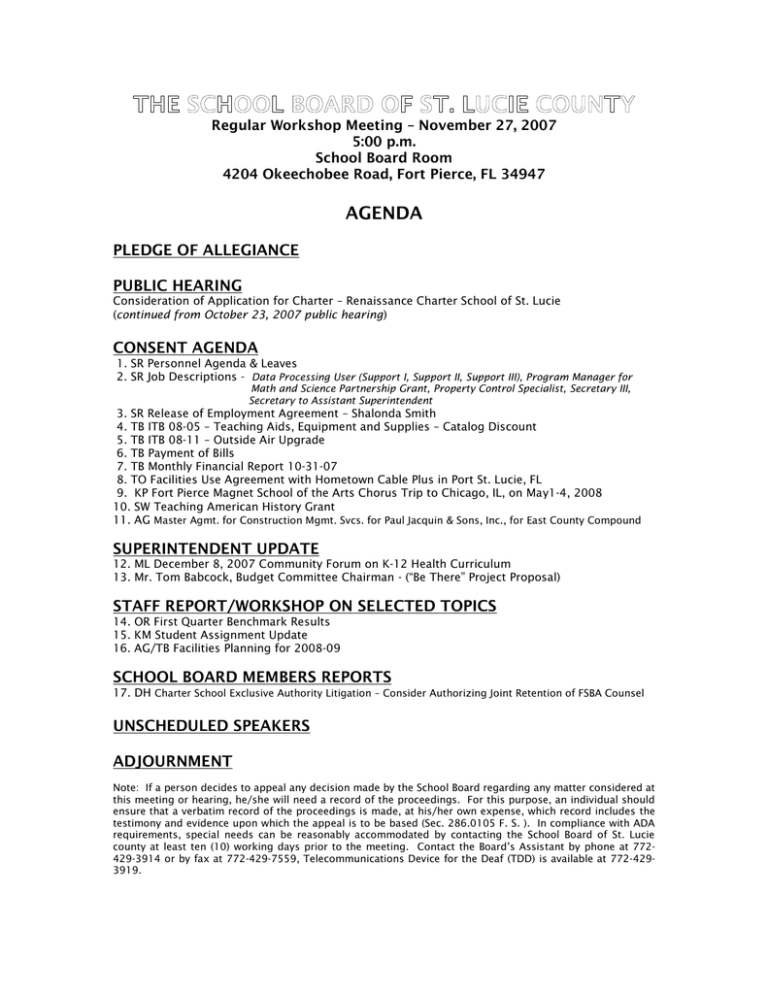 Regular Workshop Meeting – November 27, 2007
5:00 p.m.
School Board Room
4204 Okeechobee Road, Fort Pierce, FL 34947
AGENDA
PLEDGE OF ALLEGIANCE
PUBLIC HEARING
Consideration of Application for Charter – Renaissance Charter School of St. Lucie
(continued from October 23, 2007 public hearing)
CONSENT AGENDA
1. SR Personnel Agenda & Leaves
2. SR Job Descriptions - Data Processing User (Support I, Support II, Support III), Program Manager for
Math and Science Partnership Grant, Property Control Specialist, Secretary III,
Secretary to Assistant Superintendent
3. SR Release of Employment Agreement – Shalonda Smith
4. TB ITB 08-05 – Teaching Aids, Equipment and Supplies – Catalog Discount
5. TB ITB 08-11 – Outside Air Upgrade
6. TB Payment of Bills
7. TB Monthly Financial Report 10-31-07
8. TO Facilities Use Agreement with Hometown Cable Plus in Port St. Lucie, FL
9. KP Fort Pierce Magnet School of the Arts Chorus Trip to Chicago, IL, on May1-4, 2008
10. SW Teaching American History Grant
11. AG Master Agmt. for Construction Mgmt. Svcs. for Paul Jacquin & Sons, Inc., for East County Compound
SUPERINTENDENT UPDATE
12. ML December 8, 2007 Community Forum on K-12 Health Curriculum
13. Mr. Tom Babcock, Budget Committee Chairman - ("Be There" Project Proposal)
STAFF REPORT/WORKSHOP ON SELECTED TOPICS
14. OR First Quarter Benchmark Results
15. KM Student Assignment Update
16. AG/TB Facilities Planning for 2008-09
SCHOOL BOARD MEMBERS REPORTS
17. DH Charter School Exclusive Authority Litigation – Consider Authorizing Joint Retention of FSBA Counsel
UNSCHEDULED SPEAKERS
ADJOURNMENT
Note: If a person decides to appeal any decision made by the School Board regarding any matter considered at
this meeting or hearing, he/she will need a record of the proceedings. For this purpose, an individual should
ensure that a verbatim record of the proceedings is made, at his/her own expense, which record includes the
testimony and evidence upon which the appeal is to be based (Sec. 286.0105 F. S. ). In compliance with ADA
requirements, special needs can be reasonably accommodated by contacting the School Board of St. Lucie
county at least ten (10) working days prior to the meeting. Contact the Board's Assistant by phone at 772429-3914 or by fax at 772-429-7559, Telecommunications Device for the Deaf (TDD) is available at 772-4293919.