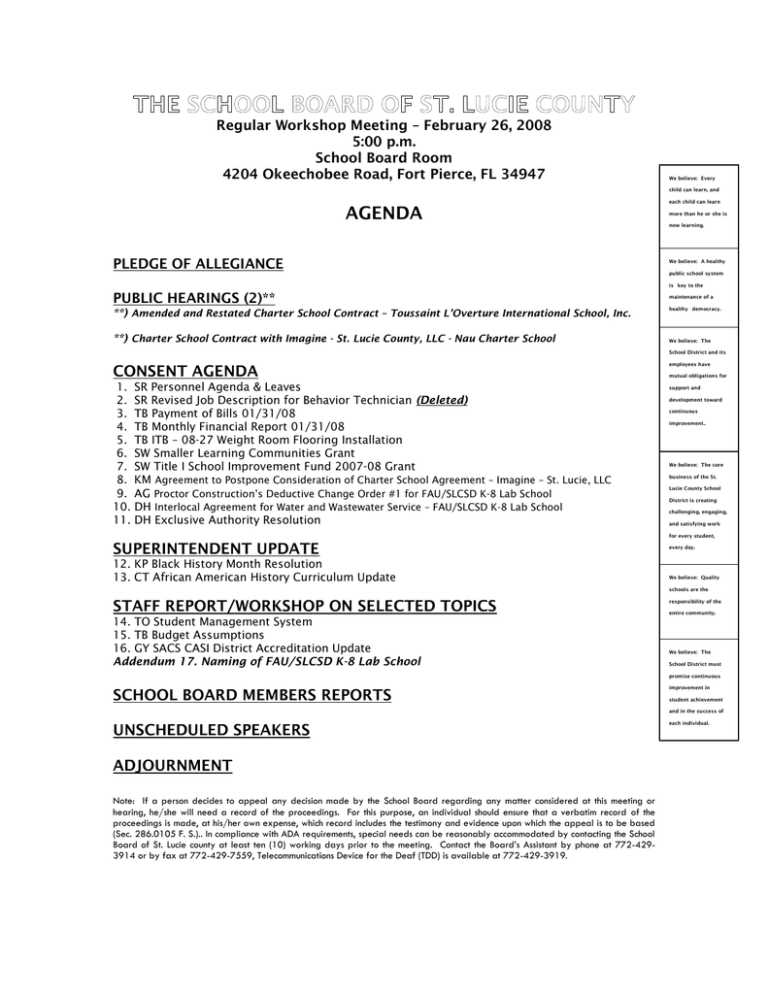 Regular Workshop Meeting – February 26, 2008
5:00 p.m.
School Board Room
4204 Okeechobee Road, Fort Pierce, FL 34947
We believe: Every
child can learn, and
AGENDA
PLEDGE OF ALLEGIANCE
each child can learn
more than he or she is
now learning.
We believe: A healthy
public school system
is key to the
PUBLIC HEARINGS (2)**
**) Amended and Restated Charter School Contract – Toussaint L'Overture International School, Inc.
**) Charter School Contract with Imagine - St. Lucie County, LLC - Nau Charter School
maintenance of a
healthy democracy.
We believe: The
School District and its
CONSENT AGENDA
1.
2.
3.
4.
5.
6.
7.
8.
9.
10.
11.
SR Personnel Agenda & Leaves
SR Revised Job Description for Behavior Technician (Deleted)
TB Payment of Bills 01/31/08
TB Monthly Financial Report 01/31/08
TB ITB – 08-27 Weight Room Flooring Installation
SW Smaller Learning Communities Grant
SW Title I School Improvement Fund 2007-08 Grant
KM Agreement to Postpone Consideration of Charter School Agreement – Imagine – St. Lucie, LLC
AG Proctor Construction's Deductive Change Order #1 for FAU/SLCSD K-8 Lab School
DH Interlocal Agreement for Water and Wastewater Service – FAU/SLCSD K-8 Lab School
DH Exclusive Authority Resolution
employees have
mutual obligations for
support and
development toward
continuous
improvement..
We believe: The core
business of the St.
Lucie County School
District is creating
challenging, engaging,
and satisfying work
for every student,
SUPERINTENDENT UPDATE
12. KP Black History Month Resolution
13. CT African American History Curriculum Update
every day.
We believe: Quality
schools are the
STAFF REPORT/WORKSHOP ON SELECTED TOPICS
14. TO Student Management System
15. TB Budget Assumptions
16. GY SACS CASI District Accreditation Update
Addendum 17. Naming of FAU/SLCSD K-8 Lab School
responsibility of the
entire community.
We believe: The
School District must
promise continuous
SCHOOL BOARD MEMBERS REPORTS
improvement in
student achievement
and in the success of
UNSCHEDULED SPEAKERS
ADJOURNMENT
Note: If a person decides to appeal any decision made by the School Board regarding any matter considered at this meeting or
hearing, he/she will need a record of the proceedings. For this purpose, an individual should ensure that a verbatim record of the
proceedings is made, at his/her own expense, which record includes the testimony and evidence upon which the appeal is to be based
(Sec. 286.0105 F. S.).. In compliance with ADA requirements, special needs can be reasonably accommodated by contacting the School
Board of St. Lucie county at least ten (10) working days prior to the meeting. Contact the Board's Assistant by phone at 772-4293914 or by fax at 772-429-7559, Telecommunications Device for the Deaf (TDD) is available at 772-429-3919.
each individual.