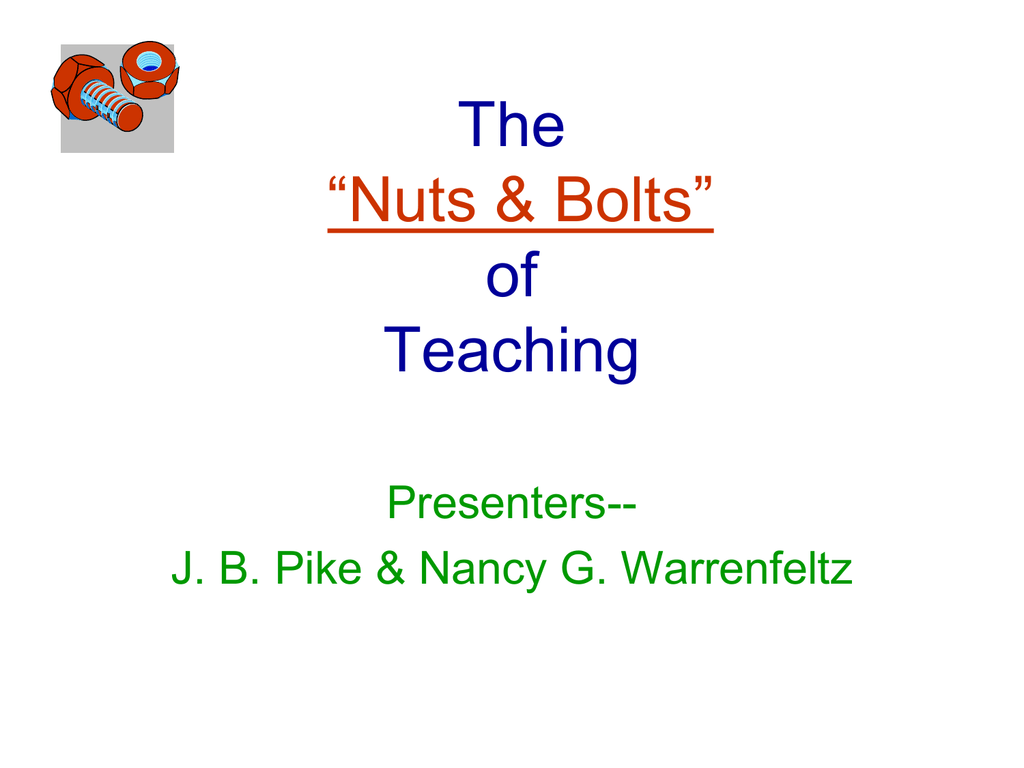 The
"Nuts & Bolts"
of
Teaching
Presenters-J. B. Pike & Nancy G. Warrenfeltz
What is the "S.A.S." program?
Student Achievement Specialist
Program
• Goals—
– To work with, develop and
help to retain excellent
teachers in Berkeley
County.
• Purpose—
– Provides help with
curriculum and instruction
– Provides help with
classroom management
– Provides help in
professional development
You are a Walking & Talking
Advertisement!
"You were hired to take a group of
possibly disinterested,
howling, and unruly people
and turn them into
interested, disciplined and
productive learners
in a well-managed environment!"
--Alice Waters
What To Do Your
First Few Weeks!
Learn to know "
" people
Secretaries
Custodians
Administration
Mentor Teacher and/or Department Chair
Teachers (who work nearby)
Teachers (with common content/grade)
Technology Specialist
Learn the "Lingo"
• OEPA—Office of Educ. Performance Audits
• WVEIS—WV Education Information System
• NCLB—No Child Left Behind
• AYP (Adequate Yearly Progress)
• Cell Size (50 students in any subgroup)
• CSO—Content Standards/Objectives
• Curriculum Mapping
more "Lingo"—
• SpEd—Special Education
• IEP (Individualized Education Plan)
• BD, LD, MM, MD, MS, AU
• ESL—English as a Second Language
• LEP (Limited English Proficiency)
• SAT—Student Assistance Team
• Disciplinary Terms—
• ASD (After-School Detention)
• ISS (In-School Suspension)
• OSS (Out-of-School Suspension)
Prepare—
• Your Room—
• Keep it colorful, subject-related, well-organized and
informative!
• Your Rules—
• Keep them clear and simple!
• Your Grade Book—
• Keep in mind this is a "legal" document!
• Document! Document! Document!
• Your Lessons—
• Keep them usable and up-to-date!
• Sample Lesson Plan
Characteristics
of an
Effective
Teacher
Four Characteristics of an
Effective Teacher
1. Professionalism
2. Classroom
Management
3. Positive
Expectations
4. Mastery Teaching
1. Professionalism
• Working with Students
– Mutual respect
• Working with Peer
Educators
– Sharing
• Working with
Administration
– Initiative & commitment
• Working with Parents
– Be supportive
• Personal Appearance
– Attire and
behavior/mannerisms
Classroom Management
Well-Ordered Environment
+
Positive Academic Expectations
=
Effective Classroom
What is a "well-ordered
environment"?
• There's a place for everything—and
everything is in its place!
• Student agendas
• Room is a neat and inviting learning
environment!
• Work areas are easily monitored!
• Materials and equipment are organized
and easily accessed!
Positive Expectations
"There is absolutely no research correlation
between SUCCESS and
family background, race, national origin,
financial status, or even educational
accomplishments.
There is but one correlation with SUCCESS,
and that is
ATTITUDE."
"The First Days of School"
HOPE
Have
Only
Positive
Expectations
Positive Expectations Attract
Positive Behaviors & Results

Positive Expectations—
for the "Teacher"
• Show respect & take
responsibility
• Be prepared &
understanding
• Be consistent
• Be a good role model
• Get to know your
students
• Communicate with the
parents
Positive Expectations—
for the "Student"
• Show respect & take
responsibility
• Be prepared each day
• Work cooperatively with
others
• Be willing to take risks
• Do their best at all times
Positive Expectations—
for the "Parent"
• Be involved
• Communicate
with the teacher
Mastery Teaching—
Key Elements
• The key elements in mastery learning are:
Clearly specifying what is to be learned and how it
will be evaluated,
Allowing students to learn at their own pace,
Assessing student progress and providing
appropriate feedback or remediation, and
Testing that final learning criterion has been
achieved.
Mastery Teaching—
Basics
• The "basics"—
• Explain!
• Rehearse!
• Reinforce!
Bloom?
Marzano
?
Hunter?
Wong?
Carroll?
Classroom Management
"A P L"
• Basic Class Structure—
– Anticipatory Set/"Bell Ringer"
• Reviews Previous Information or
• Prepares class for what is coming today
– Stating the Objective—"Explain"
– Teaching the Objective—"Rehearse"
– Guided Practice—"Reinforce"
– Closure—"Wrap Up the Lesson"
Additional "APL" Terms
•
•
•
•
•
"Check for Understanding"
"Wait Time"
"Pass Option"
"Pair & Share"
"On the Clock"
More detailed training will follow!
Final Thought!
" Teaching is the profession
that creates all others.
I teach.
It's kinda like having a love affair with a
rhinoceros."
--- Author Unknown
Just One More!!
In the teaching profession—
" Those who can laugh . . . last."
--- Stacy Lynn Skinner
SEE YOU SOON!
Have a great year!