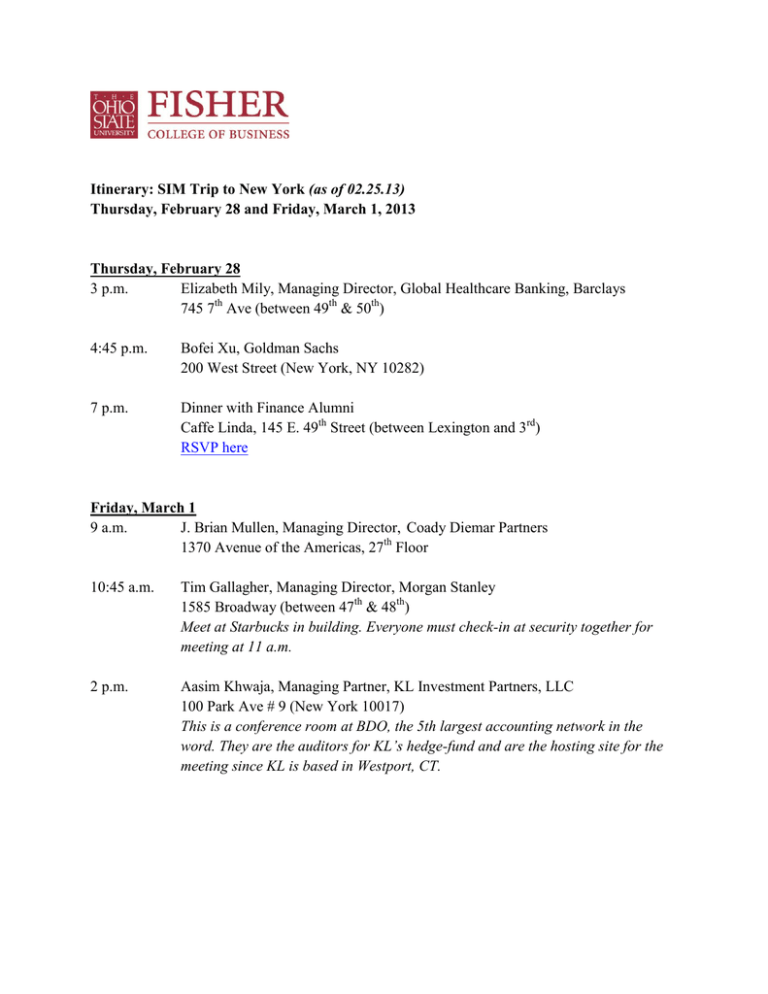 Itinerary: SIM Trip to New York (as of 02.25.13)
Thursday, February 28 and Friday, March 1, 2013
Thursday, February 28
3 p.m.
Elizabeth Mily, Managing Director, Global Healthcare Banking, Barclays
745 7th Ave (between 49th & 50th)
4:45 p.m.
Bofei Xu, Goldman Sachs
200 West Street (New York, NY 10282)
7 p.m.
Dinner with Finance Alumni
Caffe Linda, 145 E. 49th Street (between Lexington and 3rd)
RSVP here
Friday, March 1
9 a.m.
J. Brian Mullen, Managing Director, Coady Diemar Partners
1370 Avenue of the Americas, 27th Floor
10:45 a.m.
Tim Gallagher, Managing Director, Morgan Stanley
1585 Broadway (between 47th & 48th)
Meet at Starbucks in building. Everyone must check-in at security together for
meeting at 11 a.m.
2 p.m.
Aasim Khwaja, Managing Partner, KL Investment Partners, LLC
100 Park Ave # 9 (New York 10017)
This is a conference room at BDO, the 5th largest accounting network in the
word. They are the auditors for KL's hedge-fund and are the hosting site for the
meeting since KL is based in Westport, CT.