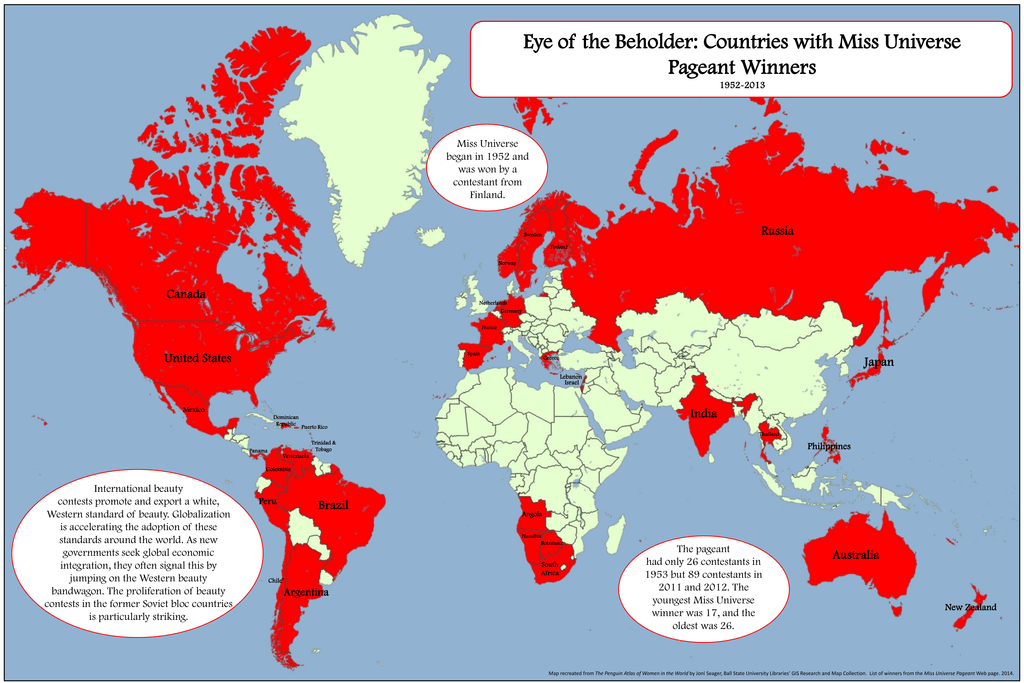 Eye of the Beholder: Countries with Miss Universe
Pageant Winners
1952-2013
Miss Universe
began in 1952 and
was won by a
contestant from
Finland.
Russia
Sweden
Finland
Norway
Canada
Netherlands
Germany
France
Spain
United States
Greece
Japan
Lebanon
Israel
Mexico
Dominican
Republic
India
Puerto Rico
Thailand
Trinidad &
Tobago
Panama
Philippines
Venezuela
Colombia
International beauty
contests promote and export a white,
Western standard of beauty. Globalization
is accelerating the adoption of these
standards around the world. As new
governments seek global economic
integration, they often signal this by
jumping on the Western beauty
bandwagon. The proliferation of beauty
contests in the former Soviet bloc countries
is particularly striking.
Peru
Brazil
Angola
Namibia
Botswana
South
Africa
Chile'
Argentina
The pageant
had only 26 contestants in
1953 but 89 contestants in
2011 and 2012. The
youngest Miss Universe
winner was 17, and the
oldest was 26.
Australia
New Zealand
Map recreated from The Penguin Atlas of Women in the World by Joni Seager, Ball State University Libraries' GIS Research and Map Collection. List of winners from the Miss Universe Pageant Web page. 2014.