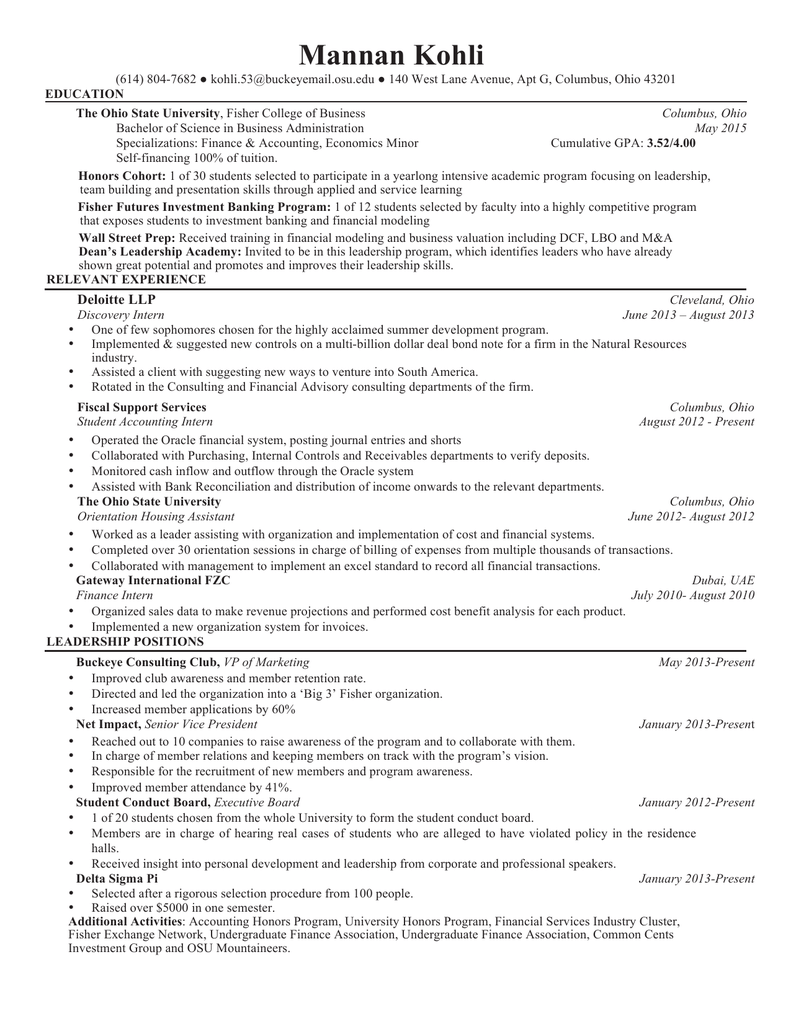 Mannan Kohli
(614) 804-7682 ● [email protected] ● 140 West Lane Avenue, Apt G, Columbus, Ohio 43201
EDUCATION
The Ohio State University, Fisher College of Business
Columbus, Ohio
Bachelor of Science in Business Administration
May 2015
Specializations: Finance & Accounting, Economics Minor
Cumulative GPA: 3.52/4.00
Self-financing 100% of tuition.
Honors Cohort: 1 of 30 students selected to participate in a yearlong intensive academic program focusing on leadership,
team building and presentation skills through applied and service learning
Fisher Futures Investment Banking Program: 1 of 12 students selected by faculty into a highly competitive program
that exposes students to investment banking and financial modeling
Wall Street Prep: Received training in financial modeling and business valuation including DCF, LBO and M&A
Dean's Leadership Academy: Invited to be in this leadership program, which identifies leaders who have already
shown great potential and promotes and improves their leadership skills.
RELEVANT EXPERIENCE
Deloitte LLP
Cleveland, Ohio
Discovery Intern
June 2013 – August 2013
• One of few sophomores chosen for the highly acclaimed summer development program.
• Implemented & suggested new controls on a multi-billion dollar deal bond note for a firm in the Natural Resources
industry.
• Assisted a client with suggesting new ways to venture into South America.
• Rotated in the Consulting and Financial Advisory consulting departments of the firm.
Fiscal Support Services
Columbus, Ohio
Student Accounting Intern
August 2012 - Present
• Operated the Oracle financial system, posting journal entries and shorts
• Collaborated with Purchasing, Internal Controls and Receivables departments to verify deposits.
• Monitored cash inflow and outflow through the Oracle system
• Assisted with Bank Reconciliation and distribution of income onwards to the relevant departments.
The Ohio State University
Columbus, Ohio
Orientation Housing Assistant
June 2012- August 2012
• Worked as a leader assisting with organization and implementation of cost and financial systems.
• Completed over 30 orientation sessions in charge of billing of expenses from multiple thousands of transactions.
• Collaborated with management to implement an excel standard to record all financial transactions.
Gateway International FZC
Dubai, UAE
Finance Intern
July 2010- August 2010
• Organized sales data to make revenue projections and performed cost benefit analysis for each product.
• Implemented a new organization system for invoices.
LEADERSHIP POSITIONS
Buckeye Consulting Club, VP of Marketing
May 2013-Present
• Improved club awareness and member retention rate.
• Directed and led the organization into a 'Big 3' Fisher organization.
• Increased member applications by 60%
Net Impact, Senior Vice President
January 2013-Present
• Reached out to 10 companies to raise awareness of the program and to collaborate with them.
• In charge of member relations and keeping members on track with the program's vision.
• Responsible for the recruitment of new members and program awareness.
• Improved member attendance by 41%.
Student Conduct Board, Executive Board
January 2012-Present
• 1 of 20 students chosen from the whole University to form the student conduct board.
• Members are in charge of hearing real cases of students who are alleged to have violated policy in the residence
halls.
• Received insight into personal development and leadership from corporate and professional speakers.
Delta Sigma Pi
January 2013-Present
• Selected after a rigorous selection procedure from 100 people.
• Raised over $5000 in one semester.
Additional Activities: Accounting Honors Program, University Honors Program, Financial Services Industry Cluster,
Fisher Exchange Network, Undergraduate Finance Association, Undergraduate Finance Association, Common Cents
Investment Group and OSU Mountaineers.