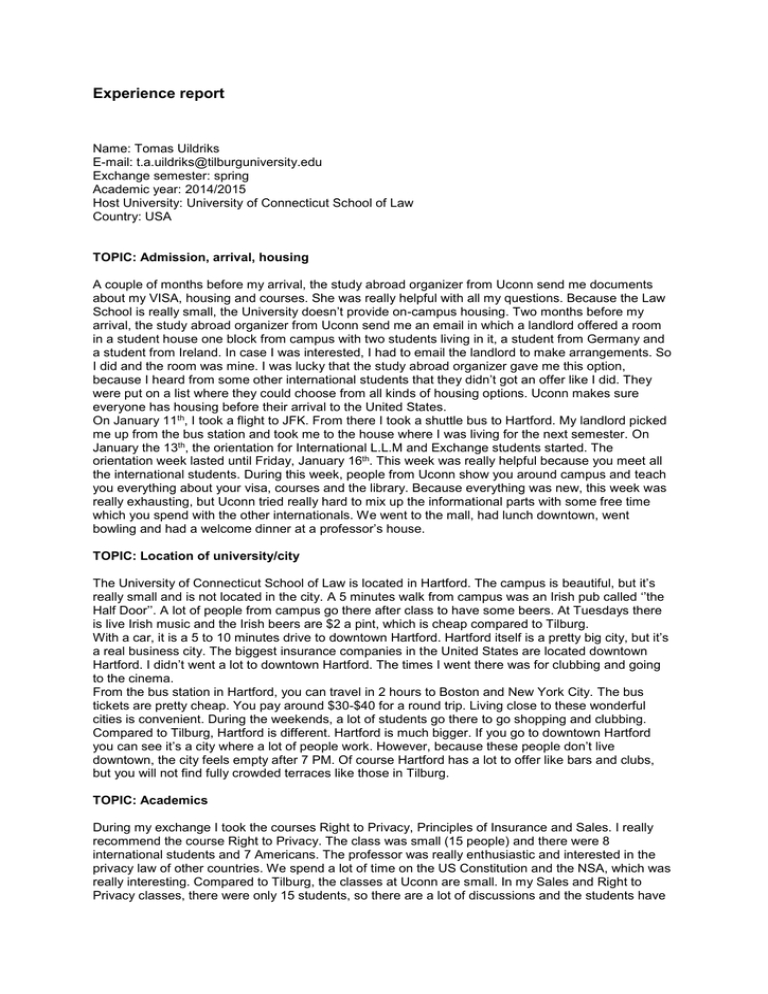 Experience report
Name: Tomas Uildriks
E-mail: t.a.uildriks@tilburguniversity.edu
Exchange semester: spring
Academic year: 2014/2015
Host University: University of Connecticut School of Law
Country: USA
TOPIC: Admission, arrival, housing
A couple of months before my arrival, the study abroad organizer from Uconn send me documents
about my VISA, housing and courses. She was really helpful with all my questions. Because the Law
School is really small, the University doesn't provide on-campus housing. Two months before my
arrival, the study abroad organizer from Uconn send me an email in which a landlord offered a room
in a student house one block from campus with two students living in it, a student from Germany and
a student from Ireland. In case I was interested, I had to email the landlord to make arrangements. So
I did and the room was mine. I was lucky that the study abroad organizer gave me this option,
because I heard from some other international students that they didn't got an offer like I did. They
were put on a list where they could choose from all kinds of housing options. Uconn makes sure
everyone has housing before their arrival to the United States.
On January 11th, I took a flight to JFK. From there I took a shuttle bus to Hartford. My landlord picked
me up from the bus station and took me to the house where I was living for the next semester. On
January the 13th, the orientation for International L.L.M and Exchange students started. The
orientation week lasted until Friday, January 16th. This week was really helpful because you meet all
the international students. During this week, people from Uconn show you around campus and teach
you everything about your visa, courses and the library. Because everything was new, this week was
really exhausting, but Uconn tried really hard to mix up the informational parts with some free time
which you spend with the other internationals. We went to the mall, had lunch downtown, went
bowling and had a welcome dinner at a professor's house.
TOPIC: Location of university/city
The University of Connecticut School of Law is located in Hartford. The campus is beautiful, but it's
really small and is not located in the city. A 5 minutes walk from campus was an Irish pub called ''the
Half Door''. A lot of people from campus go there after class to have some beers. At Tuesdays there
is live Irish music and the Irish beers are $2 a pint, which is cheap compared to Tilburg.
With a car, it is a 5 to 10 minutes drive to downtown Hartford. Hartford itself is a pretty big city, but it's
a real business city. The biggest insurance companies in the United States are located downtown
Hartford. I didn't went a lot to downtown Hartford. The times I went there was for clubbing and going
to the cinema.
From the bus station in Hartford, you can travel in 2 hours to Boston and New York City. The bus
tickets are pretty cheap. You pay around $30-$40 for a round trip. Living close to these wonderful
cities is convenient. During the weekends, a lot of students go there to go shopping and clubbing.
Compared to Tilburg, Hartford is different. Hartford is much bigger. If you go to downtown Hartford
you can see it's a city where a lot of people work. However, because these people don't live
downtown, the city feels empty after 7 PM. Of course Hartford has a lot to offer like bars and clubs,
but you will not find fully crowded terraces like those in Tilburg.
TOPIC: Academics
During my exchange I took the courses Right to Privacy, Principles of Insurance and Sales. I really
recommend the course Right to Privacy. The class was small (15 people) and there were 8
international students and 7 Americans. The professor was really enthusiastic and interested in the
privacy law of other countries. We spend a lot of time on the US Constitution and the NSA, which was
really interesting. Compared to Tilburg, the classes at Uconn are small. In my Sales and Right to
Privacy classes, there were only 15 students, so there are a lot of discussions and the students have
to talk a lot. The Principles of Insurance class was a lot bigger with around 45 students. However, the
professors want you to participate in class and they know every student by name! You have to study
the material before you go to class, because professors will randomly ask questions to students. It is
a lot of work to prepare for class, but you have to do it because all the Americans are doing it and it is
not done if you haven't done your preparations. Compared to Tilburg, the workload at Uconn is more.
Of course professors know the law and way of teaching is knew for the international students. They
really want to help you, but you have to contact them yourself. If you go to a professor after class or
you send them an email saying that you don't understand a subject, they will help you with it. All the
classes and material are in English and the level is high. In the beginning it's difficult but after a month
you are used to the level of English.
In the beginning I didn't expected that the academic level was higher compared to Tilburg, but after
the orientation you start planning your preparations and you get used to it. Overall, I'm very happy
with my academic achievements during my exchange. I have learned a lot about the law in America
and the courses I took.
The campus of the law school is small compared to Tilburg. There are only 5 small buildings. There
also is a library, bookstore and restaurant. The main campus of Uconn is at Storrs. This campus is
huge and all the other studies of Uconn are located there. This is also the place where all the
fraternities and sororities are located. Storrs is a 20 minute drive from the Law School.
TOPIC: Social life
As stated before, the law school organizes a lot of social activities during the orientation week so you
have the opportunity to meet the other international students. After the orientation week you start to
meet a lot of American students. They are all nice and interested in the international students.
Because most of the international students didn't had a car, the American students offered us rides to
go grocery shopping or going to a bar downtown. I was living one block away from campus and I had
a German and Irish roommate. Because we were so close to the University and the Irish pub ''the Half
Door'', a lot of people hung out at our place which was really cool because I got to know a lot of
people.
During spring break I went to Miami for 5 days with a German, French, English, Irish and Dutch
student. I have only one word for this holiday: awesome. After two months of cold temperatures
(average -20 degrees Celsius) and hard work at the University, the weather, beach and parties in
Miami were exactly what I needed. After my final exams in May, I went on a road trip with my German
roommate and two of my Dutch friends who visited me. We visited Boston, New York, Philadelphia,
Washington DC and Toronto in Canada. If you like sports, America is the place to be. Americans love
sports. During my exchange I visited basketball, hockey and baseball games. Especially the baseball
games were great. I've played baseball for 14 years so it was cool to visit the New York Yankees,
Boston Red Sox and the Philadelphia Phillies.
TOPIC: Living costs
Living in America is expensive. Apart from the grant you receive from Tilburg University, you have to
finance your exchange period yourself. The average costs of housing is about $600 a month.
Groceries are a little bit more expensive then in Tilburg, but it depends where you do your grocery
shopping. You easily spend up to $50-$100 a week on groceries. Textbooks are really expensive in
America. A textbook can cost you up to $200 a book. I advice future students to rent books instead of
buying them. You can rent the books you need in the bookstore at the campus in Hartford. You can
also find books on Amazon. This way you can save a lot of money.
TOPIC: Culture
I did not experienced a culture shock while on exchange. I wouldn't say the American culture is similar
to the Dutch, but the differences aren't that big. Compared to Dutch students, American students are
more helpful. If you need a drive or you need help, they will always help you out. However, American
students are used to work hard. They work harder then Dutch students. I think one of the reasons is
that they have to pay a lot of tuition to study at the law school. The most Americans I met knew some
Dutch students who studied at Uconn before I did. They were all positive about the Dutch people
because they think Dutch people are to the point and open. What I really liked about the American
culture was that everyone was really helpful. Americans admire people who leave their home country
to study in America and they want you to feel welcome and to have a great time.
TOPIC: Personal development
Going abroad is really good for your personal development. You're on your own for a whole semester,
but the great thing is that every other exchange students has exactly the same. Because you hang
out a lot with the other exchange students you make friends really quick. I met so many people from
different countries with different cultures. There isn't a single thing I would have done differently. Of
course there are some moments that you miss your family and friends back home, but you're only
away for 5 months and trust me, time flies when you're having fun! My best experience was the
spring break holiday in Miami and the baseball games I visited. The worst experience was the
weather during the first months. It was really cold! After we returned home from Miami, the snow was
gone and the weather improved. The most important lesson I learned about myself during my
exchange period was that it's more easy then it seems to live on the other side of the world on my
own. Just be confident in what you do and always remember that the most important thing is to have
fun.
TOPIC: Tips for future students
For all the people who haven't done an exchange period I would recommend it. I know it's hard to
make a choice. There are so many countries where you can go and all the paperwork seems a lot of
work. In 2012 I wanted to go abroad, but when I looked at all the paperwork I thought by myself,
maybe next year. Trust me, it will only cost you a couple of days and it is totally worth it. You'll have
the time of your life, make a lot of new friends, improve your language skills and it's even good for
your resume. A would recommend students to try to save some money for trips and holidays. If you
want to study in America and live the American dream, the University of Connecticut School of Law is
the place to go.
If you have any questions about going on exchange or if you have questions about the University of
Connecticut School of Law, please don't hesitate and contact me. I would love to answer all your
questions!