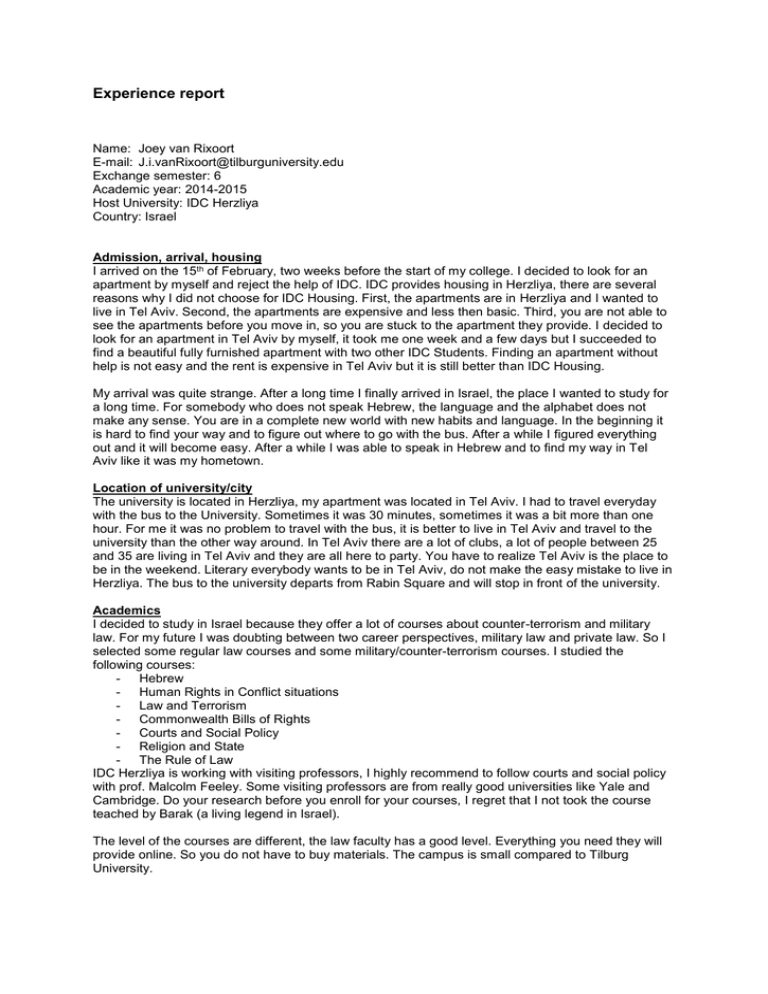 Experience report
Name: Joey van Rixoort
E-mail: J.i.vanRixoort@tilburguniversity.edu
Exchange semester: 6
Academic year: 2014-2015
Host University: IDC Herzliya
Country: Israel
Admission, arrival, housing
I arrived on the 15th of February, two weeks before the start of my college. I decided to look for an
apartment by myself and reject the help of IDC. IDC provides housing in Herzliya, there are several
reasons why I did not choose for IDC Housing. First, the apartments are in Herzliya and I wanted to
live in Tel Aviv. Second, the apartments are expensive and less then basic. Third, you are not able to
see the apartments before you move in, so you are stuck to the apartment they provide. I decided to
look for an apartment in Tel Aviv by myself, it took me one week and a few days but I succeeded to
find a beautiful fully furnished apartment with two other IDC Students. Finding an apartment without
help is not easy and the rent is expensive in Tel Aviv but it is still better than IDC Housing.
My arrival was quite strange. After a long time I finally arrived in Israel, the place I wanted to study for
a long time. For somebody who does not speak Hebrew, the language and the alphabet does not
make any sense. You are in a complete new world with new habits and language. In the beginning it
is hard to find your way and to figure out where to go with the bus. After a while I figured everything
out and it will become easy. After a while I was able to speak in Hebrew and to find my way in Tel
Aviv like it was my hometown.
Location of university/city
The university is located in Herzliya, my apartment was located in Tel Aviv. I had to travel everyday
with the bus to the University. Sometimes it was 30 minutes, sometimes it was a bit more than one
hour. For me it was no problem to travel with the bus, it is better to live in Tel Aviv and travel to the
university than the other way around. In Tel Aviv there are a lot of clubs, a lot of people between 25
and 35 are living in Tel Aviv and they are all here to party. You have to realize Tel Aviv is the place to
be in the weekend. Literary everybody wants to be in Tel Aviv, do not make the easy mistake to live in
Herzliya. The bus to the university departs from Rabin Square and will stop in front of the university.
Academics
I decided to study in Israel because they offer a lot of courses about counter-terrorism and military
law. For my future I was doubting between two career perspectives, military law and private law. So I
selected some regular law courses and some military/counter-terrorism courses. I studied the
following courses:
- Hebrew
- Human Rights in Conflict situations
- Law and Terrorism
- Commonwealth Bills of Rights
- Courts and Social Policy
- Religion and State
- The Rule of Law
IDC Herzliya is working with visiting professors, I highly recommend to follow courts and social policy
with prof. Malcolm Feeley. Some visiting professors are from really good universities like Yale and
Cambridge. Do your research before you enroll for your courses, I regret that I not took the course
teached by Barak (a living legend in Israel).
The level of the courses are different, the law faculty has a good level. Everything you need they will
provide online. So you do not have to buy materials. The campus is small compared to Tilburg
University.
Social life
Because 50% of the exchange students are living in Tel Aviv and the other 50% in Herzliya it is hard
to socialize with everybody. For the exchange students there was an organization named IDConnect.
But not every exchange student choose to join them. It was fun to do some social activities with them
but unfortunately not everybody from this organization took his or her job serious. I traveled a lot with
people I met on my own and I did a lot of social activities with people I met there on my own. I had
one travel-buddy in Israel, together we traveled all of Israel, Palestinian territories and Jordan.
The law faculty is not (yet) a part of the international school of IDC, so a lot of my classmates were
Israeli's who weren't talking in English or socializing with us because we were the new guys. In two
years the law faculty will be a full member of the international school, this will be better for exchange
students.
Living costs
The living costs were more expensive than expected. It was very difficult to find an apartment in Tel
Aviv. We needed the help of a real estate agent, which led to an extra bill. Israel is a very expensive
country, be aware. I saved a lot of money for my exchange and still I had to loan every month.
Monthly cost
Rent: € 750,00
Food: € 400,00
Clubs and other social activities not included. Keep in mind that you will pay around 7/8 euro's for a
beer. Cigarettes will cost you around 7/8 euro's as well. And keep in mind that the currency will
change every month.
Other costs:
Rav Kav (bus card):
€ 180,00
6 month sim card:
€ 200,00
Deposit:
€ 1.500,00
Commission fee:
€ 750,00
(real estate agent)
Traveling will cost you a certain amount as well
Culture
Although everything was different I did not had a culture shock, I think everybody reacts differently to
a new environment and I do not believe in a culture shock. It is all about you as a person and how you
react. Everybody reacts differently and it depends on your personal capability how you are going to
react in a new environment.
Israelis are hard and direct but also very warm. It is a unique mix of characteristics. I like this kind of
people, people who are hard, direct and warm. I learned that Israelis are patriots and very proud of
their country. I learned also that stereotypes are there for a reason (because a lot are true). I did not
had expectations when I left the Netherlands to live in Israel for six months so I cannot tell you if my
expectations came true. I started my exchange to learn about a new culture, to learn about the conflict
and to experience new things. I succeeded and when you are open for everything you will have a
good time. I like the Israeli culture and I love my own culture. I am a proud Dutchman who is glad that
he was able to experience a new culture in a new country.
Personal development
Like I said earlier, stereotypes are there for a reason. The most of the stereotypes are true. I learned
to look critically to a new environment and I learned to live with different nationalities. I do not regret a
thing and I would not change a thing if I had the chance. I discovered that people all over the world
are really different.
I developed myself in an unique country
Tips for future students
- In Tel Aviv you can change a lot of euro's for shekels without paying commission.
- Facebook is a useful tool to find an apartment and friends (especially 'Secret Tel Aviv).
-
Travel to the Palestinian territories, all of Israel and Jordan but do your homework. Prepare
the route and how much money it will cost, do your homework.
- Good clubs in Tel Aviv: Breakfast club, The Block, Kuli Alma, Shalvata, and Clara.
- Buy a Rav Kav (travel from Tel Aviv to Herzliya for free and 50% off for all other buses).
- Think carefully about your roommates and your apartment.
- Visit the special days in Israel (like Purim).
- Contact me before you go!
To finish my experience report, I uploaded some pictures: at the western wall, Petra in Jordan, the
Dome of the Rock at the Temple mount, the border with Syria and Spring Break in Eilat.