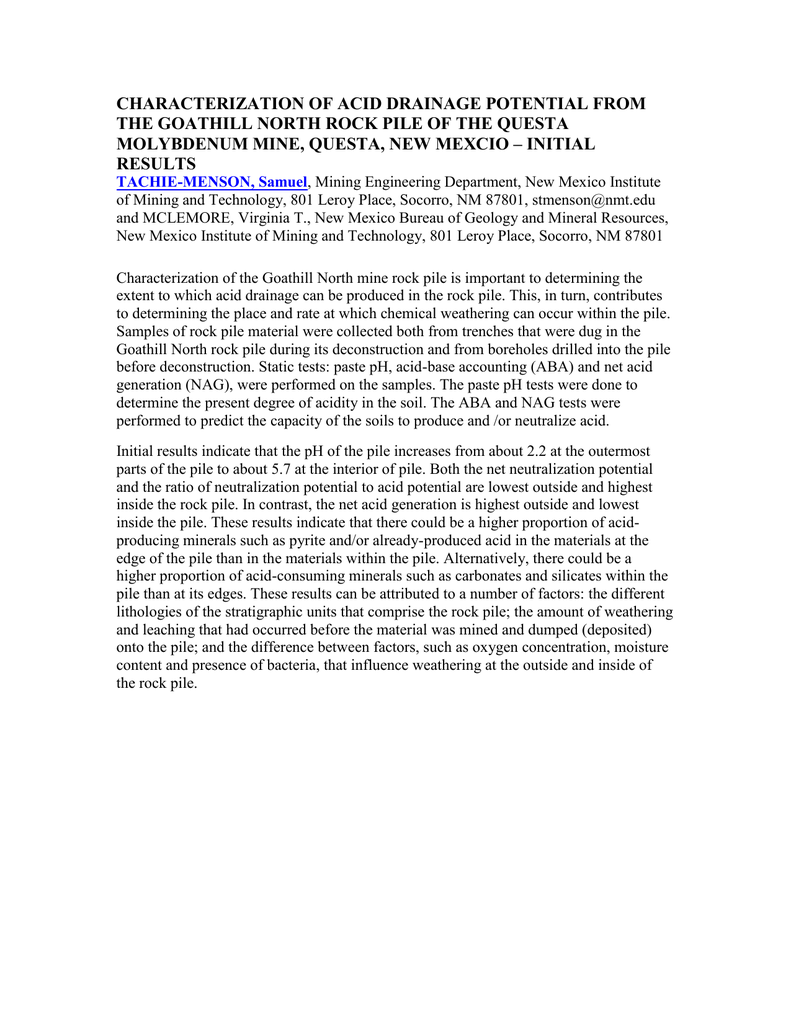 CHARACTERIZATION OF ACID DRAINAGE POTENTIAL FROM
THE GOATHILL NORTH ROCK PILE OF THE QUESTA
MOLYBDENUM MINE, QUESTA, NEW MEXCIO – INITIAL
RESULTS
TACHIE-MENSON, Samuel, Mining Engineering Department, New Mexico Institute
of Mining and Technology, 801 Leroy Place, Socorro, NM 87801, [email protected]
and MCLEMORE, Virginia T., New Mexico Bureau of Geology and Mineral Resources,
New Mexico Institute of Mining and Technology, 801 Leroy Place, Socorro, NM 87801
Characterization of the Goathill North mine rock pile is important to determining the
extent to which acid drainage can be produced in the rock pile. This, in turn, contributes
to determining the place and rate at which chemical weathering can occur within the pile.
Samples of rock pile material were collected both from trenches that were dug in the
Goathill North rock pile during its deconstruction and from boreholes drilled into the pile
before deconstruction. Static tests: paste pH, acid-base accounting (ABA) and net acid
generation (NAG), were performed on the samples. The paste pH tests were done to
determine the present degree of acidity in the soil. The ABA and NAG tests were
performed to predict the capacity of the soils to produce and /or neutralize acid.
Initial results indicate that the pH of the pile increases from about 2.2 at the outermost
parts of the pile to about 5.7 at the interior of pile. Both the net neutralization potential
and the ratio of neutralization potential to acid potential are lowest outside and highest
inside the rock pile. In contrast, the net acid generation is highest outside and lowest
inside the pile. These results indicate that there could be a higher proportion of acidproducing minerals such as pyrite and/or already-produced acid in the materials at the
edge of the pile than in the materials within the pile. Alternatively, there could be a
higher proportion of acid-consuming minerals such as carbonates and silicates within the
pile than at its edges. These results can be attributed to a number of factors: the different
lithologies of the stratigraphic units that comprise the rock pile; the amount of weathering
and leaching that had occurred before the material was mined and dumped (deposited)
onto the pile; and the difference between factors, such as oxygen concentration, moisture
content and presence of bacteria, that influence weathering at the outside and inside of
the rock pile.