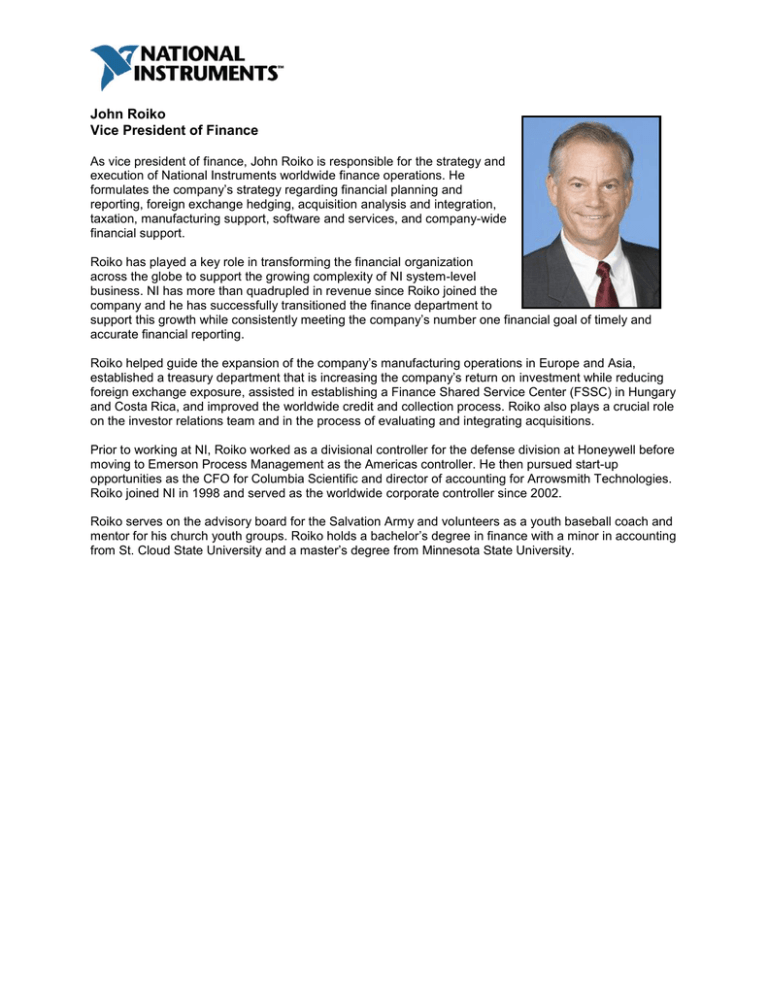 John Roiko
Vice President of Finance
As vice president of finance, John Roiko is responsible for the strategy and
execution of National Instruments worldwide finance operations. He
formulates the company's strategy regarding financial planning and
reporting, foreign exchange hedging, acquisition analysis and integration,
taxation, manufacturing support, software and services, and company-wide
financial support.
Roiko has played a key role in transforming the financial organization
across the globe to support the growing complexity of NI system-level
business. NI has more than quadrupled in revenue since Roiko joined the
company and he has successfully transitioned the finance department to
support this growth while consistently meeting the company's number one financial goal of timely and
accurate financial reporting.
Roiko helped guide the expansion of the company's manufacturing operations in Europe and Asia,
established a treasury department that is increasing the company's return on investment while reducing
foreign exchange exposure, assisted in establishing a Finance Shared Service Center (FSSC) in Hungary
and Costa Rica, and improved the worldwide credit and collection process. Roiko also plays a crucial role
on the investor relations team and in the process of evaluating and integrating acquisitions.
Prior to working at NI, Roiko worked as a divisional controller for the defense division at Honeywell before
moving to Emerson Process Management as the Americas controller. He then pursued start-up
opportunities as the CFO for Columbia Scientific and director of accounting for Arrowsmith Technologies.
Roiko joined NI in 1998 and served as the worldwide corporate controller since 2002.
Roiko serves on the advisory board for the Salvation Army and volunteers as a youth baseball coach and
mentor for his church youth groups. Roiko holds a bachelor's degree in finance with a minor in accounting
from St. Cloud State University and a master's degree from Minnesota State University.