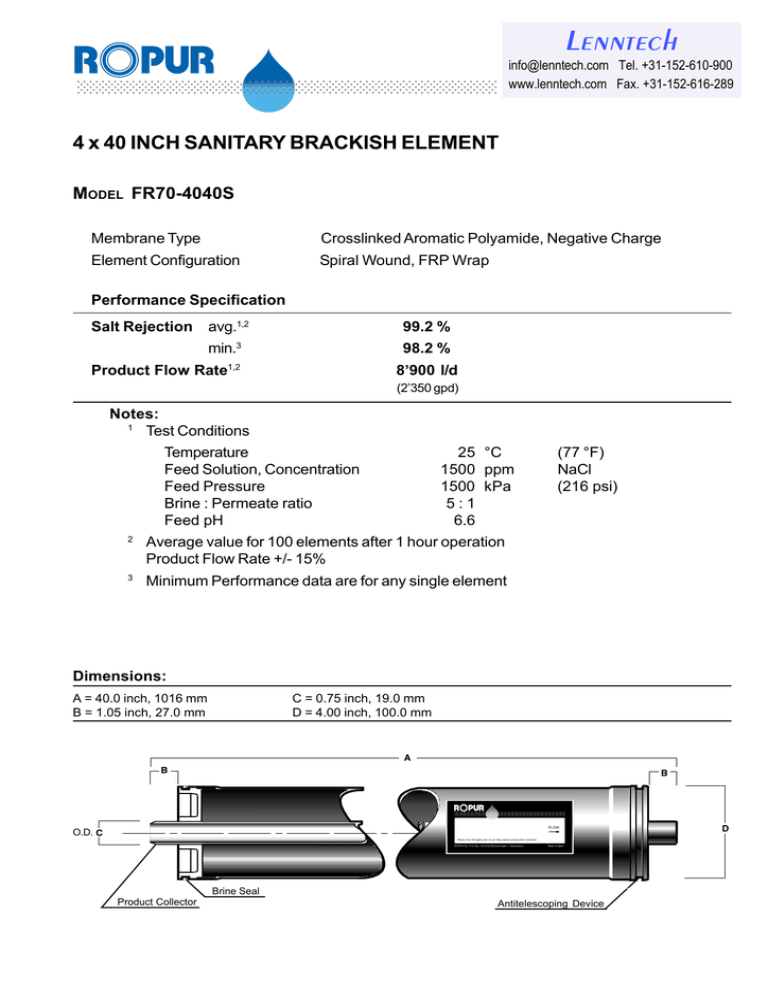 Lenntech
info@lenntech.com Tel. +31-152-610-900
www.lenntech.com Fax. +31-152-616-289
4 x 40 INCH SANITARY BRACKISH ELEMENT
MODEL FR70-4040S
Membrane Type
Crosslinked Aromatic Polyamide, Negative Charge
Element Configuration
Spiral Wound, FRP Wrap
Performance Specification
Salt Rejection avg.1,2
99.2 %
3
min.
98.2 %
Product Flow Rate1,2
8'900 l/d
(2'350 gpd)
Notes:
1
Test Conditions
Temperature
Feed Solution, Concentration
Feed Pressure
Brine : Permeate ratio
Feed pH
25 °C
1500 ppm
1500 kPa
5:1
6.6
2
Average value for 100 elements after 1 hour operation
Product Flow Rate +/- 15%
3
Minimum Performance data are for any single element
(77 °F)
NaCl
(216 psi)
Dimensions:
A = 40.0 inch, 1016 mm
B = 1.05 inch, 27.0 mm
C = 0.75 inch, 19.0 mm
D = 4.00 inch, 100.0 mm
FLOW
O.D.
Please rinse throughly prior to use. May contain preservation chemicals
ROPUR AG, P.O. Box, CH-4142 Münchenstein 1, Switzerland
Made in Spain
Brine Seal
Product Collector
Antitelescoping Device
FR70-4040S
2/2
Jan/99
Design Conditions
Recommended
1
Operating Pressure 2,3
< 1500
Operating Temperature 4
< 35
Feedwater Turbidity (SDI15) 2,5
(218 psi)
°C
(95 °F)
<5
Feedwater Chlorine Concentration
0
pH Range, Continuous Operation 6
3 - 10
pH Range, Chemical Cleaning 7
2 - 11
Feed Flow Rate per Vessel
kPa
ppm
< 2'200
l/h
(10 gpm)
Brine Flow Rate per Vessel 9
> 600
l/h
(2.6 gpm)
Brine/Permeate Flow Ratio 8,
5:1
Pressure Drop (per Element) 10
< 100
kPa
(14.5 psi)
Pressure Drop (per Vessel) 10
< 200
kPa
(29 psi)
Notes:
1
The recommended design range means safe operational and design conditions under not
so much fouling and scaling. If the TR-series elements are operated outside of the recommended design range, the effective membrane life may be reduced.
2
High flux operation (operation under high permeate flow rate per single element) on feedwater
turbidity greater than 3 or 4 SDI15 generally results in frequent cleaning requirements. Operating pressure should be selected to maintain the flux rate, or permeate flow rate per single
element.
3
Maximum 2000 kPa (288 psi), maximum 150 kPa (22 psi) during pasteurization
4
Maximum 80 °C (176 °F) for pasteurization
5
SDI15 = Silt Density Index measured according to ASTM D4189
6
Both feed and brine water must meet this range.
7
Cleaning and sterilization must meet the recommendations in the Technical Bulletin.
8
Flow ratio of brine to permeate for each single element
9
This figure may be reduced when there is low possibility of fouling and scaling
10
Element(s) must be cleaned when pressure drop increases to 1.5 times of the initial value.
ROPUR AG continuously improves its products and reserves the right to change above specifications without prior notice. Our general terms of sales and warranty make integral part of these informations and cannot be disclaimed.