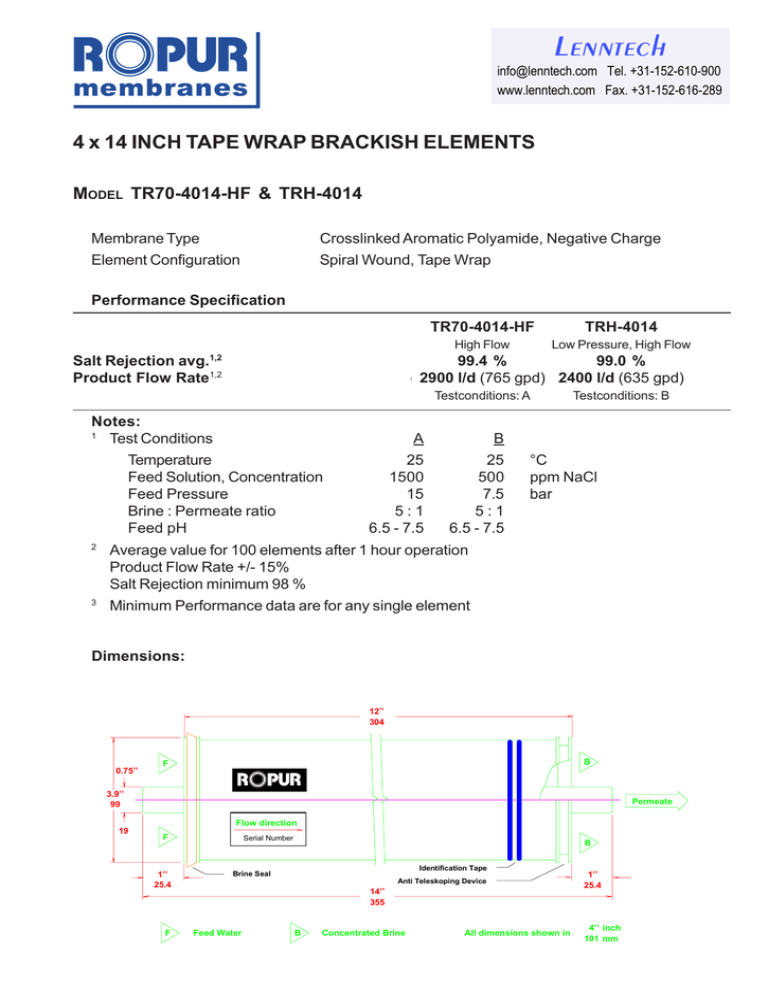 Lenntech
info@lenntech.com Tel. +31-152-610-900
www.lenntech.com Fax. +31-152-616-289
membranes
4 x 14 INCH TAPE WRAP BRACKISH ELEMENTS
MODEL TR70-4014-HF & TRH-4014
Membrane Type
Crosslinked Aromatic Polyamide, Negative Charge
Element Configuration
Spiral Wound, Tape Wrap
Performance Specification
Salt Rejection avg.1,2
Product Flow Rate1,2
TR70-4014-F
TR70-4014-HF
TRH-4014
Normal Flux
High Flow
Low Pressure, High Flow
99.4 %
99.4 %
99.0 %
2'200 l/d (580 gpd) 2900 l/d (765 gpd) 2400 l/d (635 gpd)
Testconditions: A
Testconditions: A
Notes:
1
Test Conditions
Temperature
Feed Solution, Concentration
Feed Pressure
Brine : Permeate ratio
Feed pH
A
B
25
1500
15
5:1
6.5 - 7.5
25
500
7.5
5:1
6.5 - 7.5
2
Average value for 100 elements after 1 hour operation
Product Flow Rate +/- 15%
Salt Rejection minimum 98 %
3
Minimum Performance data are for any single element
Testconditions: B
°C
ppm NaCl
bar
Dimensions:
12''
304
0.75''
B
F
3.9''
99
Permeate
Flow direction
19
F
1''
25.4
F
Serial Number
B
Identification Tape
Brine Seal
Anti Teleskoping Device
14''
355
Feed Water
B
Concentrated Brine
All dimensions shown in
1''
25.4
4'' inch
101 mm
membranes
Design Conditions
Recommended
1
Operating Pressure 2,3
Operating Temperature 4
< 15.0 kg/cm2 (216 psi)
< 35 °C
(95 °F)
Feedwater Turbidity (SDI15) 2,5
<5
Feedwater Chlorine Concentration
0 ppm
pH Range, Continuous Operation 6
3 - 11
pH Range, Chemical Cleaning 7
3 - 11
Feed Flow Rate per Vessel
Brine Flow Rate per Vessel 9
< 2'200 l/h
(10 gpm)
> 600 l/h
(2.6 gpm)
Brine/Permeate Flow Ratio 8,
5:1
Pressure Drop (per Element) 10
0.5 kg/cm2 (7 psi)
Pressure Drop (per Vessel) 10
1.0 kg/cm2 (14 psi)
Notes:
1
The recommended design range means safe operational and design conditions under not
so much fouling and scaling. If the TR-series elements are operated outside of the recommended design range, the effective membrane life may be reduced.
2
High flux operation (operation under high permeate flow rate per single element) on
feedwater turbidity greater than 3 or 4 SDI15 generally results in frequent cleaning requirements. Operating pressure should be selected to maintain the flux rate, or permeate flow
rate per single element.
3
Maximum 20 kg/cm2 (288 psi)
4
Maximum 35 °C (95 °F)
5
SDI15 = Silt Density Index measured according to ASTM D4189
6
Both feed and brine water must meet this range.
7
Cleaning and sterilization must meet the recommendations in the Technical Bulletin.
8
Flow ratio of brine to permeate for each single element
9
This figure may be reduced when there is low possibility of fouling and scaling
10
Element(s) must be cleaned when pressure drop increases to 1.5 times of the initial value.
The data and information contained in this data sheet are based on technical data and tests we believe to be reliable. They are offered in good
faith for use by persons having appropriate technical skill at their own discretion and risk. Supplier has no control of design and operating
conditions and consequently cannot assume any reliability for results obtained or damage incurred through the use of the product presented.
ROPUR Membranes are continuously improved and thererfore we reserve the right to modify or amend specifications without prior notice.