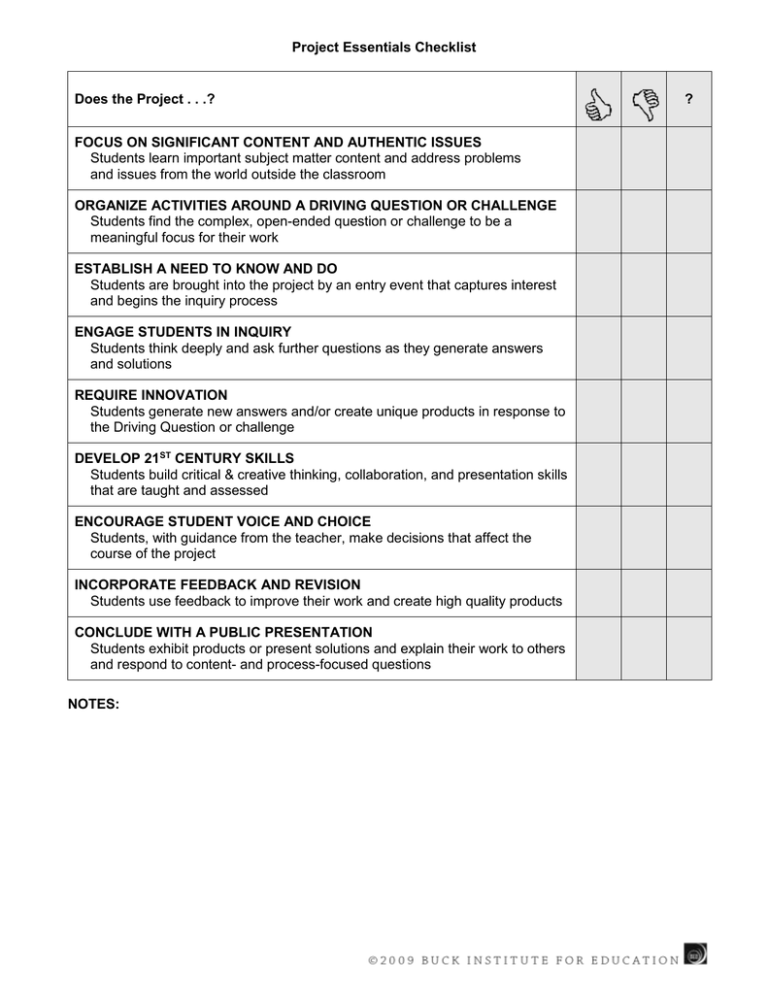 Project Essentials Checklist
Does the Project . . .?
FOCUS ON SIGNIFICANT CONTENT AND AUTHENTIC ISSUES
Students learn important subject matter content and address problems
and issues from the world outside the classroom
ORGANIZE ACTIVITIES AROUND A DRIVING QUESTION OR CHALLENGE
Students find the complex, open-ended question or challenge to be a
meaningful focus for their work
ESTABLISH A NEED TO KNOW AND DO
Students are brought into the project by an entry event that captures interest
and begins the inquiry process
ENGAGE STUDENTS IN INQUIRY
Students think deeply and ask further questions as they generate answers
and solutions
REQUIRE INNOVATION
Students generate new answers and/or create unique products in response to
the Driving Question or challenge
DEVELOP 21ST CENTURY SKILLS
Students build critical & creative thinking, collaboration, and presentation skills
that are taught and assessed
ENCOURAGE STUDENT VOICE AND CHOICE
Students, with guidance from the teacher, make decisions that affect the
course of the project
INCORPORATE FEEDBACK AND REVISION
Students use feedback to improve their work and create high quality products
CONCLUDE WITH A PUBLIC PRESENTATION
Students exhibit products or present solutions and explain their work to others
and respond to content- and process-focused questions
NOTES:
?