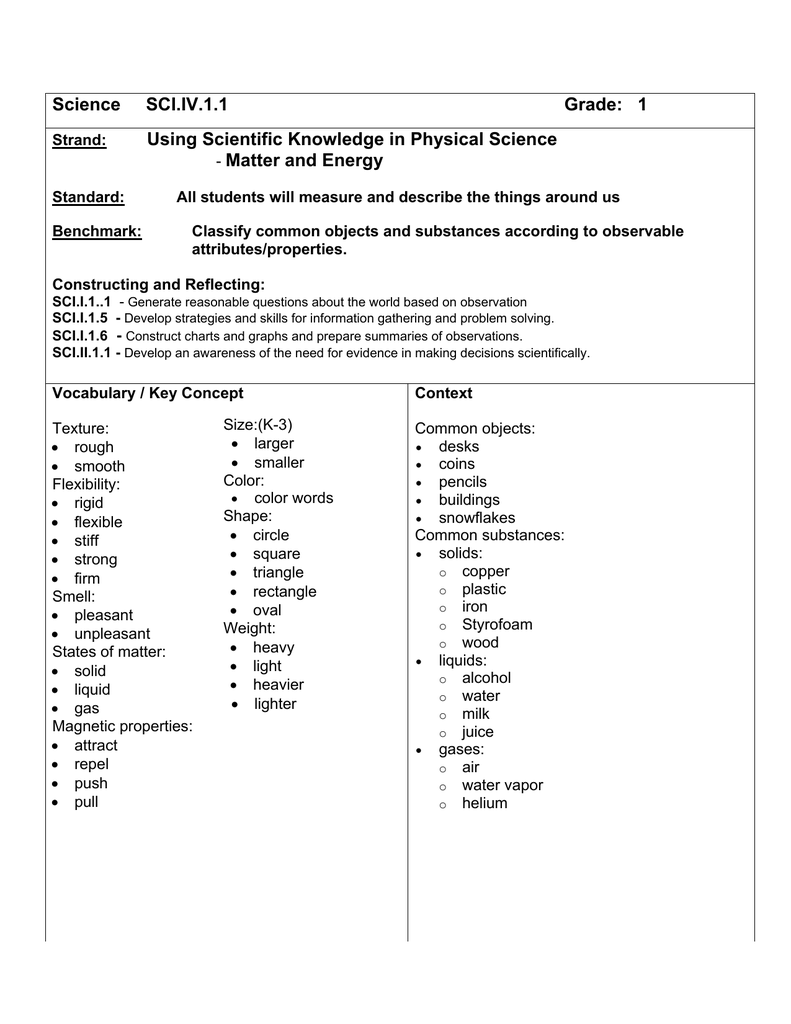 Science
SCI.IV.1.1
Strand:
Using Scientific Knowledge in Physical Science
- Matter and Energy
Standard:
Benchmark:
Grade: 1
All students will measure and describe the things around us
Classify common objects and substances according to observable
attributes/properties.
Constructing and Reflecting:
SCI.I.1..1 - Generate reasonable questions about the world based on observation
SCI.I.1.5 - Develop strategies and skills for information gathering and problem solving.
SCI.I.1.6 - Construct charts and graphs and prepare summaries of observations.
SCI.II.1.1 - Develop an awareness of the need for evidence in making decisions scientifically.
Vocabulary / Key Concept
Texture:
• rough
• smooth
Flexibility:
• rigid
• flexible
• stiff
• strong
• firm
Smell:
• pleasant
• unpleasant
States of matter:
• solid
• liquid
• gas
Magnetic properties:
• attract
• repel
• push
• pull
Size:(K-3)
• larger
• smaller
Color:
• color words
Shape:
• circle
• square
• triangle
• rectangle
• oval
Weight:
• heavy
• light
• heavier
• lighter
Context
Common objects:
• desks
• coins
• pencils
• buildings
• snowflakes
Common substances:
• solids:
o copper
o plastic
o iron
o Styrofoam
o wood
• liquids:
o alcohol
o water
o milk
o juice
• gases:
o air
o water vapor
o helium
Knowledge and Skills
Resources
Benchmark Clarification:
Coloma Resources:
Objects can be described by observing their
physical properties / characteristics. Reality is
perceived by the five senses. Some of the easiest
characteristics to observe are:
EveryDay Math program for First Grade, Unit 7
(shapes/attributes)
•
color
•
size
•
shape
•
texture
•
smell
•
states of matter
Students will:
•
•
•
Describe common objects using physical
characteristics/observable attributes and
appropriate descriptive terms (e.g., rough is
texture, rigid is flexibility, oval is shape)
Classify/sort common objects using physical
characteristics/observable attributes
Increase the numbers of identified
characteristics at each grade level
See Shadows: objects that let light pass through
or objects that block light, (SCI.IV.4.E.4).
See Materials that conduct electricity or objects
that do not conduct electricity, (SCI.IV.1.E.2).
How to Make an Apple Pie and See the World
(from social studies resources) including
Reading Rainbow VHS and teaching guide.
Other Resources:
Little Shop of Physics – Colorado State Univ. –
lots of fun and simple experiments to try with
your students! Includes the ultimate bubble
recipe! (choose amazing physics experiments)
http://littleshop.physics.colostate.edu/OnlineExp
eriments/OnlineExpts.html
Michigan Teacher Network Resources
http://mtn.merit.edu/mcf/SCI.IV.1.E.1.html
BCISD – Classroom Resources - Science
http://www.remc11.k12.mi.us/bcisd/classres/psci
ence.htm
Exploratorium – Science Snacks about Liquids –
http://www.exploratorium.com/snacks/iconfluids.
html
Instruction
Focus Question: How are given objects alike and
different?
Teacher will provide students with collections of
buttons, pebbles, writing utensils, kitchen
implements, blocks or balls (any type of collection)
and ask students to describe them using the terms
for shape, color, size, weight and texture.
Students will describe two objects to the class.
Teacher will ascertain use of description words.
Assessment
None
Teacher Notes:
http://www.misd.net/mibig/
Beginning in the elementary years, students should be able to identify the properties of materials that make them useful.
This can be tied to simple ideas like strength or stretching and to more complex ideas like the conduction of heat and
electricity. In the high school years, students are asked to analyze properties of common household and agricultural
materials for risks and benefits.