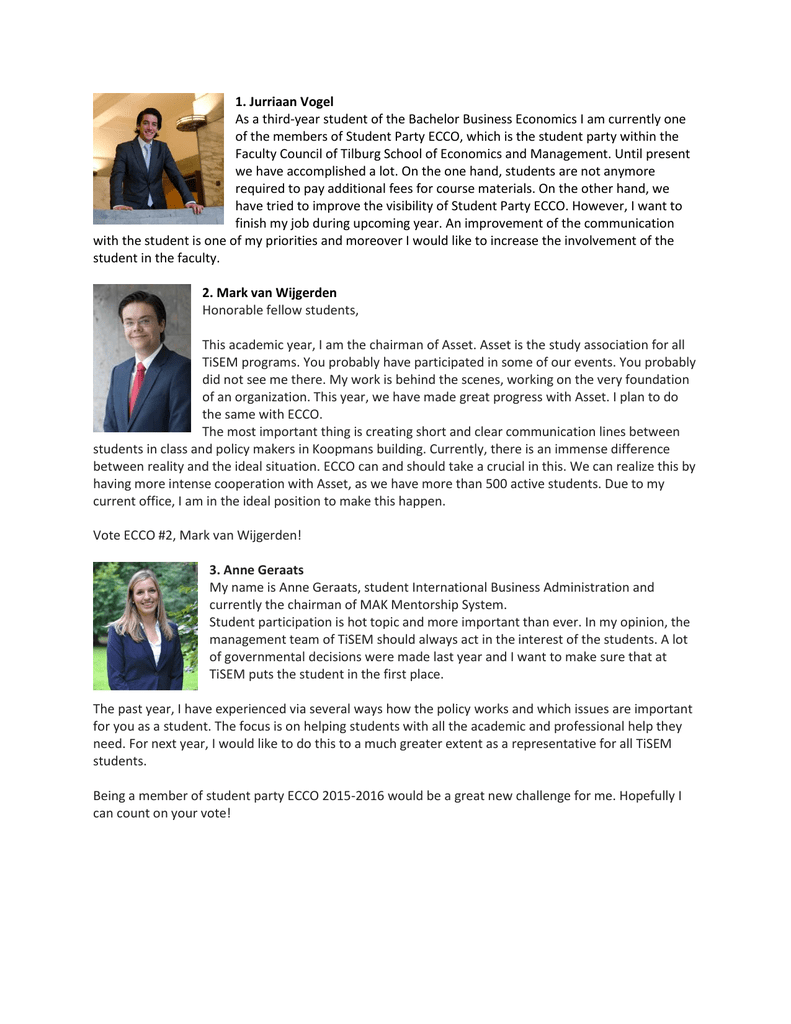 1. Jurriaan Vogel
As a third-year student of the Bachelor Business Economics I am currently one
of the members of Student Party ECCO, which is the student party within the
Faculty Council of Tilburg School of Economics and Management. Until present
we have accomplished a lot. On the one hand, students are not anymore
required to pay additional fees for course materials. On the other hand, we
have tried to improve the visibility of Student Party ECCO. However, I want to
finish my job during upcoming year. An improvement of the communication
with the student is one of my priorities and moreover I would like to increase the involvement of the
student in the faculty.
2. Mark van Wijgerden
Honorable fellow students,
This academic year, I am the chairman of Asset. Asset is the study association for all
TiSEM programs. You probably have participated in some of our events. You probably
did not see me there. My work is behind the scenes, working on the very foundation
of an organization. This year, we have made great progress with Asset. I plan to do
the same with ECCO.
The most important thing is creating short and clear communication lines between
students in class and policy makers in Koopmans building. Currently, there is an immense difference
between reality and the ideal situation. ECCO can and should take a crucial in this. We can realize this by
having more intense cooperation with Asset, as we have more than 500 active students. Due to my
current office, I am in the ideal position to make this happen.
Vote ECCO #2, Mark van Wijgerden!
3. Anne Geraats
My name is Anne Geraats, student International Business Administration and
currently the chairman of MAK Mentorship System.
Student participation is hot topic and more important than ever. In my opinion, the
management team of TiSEM should always act in the interest of the students. A lot
of governmental decisions were made last year and I want to make sure that at
TiSEM puts the student in the first place.
The past year, I have experienced via several ways how the policy works and which issues are important
for you as a student. The focus is on helping students with all the academic and professional help they
need. For next year, I would like to do this to a much greater extent as a representative for all TiSEM
students.
Being a member of student party ECCO 2015-2016 would be a great new challenge for me. Hopefully I
can count on your vote!
4. Jelle van 't Ooster
Dear fellow students,
In the upcoming year I, Jelle van 't Ooster, would like to strive for the interests of
you, the TiSEM students. I have been active at study association Asset for years and
after finishing my bachelor Business Administration last year, I took on the challenge
as chairman of the Economic Business weeks Tilburg (EBT).
Within the aforementioned roles I see a great challenge I would like to grasp in the upcoming year as a
member of ECCO. Within TiSEM and Tilburg University there is a lack of focus on the careers of students.
The great majority of graduates will end up at the labor market and the different studies should prepare
students for this step. With my experience at the EBT I think I can put the career support for students
high on the agenda of the faculty again. Therefore, if you think your education should form a basis for
the first step into the labor market, vote for me!
5. Dennis Berens
For many students the faculty council will not be very familiar, but the decisions
that are made there have a significant effect on studying in Tilburg. Do you want
better lectures and preparation for a career? Vote for me!
I am Dennis Berens, a third year Economics student and this year I am the
chairman of Asset | Economics. Next year I want to defend the interests of the
economic students in Tilburg.
TiSEM has distinguished itself for years with great research, which should be
continued in any case, but more attention should be devoted to ensuring that an
economic study In Tilburg gives a good chance to the best jobs. At Asset | Economics I have intensive
contact with the University to improve the connection between students and the labor market. I want to
continue this next year. Aside of that it is important to ensure that the quality of education is excellent,
which makes a degree from Tilburg University valuable.
Furthermore it is important as a member of the faculty council to be accessible to students. I want to
work towards a visible ECCO, both online as well as on campus. This means problems that the students
experience can be dealt with actively.
On these points I want to make studying in Tilburg even better!
6. Nikki Suijkerbuijk
I am Nikki Suijkerbuijk. At the moment, I am a board member of the Economic
Business weeks Tilburg and an IBA student. Before, I was an exchange student,
an I*ESN member and an active member at ASSET IB&M. Next year I will be a
MSc Accounting student. As a member of many different groups, I believe I am
capable of understanding and expressing the needs of students. During my
board year I gained experience with interacting with several TiSEM organs and
students and I am sure this will benefit me at ECCO.
In the upcoming year, I want to focus mainly on improving the transition between our studies and our
careers, establishing more interactivity in classes and making sure that it stays possible to become active
besides your study without much study delay. If these are important issues to you too, I hope to receive
your vote!
7. Joep Horssels
My name is Joep Horssels, 21 years old and third year student International
Business Administration. This year, I hope to graduate from my bachelor and the
Outreaching Honors Program. Upcoming year I am planning on starting a board
year. Last semester I went on exchange to The United States of America, which
was an unbelievable fun and educational experience. I believe the most important
thing is that students can give their opinion in what they think is important. We
are the experts! Like you all know things are not getting easier for students the
upcoming year. Due to cuts in the available money for education, it will be harder
for students to persecute their studies. I think this should come with a certain
level of quality. The gap between academic education and business life is too large. This new financial
situation will force students to graduate faster. They will not have the chance to do a board year for
example. Additionally, I think there should be more applied programs within TiSEM, and it would be
valuable for students to have proper guidance from well-trained study advisors. Moreover, it would be
better to divide the academic year into periods instead of semesters. Studying will be more effective
because the student can have a better focus on fewer courses at the same time. I am absolutely
committed to accomplishing these goals.
8. Azra Pala
Dear fellow students,
My name is Azra Pala, I'm 21 years old and currently graduating from my Bachelor
International Business Administration. Since I will also be bringing the Outreaching
Honors program to an end, I am looking for new opportunities to develop and
challenge myself upcoming academic year. Striving for the interests of my fellow
students and representing them in the faculty council would offer this opportunity
perfectly.
Being a student assistant at TiSEM has offered me the opportunity to get to know our faculty from
another perspective and there are quite a number of things I deem could be improved. We need to
promote flexibility, offer students the opportunity to engage in extracurricular activities and stimulate
practical experience! One way this could be achieved is by dividing the academic year into periods
instead of semesters. This way a student is engaged in fewer courses at the same time, offering more
room for other activities on the side. Students should also be offered the possibility to follow and finish
"intensive courses" during the summer, which would enable them to avoid study delay in a period in
which rules are getting stricter.
There are too many business economists out there; we need to make sure that our TiSEM students
excel!
9. Marnix Bel
Dear fellow students,
My name is Marnix Bel (19 years) and I am a second year student International
Business Administration. Besides my study I am an active member of TSR Vidar
and I play golf at a national level.
In recent years the study environment for the students changed considerably;
introduction of the social loan system, increasing study pressure for (freshman) students and the
increasing competition for recently graduated students. For these reasons, I want to devote myself this
year to represent the interests of the active student. My points of attention are; students must have the
opportunity, despite the increasing study pressure, to develop themselves besides their study.
Furthermore, the increasing study pressure should not be at the expense of the quality of education.
It would be very interesting to collect the ideas that everyone has about their study and to use this to
make improvements.