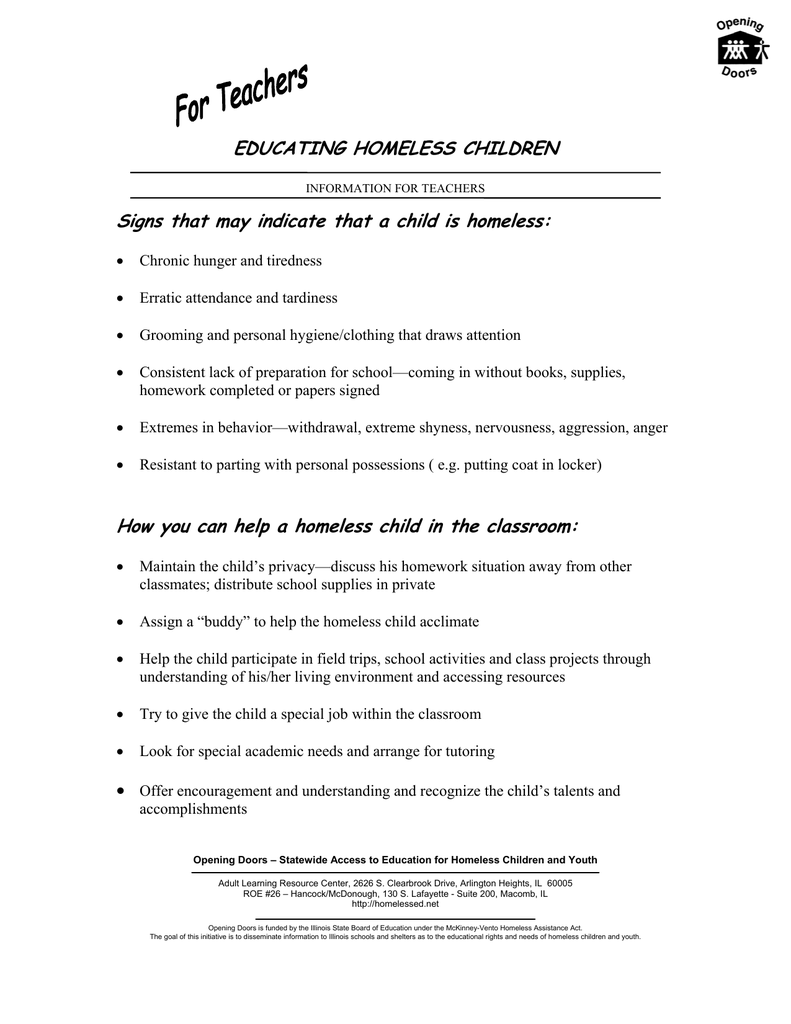 EDUCATING HOMELESS CHILDREN
INFORMATION FOR TEACHERS
Signs that may indicate that a child is homeless:
•
Chronic hunger and tiredness
•
Erratic attendance and tardiness
•
Grooming and personal hygiene/clothing that draws attention
•
Consistent lack of preparation for school—coming in without books, supplies,
homework completed or papers signed
•
Extremes in behavior—withdrawal, extreme shyness, nervousness, aggression, anger
•
Resistant to parting with personal possessions ( e.g. putting coat in locker)
How you can help a homeless child in the classroom:
•
Maintain the child's privacy—discuss his homework situation away from other
classmates; distribute school supplies in private
•
Assign a "buddy" to help the homeless child acclimate
•
Help the child participate in field trips, school activities and class projects through
understanding of his/her living environment and accessing resources
•
Try to give the child a special job within the classroom
•
Look for special academic needs and arrange for tutoring
• Offer encouragement and understanding and recognize the child's talents and
accomplishments
Opening Doors – Statewide Access to Education for Homeless Children and Youth
Adult Learning Resource Center, 2626 S. Clearbrook Drive, Arlington Heights, IL 60005
ROE #26 – Hancock/McDonough, 130 S. Lafayette - Suite 200, Macomb, IL
http://homelessed.net
Opening Doors is funded by the Illinois State Board of Education under the McKinney-Vento Homeless Assistance Act.
The goal of this initiative is to disseminate information to Illinois schools and shelters as to the educational rights and needs of homeless children and youth.