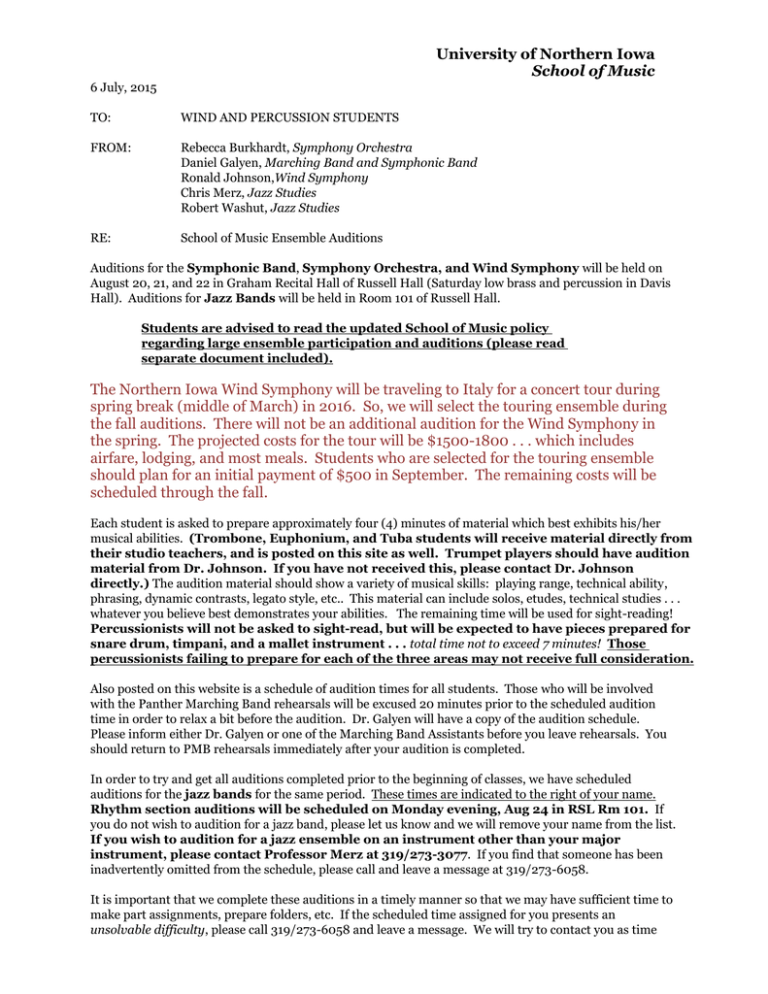 University of Northern Iowa
School of Music
6 July, 2015
TO:
WIND AND PERCUSSION STUDENTS
FROM:
Rebecca Burkhardt, Symphony Orchestra
Daniel Galyen, Marching Band and Symphonic Band
Ronald Johnson,Wind Symphony
Chris Merz, Jazz Studies
Robert Washut, Jazz Studies
RE:
School of Music Ensemble Auditions
Auditions for the Symphonic Band, Symphony Orchestra, and Wind Symphony will be held on
August 20, 21, and 22 in Graham Recital Hall of Russell Hall (Saturday low brass and percussion in Davis
Hall). Auditions for Jazz Bands will be held in Room 101 of Russell Hall.
Students are advised to read the updated School of Music policy
regarding large ensemble participation and auditions (please read
separate document included).
The Northern Iowa Wind Symphony will be traveling to Italy for a concert tour during
spring break (middle of March) in 2016. So, we will select the touring ensemble during
the fall auditions. There will not be an additional audition for the Wind Symphony in
the spring. The projected costs for the tour will be $1500-1800 . . . which includes
airfare, lodging, and most meals. Students who are selected for the touring ensemble
should plan for an initial payment of $500 in September. The remaining costs will be
scheduled through the fall.
Each student is asked to prepare approximately four (4) minutes of material which best exhibits his/her
musical abilities. (Trombone, Euphonium, and Tuba students will receive material directly from
their studio teachers, and is posted on this site as well. Trumpet players should have audition
material from Dr. Johnson. If you have not received this, please contact Dr. Johnson
directly.) The audition material should show a variety of musical skills: playing range, technical ability,
phrasing, dynamic contrasts, legato style, etc.. This material can include solos, etudes, technical studies . . .
whatever you believe best demonstrates your abilities. The remaining time will be used for sight-reading!
Percussionists will not be asked to sight-read, but will be expected to have pieces prepared for
snare drum, timpani, and a mallet instrument . . . total time not to exceed 7 minutes! Those
percussionists failing to prepare for each of the three areas may not receive full consideration.
Also posted on this website is a schedule of audition times for all students. Those who will be involved
with the Panther Marching Band rehearsals will be excused 20 minutes prior to the scheduled audition
time in order to relax a bit before the audition. Dr. Galyen will have a copy of the audition schedule.
Please inform either Dr. Galyen or one of the Marching Band Assistants before you leave rehearsals. You
should return to PMB rehearsals immediately after your audition is completed.
In order to try and get all auditions completed prior to the beginning of classes, we have scheduled
auditions for the jazz bands for the same period. These times are indicated to the right of your name.
Rhythm section auditions will be scheduled on Monday evening, Aug 24 in RSL Rm 101. If
you do not wish to audition for a jazz band, please let us know and we will remove your name from the list.
If you wish to audition for a jazz ensemble on an instrument other than your major
instrument, please contact Professor Merz at 319/273-3077. If you find that someone has been
inadvertently omitted from the schedule, please call and leave a message at 319/273-6058.
It is important that we complete these auditions in a timely manner so that we may have sufficient time to
make part assignments, prepare folders, etc. If the scheduled time assigned for you presents an
unsolvable difficulty, please call 319/273-6058 and leave a message. We will try to contact you as time
permits. Otherwise, it is expected that you will make every effort to be present for your audition at the
designated time.