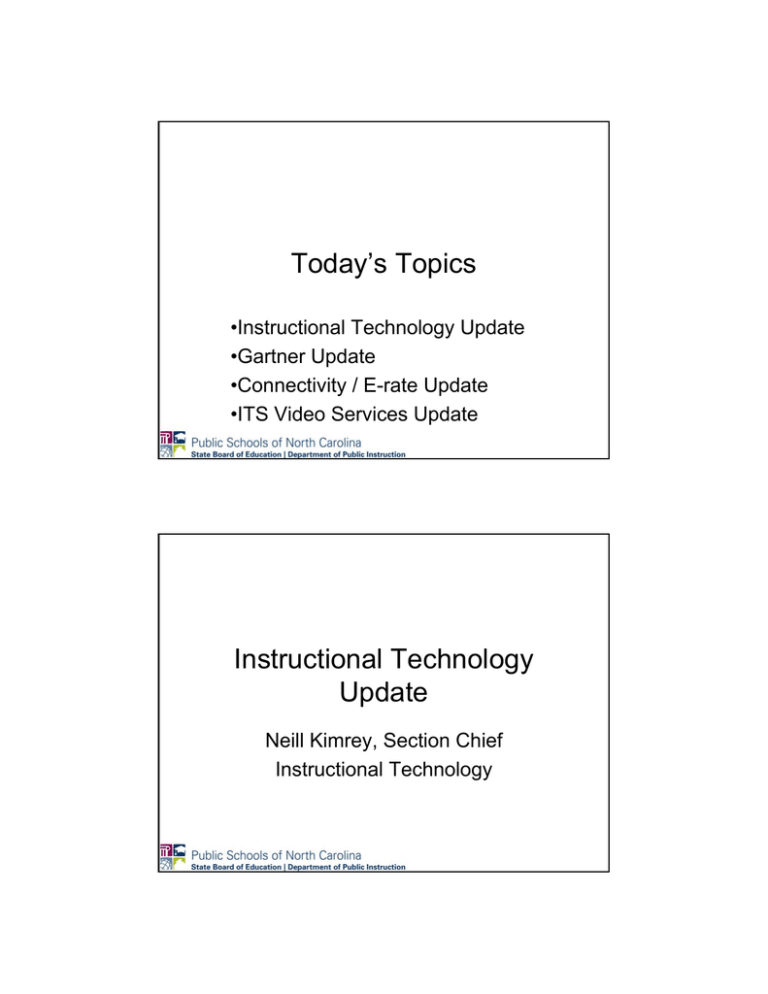 Today's Topics
•Instructional Technology Update
•Gartner Update
•Connectivity / E-rate Update
•ITS Video Services Update
Instructional Technology
Update
Neill Kimrey, Section Chief
Instructional Technology
Rebecca Garland
Associate Superintendent/Chief Academic Officer
Academic Services & Instructional Support
Peter Asmar
Chief Information Officer/Associate State Superintendent
Technology Services
Angela Quick
Deputy Chief Academic Officer
Curriculum, Instruction, Technology &
Accountability Services
Cindy Williamson
Director
K-12 Curriculum, Instruction & Technology
Neill Kimrey
Section Chief
Instructional Technology
Melody Hudson,
Program Assistant
Mary Lou Daily
Regional Consultant
Donna Sawyer
Teacher on Loan
Melanie Honeycutt
Regional Consultant
Gail Holmes
Teacher on Loan
Cathy Mathews
Regional Consultant
Gerry Solomon
School Media Consultant
Vacant
Regional Consultant
Dan Sparlin
WiseOwl & Web Evaluator
Vacant
Regional Consultant
Ouida Meyers
EETT Grant Consultant
Vacant
Regional Consultant
New Section Chief of
Instructional Technology
• Neill Kimrey
– Most recently CTO of Stanly County Schools
– nkimrey@dpi.state.nc.us
– 919/807.3270
New Section Chief of
Instructional Technology
• My vision for Instructional Technology…
– Seamless integration of technology and
information skills into all curricular areas
– A tool for teachers and STUDENTS alike
– Authentic Assessments
– Being part of C, I, & T is a natural fit and will
be a benefit
Momentum…
• It is important to regain the momentum
created when instructional technology at
NC DPI was a division
• Technology Directors can help by
providing input on Regional Google Docs
• If you do not have access, request it by
sending an email to
cmathews@dpi.state.nc.us.
Regional Consultants &
Vacancies
*some discussion about further dividing the
state by the same lines as RESAs are currently
divided.
Technology Plan 2009-2013
• Due by November 3, 2008 (USPS or UPS)
• Three hard copies
• A URL for the plan on the district website
– For network security, technical diagrams
should be removed from your online tech
plan.
Other Items of Timely Interest
• 20th Annual NC Technology Educator
Awards
– To recognize individuals who have provided
outstanding leadership in planning and
implementing instructional technology into the
ongoing school program. Awards will be made
for administrators and teachers.
– http://www.ncwiseowl.org/it/educatoraward/de
fault.html
Other Items of Timely Interest
• NC Computer Skills curriculum revision
• Steering Committee will be comprised of
Instructional Technology section
personnel, Curriculum & Instruction
personnel, and LEA representatives
• Look for more information in Regional
Update emails, upcoming conference
sessions, and regional meetings
Other Items of Timely Interest
• Framework for
Change
– Still in draft form
– Addresses what NC
graduates will need to
complete globally
upon graduation
– Next generation of
Standards,
Assessments and
Accountability
Questions and Comments
www.ncwiseowl.org/it
Neill Kimrey
nkimrey@dpi.state.nc.us
919/807-3270
In compliance with Federal Law and including the provisions of Title IX of the Educational Amendments of 1972, NC Public Schools
administers all state-operated educational programs, employment activities, and admissions without discrimination because of race,
religion, national or ethnic origin, color, age, military service, disability, or gender except where exemption is appropriate and allowed by
law.
Gartner Technology Master
Plan Update
Ed Chase and Neill Kimrey
Findings
LEAs are charted with implementing initiatives that " LEAs are the execution arm for many support goals and objectives of several educational NC DPI projects and programs.
stakeholders:
" LEAs implement initiatives that support DPI
Initiatives
State
Goals
"
LEA
LEA
School
Goals
LEA
Public
Needs
LEA
LEA
LEA
LEA
District
Goals
LEA
the goals and mandates of Federal State, Local Government entities, individual schools within the district, and general public (includes parents, guardians, and taxpayers).
LEAs implement initiatives under the constraints and challenges of their environment which is made up of External Influencers and Available Tools & Solutions. Stakeholder
Initiatives
(i.e. NC VPS)
15
Connectivity Integration
Update
Connectivity Funding Update
• PRC 073 funds are now available to LEAs
– Carry Over Provision until June 30,2010
– used to repay 100% of out of pocket (after Erate costs) for LEAs.
E-rate Update
• Seven Training Sessions planned
– Basic Agenda for E-rate Training
• 8:30 am – 11:30 am – Basic E-rate Training
• 11:30 am – 12:30 pm – Lunch
• 12:30 pm – 3:30 pm – E-rate Training (470, 471, and 486, what
is new this year)
• 3:30 pm – 5:00 – 470 Q&A / Assistance
–
–
–
–
–
–
–
North Central Region – November 5, 2008
South Central Region – November 6, 2008
South East Region – November 13, 2008
North East Region – November 14, 2008
South West Region – November 17, 2008
North West Region – November 18, 2008
Raleigh DPI VCC Room – December 1, 2008
E-rate Update
• E-rate support services update
– Regional Staff for E-rate support available
– Will start on 11/3/08
– This is a free service to the LEAs for E-rate
follow – up, filing, review and audit support.
ITS Video Conferencing Update
• How to Obtain NCVIP Services from ITS
– http://www.ncih.net/hsncvip/index.html
• The NC General Assembly has legislated support with
reoccurring funding to ITS Video Network Services for
videoconferencing in K-12 public schools. The
supported services include: multipoint bridging, use of
the online scheduler, listserve access and
troubleshooting support. To request DPI funding
support for a K-12 school, users must file the VNS-01
form. Schools may choose to subscribe for monthly
service or for hourly ad hoc usage.
Questions?