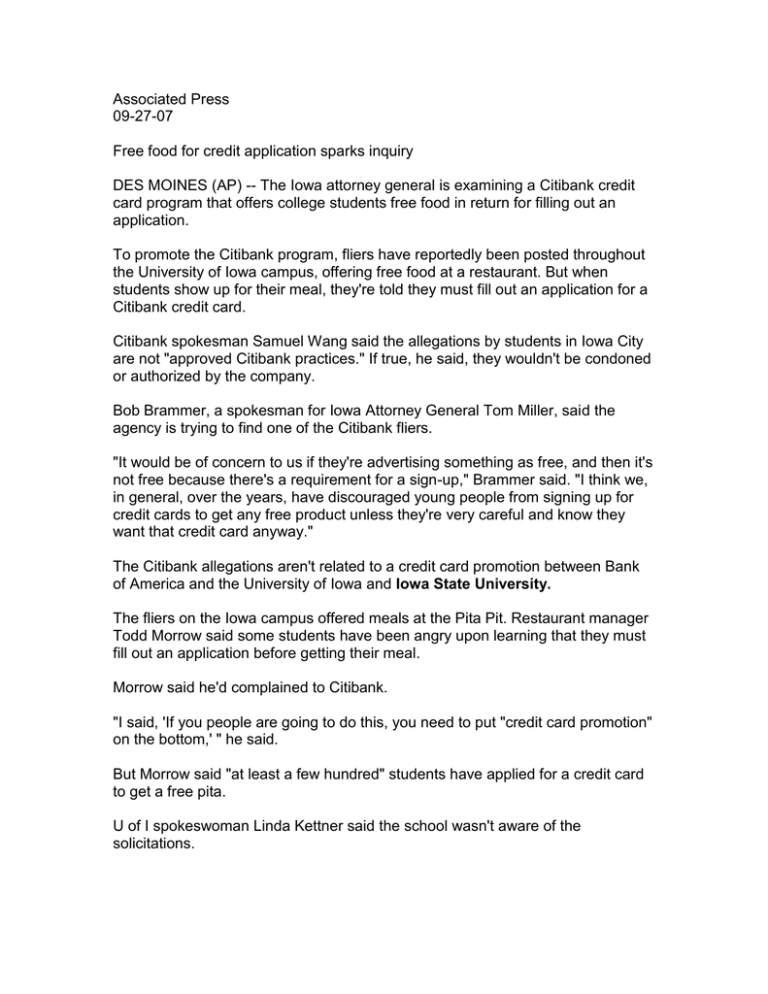 Associated Press
09-27-07
Free food for credit application sparks inquiry
DES MOINES (AP) -- The Iowa attorney general is examining a Citibank credit
card program that offers college students free food in return for filling out an
application.
To promote the Citibank program, fliers have reportedly been posted throughout
the University of Iowa campus, offering free food at a restaurant. But when
students show up for their meal, they're told they must fill out an application for a
Citibank credit card.
Citibank spokesman Samuel Wang said the allegations by students in Iowa City
are not "approved Citibank practices." If true, he said, they wouldn't be condoned
or authorized by the company.
Bob Brammer, a spokesman for Iowa Attorney General Tom Miller, said the
agency is trying to find one of the Citibank fliers.
"It would be of concern to us if they're advertising something as free, and then it's
not free because there's a requirement for a sign-up," Brammer said. "I think we,
in general, over the years, have discouraged young people from signing up for
credit cards to get any free product unless they're very careful and know they
want that credit card anyway."
The Citibank allegations aren't related to a credit card promotion between Bank
of America and the University of Iowa and Iowa State University.
The fliers on the Iowa campus offered meals at the Pita Pit. Restaurant manager
Todd Morrow said some students have been angry upon learning that they must
fill out an application before getting their meal.
Morrow said he'd complained to Citibank.
"I said, 'If you people are going to do this, you need to put "credit card promotion"
on the bottom,' " he said.
But Morrow said "at least a few hundred" students have applied for a credit card
to get a free pita.
U of I spokeswoman Linda Kettner said the school wasn't aware of the
solicitations.