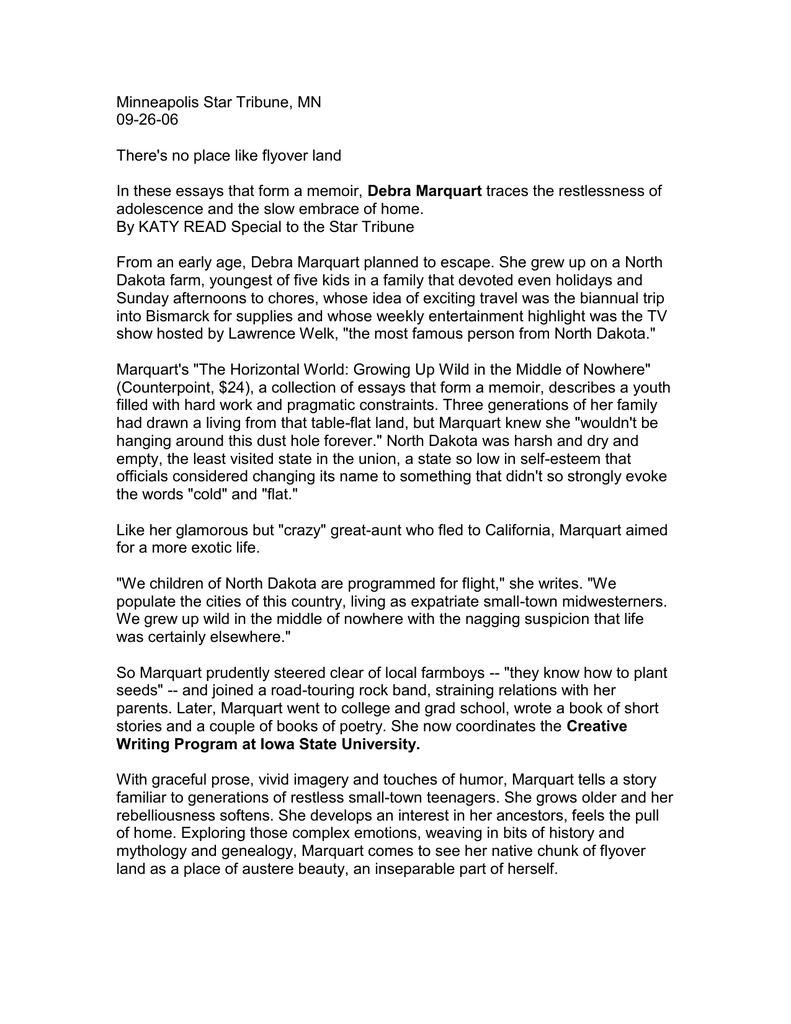 Minneapolis Star Tribune, MN
09-26-06
There's no place like flyover land
In these essays that form a memoir, Debra Marquart traces the restlessness of
adolescence and the slow embrace of home.
By KATY READ Special to the Star Tribune
From an early age, Debra Marquart planned to escape. She grew up on a North
Dakota farm, youngest of five kids in a family that devoted even holidays and
Sunday afternoons to chores, whose idea of exciting travel was the biannual trip
into Bismarck for supplies and whose weekly entertainment highlight was the TV
show hosted by Lawrence Welk, "the most famous person from North Dakota."
Marquart's "The Horizontal World: Growing Up Wild in the Middle of Nowhere"
(Counterpoint, $24), a collection of essays that form a memoir, describes a youth
filled with hard work and pragmatic constraints. Three generations of her family
had drawn a living from that table-flat land, but Marquart knew she "wouldn't be
hanging around this dust hole forever." North Dakota was harsh and dry and
empty, the least visited state in the union, a state so low in self-esteem that
officials considered changing its name to something that didn't so strongly evoke
the words "cold" and "flat."
Like her glamorous but "crazy" great-aunt who fled to California, Marquart aimed
for a more exotic life.
"We children of North Dakota are programmed for flight," she writes. "We
populate the cities of this country, living as expatriate small-town midwesterners.
We grew up wild in the middle of nowhere with the nagging suspicion that life
was certainly elsewhere."
So Marquart prudently steered clear of local farmboys -- "they know how to plant
seeds" -- and joined a road-touring rock band, straining relations with her
parents. Later, Marquart went to college and grad school, wrote a book of short
stories and a couple of books of poetry. She now coordinates the Creative
Writing Program at Iowa State University.
With graceful prose, vivid imagery and touches of humor, Marquart tells a story
familiar to generations of restless small-town teenagers. She grows older and her
rebelliousness softens. She develops an interest in her ancestors, feels the pull
of home. Exploring those complex emotions, weaving in bits of history and
mythology and genealogy, Marquart comes to see her native chunk of flyover
land as a place of austere beauty, an inseparable part of herself.
"Why didn't we learn these things in school?" she asks the state geologist who
has told her that glacial waters flow beneath her hometown's arid surface. "If I
had known that I was growing up in such an interesting place ... I think I would
have loved home a little more."
Katy Read writes for salon.com and other national publications. She lives in
Illinois.