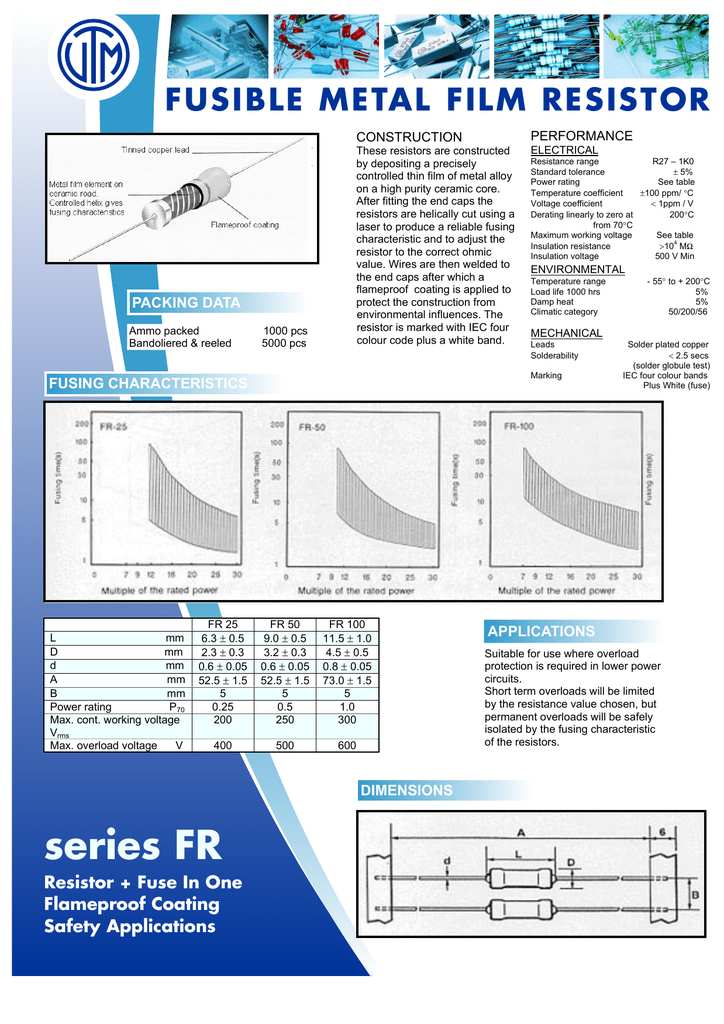 FUSIBLE METAL FILM RESISTOR
CONSTRUCTION
PACKING DATA
Ammo packed
Bandoliered & reeled
1000 pcs
5000 pcs
These resistors are constructed
by depositing a precisely
controlled thin film of metal alloy
on a high purity ceramic core.
After fitting the end caps the
resistors are helically cut using a
laser to produce a reliable fusing
characteristic and to adjust the
resistor to the correct ohmic
value. Wires are then welded to
the end caps after which a
flameproof coating is applied to
protect the construction from
environmental influences. The
resistor is marked with IEC four
colour code plus a white band.
FR 25
6.3 ± 0.5
2.3 ± 0.3
0.6 ± 0.05
52.5 ± 1.5
5
0.25
200
FR 50
9.0 ± 0.5
3.2 ± 0.3
0.6 ± 0.05
52.5 ± 1.5
5
0.5
250
FR 100
11.5 ± 1.0
4.5 ± 0.5
0.8 ± 0.05
73.0 ± 1.5
5
1.0
300
400
500
600
DIMENSIONS
series FR
Resistor + Fuse In One
Flameproof Coating
Safety Applications
ELECTRICAL
Resistance range
R27 – 1K0
Standard tolerance
± 5%
Power rating
See table
±100 ppm/ °C
Temperature coefficient
Voltage coefficient
< 1ppm / V
Derating linearly to zero at
200°C
from 70°C
See table
Maximum working voltage
4
>10 MW
Insulation resistance
Insulation voltage
500 V Min
ENVIRONMENTAL
Temperature range
Load life 1000 hrs
Damp heat
Climatic category
MECHANICAL
Leads
Solderability
Marking
FUSING CHARACTERISTICS
L
mm
D
mm
d
mm
A
mm
B
mm
Power rating
P70
Max. cont. working voltage
Vrms
Max. overload voltage
V
PERFORMANCE
- 55° to + 200°C
5%
5%
50/200/56
Solder plated copper
< 2.5 secs
(solder globule test)
IEC four colour bands
Plus White (fuse)
APPLICATIONS
Suitable for use where overload
protection is required in lower power
circuits.
Short term overloads will be limited
by the resistance value chosen, but
permanent overloads will be safely
isolated by the fusing characteristic
of the resistors.