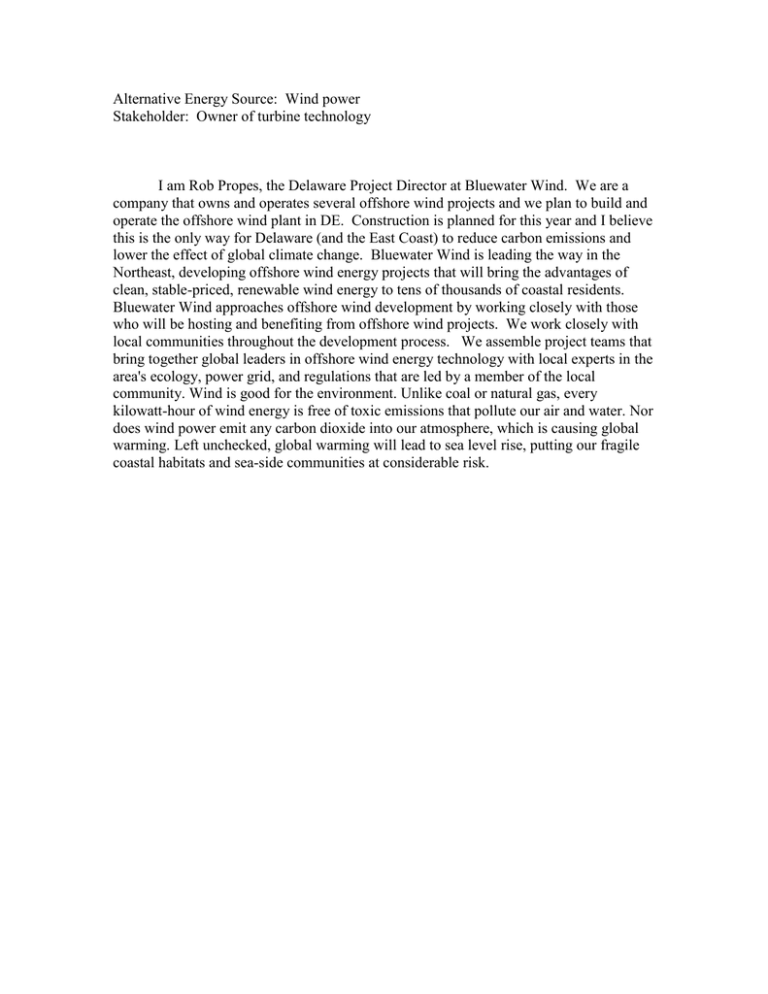 Alternative Energy Source: Wind power
Stakeholder: Owner of turbine technology
I am Rob Propes, the Delaware Project Director at Bluewater Wind. We are a
company that owns and operates several offshore wind projects and we plan to build and
operate the offshore wind plant in DE. Construction is planned for this year and I believe
this is the only way for Delaware (and the East Coast) to reduce carbon emissions and
lower the effect of global climate change. Bluewater Wind is leading the way in the
Northeast, developing offshore wind energy projects that will bring the advantages of
clean, stable-priced, renewable wind energy to tens of thousands of coastal residents.
Bluewater Wind approaches offshore wind development by working closely with those
who will be hosting and benefiting from offshore wind projects. We work closely with
local communities throughout the development process. We assemble project teams that
bring together global leaders in offshore wind energy technology with local experts in the
area's ecology, power grid, and regulations that are led by a member of the local
community. Wind is good for the environment. Unlike coal or natural gas, every
kilowatt-hour of wind energy is free of toxic emissions that pollute our air and water. Nor
does wind power emit any carbon dioxide into our atmosphere, which is causing global
warming. Left unchecked, global warming will lead to sea level rise, putting our fragile
coastal habitats and sea-side communities at considerable risk.