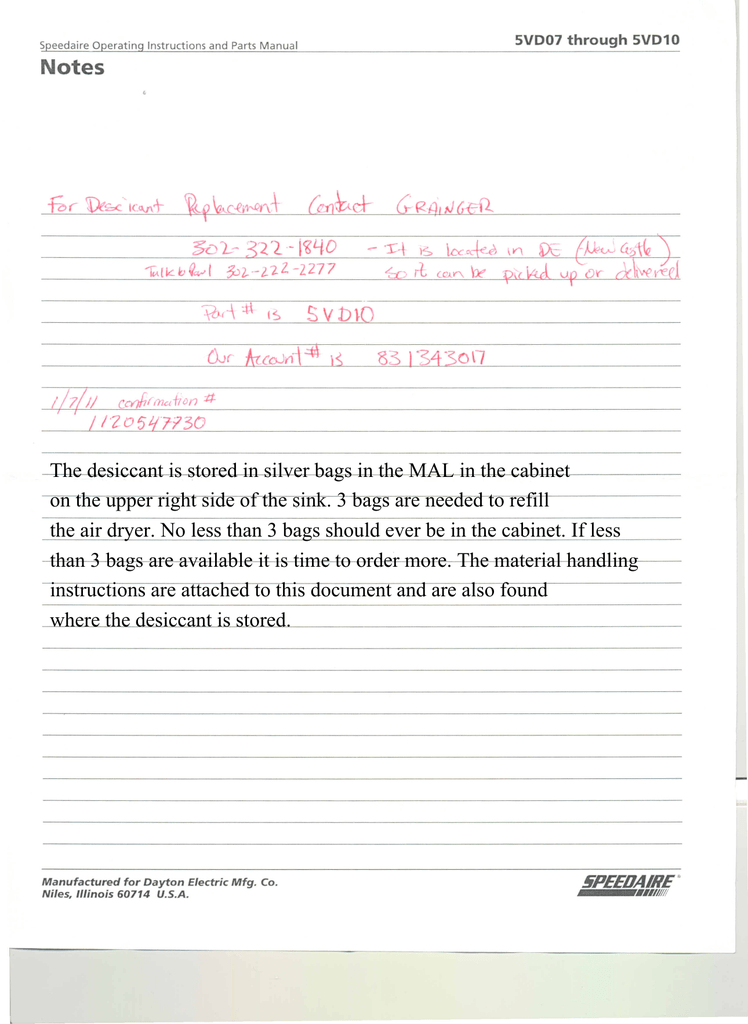 5VD07 through 5VD10
3D,-~ '41. -1~40
~(kbQ<v1
~2,.'-2.2Z
~I(--\:t\
IS
-2277
S V blO
6Jr kCcUtf\::#
\s
83 L3:1-~3_c_\7
_
The desiccant is stored in silver bags in the MAL in the cabinet
on the upper right side of the sink. 3 bags are needed to refill
the air dryer. No less than 3 bags should ever be in the cabinet. If less
than 3 bags are available it is time to order more. The material handling
instructions are attached to this document and are also found
where the desiccant is stored.
Manufactured for Dayton Electric Mfg. Co.
Niles, Illinois 60714 U.S.A.
..••.
~iliP.BiiiE_1JAIRE~
'IIIIU///
_
Operating Instructions
&
SVD07 through SVD10
Parts Manual
Please read and save these instructions. Read carefully before attempting to assemble, install, operate or maintain the product described.
Protect yourself and others by observing all safety information. Failure to comply with instructions could result in personal injury andlor
property damage! Retain instructions for future reference .
•
Speedaire® Silica Gel Desiccant
Changing Instructions
~1I0
Ie
Description
The Speedaire Silica Gel Desiccant is a water adsorbing solid material that comes in
beaded form. The silica gel desiccant adsorbs water vapor by physical means, by
attracting the vapor into the inside of the silica gel desiccant bead structure.
The silica
gel desiccant is white in color with blue indicating beads mixed throughout.
The blue
beads will change to a light pink color once the desiccant is saturated with water vapor.
These indicating beads allow a true determination
condition.
Each quantity of the silica gel desiccant
of the silica gel desiccant service
is packaged in an air and moisture
tight metalized bag to ensure that the silica gel desiccant
adsorbing capacity when installed.
The following steps are to be
followed when replacing the silica
gel desiccant.
STEP 1
Isolate the dryer from the system
by opening a by-pass valve (if
one is installed) and c!c3ing inlet
and outlet valves. (Dryer system
should be installed as referenced
in the dryer instruction manual).
IMPORTANT: Depressurize
before servicing.
STEP 2
Push up and rotate
is also recommended
dryer components
be
during each desiccant
out operation.
Worn
damaged components
replaced
STEP 5
the bowl
STEP 4
The Replacement
Desiccant
sists of the following item:
5\/D07 (for 5\/(89):
5\/D08 (for 5\/(90):
Reinstall the inlet tube assembly
if this item has been removed for
cleaning and/or inspection.
NOT allow any desiccant
the inlet tube assembly.
Pour the old silica gel desiccant
out of the unit bowl. Dispose
con-
2 Ibs Desiccant
4 Ibs Desiccant
in two bags with
instructions. *
8 Ibs Desiccant in
four bags with
instructions. *
6' (for
~
5\/(9'4'2
-- -
to enter
Ibs Desiccant
~=.._ in six bags with
instructions. *
Inspect the bowl to ensure that
the o-ring is in place and lightly
lubricated.
Reassemble the bowl
as
It is recommended
that the
inlet tube assembly be cleaned
with soap and water with each
silica gel desiccant change. This
cleaning may not be necessary
if the pressure drop across
the dryer remains within the
required operating limits. It
package
in two bags with
instructions. *
or repaired.
bag. and c~refully pour the
deSICcant Into the bowl. DO
1/8 of a turn to remove the
bowl from the unit head.
of the old silica gel desiccant
required by local regulations.
that the
inspected
change
or
are to be
Refill the bowl with new silica
gel desiccant. Open each
supplied replacement
desiccant
the dryer
th
STEP 3
is dry and has full water vapor
to the head.
STEP 8
Repressurize the dryer by slowly
opening the inlet valve, then
opening the outlet valve and
finally closing the by-pass valve.
STEP 9
The dryer can now be operated
as described in the unit
instructions.
Printed in U.S.A.
04757
02081022NCPVP
7610.362.2B
3228486
§PEEDAIRE"
'111/1////
____
ITEM: SVD10 - Dryer Silica eel
ORDER: 0077421770
LP NUMBER: U189467133-A
MATERIAL SAFETY DATA SHEET (MSDS)
This MSDS should be attached or kect with the rescective croduct with which it is associated.
MSDS: A8777
###########################*#########################1#####################
~###########~###############################################################
~TERIAL
-
SAFETY DATA SHEET - A8777
Associated Grainger Items
5VC89 , 5VD07,
5VD08,
5VD09,
5VDI0,
5VC90,
5VC91,
BLUE INDICATING
FIRE EXTINGUISHING MEDIA:
USE ANY MEANS SUITABLE FOR EXTINGUISHING
08/23/02
PRODUCT NAME: SG-37,
BUJE INDICATING
MEASURES
EXPLOSION:
NOT CONSIDERED TO BE AN EXPLOSION HAZARD.
GEL
REVISION DATE: 10/07/05
SUPERSEDES:
FIRE FIGlITIm
FIRE:
NOT CONSIDERED TO BE A FIRE HAZARD.
5VC92
MATERIAL SAFETY DATA SHEET
DESICCANT: SG- 37,
5.
SURROUNDING FIRE.
SPECIAL INFORMATION:
USE PROTECTIVE CLOTHING AND BREATHING EQUIPMENI' APPROPRIATE FOR THE
SURROUNDING FIRE.
GEL
COMPANYIDENTIFICATION:
SUPPLIERS
6. ACCIDENTAL RELEASE MEASURES
NAME: FLAIR CORPORATION
ADDRESS:
4647 S.W. 40TH AVENUE
OCALA, FLORIDA 34474-5799
PERSON- RELATED SAFETY PRECAUTIONS:
VENTILATE AREA OF LEAK OR SPILL. WEAR APPROPRIATE PERSONAL PROTECTIVE
EQUIPMENT.
USA
EMERGENCYTELEPHONE NO.:
352-207-6684
FOR PRODUCT INFORMATION:
352-237-1220
--------
1.
MEASURES FOR ENVIRONMENTAL PROTECTION:
SWEEP UP AND CONTAINERIZE FOR RECLAMATION OR DISPOSAL.
CHEMICAL PRODUCT AND IDENTIFICATION
TRADE NAMES: BLUE SILICA
SYNONYMS: SILICA,
AM:lRPHOUS: SILICA,
112926-00-8)
,OSHA)
INGREDIENT
SILICA
CAS NO.
GEL (Si02)
COBALT CHLORIDE
--------
GEL
63231-67-4
PRECIPITATED
%
HAZARDOUS
>97%
7646-79-9
AND GEL (CAS NO.
<3%
YES
YES
EXPOSURE CONTROLS AND PERSONAL PROTECTION ------
SILICA (SYNTHETIC, AMORPHOUS):
OSHA PERMISSIBLE EXPOSURE LIMIT (PEL):
80/ (%Si02) M:i/M3 (TWA) FOR AM)RPHOUS SILICA, INCLUDING NATURALDIATOMACEXXJS
EARTH
ACGIH THRESHOLD LIMIT VALUE (TLV):
10 M:i/M3 (TWA) FOR AM)RPHOUS PRECIPITATED SILICA AND AM)RPHOUS SILICA GEL
POTENTIAL HEALTH EFFECTS:
PRODUCTCONTAINS SYNrnETIC AM:lRPHQUSSILICA; IUI' TO BE CONFUSED WITH
CRYSTALLINE SILICA SUCH AS QUARTZ, CRISTOBALITE OR TRIDYMITE OR WITH
DIATOMACEOUSEARTH OR OTHER NATURALLY
FORMS OF AM)RPfOJS SILICA
THAT FREQUENTLY CONTAIN CRYSTALLINE FORMS.
nus
8.
AIRBORNE EXPOSURE LIMITS:
STORAGE COLOR CODE:
ORANGE (GENERAL STORAGE)
=
INHALATION:
MAYCAUSE DRYNESS AND IRRITATION TO MUCOUSMEMBRANES,NOSE, AND THROAT.
SYMPTOMSMAY INCLUDE COUGHING, SORE THROAT AND WHEEZING.
FOR INORGANIC COBALT COMPONENTS:
ACGIH THRESHOLD LIMIT VALUE (TLV):
0.02 MG/M3 (TWA) AS COBALT; A3: ANIMAL CARCINOGEN.
VENTILATION SYSTEMS:
A SYSTEM OF LOCAL AND/OR GENERAL EXHAUST IS RECXM'1ENDEDTO KEEP EMPLOYEE
EXPOSURES BELCW THE AIRBORNE EXPOSURE LIMITS. LOCAL EXHAUST VENTILATION IS
GENERALLY PREFERRED BECAUSE IT CAN CDNIROL THE EMISSIONS OF THE CONTAMINANI
Kr ITS SOURCE, PREVENTING DISPERSION OF IT INTO THE GENERAL W::>RKAREA.
PERSONAL RESPIRATORS:
IF THE EXPOSURE LIMIT IS EXCEEDED, A HALF-FACE DUST/MIST RESPIRATOR MUST BE
w::lRN SUITABLE FOR THE EXPOSURE LIMIT OR THE MAXIMUMUSE CONCENTRATION
SPECIFIED BY THE APPROPRIATE REGULATORYAGENCY OR RESPIRATOR SUPPLIER,
WHICHEVER IS La"EST.
INGESTION:
NO ADVERSE EFFECTS EXPECTED.
EYE CONTACT:
MAY CAUSE IRRITATION,
HANDLING:
WHEN POURING INTO A CONTAINER OF FLAM'lABLE LIQUID, GROUNDBOTH =AINERS
ELECTRICALLY TO PREVENT A STATIC ELECTRIC SPARK. CONTI\INERS OF THIS MATERIAL
MAY BE HAZARDOUS WHEN EMPTY SINCE THEY RETAIN PRODUCT RESIDUES (DUST,
SOLIDS).
OBSERVE ALL WARNINGS AND PRECAUTIONS LISTED FOR THE PRODUCT.
------MODERATE
-NONE
-NONE
-SLIGHT
LAB PROTECTIVE EQUIPMENr:
GOGGLES, LAB COAT, VENT HOOD,
SKIN CONTACT:
MAY CAUSE IRRITATION
ADDITIONAL INFORMATION:
SEE SECTION 7 FOR INFORMATION ON SAFE HANDLING.
SEE SECTION 8 FOR INFORMATION ON PERSONAL PROTECTION EQUIPMENr.
SEE SECTION 13 FOR DISPOSAL INFORMATION.
STORAGE:
KEEP IN A TIGHTLY CLOSED CONTAINER, STORED IN A COOL, DRY, VENTILATED AREA
AND LABELED ACCORDINGLY. PROTECT AGAINST PHYSICAL DAMAGE.
EMERGENCYOVERVIEW:
SAFETY DATA RATING:
HEALTH RATING:
FIRE RATING:
REACTIVITY RATING:
CONTACT RATING:
MEASURES FOR CLEANING/COLLECTING:
VACUUMING OR WET SWEEPING MAY BE USED TO AVDID DUST DISPERSAL.
REGULATIONS REQUIRE REPORTING SPILLS AND RELEASES TO SOIL, WATERAND AIR IN
EXCESS OF REPORTABLE QUANTITIES.
WITH DRYNESS AND ABRASION.
WARNING:
AIR PURIFYING RESPIRATORS 00 NOT PROTECT w::lRKERS IN OXYGEN-DEFICIENT
ATMOSPHERES. RESPIRATORS MUST MEEI THE REQUIREMENTS OF EUROPEAN STANDARD
EN149 FF3SC. SUITABLE FOR USE UNDER COSHH, CAW, CLAW AND IRR.
REDNESS AND PAIN.
CHRONIC EXPOSURE:
REPEATED EXPOSURE MIW CAUSE SYMPTOMSSIMILAR TO THOSE LISTED FOR AOJI'E
EFFECTS. SYNTHErrc Al1JRPfOJS SILICA DOES IUI' PROCUCE SILICOSIS.
PROLONGED
EYJDSURE TO COBALT HAS BEEN SH=
TO CAUSE CANCER IN LABORATORYANIMALS.
SKIN PROTECTION:
WEAR PROTECTIVE GLOVES AND CLEAN BODY-CDVERING CLOTHING.
EYE PROTECTION:
USE CHEMICAL SAFETY =LES.
AGGRAVATIONOF PRE-EXISTING
NO INFORMATION FOUND.
CONDITION:
INHALATION:
REMOVE VICTIM TO FRESH AIR.
DIFFICULTY .
GET MEDICAL ATTENTION FOR ANY BREATHING
MAINTAIN EYE WASH FOUNTAIN.
APPEARANCE: BLUE CRYSTALS.
SKIN CONTACT:
IMMEDIATELY FLUSfi SKIN WITH PLENTY OF SOAP AND WATER FOR AT LEAST 15
MINUTES. REMOVECONTAMINATED~ING
AND SHOES. WASH cr.arnING BEFORE REUSE.
THOROUGHLYCLEAN SHOES BEFORE REUSE. GET MEDICAL ATTENTION IF SKIN
IRRITATION DEVELOPS.
EYE CONTACT:
Ii'MEDIATELY FLUSH EYES WITH PLENTY OF WATER FOR AT LEAST 15 MINUTES, LIFTING
LOWER AND UPPER EYELIDS OCCASIONALLY. GET MEDICAL ATTENTION IF EYE
IRRITATION PERSISTS.
INGESTION:
GIVE SEVERAL GLASSES OF WATERTO DRINK TO DIWI'E.
SWALLOWED, GET MEDICAL ADVICE.
OOOR: OOORLESS.
SOLUBILITY:
SILICA GEL BASE IS
OUT.
SPECIFIC
pH:
5.5-9.0
GRAVITY:
INSOLUBLE IN WATER; COBALT CHLORIDE MAY LEACH
2.1
(5% SLURRY)
VOLATILES BY VOLUME (@ 21 DEG. C (70 DEG. F):
0
MELTING POINT / MELTING RANGE: NO INFORMATION FOUND
VAPOR DENSITY
(AIR=I):
NO INFORMATION FOUND
IF LARGE AM)UNTS WERE
VAPOR PRESSURE
(MM HG):
NO INFORMATION FOUND
EVAPORATION RATE (BUAC=I):
NO INFORMATION FOUND
USE WITH ADEJ;;1UATEVENTILATION.
WASH THOROUGHLYAFI'ER HANDLING.
STABILITY:
STABLE UNDER ORDINARY CONDITIONS OF USE AND STORAGE.
LABEL FIRST AID.
IF INHALED: REMlVE TO FRESH AIR.
DIFFICULTY .
HAZI\RDOUS DECXJMPOSITION PRODUCTS:
OXIDES OF CARBONAND SILICXX<E MP.YBE FORMEDWHENHEATED TO D=ITlOO.
IN CASE OF CONTACT:
lM'1EDIATELY FLUSH EYES OR SKIN WITH PLENTY OF WATER FOR AT LEAsr 15 MINUIES.
GET MEDICAL ATTENTION IF IRRITATION DEVEWPS OR PERSISTS.
HAZI\RDOUS POLYMERIZATION:
WILL NOT OCCUR.
MATERIAL SAFETY DATA SHEET
INCOMPATIBILITY:
RE.l\CTS WITH HYDROGEN FLUORIDE, FLUORINE, OXYGEN DIFLUORIDE,
CHWRlNE TRIFLUORIDE, STRONG ACIDS, STRONG BASES, AND OXIDIZERS.
CONDITIONS TO AVOID:
M::ISTURE, EXTREME HEAT, AND INCDMPATIBLES.
TOXICOLOGICAL DATA:
NO LD50/LC50 INFORMATION FOUND RELATING TO NORMAL ROurES
OF OCCUPATIONAL EXPOSURE.
CARCINOGENICITY:
COBALTAND ITS COMPOUNDSHAVE BEEN SHOWNTO CAUSE CANCER IN LABORATORY
ANIMALS.
ENVIRONMENTALFATE:
FOR SILICA GEL (SYNTHETIC AMJRPHOUS) :
WHENRELEASED INTO THE SOIL, THIS MATERIAL IS N:JI' EXPECTED TO BIODEGRADE.
WHENRELEASED INTO WATER, THIS MP.TERIAL IS N:JI' EXPECTED TO BIODEGRADE.
ENVIRONMENTALTOXICITY:
FOR SILICA GEL (SYNTHETIC AMJRPHOUS) :
THIS MATERIAL IS NOT EXPECTED TO BE TOXIC TO AQUATIC LIFE.
RECOMMENDATION:
WHATEVERCANNOTBE SAVED FOR RECOVERYOR RECYCLING SHOULD BE MANAGEDIN AN
APPROPRIATE AND APPROVED WASTE DISPOSAL FACILITY.
PROCESSING, USE OR
CONTAMINATIONOF THIS PRODUCTMAY CHANGETHE WASTE MANAGEMENT
OPTlOOS. Sf ATE
AND JJJCAL DISPOSAL REGULATIONS MP.YDIFFER FRCM FEDERAL DISPOSAL REGULATIONS.
DISPOSE OF CXJNTAINERAND UNUSED CONTENTS IN ACCORDANCEWITH FEDERAL, Sf ATE
AND WCAL REQUIREMENTS.
-----------
14. TRANSPORT INFORMATION -----------
TRANSPORT/ADDITIONAL INFORMATION:
NOT REGULATED.
SARA:
SECTION 302 (EX'I'RDIELY HAZARDOUS SUBSfANCES) :
NONE OF THE INGREDIENTS ARE LISTED.
SECTION 313 (SPECIFIC TOXIC CHEMICAL LISTINGS)
NONE OF THE INGREDIENTS ARE LISTED.
:
TSCn. (TOXIC SUBSTANCES CONTROL ACT) :
ALL INGREDIENTS ARE LISfED.
POISON SCHEDULE:
NO INFORMATION FOUND.
EC:
NONE OF THE INGREDIENTS ARE LISTED.
TLV (THRESHOLD LIMIT VALUE ESTABLISHED BY AOGIH) :
NONE OF THE INGREDIENTS ARE LISTED
CERCLA REPORTABLE QUANTITY:
NONF OF THE INGREDIENTS APE LISTPD.
RCRA (RESOURCE CONSERVATION AND RECOVERY ACT) :
NONE OF THE INGREDIENTS ARE LISfED.
EUROPEAN ElNECS:
ALL INGREDIENTS ARE LISfED.
EC CLASSIFICATION:
CARCINOGENIC
R PHRASES:
R49: MAY CAUSE CANCER BY INHALATION
R42/43:
MAY CAUSE SENSITIZATION BY INHALATION AND SKIN CONTACT
S PHRASES:
S22: DO NOT BREATHE DUSf.
S53: AVOID EXPOSURE--OBTAIN SPECIAL INSTRUCTIONS BEFORE USE.
S45: IN Cl\SE OF ACCIDENT OR IF YOU FEEL UNWELL, SEEK MEDICAL ADVICE
S60: THIS MATERIAL AND/OR ITS CXJNTAINERMUSf BE DISPOSED OF AS HAZARroUS
WAsrE.
S2: KEEP OUT OF REACH OF CHILDREN.
------------16.
0TIlER INFORMATION ------------
MSDS STATUS: CHANGES IN ALL SECTIONS.
SUPERSEDES:
8/23/2002
LABEL HAZARD WARNING: TOXIC
LABEL PRECAUTIONS:
AVOID CONTACT WITH EYES,
AVOID BREATHING DUSf.
KEEP CONTAINER CWSED.
GET MEDICAL ATTENTION FOR ANY BREATIlING
SKIN AND CLOTHING.
ATTENTION:
PLANT MANAGER/SAFETY DIRECTOR
THIS MSDS SUPERSEDES ALL PRIOR DATA SHEETS RECEIVED FOR TIllS PRDDUCr. WE
URGE YOU TO sruDY IT CAREFULLY. '!HIS IS PROVIDED WI'!H EAQl CONTAINER AS
OUR WAY OF <XlM'1UNlCATING HEALTH, SAFETY, AND ENVIRONMENTAL PROTECTION
INFORMATION TO OUR CUSTOMERS.
TIllS INFORMATION IS PROVIDED TO ENSURE SAFE HANDLING AND STORAGE OF OUR
PRODUCTS IN ACCORDANCE WITH OSHA HAZARD COMMUNICATION STANDARD 29 CFR
1910.1200.
THE INFORMATION CONTAINED IN '!HIS MSDS MUsr BE PASSED ON TO ALL
EMPWYEES IN YOUR FIRM THAT HANDLE AND/OR BECOME INVOLVED IN THE
IMPLEMENTATIONOR CXNffiOL OF OPERATIONS INVOLVING USE OF THE PRODUCT. WE
STROOGLY URGE YOU TO FORWARD'!HIS MSDS TO ALL PARTIES THAT HAVE A NEED TO
KNCM THE INFORMATION CONTAINED HEREIN!
LEGEND:
AOGIH: AMERICAN CONFERENCE OF GOVERNMENTINDUSTRIAL HYGIENISTS
AICS: AUSTRALIAN INVENTORY OF CHEMICAL SUBSTANCES
CAS: CHEMICAL ABSTRACT SERVICES
CERCLA:
CDMPREHENSlVE ENVIRONMENTAL RESPONSE, CDMPENSATION, AND LIABILITY
CFR: CODE OF FEDERAL RffiULATIONS
DOT: DEPARTI'1ENT OF TRANSPORTATION
DSL: DOMESTIC SUBSTANCES LIST (CANADA)
ECOIN: EUROPEAN CORE INVENTORY
EPA: ENVIRONMENTAL PROTECTION AGENCY
!ARC: INTERNATIONAL AGENCY FOR RESEARCH ON CANCER
LC50: LETHAL OONCENTRATION (50% KILL)
LCW: WWEsr PUBLISHED LETHAL CONCENTRATION
L050: LETHAL DOSE (50% KILL)
LOW: LOWEST PUBLISHED LETHAL DOSE
NFPA: NATIONAL FIRE PROTECTION AGENCY
NIOSH: NATIONAL INSTITUTE OF OCCUPATIONAL SAFETY AND HEALTH
NTP: NATIONAL TOXICOWGY PROGRAM
OSHA: OCCUPATIONAL SAFETY AND HEALTH ADMINISTRATION
PEL: PERMISSIBLE EXPOSURE LIMIT
PIN: PRODUCT IDENTIFICATION NUMBER
RCRA: RESOURCE CONSERVATION AND RECOVERY ACT
SARA: SUPERFUND AMENI:MENTSAND REAUTHORIZATION ACT
STEL: SHORT TERM EXPOSURE LIMIT
TCLP: TOXIC CHEMICALS LEACHATE PROGRAM
TOG: TRANSPORTATION OF DANGEROUS GCODS
TLV: THRESHOLD LIMIT VALUE
TSCA: TOXIC SUBSTANCES CONTROL ACT
'IWA: TIME WEIGHTED AVERAGE
ACT
A'IM: ATMOSPHERE
eM: CENTIMETER
G, GM: GRAM
IN: INCH
KG: KIUX:RAM
LB: POUND
M: METER
MG: MILLIGRAM
mL, ML: MILLILITER
MM: MILLIMETER
N .0. S.: NOT OTHERWISE SPECIFIED
PPB: PARTS PER BILLION
PPM: PARTS PER MILLION
PSIA: POUNDS PER SQUARE INCH
MICRO U: MICRON
MICRO g: MICROGRAM
THE INFORMATION CONTAINED HEREIN IS BASED UPON DATA CONSIDERED TRUE AND
ACCURATE. HCWEVER, WE MP.KENO WARRANTIES (EXPRESS OR IMPLIED) AS TO THE
ACCURACYOR ADEJQUACYOF THE INFORMATION CONTAINED HEREIN OR THE RESULTS TO
BE OBTAINED FROM THE USE THEREOF. '!HIS INFORMATION IS OFFERED SOLELY FOR THE
USER'S OONSIDERATION, INVEsrlGATION AND VERIFICATION. SINCE THE USE AND
CONDITlOO8 OF USE OF THIS INFORMATION AND THE MATERIAL DESCRIBED HEREIN ARE
N:JI' WI'!HIN OUR CXNffiOL, WE ASSU1E NO RESPONSIBILITY FOR INJURY TO THE USER
OR '!HIRD PERSONS. THE MP.TERIAL DESCRIBED HEREIN IS SOLO ONLY PURSUANI' TO OUR
'TERMS AND CONDITIONS OF SALE, INCLUDING THOSE LIMITING WARRANTIES AND
REMEDIES CONTAINED THEREIN. IT IS THE RESPONSIBILITY
OF THE USER TO
DETERMINE WHETHERANY USE OF THIS DATA AND INFORMATION IS IN A=RDANCE WITH
APPLICABLE FEDERAL, STATE OR WCAL LAWS A.1'IDREGULATIONS.