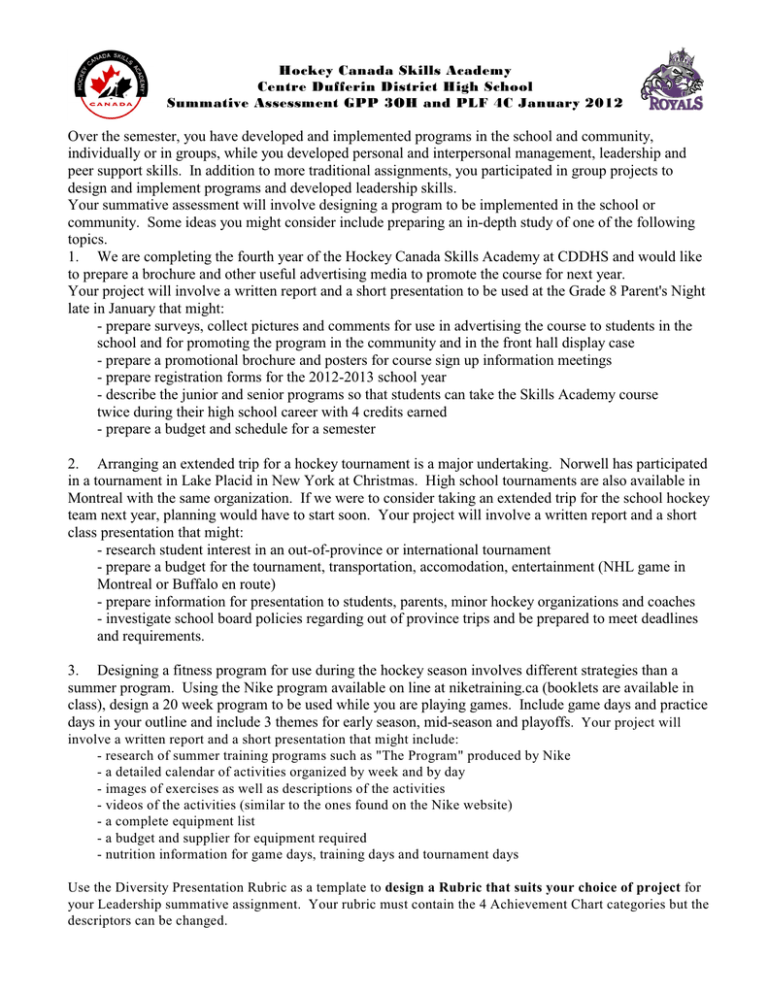 Hockey Canada Skills Academy
Centre Dufferin District High School
Summative Assessment GPP 3OH and PLF 4C January 2012
Over the semester, you have developed and implemented programs in the school and community,
individually or in groups, while you developed personal and interpersonal management, leadership and
peer support skills. In addition to more traditional assignments, you participated in group projects to
design and implement programs and developed leadership skills.
Your summative assessment will involve designing a program to be implemented in the school or
community. Some ideas you might consider include preparing an in-depth study of one of the following
topics.
1. We are completing the fourth year of the Hockey Canada Skills Academy at CDDHS and would like
to prepare a brochure and other useful advertising media to promote the course for next year.
Your project will involve a written report and a short presentation to be used at the Grade 8 Parent's Night
late in January that might:
- prepare surveys, collect pictures and comments for use in advertising the course to students in the
school and for promoting the program in the community and in the front hall display case
- prepare a promotional brochure and posters for course sign up information meetings
- prepare registration forms for the 2012-2013 school year
- describe the junior and senior programs so that students can take the Skills Academy course
twice during their high school career with 4 credits earned
- prepare a budget and schedule for a semester
2. Arranging an extended trip for a hockey tournament is a major undertaking. Norwell has participated
in a tournament in Lake Placid in New York at Christmas. High school tournaments are also available in
Montreal with the same organization. If we were to consider taking an extended trip for the school hockey
team next year, planning would have to start soon. Your project will involve a written report and a short
class presentation that might:
- research student interest in an out-of-province or international tournament
- prepare a budget for the tournament, transportation, accomodation, entertainment (NHL game in
Montreal or Buffalo en route)
- prepare information for presentation to students, parents, minor hockey organizations and coaches
- investigate school board policies regarding out of province trips and be prepared to meet deadlines
and requirements.
3. Designing a fitness program for use during the hockey season involves different strategies than a
summer program. Using the Nike program available on line at niketraining.ca (booklets are available in
class), design a 20 week program to be used while you are playing games. Include game days and practice
days in your outline and include 3 themes for early season, mid-season and playoffs. Your project will
involve a written report and a short presentation that might include:
- research of summer training programs such as "The Program" produced by Nike
- a detailed calendar of activities organized by week and by day
- images of exercises as well as descriptions of the activities
- videos of the activities (similar to the ones found on the Nike website)
- a complete equipment list
- a budget and supplier for equipment required
- nutrition information for game days, training days and tournament days
Use the Diversity Presentation Rubric as a template to design a Rubric that suits your choice of project for
your Leadership summative assignment. Your rubric must contain the 4 Achievement Chart categories but the
descriptors can be changed.