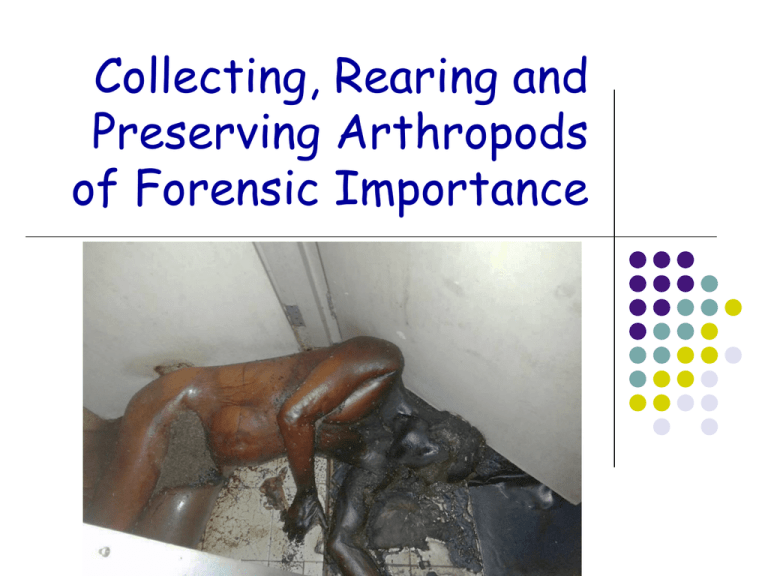 Collecting, Rearing and
Preserving Arthropods
of Forensic Importance
Initial Observations
l 
Forensic entomologists must take detailed notes about
the condition of the corpse and the crime scene
including:
l 
l 
l 
l 
l 
Stage of decomposition
Indications that the body was covered, wrapped, or had other
impediments to insect colonization (partial submergence, etc)
Observations on locations of insects on, in, or around the body
Climatological data including temp. and humidity.
Description of environmental conditions (indoor / outdoor,
climate-controlled, shading, forested, urban, etc)
Where to Collect?
l 
From the crime scene
l 
l 
l 
l 
l 
From the cadaver
From soil surrounding cadaver
From enclosed structures (along baseboards,
under carpet, air vents, etc)
From site after body removal
From autopsy room
l 
l 
Samples from body
Carefully inspect body bag
What to Collect?
1)  Flying arthropods: e.g., adult flies and beetles
2)  Crawling arthropods: e.g., adult / immatures around and under
corpse (fly larvae – maggots and beetle larvae). Also inspect
ground surrounding body - collect largest, and representative
samples of others.
3) Puparia - note empty puparia, the color of any puparia, etc
4) Eggs – location - in clumps around eyes, mouth, genitals, wounds
5) Collect or observe the "unusual" e.g., leaves, algae, insect frass,
insect signs, also note absence of arthropods.
How to Collect?
1)  Do collection preparation away from crime scene:
take notes, make observations 1st.
2) Collect larvae and adult insects from on, in,
underneath cadaver, and from around any sites of
obvious trauma.
-- collect older or larger larvae, preserve some, rear ~50 or more).
-- collect material for potential DNA or chemical testing (See
handout and next slide
3) Collect carefully
do not damage preserved insects
do not harm live insects
Sampling the Scene
How to Collect?
4) To collect adult insects, use a sweep net to collect
both flying insects and insects on vegetation and
around body.
(from Catts & Haskell 1990)
Kill adult insects immediately in insect kill jar with
ethyl acetate. Insects (other than adult flies)
should be placed in 80% ethanol for storage. Flies
are more easily pinned if they are freshly killed
How to Collect?
5) Collect larvae in, on, and
underneath corpse with soft
forceps and either preserve in 80%
ethanol (after fixing – I prefer
boiling water for 30 s) or save for
rearing in maggot motels.
6) Inspect areas around the corpse
and collect soil samples for lab
analysis with Berlese funnels.
Collecting Arthropods
The Big Picture
Importance of Rearing
Insects
• 
Allows FE to confirm insect ID
• 
• 
More clearly define the PMI
• 
• 
Adult flies are often much easier to identify than are maggots
Rearing to adult allows a definitive
developmental point for reference.
Provides FE with a valuable database of insect
development that can be applied to future
cases.
Do's and Don'ts
1)  Keep temperatures between 24 - 28˚C and ~70%
humidity.
2)  Maintain larvae with adequate food supplies.
3)  Do not overcrowd insects.
4)  *Do not mix samples from different cases
5)  Rear different samples separately (head sample,
wound sample, etc)
6)  Do not mix adult stages with larval stages,
especially if some species are predators or
cannibals. Maintain adults in containers with
screened lids.
How to rear flies
l 
Insect rearing can be challenging
l 
l 
Different species have different requirements
(some are easy – Phormia, Calliphora), some are more
difficult – Lucilia illustris and L. coeruleiviridis)
I use maggot motels in constant
temperature environmental
chambers.
l 
l 
Catts and Goff (1990) show the basic
motel design.
Substitute lean boneless pork chop and
sterilized potting soil as a substrate
for better success.
pork chop
How to Preserve Insects?
l 
l 
Insects collected are evidence!! Proper chain of custody
and preservation are critical for it to have any evidentiary
value.
Larvae / Immatures: (Diptera - maggots).
l 
Need to be fixed for preservation. Placing the living
maggot in boiling water for 30 seconds gives excellent
results.
Store in 80% alcohol in glass vials (4 dram screw cap)
l 
Label with pencil!!
l 
l 
Adult Insects: (Diptera (flies) and Coleoptera (beetles
l 
l 
Avoid preserving in liquids if possible
pin individuals with identification labels
Labeling Samples
Take Home Messages
Collecting:
-- Collect climatological and entomological evidence thoroughly,
carefully and abundantly. Don't skimp on observations about the
crime scene and surrounding habitat.
Rearing:
-- Usually not done by the crime scene tech, but evidence collected
for this purpose is critical for the entomologist. Living samples are
vital both for identification and for calculating PMI.