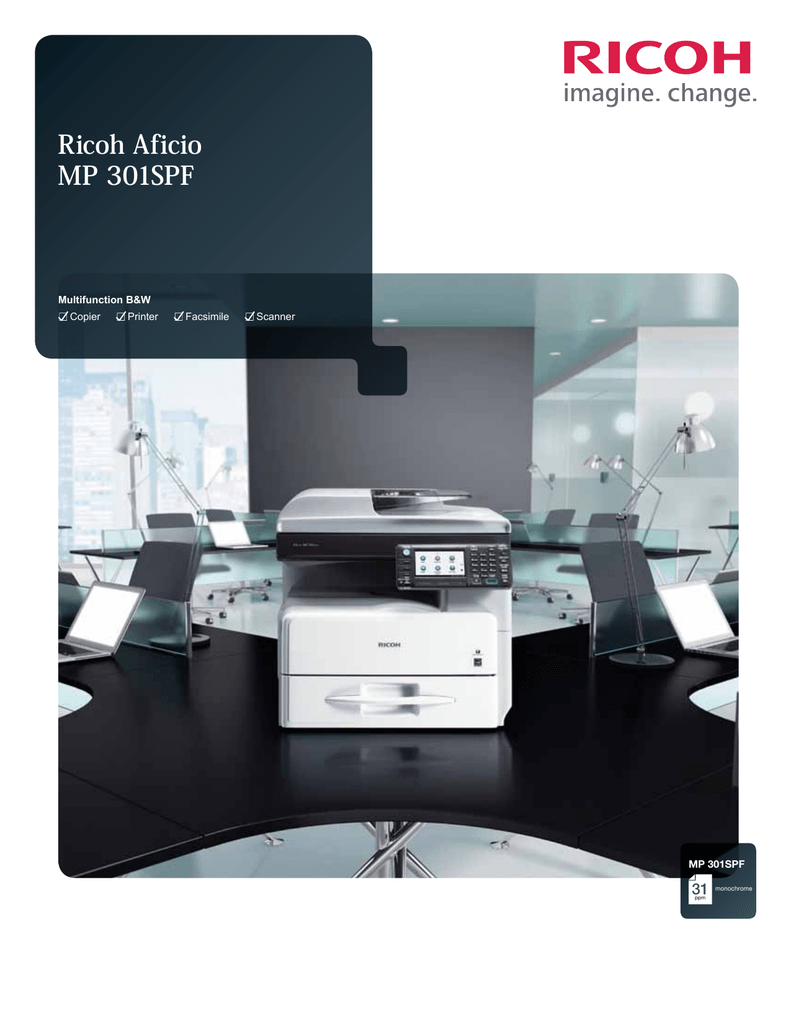 Ricoh Aficio
MP 301SPF
Multifunction B&W
Copier Printer Facsimile Scanner
MP 301SPF
31
ppm
monochrome
Affordable, productive multitasking at your
convenience
Raise your expectations — and improve your productivity. The RICOH Aficio MP 301SPF offers advanced
®
®
capabilities to streamline workflow and reduce total cost of ownership. Use it to produce fast, black-and-white
output, share electronic documents, protect sensitive information and optimize IT resources cost-effectively.
With its unique combination of powerful, reliable performance and intuitive management in a compact design,
it offers incredible value as the primary multifunction device in an office or as part of an integrated Ricoh
Managed Document Services (MDS) strategy throughout the enterprise. Expect the MP 301SPF to exceed
your low-volume, desktop multifunctional product demands without compromising space or the budget.
Choose your own efficiency
Loaded with customizable features in a sleek, desktop design, the
MP 301SPF makes everyday tasks more accessible. The tiltable, 4.3" color
touch-panel display and an optional external keyboard enable users to deftly
manage every job with ease. Four frequently used functions are available
directly from the Home Screen, so users can select specific workflows quickly
to save steps and help maximize productivity. In addition, users can return
to the Home Screen at any time with simple, one-touch operation.
Perform any task, anywhere
Move mobile users forward, while improving workflow, with innovative
electronic media capabilities. Users can insert a USB memory or SD card
into a slot on the MFP control panel to preview and print output remotely,
without a PC. Users can also work from a mobile device, such as a smart
phone or tablet, to locate the MFP quickly and print output without the
use of utilities, software or drivers.
Discover the power of versatility
The MP 301SPF enables users to handle a wide range of demanding tasks
with ease. It generates up to 31 pages per minute for outstanding throughput.
Storage capacity can be expanded to 1,350 paper sheets to support longer,
uninterrupted runs. Its 8" x 14" platen is perfect for copying, scanning and
faxing oversized documents, including booklets, catalogs and other media.
In addition, when the optional hard drive is installed the Document Server
offers convenient access for up to 3,000 frequently-used documents.
A sleek, compact MFP streamlined for the
desktop—and your workflow
Sustainable savings and productivity
Backed by Ricoh's long-standing commitment to energy- and
environmentally-friendly solutions, the MP 301SPF offers a host of
innovative features to reduce total cost of ownership. With the
Eco-Friendly Indicator, users can check usage status for individual
employees and foster more environmental awareness and responsible
paper consumption. With its class leading energy efficiency, based on
the low Typical Energy Consumption (TEC) value of only 1.5 kWh/week,
combined with a short recovery time of less than 10 seconds from
Sleep Mode, high speed duplexing and enhanced first copy out time,
the system provides a quicker availability and saves more energy.
Sophisticated scanning and faxing
Capture black-and-white or full-color originals quickly and distribute
them electronically for faster, more affordable communications. Users
can retrieve numbers and addresses from LDAP-registered directories
and eliminate costly delivery charges by sending documents instantly
via Scan-to-Email/Folder/SD/USB. One-sided and two-sided originals
can be scanned in a single job using Enhanced Batch Scan to
boost productivity. Plus, a powerful Super G3 fax modem, IP (T.38)
and Internet (T.37) faxing minimize bottlenecks while eliminating
transmission costs.
Complex management tasks simplified
With exceptional compatibility and easy-to-use utilities, the MFP
automates processes and optimizes workflow. Users can take
advantage of Ricoh's services-led platform to integrate customized
applications and software solutions to boost productivity and help
reduce operating costs. Shortcuts, system and application settings
and more can be exported to an SD card for installation on another
MP 301. Workflows can be customized from the desktop and
accessed within moments for fast walk-up operations on the
most comprehensive jobs.
Ricoh Aficio MP 301SPF
S Y s t e m s p e c i f i c at i o n s
General Specifications
Configuration
Scanning Element
Printing Process
Printer
Desktop Multifunctional Product (MFP)
Flatbed with CCD array image-sensing
element
Laser beam scanning/marking & electrophotographic printing
1GB. (RAM) standard
Up to 31 ppm (Letter)
Standard Features
CPU
RM7035C – 533 MHz
Standard: 1 GB RAM
Memory Capacity
Hard Disk Drive
Optional: 128 GB HDD
Standard: PCL5e/6, Genuine Adobe
Page Description LanguagesPostScript 3
Maximum Print Resolution 600 x 600 dpi
Standard Interfaces
Ethernet (RJ-45 network port : 10Base-T/
100Base-TX), USB2.0 Type A and B
Optional Interfaces
IEEE1284, Wireless LAN (IEEE802.11a/b/g),
Giga Ethernet (1000BASE-T), Bluetooth
Network Protocols
TCP/IP (IPv4, IPv6), IPX/SPX (available
with Netware option)
Fonts for PCL 5e/6
45 Roman fonts
136 Roman fonts
Fonts for PS3
Network Operating
Windows XP/Server 2003/Vista/Server
2008/7; Novell Netware 6.5; UNIX Filters
Systems
for Sun Solaris 2.6/7/8/9/10; HP-UX
10.x/11.x/11iv2/11iv3; Red Hat Linux
Enterprise V4, V5, V6; SCO OpenServer
5.0.6/5.0.7/6.0; IBM AIX Version 5.3,
6.1, 7.1; SAP R/3, 3.x or later, mySAP,
ERP2004 or later; Mac OSX 10.2 or later,
Citrix Metaframe XP/ Presentation Server
4, 5/XenApp 5.0, 6.0
Utilities
SmartDeviceMonitor for Admin and Client,
Web SmartDeviceMonitor, Web Image Monitor
Other Printer Features
Media Direct Print (Print from USB/SD) ,
Mobile Driver, Bonjour Support,
Classification Code, Mail to Print , PDF
Direct Print, Sample/Hold/Stored/Locked
Print , Store and Print , Windows Active
Directory Support, DDNS Support,
WSPrinter, PCL resident font adoption,
Tray-Parameter Change from
WebImageMonitor, XPS Support
1
1
®
®
System Memory
Output Speed
(Copy/Print)
First Copy Time
6 seconds or less
Less than 23 seconds (from main power
Recovery Time to
Product Ready Mode switch on)
Less than 10 seconds (from sleep mode)
Copy Resolution
600 x 600 dpi (platen), 600 x 300 (ARDF)
Grayscale
256 levels
Manual and automatic
Exposure Adjustment
Multiple Copies
Up to 99
Automatic Reversing Document Feeder
Document Feeder
(Standard)(ARDF)
Original Capacity
50 sheets (ARDF)
Standard Tray: 5.5" x 8.5" to 8.5" x 11"
Paper Sizes
(A4/ LT/A5/HLT)
Optional Trays: 8.5" x 11" to 8.5" x 14"
(A4/LT/ LG/Folio)
Bypass Tray: 5.5" x 8.5" to 8.5" x 14"
(A6/A5/A4/LT/LG)
Duplex Unit: 8.5" x 11" to 8.5" x 14"
(A4/LT/LG)
Standard/Optional Trays: 16 – 24 lb. Bond
Paper Weights
(60 – 90 g/m )
Bypass Tray: 16 – 42 lb. Bond (60 – 157 g/m )
Duplex Unit: 20 – 24 lb. Bond (60 – 90 g/m )
Exposure Glass
Up to 8.5" x 14"
Input Capacity
Standard: 250 sheets + 100-Sheet
Bypass Tray
Optional: 500 sheets x 1 or 2 Trays
250 sheets (internal tray)
Output Capacity
Paper Types
Plain, Recycled, Colored, Letterhead,
Preprinted, Bond, Card Stock, Prepunched,
Special, Thick*, OHP (Transparency)*
Envelopes*, Label Stock*
Auto DuplexStandard
Zoom
25% to 400% in 1% increments
Preset Reduction and
65%, 78%, 93%, 129%, 155%
Enlargement Ratios
19.0" x 17.7" x 18.1" (476 mm x 450 mm
Dimensions (WxDxH)
x 451 mm) – includes ARDF
Weight
57.3 lbs./ 26 kg.
120V, 60Hz, 8A
Power Requirements
Power Consumption
Less than 1,1 kW (max.)
Sleep Mode, 2.8 W (MP 301SPF)
TEC
MP 301SPF – 1.507 kWh/week***
Document Server**, Image Rotation, Auto
Standard Features
Off Timer, Combine Copy, Electronic Sort,
Energy Saver Timer, Photo Mode, Series
Copy, Job Programs (25), User Codes
(8 digits, 1,000 Personal Codes)
2
2
2
*Bypass Tray only.
**HDD option required.
***Typical electric consumption by ENERGY STAR program
PDF Encryption, Preview Before
Transmission (TX Preview) , Drop Out Color
Send, Simultaneous Fax and Scan,
Scan-to-Email/SMB/FTP/URL /NCP ,
LDAP Support, TWAIN Scanning
2
1 HDD option required.
Netware option required
2
Fax
Type
Circuit
Resolution
Modem Speed
Compression Method
Scan Speed
Transmission Speed
Memory
Memory Backup
Quick/Speed Dials
Group Dials
User Function Key
Standard Features
ITU-T (CCITT) G3
PSTN, PBX
200 x 100 dpi, 200 x 200 dpi
33.6K – 2,400 bps with Auto Fallback
MH, MR, MMR, JBIG
2.4 seconds (Letter)
Approx. 2 seconds/page (JBIG)
4 MB (approx. 320 pages)
12 hours
200 (2,000 with HDD Option)
10 groups (max. 100 numbers per group
with HDD option)
3 keys
Detection of Misplaced Documents,
Double Check Destination Address, Direct
SMTP, Simultaneous Fax and Scan, Fax
Forward to Email/Folder, Internet Fax
(T.37) , IP Fax (T.38) , LAN Fax, Paperless
Fax , LDAP Support
1
1
1
1
1 HDD option required.
1
1
1 1
HDD option required.
Scanner
31 ipm @ 300 dpi B/W (LT)
21 ipm @ 300 dpi Full-Color (LT)
100 to 600 dpi
Main: 8.5" (216 mm)
Sub: 14.02" (356 mm)
B/W: MH (default), MR, MMR, JBIG2
Full-Color: JPEG
B/W: Text, Text/Line Art, Text/Photo,
Photo, Grayscale
Full-Color: Text/Photo, Glossy Photo,
Grayscale
Standard Interfaces
Ethernet 10BASE-T/100BASE-TX
Wireless LAN (IEEE 802.11a/b/g), Gigabit
Optional Interfaces
Ethernet (1000BASE-T)
File Formats: Single/Multi Page TIFF,
Single/Multi Page PDF, Single/Multi Page
High Compression PDF and Single/Multi
Page PDF/A; Single Page JPEG
Scan Modes Supported Scan-to-USB/SD, Scan-to-Email (POP,
SMTP, TCP/IP) ; Scan-to-Folder (SMB/
FTP/NCP) ; Network TWAIN Scanning;
WSDScanner for Vista
Scanning Speed
Scanning Resolution
Scan Area
Compression Method
Scan Mode
1
2
www.ricoh-usa.com
Ricoh Americas Corporation, Five Dedrick Place, West Caldwell, NJ 07006, 1-800-63-RICOH
Ricoh and the Ricoh Logo are registered trademarks of Ricoh Company, Ltd. All other trademarks are the property of their respective owners. The content of this document, and the
appearance, features and specifications of Ricoh products and services are subject to change from time to time without notice. Products are shown with optional features. While care
has been taken to ensure the accuracy of this information, Ricoh makes no representation or warranties about the accuracy, completeness or adequacy of the information contained
herein, and shall not be liable for any errors or omissions in these materials. Actual results will vary depending upon use of the products and services, and the conditions and factors
affecting performance. The only warranties for Ricoh products and services are as set forth in the express warranty statements accompanying them.
®
R3348
Paper Feed Unit PB1040 (Option)
8.5" x 11" SEF, 8.5" x 14" SEF (A4/LT/LG)
16 – 24 lb. Bond (60 – 90 g/m )
500 sheets x 1 or 2 Trays
Paper Size
Paper Weight
Paper Capacity
2
Additional Options
HDD Option Type 301 (includes HDD overwrite and encryption),
Cabinet, Type FAC57, Cabinet, Type FAC58, IEEE1284 Interface
Board Type A, IEEE802.11a/g Interface Unit Type J, Gigabit Ethernet
Board Type A, Bluetooth Interface Unit Type D, VM Card Type U, File
Format Converter Type E, Browser Unit Type G, SD Card for NetWare
Printing Type I, Unicode Font Package for SAP (1/10/100 License
Packs available), Handset Type C5502, Optional Counter Interface
Unit Type A, Copy Data Security Unit Type F, ACK3400-U Key Board
Security
Quota Setting/Account Limit; SMTP over SSL; Hard Disk Data
Overwrite Security ; Authentication (Windows/LDAP/Kerberos/Basic/
User Code/802.1.x Wired); Encryption (Address Book/Authentication
Password/SSL Communication/S/MIME/IPsec/Locked Print
Password/HDD ); Network Protocol (Port) On/Off; IP Filtering; Copy
Data Security Unit; RAM Based Security when HDD is not installed
1
1
1 Only required with HDD option.
Some features may require additional options.