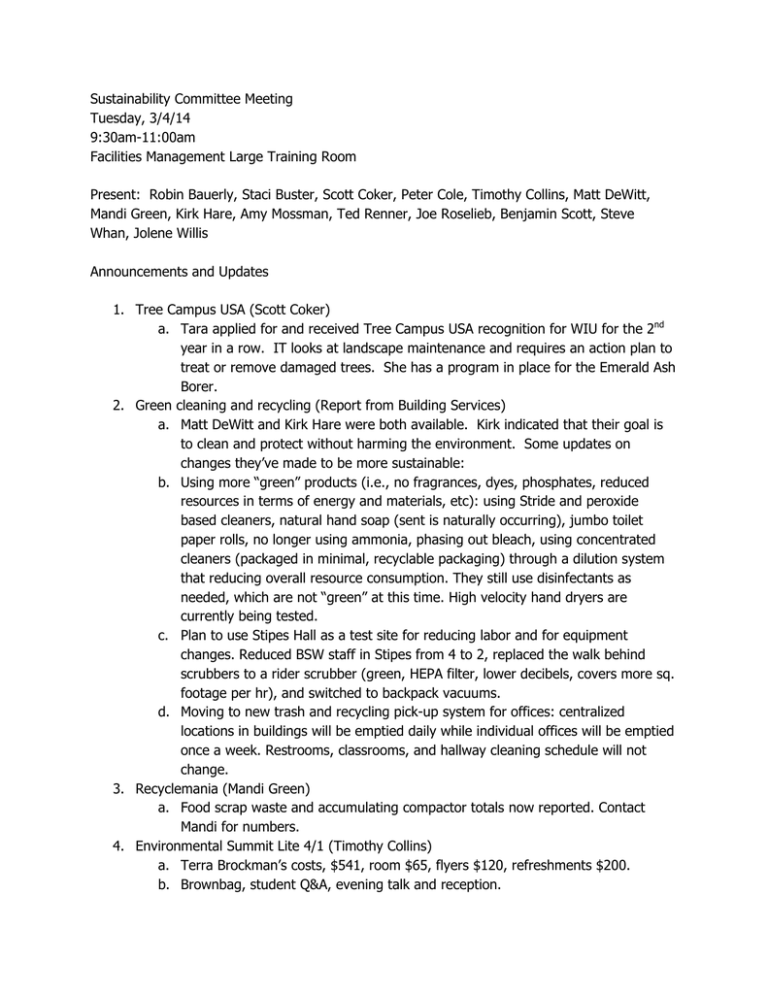 Sustainability Committee Meeting
Tuesday, 3/4/14
9:30am-11:00am
Facilities Management Large Training Room
Present: Robin Bauerly, Staci Buster, Scott Coker, Peter Cole, Timothy Collins, Matt DeWitt,
Mandi Green, Kirk Hare, Amy Mossman, Ted Renner, Joe Roselieb, Benjamin Scott, Steve
Whan, Jolene Willis
Announcements and Updates
1. Tree Campus USA (Scott Coker)
a. Tara applied for and received Tree Campus USA recognition for WIU for the 2nd
year in a row. IT looks at landscape maintenance and requires an action plan to
treat or remove damaged trees. She has a program in place for the Emerald Ash
Borer.
2. Green cleaning and recycling (Report from Building Services)
a. Matt DeWitt and Kirk Hare were both available. Kirk indicated that their goal is
to clean and protect without harming the environment. Some updates on
changes they've made to be more sustainable:
b. Using more "green" products (i.e., no fragrances, dyes, phosphates, reduced
resources in terms of energy and materials, etc): using Stride and peroxide
based cleaners, natural hand soap (sent is naturally occurring), jumbo toilet
paper rolls, no longer using ammonia, phasing out bleach, using concentrated
cleaners (packaged in minimal, recyclable packaging) through a dilution system
that reducing overall resource consumption. They still use disinfectants as
needed, which are not "green" at this time. High velocity hand dryers are
currently being tested.
c. Plan to use Stipes Hall as a test site for reducing labor and for equipment
changes. Reduced BSW staff in Stipes from 4 to 2, replaced the walk behind
scrubbers to a rider scrubber (green, HEPA filter, lower decibels, covers more sq.
footage per hr), and switched to backpack vacuums.
d. Moving to new trash and recycling pick-up system for offices: centralized
locations in buildings will be emptied daily while individual offices will be emptied
once a week. Restrooms, classrooms, and hallway cleaning schedule will not
change.
3. Recyclemania (Mandi Green)
a. Food scrap waste and accumulating compactor totals now reported. Contact
Mandi for numbers.
4. Environmental Summit Lite 4/1 (Timothy Collins)
a. Terra Brockman's costs, $541, room $65, flyers $120, refreshments $200.
b. Brownbag, student Q&A, evening talk and reception.
c. October 22nd will be the Prairie Lands Environmental Summit. Planning is
underway. Conference will be on campus but the goal is to eventually follow the
Rural Community Economic Development Conference format.
5. Sustainability blog (Amy Mossman)
a. At least one/month, hopefully bi weekly. Mandi is coordinating writers.
Old Business:
1. Student Sustainability Fund (subcommittee to review applications)
a. 7 applications received so far.
b. Subcommittee: Gordon, Bill, Mandi, Peter if necessary (after spring break).
c. Amy will send the applications electronically to the subcommittee.
New Business:
1. Amy is working on the Annual Report items and goals – she needs to list anything the
Campus Sustainability Committee has funded.
2. Appointments of voting members to the sustainability committee—will have by next
meeting. Scott will send a note to the listserv with a deadline to seek nominations. After
voting members are decided a chair, secretary, treasurer, etc. will be voted on.
Meeting adjourned at 4:20pm.
Next meeting (April) will be sent as a Doodle Request.