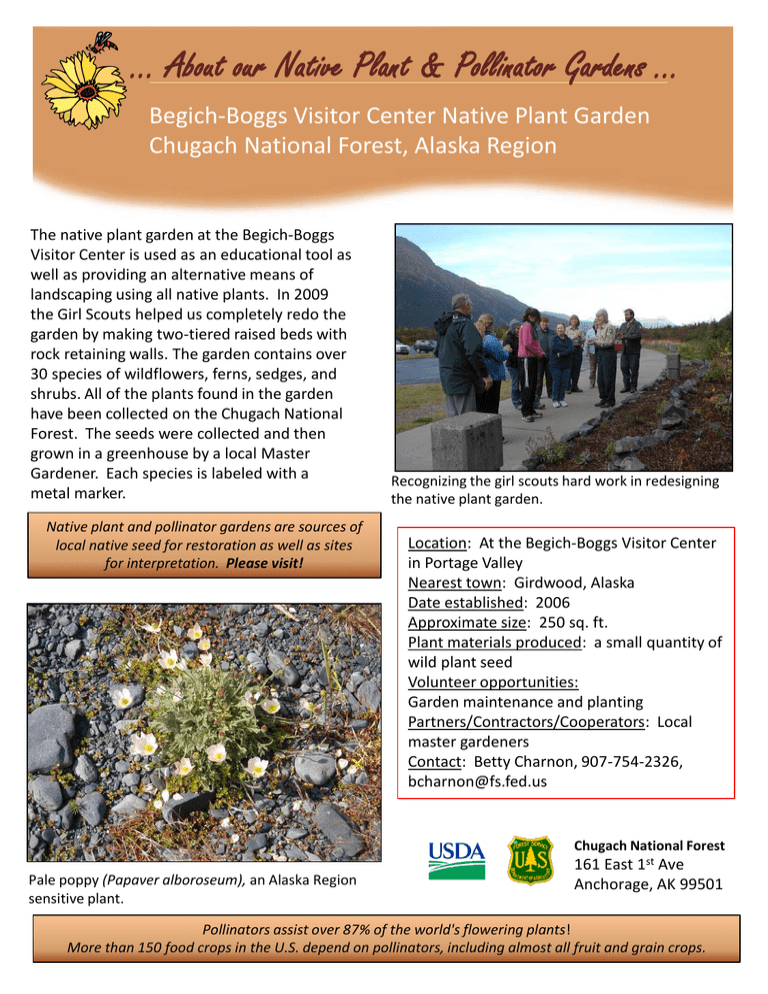 … About our Native Plant & Pollinator Gardens …
Begich-Boggs Visitor Center Native Plant Garden
Chugach National Forest, Alaska Region
The native plant garden at the Begich-Boggs
Visitor Center is used as an educational tool as
well as providing an alternative means of
landscaping using all native plants. In 2009
the Girl Scouts helped us completely redo the
garden by making two-tiered raised beds with
rock retaining walls. The garden contains over
30 species of wildflowers, ferns, sedges, and
shrubs. All of the plants found in the garden
have been collected on the Chugach National
Forest. The seeds were collected and then
grown in a greenhouse by a local Master
Gardener. Each species is labeled with a
metal marker.
Native plant and pollinator gardens are sources of
local native seed for restoration as well as sites
for interpretation. Please visit!
Recognizing the girl scouts hard work in redesigning
the native plant garden.
Location: At the Begich-Boggs Visitor Center
in Portage Valley
Nearest town: Girdwood, Alaska
Date established: 2006
Approximate size: 250 sq. ft.
Plant materials produced: a small quantity of
wild plant seed
Volunteer opportunities:
Garden maintenance and planting
Partners/Contractors/Cooperators: Local
master gardeners
Contact: Betty Charnon, 907-754-2326,
[email protected]
Chugach National Forest
Pale poppy (Papaver alboroseum), an Alaska Region
sensitive plant.
161 East 1st Ave
Anchorage, AK 99501
Pollinators assist over 87% of the world's flowering plants!
More than 150 food crops in the U.S. depend on pollinators, including almost all fruit and grain crops.