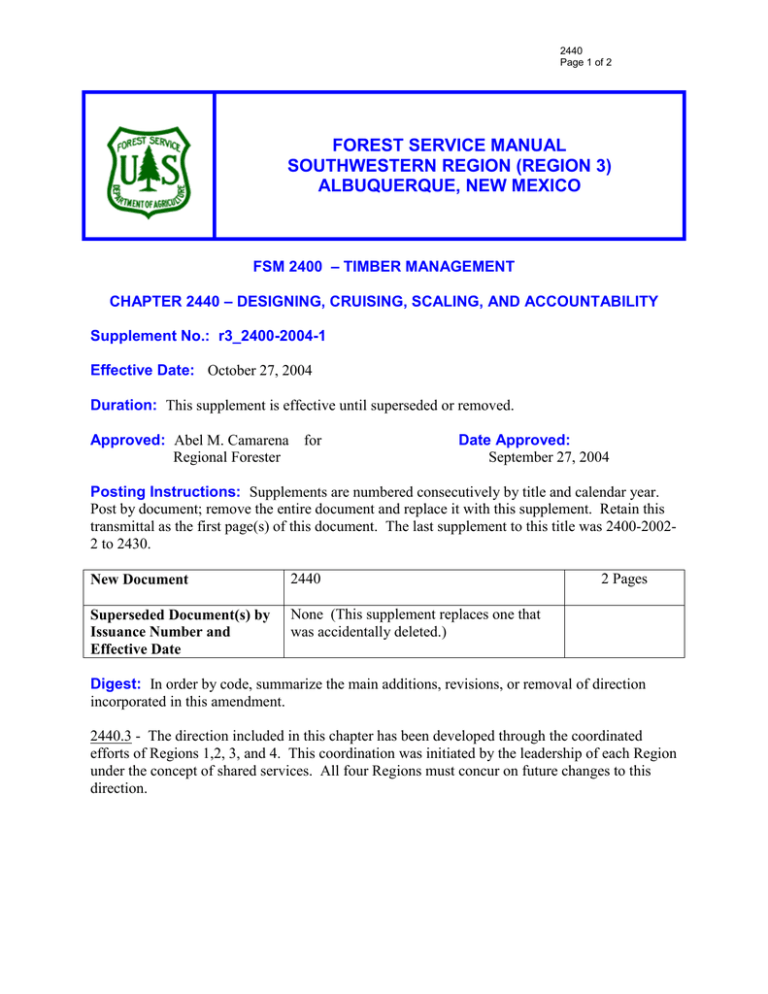 2440
Page 1 of 2
FOREST SERVICE MANUAL
SOUTHWESTERN REGION (REGION 3)
ALBUQUERQUE, NEW MEXICO
FSM 2400 – TIMBER MANAGEMENT
CHAPTER 2440 – DESIGNING, CRUISING, SCALING, AND ACCOUNTABILITY
Supplement No.: r3_2400-2004-1
Effective Date: October 27, 2004
Duration: This supplement is effective until superseded or removed.
Approved: Abel M. Camarena for
Regional Forester
Date Approved:
September 27, 2004
Posting Instructions: Supplements are numbered consecutively by title and calendar year.
Post by document; remove the entire document and replace it with this supplement. Retain this
transmittal as the first page(s) of this document. The last supplement to this title was 2400-20022 to 2430.
New Document
2440
Superseded Document(s) by
Issuance Number and
Effective Date
None (This supplement replaces one that
was accidentally deleted.)
2 Pages
Digest: In order by code, summarize the main additions, revisions, or removal of direction
incorporated in this amendment.
2440.3 - The direction included in this chapter has been developed through the coordinated
efforts of Regions 1,2, 3, and 4. This coordination was initiated by the leadership of each Region
under the concept of shared services. All four Regions must concur on future changes to this
direction.
R3 SUPPLEMENT 2400-2004-1
EFFECTIVE DATE: October 27, 2004
DURATION: This supplement is effective until superseded or removed.
2440
Page 2 of 2
FSM 2400 - TIMBER MANAGEMENT CHAPTER 2440 –DESIGNING, CRUISING, SCALING, AND ACCOUNTABILITY
2442 - TIMBER CRUISING
2442.04b - Forest Supervisor
The Regional Forester retains responsibility and authority for training and certifying Check
Cruisers. In addition to the general responsibilities described in the parent text, it is the Forest
Supervisor's responsibility to provide or maintain sufficient access to Certified Check Cruisers,
who are assigned duties that include:
1. Performing required inspections, providing associated documentation, maintaining a
certification roster, and forwarding summary information to the Regional Forester.
2. Providing and/or assisting with Qualified Cruiser training and assisting with advanced
cruising sessions.
3. Maintaining training or certification test-plots within their area of responsibility.
4. Participating in special projects associated with maintaining the quality of the tree
measurement program, such as gathering data for monitoring volume equations, testing and
evaluating new measurement techniques and equipment, and trouble shooting cruising problems.
When appropriate, consider sharing services between units, and combining check cruising and
check scaling duties into measurement specialist positions.
2443 - SCALING TIMBER SALE PRODUCTS AFTER FELLING
2443.04c - Forest Supervisor
In addition to responsibilities in parent text, Forest Supervisors shall:
4. Assure there are sufficient certified scalers and check scalers to accomplish fall-buckand-scale defect studies, to complete remaining scaled sales, and to provide for special situations
that require log scaling.
5. Maintain records documenting scaler performance on certification items such as
training, testing, mill visits, and check-scales. Forward a summary to the Regional Office.