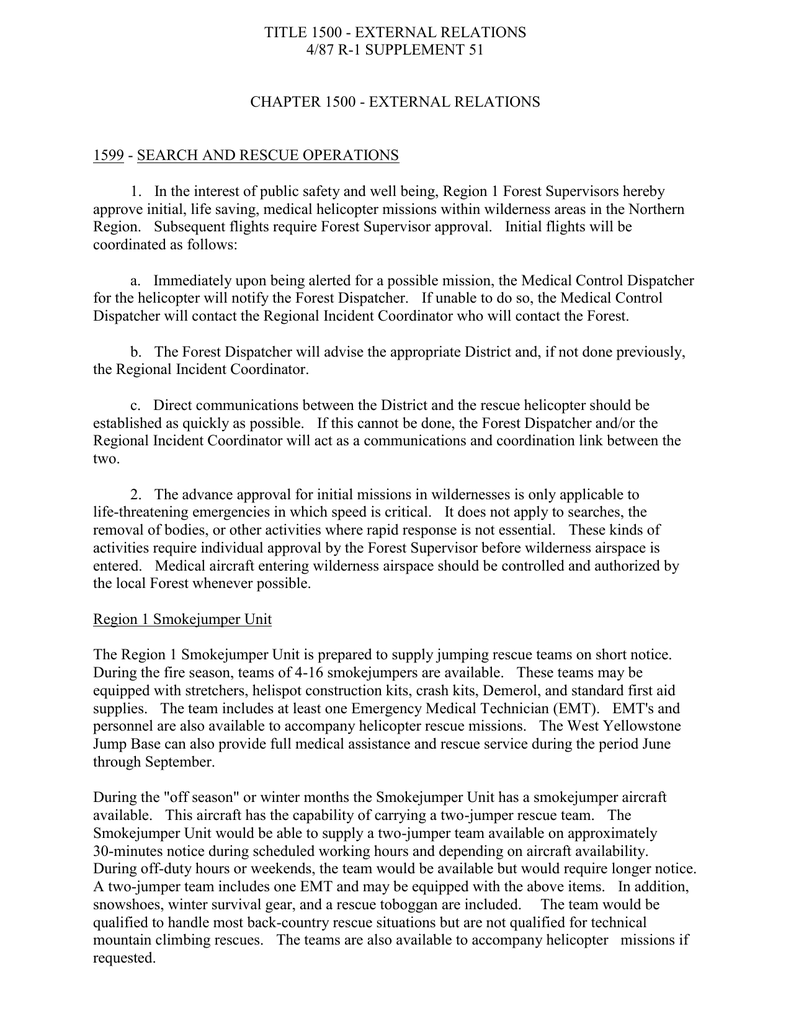 TITLE 1500 - EXTERNAL RELATIONS
4/87 R-1 SUPPLEMENT 51
CHAPTER 1500 - EXTERNAL RELATIONS
1599 - SEARCH AND RESCUE OPERATIONS
1. In the interest of public safety and well being, Region 1 Forest Supervisors hereby
approve initial, life saving, medical helicopter missions within wilderness areas in the Northern
Region. Subsequent flights require Forest Supervisor approval. Initial flights will be
coordinated as follows:
a. Immediately upon being alerted for a possible mission, the Medical Control Dispatcher
for the helicopter will notify the Forest Dispatcher. If unable to do so, the Medical Control
Dispatcher will contact the Regional Incident Coordinator who will contact the Forest.
b. The Forest Dispatcher will advise the appropriate District and, if not done previously,
the Regional Incident Coordinator.
c. Direct communications between the District and the rescue helicopter should be
established as quickly as possible. If this cannot be done, the Forest Dispatcher and/or the
Regional Incident Coordinator will act as a communications and coordination link between the
two.
2. The advance approval for initial missions in wildernesses is only applicable to
life-threatening emergencies in which speed is critical. It does not apply to searches, the
removal of bodies, or other activities where rapid response is not essential. These kinds of
activities require individual approval by the Forest Supervisor before wilderness airspace is
entered. Medical aircraft entering wilderness airspace should be controlled and authorized by
the local Forest whenever possible.
Region 1 Smokejumper Unit
The Region 1 Smokejumper Unit is prepared to supply jumping rescue teams on short notice.
During the fire season, teams of 4-16 smokejumpers are available. These teams may be
equipped with stretchers, helispot construction kits, crash kits, Demerol, and standard first aid
supplies. The team includes at least one Emergency Medical Technician (EMT). EMT's and
personnel are also available to accompany helicopter rescue missions. The West Yellowstone
Jump Base can also provide full medical assistance and rescue service during the period June
through September.
During the "off season" or winter months the Smokejumper Unit has a smokejumper aircraft
available. This aircraft has the capability of carrying a two-jumper rescue team. The
Smokejumper Unit would be able to supply a two-jumper team available on approximately
30-minutes notice during scheduled working hours and depending on aircraft availability.
During off-duty hours or weekends, the team would be available but would require longer notice.
A two-jumper team includes one EMT and may be equipped with the above items. In addition,
snowshoes, winter survival gear, and a rescue toboggan are included. The team would be
qualified to handle most back-country rescue situations but are not qualified for technical
mountain climbing rescues. The teams are also available to accompany helicopter missions if
requested.
TITLE 1500 - EXTERNAL RELATIONS
4/87 R-1 SUPPLEMENT 51
When ordering first aid service and rescue facilities, call the Regional Fire Coordinator at the
Aerial Fire Depot. When requesting rescue aid, the following information should be included:
a. Type of accident (aircraft, snowmobile, horse, etc.)
b. Name of victim, if available, and whether next of kin has been notified.
c. Nature and extent of injuries.
d. Location of the victim.
e. How location is marked.
f. What is evacuation plan. (Indicate assistance required--truck,
helicopter, ambulance; rendezvous points and times; where victim should be
evacuated to; advise whether receiving facility has been notified, etc.).
g. Special equipment needed.
Names of persons shall not be used during radio communications.