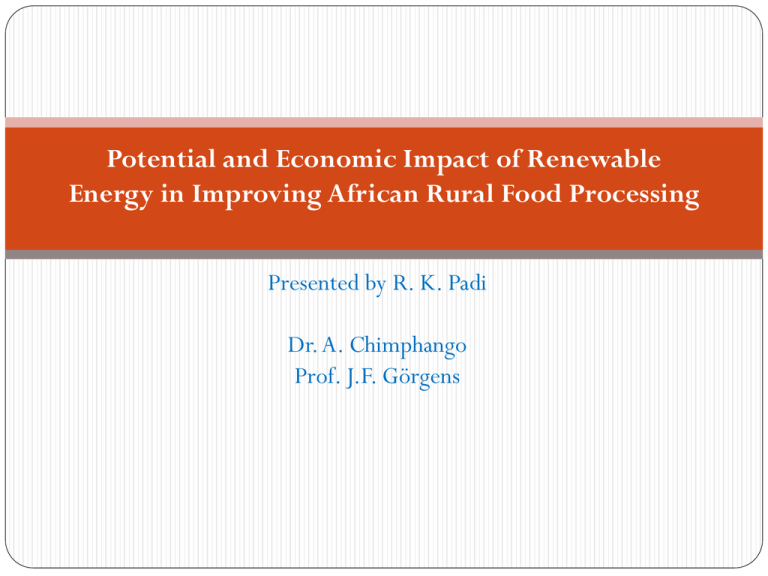 Potential and Economic Impact of Renewable
Energy in Improving African Rural Food Processing
Presented by R. K. Padi
Dr. A. Chimphango
Prof. J.F. Görgens
Overview
 Introduction
 Problem Statement
 Objectives
 Process Modelling Approach
 Preliminary Results
 Conclusion
 Future works
Introduction
 RE Portfolio
 Wind (about 550 MW implemented (GWEC, 2011))
 Geothermal (Potential of 9000 MW)
 Hydro (1750 TWh; 5 % exploited)
 Solar insolation varies between 3 to 6.2 kWh/m2/day
 Biomass (wood, Animal waste, agricultural residues and charcoal)
 Application in rural food processing
 Potentials (Biomass & Solar)
 Limitations
 Biomass: Inefficient combustion; deforestation
 Financial & Technical barriers
 Improved application by strategic & optimal energy-mix
Crude Palm Oil Processing (Case Study)
CPO



One of the world's leading sources of vegetable oils
Food applications: soup-mix, cooking oil, margarine and confectionary
fats
Predominantly consumed in developing countries in Africa and Asia
(cheap cost)
African CPO
Export market potential in West Africa
 2.6 million tons; only 0.8 million tons is produced
annually (Kyei-Baffour and Manu, 2008).
Dominating traditional processors.
 Eg. Nigeria: traditional processors-80%; Semi-mechanized
processors - 16 %; Mechanized processors - 4 %
(Ohimian et al, 2012).
Problem Statement
 Challenges of Traditional (dominating) Processing
 Poor quality
 Lower production capacities
 Labour Intensive
 Why Minimal Mechanisation?
 Perceived risk factors and implications on profit
margins
 Unavailable and expensive fossil fuels and electricity
Objectives
• Establish the possible extent of mechanizing rural
CPO processing with respect to economic viability.
• Determine the appropriate renewable energy-mix
(emphasis on biomass residue)
• Ascertain the economic benefits of renewable energy
integration in the rural CPO processing.
Simplified CPO Process
Process Modelling Approach
Food Process Modelling
 Performed in Excel Spreadsheet
 3 levels of mechanization considered
 Traditional
 Semi-Mechanized
 Mechanized
 Each level above:
 Base-Case : typical processing approaches; conventional energy
sources presently employed.
 Corresponding Improved-Case: Suggested improvement in
processing approach; energy sources from potential renewables
Energy Integration
 Traditional
 B/C: Firewood, Inefficient tripod stoves (15% efficiency)
 I/C: Mesocarp Fibre & EFB, Improved-cookstoves(30% efficiency)

Semi-Mechanised
 B/C: EFB/MF/ Diesel, Inefficient tripod stoves (15%
efficiency)
 I/C: MF/Biogas (POME), Improved-cookstoves(30% efficiency)

Mechanised
 B/C: Steam(shell/MF), Electricity from national grid
 I/C: CHP (EFB,MF,Shell), Biogas (POME)
Preliminary Results
 Traditional Process:
Inputs
FFB
Water
Value (kg/day)
58
70.90
Overall Material balance
Outputs
Mesocarp fibre
Nuts
POME
CPO
EFB
Value (kg/day)
7.83
10.09
46.28
9.73
23.2
B/C Energy
I/C Energy
Amount of fuel wood (kg/day)
Sterilisation (wood)
19.8
CPO drying (wood)
0.87
Total
20.67
Amount of fuel (kg/day)
Mesocarp Fibre
EFB
7.83
6.26
 Semi-Mechanised Process:
Inputs
FFB
Water
EFB
M. fibre
Residual oil in fibre
Diesel oil
Overall material balance
Value (tons/day)
Outputs
8
4.76489
EFB
Mesocarp fibre
Nuts
POME
Residual oil in fibre
CPO
Value (tons/day)
3.2
1.08
2.423699
0.288
0.336
1.056
B/C Energy
I/C Energy
Amount of fuel per day
2889.101
1080
336
0.00259
Amount of Fuel per day
1080
238.244
31.67816
kg/day
kg/day
kg/day
cubic metre/day
M. fibre
Residual oil
Electricity
kg/day
kg/day
kWh
 Mechanised Process
Overall Material Balance
Input
Value (tons/day)
Outputs
Value (tons/day)
FFB
208
Dry CPO
45.7
Steam
72.8
Kernels
27.75
Shells
14.61
Mesocarp Fibre
28.08
POME
121.23
EFB
97.38
Overall Energy Balance
Description
Input/day
Unit
Mass of steam (2.5 bar & 140 deg. Cel)
87360
kg/day
Mass of hot water (0.47 bar & 80 deg. Cel)
66399.27
kg/day
Electricity
3536
kWh
Conclusion
 At each mechanisation level, available biomass residues are adequate
to sustain heating stages in the process.
Future works
 Process modelling of Biogas and BCHP in Aspen Plus software
 Profitability analysis of renewable energy integration in the CPO
processes
References
 Ohimain, E.I., Daokoru-Olukole, C., Izah, S.C., Alaka, E.E. (2012). "Assessment of the
quality of crude palm oil produced by smallholder processors in Rivers State, Nigeria."
Niger J. Agric. Food Environ, 8(2): 28 – 34.
 Kyei-Baffour, N., Manu, C. (2008). "Small-scale palm oil process improvement for poverty
alleviation and national development." Proceedings of 3rd International Conference on
Appropriate Technology, November 12-15, 2008 at Serena Hotel, Kigali, Rwanda.
Acknowledgement
 CRSES
THANK YOU
QUESTIONS?