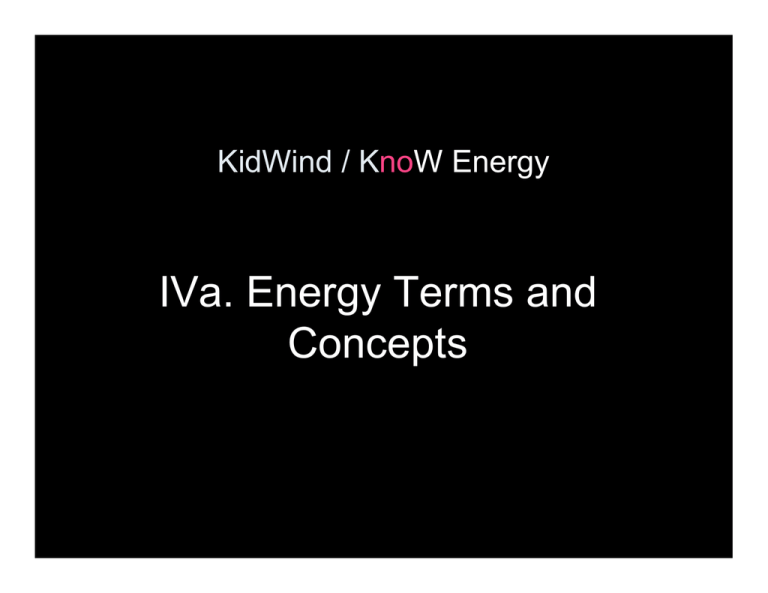 KidWind / KnoW Energy
IVa. Energy Terms and
Concepts
Items Needed for this Lesson
• Hand-held flashlight
• NEED "Forms of Energy" handout
• NEED "Energy Flow" worksheet
Energy Terms
There are two main forms of energy:
Kinetic and Potential
Kinetic Energy
• Energy of motion
• Forms of kinetic energy:
sound,
thermal,
electrical,
radiant,
moving objects
Potential Energy
• Stored energy
• Forms of potential energy:
chemical energy,
stored mechanical energy (like a coiled
spring),
nuclear energy,
energy of position (due to the force of
gravity
Sources of Energy
There are two broad groups of energy:
Renewable and Non-renewable
Renewable Energy Sources
Renewable energy sources are those that
can be replenished in a relatively short
period.
• Solar
• Wind
• Hydropower
• Biomass
• Geothermal
Non-Renewable Energy Sources
Energy sources that cannot be replaced in a
short time.
• Coal
• Petroleum
• Natural Gas
• Uranium
• Propane
Energy Conversions
Energy can be converted from one form to
another.
For example stored chemical energy in a
battery can be converted to light in a
flashlight.
Or falling water can be used to turn a
turbine, which motion can be used to
make electricity
The following activity comes from
THE NEED PROJECT
Follow the directions to complete the
"Energy Flow" work sheet
Energy Inefficiencies
Some energy is lost every time one form of
energy is converted to another form.
Most losses occur in the form of heat.
Climate Change
Using non-renewable forms of energy
creates two problems:
1. It uses up limited amounts of energy
2. Most non-renewable energy forms (fossil
fuels in particular) are burned. The
burning of these fuels produces
greenhouse gases which gases have
been linked to rises in global
temperatures.
The end of part IVa.