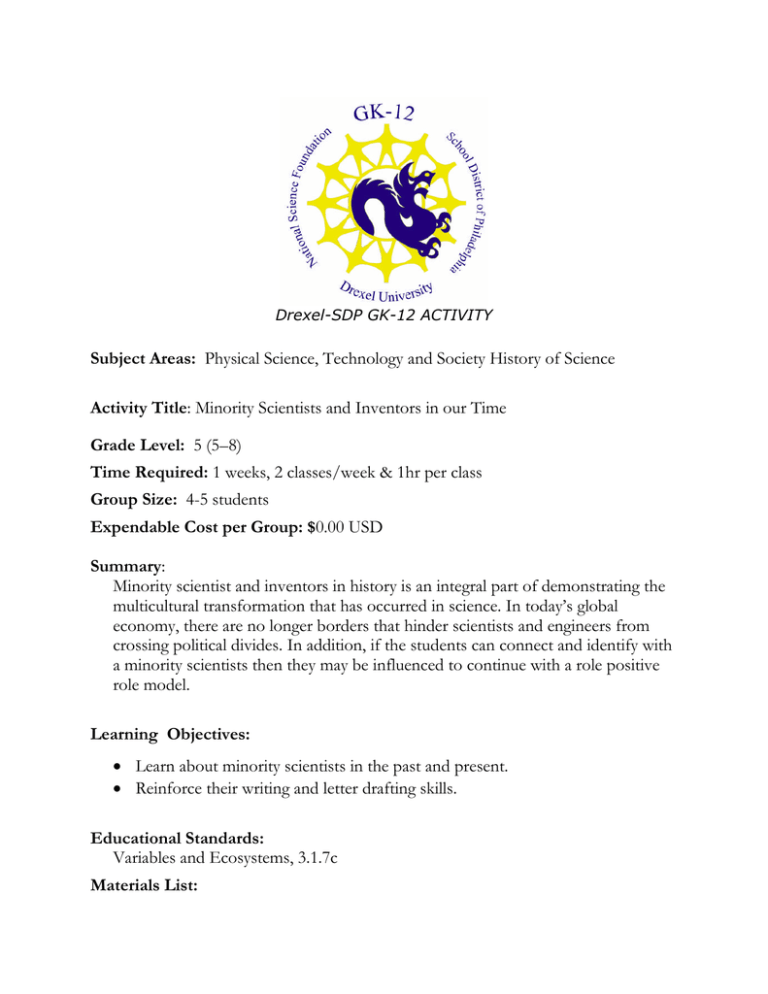 Drexel-SDP GK-12 ACTIVITY
Subject Areas: Physical Science, Technology and Society History of Science
Activity Title: Minority Scientists and Inventors in our Time
Grade Level: 5 (5–8)
Time Required: 1 weeks, 2 classes/week & 1hr per class
Group Size: 4-5 students
Expendable Cost per Group: $0.00 USD
Summary:
Minority scientist and inventors in history is an integral part of demonstrating the
multicultural transformation that has occurred in science. In today's global
economy, there are no longer borders that hinder scientists and engineers from
crossing political divides. In addition, if the students can connect and identify with
a minority scientists then they may be influenced to continue with a role positive
role model.
Learning Objectives:
 Learn about minority scientists in the past and present.
 Reinforce their writing and letter drafting skills.
Educational Standards:
Variables and Ecosystems, 3.1.7c
Materials List:
Each student needs:
 Lab notebook
 Pen or pencil
 Calculator
Sheet of paper and number 2 pencil.
Procedure:
The students are asked to pick one of the two scientists, Dr. Paula Hammond or
Dr. Neil de Grasse Tyson and write a letter asking the scientist about something. It
should be about one page, including:




Where the student is from?
Something about the student?
What the student is studying?
A question that the student would like to ask the scientist?
Investigative Work
What evidence do students collect?
How do students present evidence?
What conclusions are drawn from the evidence?
Include example of data sheets
Activity Extensions: None
Other:
FOSS Solar Energy Unit
http://lhsfoss.org/scope/5-6.html
Author: Michael Birnkrant
Owner: Drexel University GK-12 program, Engineering as a Contextual Vehicle for
Science and Mathematics Education, supported in part by National Science Foundation
Award No. DGE-0538476
Copyright: Copyright 2008 Drexel University GK12 Program. Reproduction
permission is granted for non-profit educational use.