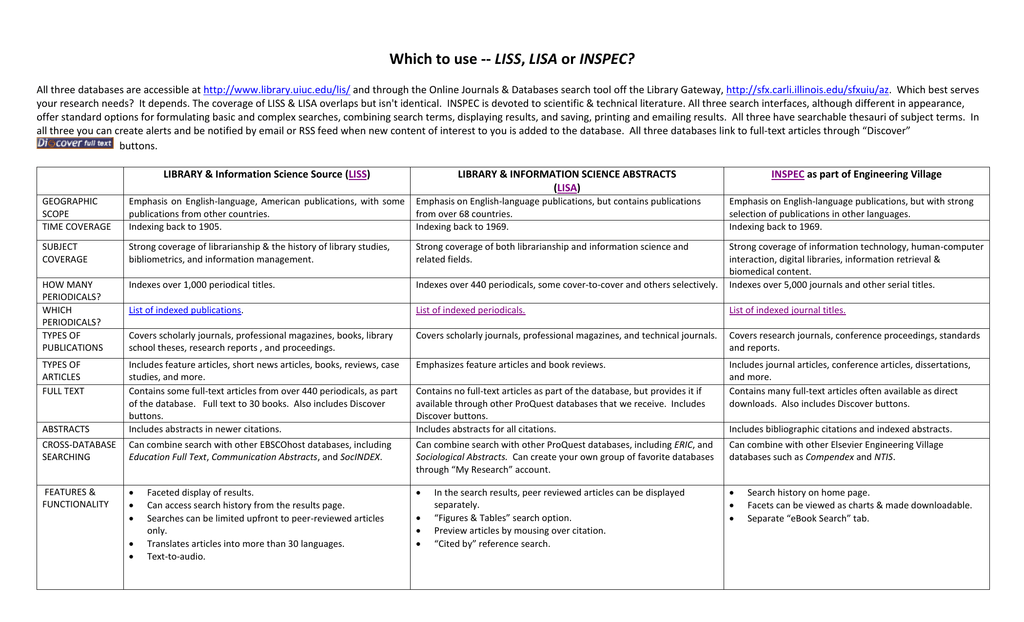 Which to use -- LISS, LISA or INSPEC?
All three databases are accessible at http://www.library.uiuc.edu/lis/ and through the Online Journals & Databases search tool off the Library Gateway, http://sfx.carli.illinois.edu/sfxuiu/az. Which best serves
your research needs? It depends. The coverage of LISS & LISA overlaps but isn't identical. INSPEC is devoted to scientific & technical literature. All three search interfaces, although different in appearance,
offer standard options for formulating basic and complex searches, combining search terms, displaying results, and saving, printing and emailing results. All three have searchable thesauri of subject terms. In
all three you can create alerts and be notified by email or RSS feed when new content of interest to you is added to the database. All three databases link to full-text articles through "Discover"
buttons.
LIBRARY & Information Science Source (LISS)
LIBRARY & INFORMATION SCIENCE ABSTRACTS
(LISA)
INSPEC as part of Engineering Village
GEOGRAPHIC
SCOPE
TIME COVERAGE
Emphasis on English-language, American publications, with some
publications from other countries.
Indexing back to 1905.
Emphasis on English-language publications, but contains publications
from over 68 countries.
Indexing back to 1969.
Emphasis on English-language publications, but with strong
selection of publications in other languages.
Indexing back to 1969.
SUBJECT
COVERAGE
Strong coverage of librarianship & the history of library studies,
bibliometrics, and information management.
Strong coverage of both librarianship and information science and
related fields.
HOW MANY
PERIODICALS?
WHICH
PERIODICALS?
TYPES OF
PUBLICATIONS
Indexes over 1,000 periodical titles.
Indexes over 440 periodicals, some cover-to-cover and others selectively.
Strong coverage of information technology, human-computer
interaction, digital libraries, information retrieval &
biomedical content.
Indexes over 5,000 journals and other serial titles.
List of indexed publications.
List of indexed periodicals.
List of indexed journal titles.
Covers scholarly journals, professional magazines, books, library
school theses, research reports , and proceedings.
Covers scholarly journals, professional magazines, and technical journals.
Covers research journals, conference proceedings, standards
and reports.
TYPES OF
ARTICLES
FULL TEXT
Emphasizes feature articles and book reviews.
Includes journal articles, conference articles, dissertations,
and more.
Contains many full-text articles often available as direct
downloads. Also includes Discover buttons.
ABSTRACTS
Includes feature articles, short news articles, books, reviews, case
studies, and more.
Contains some full-text articles from over 440 periodicals, as part
of the database. Full text to 30 books. Also includes Discover
buttons.
Includes abstracts in newer citations.
CROSS-DATABASE
SEARCHING
Can combine search with other EBSCOhost databases, including
Education Full Text, Communication Abstracts, and SocINDEX.
Can combine search with other ProQuest databases, including ERIC, and
Sociological Abstracts. Can create your own group of favorite databases
through "My Research" account.
Can combine with other Elsevier Engineering Village
databases such as Compendex and NTIS.
FEATURES &
FUNCTIONALITY









Faceted display of results.
Can access search history from the results page.
Searches can be limited upfront to peer-reviewed articles
only.
Translates articles into more than 30 languages.
Text-to-audio.
Contains no full-text articles as part of the database, but provides it if
available through other ProQuest databases that we receive. Includes
Discover buttons.
Includes abstracts for all citations.



In the search results, peer reviewed articles can be displayed
separately.
"Figures & Tables" search option.
Preview articles by mousing over citation.
"Cited by" reference search.
Includes bibliographic citations and indexed abstracts.
Search history on home page.
Facets can be viewed as charts & made downloadable.
Separate "eBook Search" tab.