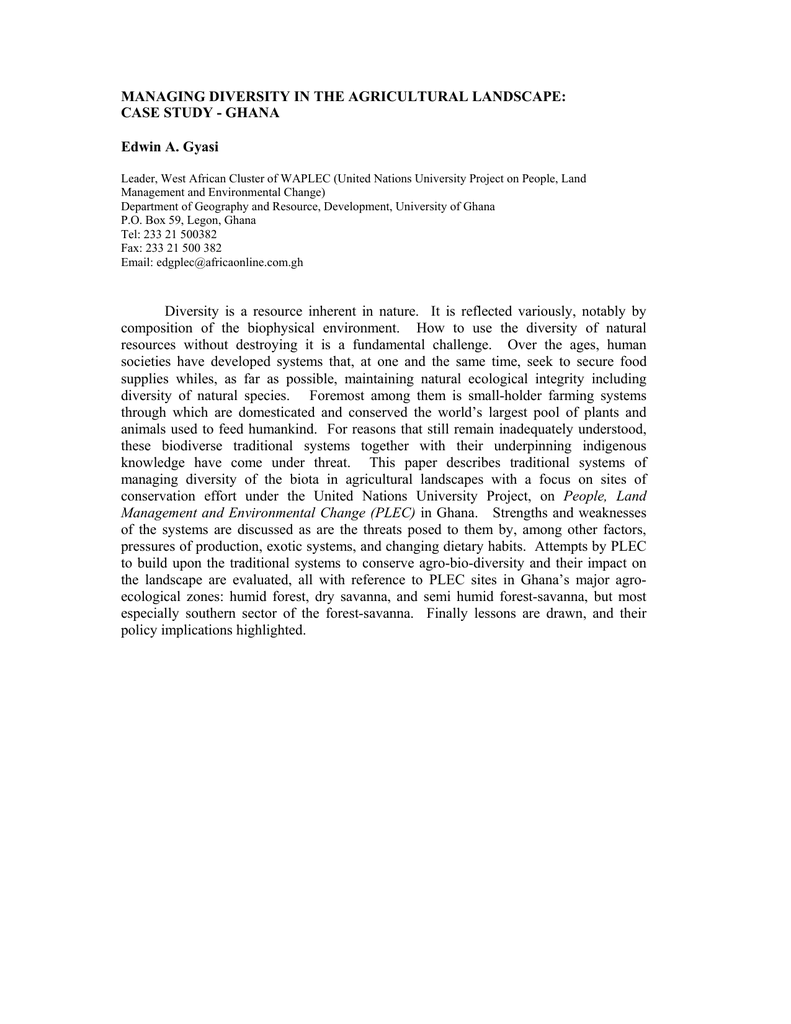 MANAGING DIVERSITY IN THE AGRICULTURAL LANDSCAPE:
CASE STUDY - GHANA
Edwin A. Gyasi
Leader, West African Cluster of WAPLEC (United Nations University Project on People, Land
Management and Environmental Change)
Department of Geography and Resource, Development, University of Ghana
P.O. Box 59, Legon, Ghana
Tel: 233 21 500382
Fax: 233 21 500 382
Email: [email protected]
Diversity is a resource inherent in nature. It is reflected variously, notably by
composition of the biophysical environment. How to use the diversity of natural
resources without destroying it is a fundamental challenge. Over the ages, human
societies have developed systems that, at one and the same time, seek to secure food
supplies whiles, as far as possible, maintaining natural ecological integrity including
diversity of natural species. Foremost among them is small-holder farming systems
through which are domesticated and conserved the world's largest pool of plants and
animals used to feed humankind. For reasons that still remain inadequately understood,
these biodiverse traditional systems together with their underpinning indigenous
knowledge have come under threat. This paper describes traditional systems of
managing diversity of the biota in agricultural landscapes with a focus on sites of
conservation effort under the United Nations University Project, on People, Land
Management and Environmental Change (PLEC) in Ghana. Strengths and weaknesses
of the systems are discussed as are the threats posed to them by, among other factors,
pressures of production, exotic systems, and changing dietary habits. Attempts by PLEC
to build upon the traditional systems to conserve agro-bio-diversity and their impact on
the landscape are evaluated, all with reference to PLEC sites in Ghana's major agroecological zones: humid forest, dry savanna, and semi humid forest-savanna, but most
especially southern sector of the forest-savanna. Finally lessons are drawn, and their
policy implications highlighted.