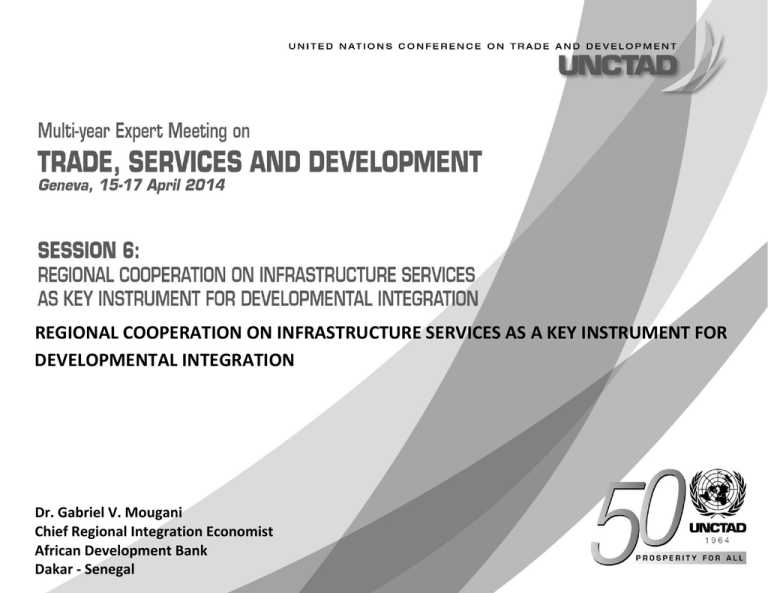 REGIONAL COOPERATION ON INFRASTRUCTURE SERVICES AS A KEY INSTRUMENT FOR DEVELOPMENTAL INTEGRATION Dr. Gabriel V. Mougani Chief Regional Integration Economist African Development Bank Dakar ‐ Senegal Transport and Trade Facilitation
for Connectivity in the GMS
Regional Cooperation
Yushu Feng
Principal Economist
Asian Development Bank
yushufeng@adb.rog
1
2
What is CBTA
(Cross-Border Transport Facilitation Agreement)

CBTA is a pioneering flagship initiative launched in the late 1990s
under the GMS Economic Cooperation Program supported by Asian
Development Bank.

CBTA has six member countries: Cambodia, China, Lao PDR,
Myanmar, Thailand and Viet Nam in the Great Mekong Subregion.

CBTA aims to foster greater economic connectivity through transport
and trade facilitation initiatives at GMS border crossings.

CBTA focuses on improving software connectivity to complement
physical connectivity investments by ADB (approximately $14
billion).