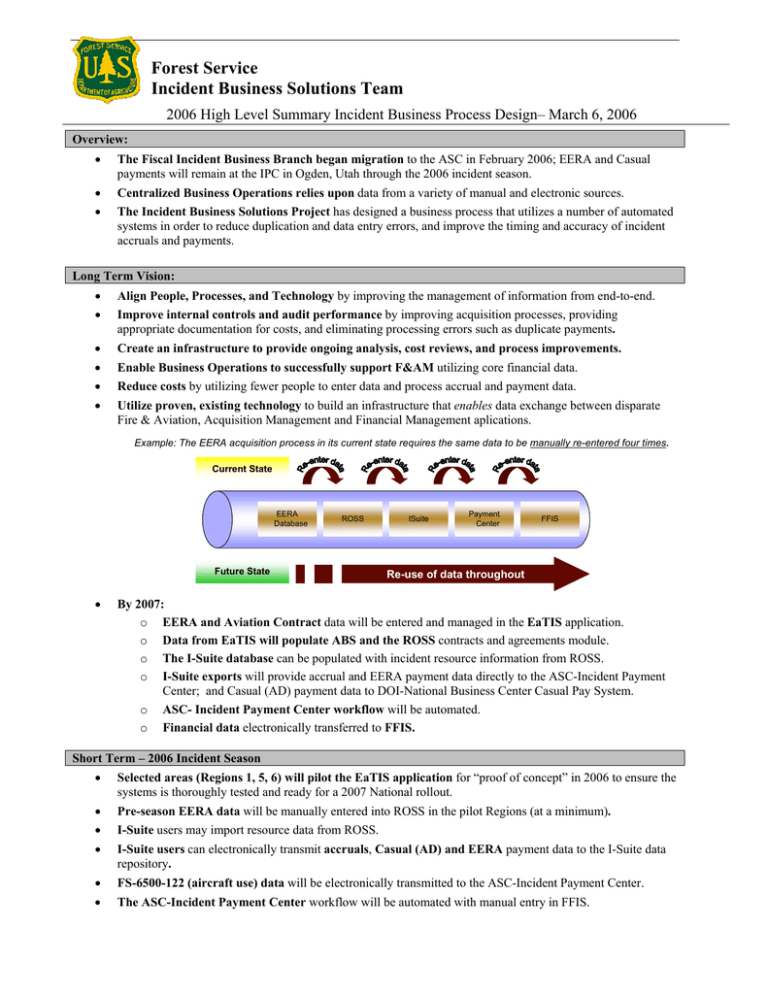 Forest Service
Incident Business Solutions Team
2006 High Level Summary Incident Business Process Design– March 6, 2006
Overview:
•
The Fiscal Incident Business Branch began migration to the ASC in February 2006; EERA and Casual
payments will remain at the IPC in Ogden, Utah through the 2006 incident season.
•
Centralized Business Operations relies upon data from a variety of manual and electronic sources.
•
The Incident Business Solutions Project has designed a business process that utilizes a number of automated
systems in order to reduce duplication and data entry errors, and improve the timing and accuracy of incident
accruals and payments.
Long Term Vision:
•
Align People, Processes, and Technology by improving the management of information from end-to-end.
•
Improve internal controls and audit performance by improving acquisition processes, providing
appropriate documentation for costs, and eliminating processing errors such as duplicate payments.
•
Create an infrastructure to provide ongoing analysis, cost reviews, and process improvements.
•
Enable Business Operations to successfully support F&AM utilizing core financial data.
•
Reduce costs by utilizing fewer people to enter data and process accrual and payment data.
•
Utilize proven, existing technology to build an infrastructure that enables data exchange between disparate
Fire & Aviation, Acquisition Management and Financial Management aplications.
Example: The EERA acquisition process in its current state requires the same data to be manually re-entered four times.
Current State
EERA
Database
ROSS
Future State
•
ISuite
Payment
Center
FFIS
Re-use of data throughout
By 2007:
o EERA and Aviation Contract data will be entered and managed in the EaTIS application.
o Data from EaTIS will populate ABS and the ROSS contracts and agreements module.
o The I-Suite database can be populated with incident resource information from ROSS.
o I-Suite exports will provide accrual and EERA payment data directly to the ASC-Incident Payment
Center; and Casual (AD) payment data to DOI-National Business Center Casual Pay System.
o ASC- Incident Payment Center workflow will be automated.
o Financial data electronically transferred to FFIS.
Short Term – 2006 Incident Season
•
Selected areas (Regions 1, 5, 6) will pilot the EaTIS application for "proof of concept" in 2006 to ensure the
systems is thoroughly tested and ready for a 2007 National rollout.
•
Pre-season EERA data will be manually entered into ROSS in the pilot Regions (at a minimum).
•
I-Suite users may import resource data from ROSS.
•
I-Suite users can electronically transmit accruals, Casual (AD) and EERA payment data to the I-Suite data
repository.
•
FS-6500-122 (aircraft use) data will be electronically transmitted to the ASC-Incident Payment Center.
•
The ASC-Incident Payment Center workflow will be automated with manual entry in FFIS.