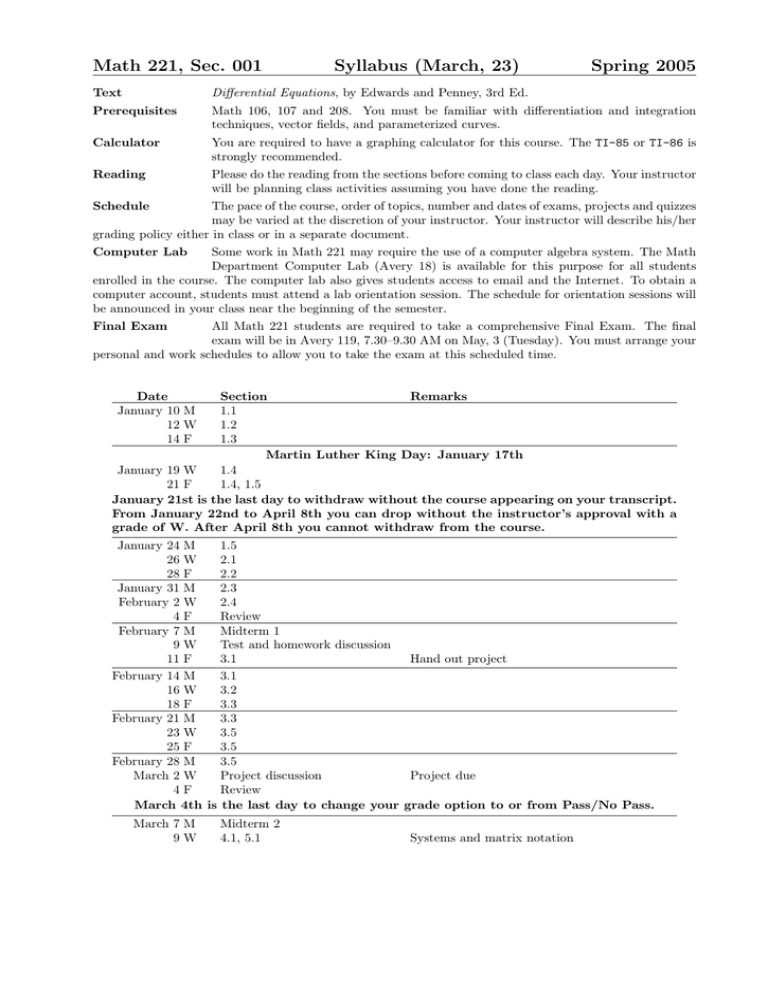 Math 221, Sec. 001
Syllabus (March, 23)
Spring 2005
Text
Differential Equations, by Edwards and Penney, 3rd Ed.
Prerequisites
Math 106, 107 and 208. You must be familiar with differentiation and integration
techniques, vector fields, and parameterized curves.
Calculator
You are required to have a graphing calculator for this course. The TI-85 or TI-86 is
strongly recommended.
Reading
Please do the reading from the sections before coming to class each day. Your instructor
will be planning class activities assuming you have done the reading.
Schedule
The pace of the course, order of topics, number and dates of exams, projects and quizzes
may be varied at the discretion of your instructor. Your instructor will describe his/her
grading policy either in class or in a separate document.
Computer Lab
Some work in Math 221 may require the use of a computer algebra system. The Math
Department Computer Lab (Avery 18) is available for this purpose for all students
enrolled in the course. The computer lab also gives students access to email and the Internet. To obtain a
computer account, students must attend a lab orientation session. The schedule for orientation sessions will
be announced in your class near the beginning of the semester.
Final Exam
All Math 221 students are required to take a comprehensive Final Exam. The final
exam will be in Avery 119, 7.30–9.30 AM on May, 3 (Tuesday). You must arrange your
personal and work schedules to allow you to take the exam at this scheduled time.
Date
January 10 M
12 W
14 F
Section
Remarks
1.1
1.2
1.3
Martin Luther King Day: January 17th
January 19 W
1.4
21 F
1.4, 1.5
January 21st is the last day to withdraw without the course appearing on your transcript.
From January 22nd to April 8th you can drop without the instructor's approval with a
grade of W. After April 8th you cannot withdraw from the course.
January 24 M
1.5
26 W
2.1
28 F
2.2
January 31 M
2.3
February 2 W
2.4
4F
Review
February 7 M
Midterm 1
9W
Test and homework discussion
11 F
3.1
Hand out project
February 14 M
3.1
16 W
3.2
18 F
3.3
February 21 M
3.3
23 W
3.5
25 F
3.5
February 28 M
3.5
March 2 W
Project discussion
Project due
4F
Review
March 4th is the last day to change your grade option to or from Pass/No Pass.
March 7 M
9W
Midterm 2
4.1, 5.1
Systems and matrix notation
Math 221, Sec. 001
11 F
Syllabus (March, 23)
Spring 2005
5.2
Spring Break: March 13rd to March 19th
March 21 M
23 W
25 F
March 28 M
30 W
April 1 F
April 4 M
6W
8F
April 11 M
13 W
15 F
April 18 M
20 W
22 F
April 25 M
27 W
29 F
5.2
5.2, 5.4
5.6
6.1
6.1
Review
7.1
7.1
Midterm 3
7.2
7.3
7.4
7.5
7.5
7.6
Instructor's choice
Instructor's choice
Instructor's choice
Multiplicity 2 (pp. 328–333)
Undetermined coefficients (pp. 358–361)
Population models
Departmental Grading Appeals Policy The Department of Mathematics does not tolerate discrimination or harrassment on the
basis of race, gender, religion, or sexual orientation. If you believe you have been subject to such discrimination or harrassment, in this
or any math course, please contact the department. If, for this or any other reason, you believe your grade was assigned incorrectly
or capriciously, appeals may be made to (in order) the instructor, the department chair, the departmental grading appeals committee,
the college grading appeals committee, and the university grading appeals committee.