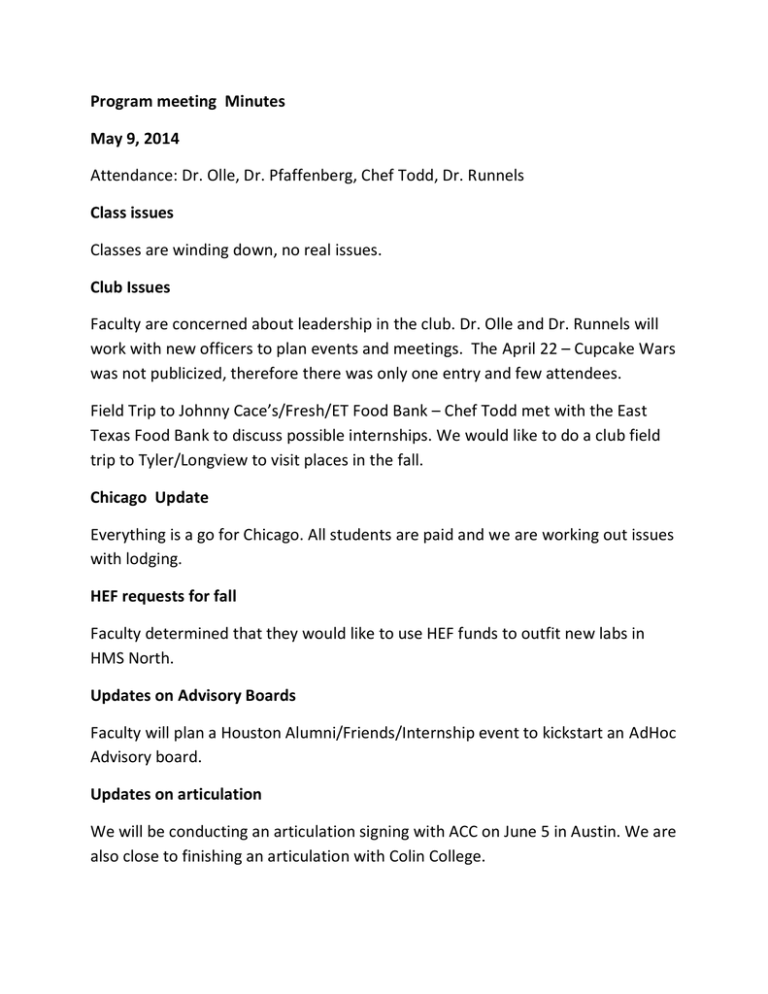 Program meeting Minutes
May 9, 2014
Attendance: Dr. Olle, Dr. Pfaffenberg, Chef Todd, Dr. Runnels
Class issues
Classes are winding down, no real issues.
Club Issues
Faculty are concerned about leadership in the club. Dr. Olle and Dr. Runnels will
work with new officers to plan events and meetings. The April 22 – Cupcake Wars
was not publicized, therefore there was only one entry and few attendees.
Field Trip to Johnny Cace's/Fresh/ET Food Bank – Chef Todd met with the East
Texas Food Bank to discuss possible internships. We would like to do a club field
trip to Tyler/Longview to visit places in the fall.
Chicago Update
Everything is a go for Chicago. All students are paid and we are working out issues
with lodging.
HEF requests for fall
Faculty determined that they would like to use HEF funds to outfit new labs in
HMS North.
Updates on Advisory Boards
Faculty will plan a Houston Alumni/Friends/Internship event to kickstart an AdHoc
Advisory board.
Updates on articulation
We will be conducting an articulation signing with ACC on June 5 in Austin. We are
also close to finishing an articulation with Colin College.
Trac Dat update
Faculty will meet in late June to discuss TracDat data from 2013-2014
Evaluation of lab fees
Faculty were asked to look through all courses for lab fees that were either not
being used or needed to be allocated. HMS 304 was identified as a course that
has a lab fee associated with it that needed to be expended in the Fall. HMS 404
and HMS 407 may allocate lab fees to include breakage/replacement.
Sequence of courses sheet that we can staple to degree plans for new students
inquiring this summer
A new course sequence was developed for the HADM degree plan. There are two
course sequences. One for Culinary Focus, and one for all other focuses
Upcoming Dates
June 22-23 TRA Marketplace George R. Brown Convention Center
Faculty encouraged to ask students if they want to attend.
Sept. 28-Oct. 1 Travel Summit in Galveston.