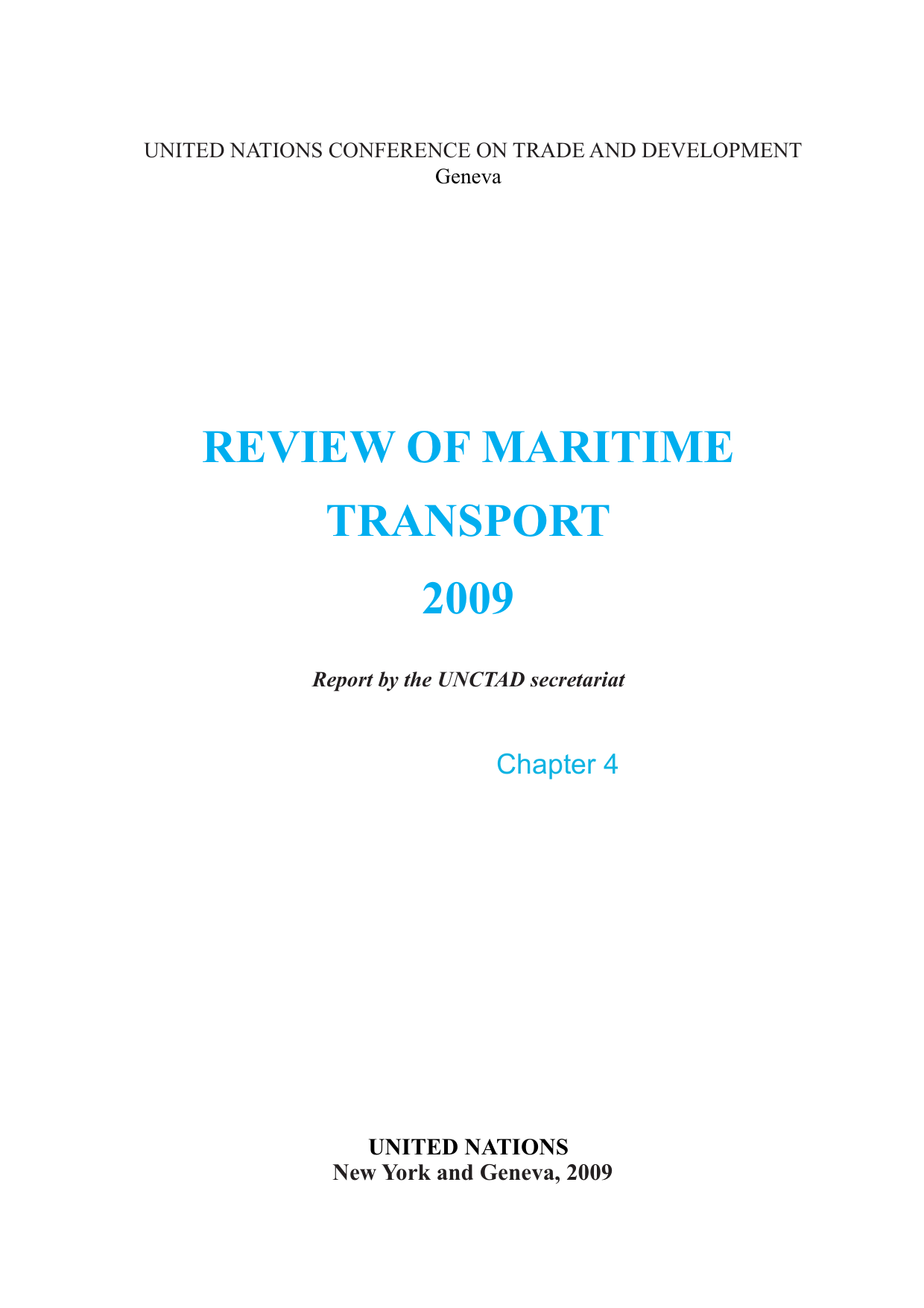 UNITED NATIONS CONFERENCE ON TRADE AND DEVELOPMENT
Geneva
REVIEW OF MARITIME
TRANSPORT
2009
Report by the UNCTAD secretariat
Chapter 4
UNITED NATIONS
New York and Geneva, 2009
Chapter 4
TRADE AND FREIGHT MARKETS
This chapter looks at the demand side of international seaborne trade by describing conditions and trends in
trade and freight markets, covering the major tanker, bulk cargo and liner sectors. This chapter expands upon
the general overview of international maritime trade as described in chapter 1. The start of 2008 continued the
buoyant trend experienced in the preceding year in all sectors. However, by the middle of the year, things took
DWXUQIRUWKHZRUVHDVWKHJOREDO¿QDQFLDOFULVLVEHJDQWRDIIHFWGHPDQG7UDGHYROXPHVLQWKHEXONFDUJRDQG
liner sectors sustained dramatic declines, which continued for the remainder of the year and well into 2009. The
tanker market fared slightly better during 2008 compared to other sectors, although by the middle of 2009 all
sectors were experiencing similar declines. Initially, the record oil price reached in July 2008 had been pushing
WDQNHUUDWHVXSIRUWKH¿UVWKDOIRIDQGWDQNHUVEHLQJXVHGIRUVWRUDJHKHOSHGWRPDLQWDLQUDWHVKLJKXQWLO
the global economic crisis took effect.
A.
DPRXQWHGWRYHVVHOVRIPLOOLRQGZWSXVKLQJWKH
WRWDORUGHUERRNWRYHVVHOVRIPLOOLRQGZW
CRUDE OIL AND PETROLEUM
PRODUCTS SHIPPING MARKET1
1.
Introduction
Tanker freight rates
Crude oil and petroleum products are major transport )UHLJKW UDWHV IRU DOO W\SHV RI WDQNHU YHVVHOV LQ WKH
commodities, representing approximately one third of ¿UVWTXDUWHURIZHUHGRZQRQWKHVDPHSHULRG
the total world seaborne trade. In addition, crude oil IRUWKHSUHYLRXV\HDU VHHWDEOH 7KLVIROORZHGD
ÀXFWXDWLQJLQZKLFKDYHUDJH
is still the main source of fuel that
freight rates peaked in the middle
SURSHOV WKH ZRUOG¶V PHUFKDQW ÀHHW
of the year, before embarking on
Shipping remains, on a per ton basis, Freight rates for all types of
WDQNHUYHVVHOVLQWKH¿UVW
a sector-wide downward trend.
WKHPRVWHI¿FLHQWDQGHQYLURQPHQWDOO\
quarter
of
2009
were
down
$OWKRXJK DYHUDJH WDQNHU IUHLJKW
IULHQGO\ IRUP RI WUDQVSRUWDWLRQ RYHU
on
the
same
period
for
the
UDWHVIRUZHUHXSLQDOOYHVVHO
long distances. Understanding tanker
VHFWRUVFRPSDUHGWRWKHSUHYLRXV
freight rates, and thus the underlying previous year.
\HDU¶V DYHUDJHV D FRPSDULVRQ
GHPDQGIRUWDQNHUVJLYHVWKHUHDGHU
DFOHDULQGLFDWLRQRIKRZZRUOGWUDGHLVHYROYLQJ&UXGH between December 2008 and December 2007 shows
oil production and consumption trends are discussed that all rates were substantially down. A sharp
in more detail in chapter 1. During 2008, there were GURSLQIUHLJKWUDWHVIRUDOOYHVVHOVZDVREVHUYHGLQ
QHZWDQNHUVGHOLYHUHGWRWDOOLQJPLOOLRQGZW January 2008, as a result of surplus tonnage following
ZKLOH YHVVHOV WRWDOOLQJ PLOOLRQ GZW ZHUH the New Year holiday period, reduced weather delays
GHPROLVKHG2UGHUVUHFHLYHGE\\DUGVIRUQHZEXLOGLQJV LQFURVVLQJWKH7XUNLVK6WUDLWVDQGORZHUGHPDQGIRU
85
86
Review of Maritime Transport, 2009
crude oil across the Atlantic basin as refineries stopped
production and carried out maintenance. The months of
May, June and July 2008 represented the yearly highs
for all sectors. The record oil price reached in July 2008
had been a main driving factor pushing tanker rates up
for the first half of 2008, and tankers being used for
storage helped to maintain rates at high levels. Another
factor that fuelled the fire was the halving of Nigeria's
2.5 million barrel-per-day output due to strikes. Freight
rates for Capesize vessels took a severe nosedive in
August, with rates falling by more than half, from 196
to 88 points. The smaller Panamax vessels ranging
from 25,000 to 75,000 dwt maintained their resilience
until October, before dropping from 263 to 175 points.
They continued to slide almost unabated, to 120 points
at the end of the first quarter of 2009. Declining oil
Table 29
Tanker freight indices, 2007–2009
(monthly figures)
Lloyd's Shipping Economist
>200
2007
October
November
December
Average
2008
January
February
March
April
May
June
July
August
September
October
November
December
Average
2009
January
February
March
April
May
June
120–200
70–120
Baltic Tanker
25–70
Clean
Dirty
Index
Clean
Index
57
72
201
110
104
126
232
154
134
148
214
165
180
205
279
221
170
198
239
202
902
1 089
1 535
1 175
767
812
1 184
921
112
97
108
110
182
182
196
124
119
156
187
239
210
248
178
141
175
217
247
237
250
205
182
202
239
271
324
291
215
195
197
234
279
326
305
1 914
1 174
1 164
1 482
1 701
1 921
1 883
1 083
938
946
873
1 192
1 388
1 454
88
103
99
67
71
118
174
156
149
121
139
169
196
197
165
124
191
193
282
282
263
175
206
244
316
316
239
198
182
250
1 801
1 451
1 508
1 246
1 124
1 531
1 331
1 476
1 367
1 039
880
1 164
54
44
33
29
84
65
90
52
100
84
82
67
125
95
120
105
130
126
105
72
30
43
58
63
66
102
90
112
103
98
849
597
626
524
476
623
600
543
371
424
482
479
Source: UNCTAD secretariat, based upon the executive summary in Lloyd's Shipping Economist, several issues; Baltic Tanker
indices reported for the first working day of the month. Ship sizes are expressed in deadweight capacity.
4 - Trade and Freight Markets
demand brought about by the deepening economic
FULVLVFRPELQHGZLWKKLJKVWRFNOHYHOVFRQWULEXWHGWR
WKH GHFOLQLQJ UDWHV 5HGXFWLRQV LQ 23(& SURGXFWLRQ
also affected rates for cargo from the Arabian Gulf to
WKH8QLWHG6WDWHVDQG(DVWHUQ$VLD7KHVOLJKWUDOO\WKDW
WRRNSODFHWRZDUGVWKHHQGRISURYHGWREHYHU\
VKRUWOLYHGDVUDWHVIRUWKH¿UVWTXDUWHURIFRQWLQXHG
WKHLUGRZQZDUGWUDMHFWRU\7KH%DOWLF([FKDQJH'LUW\
7DQNHU,QGH[VKRZHGPRUHRIDUROOHUFRDVWHUULGHIURP
KLJKVRILQ-DQXDU\WRORZVRIOHVVWKDQ
in the following two months. It then embarked on an
upward trend, which culminated in June at 1,921 before
embarking on a year of almost continuous falls, hitting
SRLQWV LQ 0D\ 7KH %DOWLF ([FKDQJH &OHDQ
7DQNHU,QGH[DOVRIHOOIURPSRLQWVLQ6HSWHPEHU
2008 to 371 in April 2009.
7DEOHLOOXVWUDWHVDYHUDJHIUHLJKWUDWHVPHDVXUHGLQ
:RUOGVFDOH :6 D XQL¿HG PHDVXUH IRU HVWDEOLVKLQJ
VSRWUDWHVLQWKHWDQNHUPDUNHWRQVSHFL¿FPDMRUURXWHV
E\YDULRXVYHVVHOVL]HV7KHWDEOHIRFXVHVRQWUDGLWLRQDO
EHQFKPDUNURXWHVDQGLVQRWLQWHQGHGWREHH[KDXVWLYH
7KH PDLQ ORDGLQJ DUHDV LQGLFDWHG LQ WKH WDEOH DUH WKH
3HUVLDQ *XOI :HVW$IULFD WKH 0HGLWHUUDQHDQ WKH
Caribbean and Singapore, while the main unloading
DUHDVDUHLQ(DVWHUQ$VLD6RXWKHUQ$IULFD1RUWK:HVW
(XURSHWKH0HGLWHUUDQHDQWKH&DULEEHDQDQGWKH(DVW
&RDVWRI1RUWK$PHULFD7KHJURZLQJ:HVW$IULFDWR
China route, relying on large ships, has not been included
in the table.
87
(DVW&RDVWRI1RUWK$PHULFDURXWHZKHUHUDWHVDOPRVW
doubled, and on routes within the Mediterranean and
RQWKH&DULEEHDQ±(DVW&RDVWRI1RUWK$PHULFD*XOI
RI0H[LFRURXWHZKHUHUDWHVLQFUHDVHGE\RYHUWZR
thirds.
7KH PRVW GUDPDWLF GHFOLQHV LQ IUHLJKW UDWHV GXULQJ
LQYROYHGYHU\ODUJHFUXGHFDUULHU 9/&& DQG
XOWUDODUJHFUXGHFDUULHU 8/&& VHUYLFLQJURXWHVIURP
WKH3HUVLDQ*XOIWR(XURSHWKH$PHULFDVDQG(DVWHUQ
Asia. Freight rates on these routes declined by around
two thirds from December 2007 to December 2008. In
general, rates departed from their established pattern –
ZKLFKLVWRGHFUHDVHGXULQJWKH¿UVWWZRTXDUWHUVDQG
WR VWDELOL]H DQG FOLPE GXULQJ WKH ODVW TXDUWHU RI WKH
year – to a pattern where rates climbed towards the
middle of the year, before falling back and ending the
\HDUORZHU7KLVGHSDUWXUHIURPWKHWUDGLWLRQDOSDWWHUQ
that follows the seasons of the markets in the northern
KHPLVSKHUHZKHUHPRUHIXHOLVUHTXLUHGLQWKHZLQWHU
occurred because high oil prices fuelled higher demand
DV WUDGHUV VRXJKW VSHFXODWLYH SRVLWLRQV 8OWLPDWHO\
this bubble collapsed when the market saw that oil
SULFHVKDGUHDFKHGDSHDNDQGFRQVHTXHQWO\IUHLJKW
UDWHV FROODSVHG WRR7KH VWDUW RI GLG QRW ERGH
well for the tanker market, when, in January, freight
UDWHVIRUDOOURXWHVGHFOLQHG%\FRPSDULQJUDWHVIRU
the northern-hemisphere summer of 2008 with those
RI WKH VHFRQG TXDUWHU RI LW FDQ EH VHHQ WKDW
freight rates on some routes declined by as much as
SHUFHQW(YHQUDWHVRQWKHEHVWSHUIRUPLQJ1RUWK
:HVW(XURSH±&DULEEHDQ(DVW&RDVWRI1RUWK$PHULFD
URXWHGHFOLQHGE\DURXQGWZRWKLUGVIURP:6LQ
May 2008 to WS82 in April 2009.
When comparing freight indices for December 2007
with December 2008, it can be seen that rates on
all routes declined, with the sole exception of those
UHODWLQJ WR YHVVHOV RSHUDWLQJ LQ WKH 0HGLWHUUDQHDQ
One of the largest month-on-month increases in 7KH ELJJHVW GHFUHDVHV RQ D PRQWKE\PRQWK EDVLV
freight rates during 2008 occurred on routes within the RFFXUUHGLQ$XJXVWZKHQIUHLJKWUDWHVIRU9/&&VRQ
Mediterranean, when rates nearly
WKH3HUVLDQ*XOIWR-DSDQDQGRQ
doubled from WS113 in February to
WKH3HUVLDQ*XOIWRWKH5HSXEOLFRI
… freight rates for VLCCs on
:6LQ0DUFK7KLVZDVODUJHO\ the Persian Gulf toJapan and
.RUHD URXWHV GHFUHDVHG E\ RYHU
on the Persian Gulf
attributable to a light maintenance
SHUFHQWIURP:6WR:6
VHDVRQLQ(XURSHDQGDQLQFUHDVH to the Republic of Korea
DQG:6WR:6UHVSHFWLYHO\
routes
decreased
by
over
60
VWRFNLQWDNHE\UH¿QHULHVDKHDGRI
7KLV ZDV ODUJHO\ DWWULEXWDEOH
per cent …
proposed tax increases, particularly
to a cut in oil production by
in the United Kingdom. During the
23(&PHPEHUVZKLFKPHDQWOHVV
VDPHSHULRGUDWHVLQFUHDVHGE\RYHUSHUFHQWRQWKH FDUJRZDVDYDLODEOHLQWKH3HUVLDQ*XOIWRWUDQVSRUW
&DULEEHDQ±&DULEEHDQ(DVW&RDVWRI1RUWK$PHULFD elsewhere.
URXWH ,Q 0D\ UDWHV LQFUHDVHG E\ RYHU SHU FHQW
RQ WKH:HVW$IULFD±&DULEEHDQ(DVW &RDVW RI 1RUWK 0RUHGHWDLOHGLQIRUPDWLRQLVSURYLGHGLQWKHIROORZLQJ
$PHULFDURXWH'HFHPEHUDOVRSURYHGWREHDJRRG VHFWLRQVDERXWGHYHORSPHQWVLQLQUHODWLRQWRWKH
month for shipowners on the Caribbean–Caribbean/ YDULRXVFDWHJRULHVRIWDQNHUV
Routes
220
3HUVLDQ*XOI±&DULEEHDQ(DVW&RDVW
of North America
3HUVLDQ*XOI±6RXWK$IULFD
223
Mediterranean–Mediterranean
183
299
193
237
&DULEEHDQ±&DULEEHDQ(DVW&RDVW
of North America
Mediterranean–Mediterranean
0HGLWHUUDQHDQ±1RUWK:HVW(XURSH
,QGRQHVLD±)DU(DVW
203
&DULEEHDQ±(DVW&RDVWRI
North America/Gulf of Mexico
6LQJDSRUH±(DVW$VLD
±GZW
±GZW
287
198
200
198
180
187
190
171
180
137
138
189
182
221
187
191
192
173
173
..
97
88
221
227
212
211
200
109
102
220
298
172
207
279
210
288
273
237
..
132
212
302
288
290
300
218
222
309
190
199
..
190
..
82
83
70
182
230
1RWH
187
220
178
282
299
303
303
339
309 371
299
297
99
80
328
187
..
..
..
91
81
330
..
118
130
133
122
118
Nov
200
173
212
121
139
..
..
Dec
% change
2007/2008
130
131
110
118
81
107
99
90
..
..
Jan
131
118
80
100
90
78
92
80
70
71
98
93
79
108
112
109
71
112
97
81
73
77
..
30
30
82
72
70
72
87
82
72
21
27
27
..
77
83
80
80
73
..
20
27
27
..
78
101
109
90
103
77
79
80
78
38
32
28
Feb Mar Apr May Jun
2009
7ZRGRWV PHDQVWKDWQRUDWHZDVUHSRUWHG7KHFODVVL¿FDWLRQRIVKLSVL]HLQWKLVWDEOHUHÀHFWVWKHVRXUFHXVHGDQGPD\YDU\ZKHQFRPSDUHGWRRWKHUSDUWVRI
this publication.
327
291
270 ..
283
272
233
222
229
..
238
211
Aug Sept Oct
6RXUFH 81&7$'VHFUHWDULDWEDVHGXSRQ6KLSSLQJ,QVLJKWIURP'UHZU\3XEOLVKLQJYDULRXVLVVXHV
322
&DULEEHDQ±(DVW&RDVWRI
North America/Gulf of Mexico
3HUVLDQ*XOI±-DSDQ
3HUVLDQ*XOI±-DSDQ
0HGLWHUUDQHDQ±&DULEEHDQ(DVW&RDVW
of North America
70,000–80,000 dwt
±GZW
All clean tankers
Mediterranean–Mediterranean
Handy size (less than 50,000 dwt)
190
1RUWK:HVW(XURSH±&DULEEHDQ
(DVW&RDVWRI1RUWK$PHULFD
170
190
128
113
..
99
88
Jul
2008
Feb Mar Apr May Jun
..
122
127
Jan
1RUWK:HVW(XURSH±1RUWK:HVW
(XURSH
Aframax (70,000–100,000 dwt)
237
:HVW$IULFD±1RUWK:HVW(XURSH
:HVW$IULFD±&DULEEHDQ(DVW&RDVW
of North America
Suezmax (100,000–160,000 dwt)
189
Dec
2007
3HUVLDQ*XOI±-DSDQ
3HUVLDQ*XOI±5HSXEOLFRI.RUHD
3HUVLDQ*XOI±(XURSH
VLCC/ULCC (200,000 dwt+)
Vessel type
Tanker market summary: clean and dirty spot rates, 2007–2009
:RUOGVFDOH :6
7DEOH
88
Review of Maritime Transport, 2009
4 - Trade and Freight Markets
9HU\ODUJHDQGXOWUDODUJHFUXGHFDUULHUV
89
on West African routes slumped to a 10-year low of
:6LQ$SULOGRZQDSSUR[LPDWHO\SHUFHQW
from the highs of mid-2008, as a dearth of cargoes
OLPLWHGDFWLYLW\,Q0DUFK&RQRFR3KLOOLSVWRRND
GZW6XH]PD[EXLOWLQWKH\HDUIURP:HVW
$IULFDWRWKH86*XOIDW:67KLVZDVDVLJQL¿FDQW
IDOOIURP:6LQ0D\$VIDUDVLQFRPHZDV
FRQFHUQHGUHYHQXHVUHFHLYHGE\VKLSRZQHUVRQWKH:HVW
$IULFDWRWKH&DULEEHDQ(DVW&RDVWRI1RUWK$PHULFD
URXWH GHFOLQHG IURP SHU GD\ DW :6 LQ
)HEUXDU\ WR SHU GD\ DW :6 LQ WKH
following month. A corresponding decline was noted
LQYHVVHOSULFHV$¿YH\HDUROG6XH]PD[LQ$SULO
FRVWPLOOLRQFRPSDUHGZLWKDQQXDODYHUDJHVRI
PLOOLRQLQDQGPLOOLRQLQ
5HSUHVHQWLQJVRPHRIWKHZRUOG¶VODUJHVWVKLSV9/&&V
DQG8/&&VRIIHUWKHEHVWHFRQRPLHVRIVFDOHIRUWKH
transportation of oil where pipelines are non-existent.
2YHUDOOWKH9/&&PDUNHWLQZDVQRWIDYRXUDEOH
IRUVKLSRZQHUVUDWHVRQDOOURXWHVGHFOLQHGEHWZHHQ
and 70 per cent when comparing December 2007 with
'HFHPEHU:KLOHWKH QRUWKHUQKHPLVSKHUH VSULQJ
and summer months saw some strong growth, rates
plummeted starting from August 2008 and continued to
IDOOZHOOLQWRWKHVSULQJRI7KHELJJHVWJDLQVIRU
shipowners were seen in May 2008, when rates climbed
E\SHUFHQWRQWKH3HUVLDQ*XOIWR(XURSHURXWHIURP
:6WR:67KLVZDVDWWULEXWDEOHWRDFRPELQDWLRQ
of factors, ranging from a decrease in the supply of
DYDLODEOH FDUU\LQJ FDSDFLW\ EURXJKW DERXW E\ KLJK RLO
$IUDPD[WDQNHUWRQQDJH
SULFHVZKLFKIRUFHGPDQ\VKLSRZQHUVWRUHGXFHYHVVHOV¶
speeds, to strikes by port workers and the increased use $IUDPD[WDQNHUVRIDURXQGWRGZWRIIHU
RIWRQQDJHWRVWRUHFUXGH(DUQLQJVIRUVKLSRZQHUVGXULQJ DODUJHFDUU\LQJFDSDFLW\DQGÀH[LELOLW\7KH\DUHRIWHQ
WKLVSHULRGUHDFKHGSHUGD\%\$XJXVW deployed for trading within and between the following
KRZHYHUWKHJRRGWLPHVIRUVKLSRZQHUVZHUHRYHUDQG UHJLRQV 1RUWK:HVW (XURSH WKH &DULEEHDQ WKH (DVW
UDWHVKDOYHGIURP:6WR:6RQWKH3HUVLDQ*XOI Coast of North America, the Mediterranean, Indonesia
WR(XURSHURXWH7KLVGRZQWXUQDOVRDIIHFWHGWKHYDOXH DQG(DVWHUQ$VLD
RI VKLSV 7KH SULFH RI D ¿YH\HDUROG 9/&& LQ$SULO
2009 declined to around $87 million, compared to ,QJHQHUDOIUHLJKWUDWHVIRUDOO$IUDPD[YHVVHOVGHFOLQHG
DQQXDO DYHUDJH SULFHV RI PLOOLRQ LQ DQG at the start of 2008 and then peaked in the middle of the
PLOOLRQLQ7KHFRVWRIGHPROLVKLQJVKLSV \HDU7KH$IUDPD[PDUNHWJHQHUDOO\IDUHGEHWWHUWKDQWKH
declined sharply too, as the price
market for other types of tankers in
of steel plummeted from more than The Aframax market generally
,QGHHGWKHRQO\W\SHRIYHVVHO
$700 a ton in 2008 to around $200 fared better than the market
WRVKRZSRVLWLYHJDLQVIRUWKH\HDU
LQ VHHFKDSWHU 2QHRIWKH for other types of tankers in
was on the Aframax Mediterranean–
highest prices paid by breakers was 2008.
0HGLWHUUDQHDQURXWHZLWKDSHU
LQ WKH ¿UVW TXDUWHU RI IRU WKH
cent growth rate. Freight rates for
1987-built &(OHSKDQWDWGZWWKH%DQJODGHVKL RWKHUURXWHVGHFUHDVHGE\EHWZHHQDQGSHUFHQW
breakers reportedly paid $770 per light displacement 7KHPRVWSUR¿WDEOHURXWHLQWHUPVRIWKHPRVWHDUQHG
WRQ OGW LQDVLQJOHPRQWKZDVWKH&DULEEHDQ±&DULEEHDQ(DVW
Coast of North America route, which peaked in June
2008 at WS309, pushing the daily time charter earnings
6XH]PD[WDQNHUWRQQDJH
WRD\HDUO\KLJKRISHUGD\)UHLJKWUDWHVIRU
As the name suggests, Suezmax ships are the largest YHVVHOV RQ WKH 0HGLWHUUDQHDQ±1RUWK :HVW (XURSH
tankers able to transit the Suez Canal. Capable of 0HGLWHUUDQHDQ±0HGLWHUUDQHDQDQG,QGRQHVLD±)DU(DVW
RSHUDWLQJ RQ RWKHU URXWHV 6XH]PD[ YHVVHOV SOD\ DQ URXWHVDOOSHDNHGWKHIROORZLQJPRQWKDW:6:6
important role in trading from West Africa to North- DQG:6UHVSHFWLYHO\1RYHPEHUSURYHGWREHD
:HVW(XURSHDQGWRWKH&DULEEHDQ(DVW&RDVWRI1RUWK SDUWLFXODUO\GLI¿FXOWPRQWKIRUIUHLJKWHDUQLQJVDVIRXU
$PHULFD DV ZHOO DV DFURVV WKH 0HGLWHUUDQHDQ 7KHVH of the six routes shown in table 29 experienced a yearly
URXWHV VDZ VLJQL¿FDQW GHFOLQHV LQ IUHLJKW UDWHV DW WKH ORZ 7KH &DULEEHDQ±&DULEEHDQ(DVW &RDVW RI 1RUWK
VWDUWRIUDQJLQJIURPWRSHUFHQW$OWKRXJK $PHULFDURXWHPHQWLRQHGDERYHGHFOLQHGWRHDUQLQJV
a turnaround was seen in March 2008, which lasted of $19,300 per day. Despite a rally in freight rates at the
for the most part until the end of the year, shipowners end of 2008, rates continued their downward path well
could not withstand the global economic downturn, into 2009, pushing rates on the Caribbean–Caribbean/
and the start of 2009 marked a bleak era. Freight rates (DVW&RDVWRI1RUWK$PHULFDURXWHGRZQWRSHU
90
Review of Maritime Transport, 2009
GD\E\$SULO7KHSULFHRID¿YH\HDUROG$IUDPD[
LQ$SULOZDVPLOOLRQFRPSDUHGZLWKDQQXDO
DYHUDJHVRIPLOOLRQLQDQGPLOOLRQLQ
2007.
7KHDYHUDJHWLPHFKDUWHUHTXLYDOHQWHDUQLQJVIRUSURGXFW
tankers continued its downward slide. For example,
DYHUDJHDQQXDOWLPHFKDUWHUHTXLYDOHQWHDUQLQJVRQWKH
&DULEEHDQ±(DVW&RDVWRI1RUWK$PHULFD*XOIRI0H[LFR
URXWH ZHUH SHU GD\ LQ FRPSDUHG ZLWK
SHUGD\LQDQGSHUGD\LQ
+DQG\VL]HWDQNHUWRQQDJH
7KHDYHUDJHIRU$SULOIRUWKLVURXWHZDV
$WOHVVWKDQGZWKDQG\VL]HWDQNHUVDUHFDSDEOHRI FRPSDUHGWRMXVWLQ$SULO
calling at destinations with limited draft and with length
UHVWULFWLRQVPDNLQJWKHPYHU\YHUVDWLOH7DEOHVKRZV 7DQNHUSHULRGFKDUWHUPDUNHW
the freight rates for these types of ships deployed for
trades across the Mediterranean, for trades originating ,QWRWDOFKDUWHULQJDFWLYLW\GURSSHGE\DPLOOLRQ
in the Mediterranean with destinations in the Caribbean GZW WR PLOOLRQ GZW IURP WKH ¿JXUH RI DQGRQWKH(DVW&RDVWRI1RUWK$PHULFDDQGIRUWUDGHV PLOOLRQGZWUHFRUGHGWKHSUHYLRXV\HDU0DUFKDQG$SULO
IURPWKH&DULEEHDQWRWKH*XOIRI0H[LFRDQGWKH(DVW both recorded less than 1 million dwt, while February
Coast of North America.
DQG2FWREHUVDZWKHPRVWFKDUWHULQJDFWLYLW\ZLWK
PLOOLRQGZWDQGPLOOLRQGZWUHVSHFWLYHO\
Freight rates on all three routes shown in table 29 declined
by between 23 and 33 per cent, with the Mediterranean– $ERXWSHUFHQWRIWRWDOFKDUWHULQJDFWLYLW\LQZDV
&DULEEHDQ(DVW&RDVWRI1RUWK$PHULFDURXWHGHFOLQLQJ PDGHXSRIORQJWHUPFKDUWHUVRIPRQWKVRUPRUH
the most. 7KHORZSRLQWLQWKH\HDURFFXUUHGLQ1RYHPEHU GRZQIURPSHUFHQWLQDQGSHUFHQWLQ
on routes between the Mediterranean and the Caribbean 7KHQH[WPRVWDFWLYHVHFWRURIWLPHFKDUWHULQJZDVIRU
DQGWKH(DVW&RDVWRI1RUWK$PHULFDDQGDOVRRQWKH WKHSHULRGRIOHVVWKDQPRQWKV SHUFHQW DQGWKHQ
&DULEEHDQWRWKH*XOIRI0H[LFRDQGWKH(DVW&RDVWRI WKRVHZLWKDGXUDWLRQRIRQHWRWZR\HDUV SHUFHQW North America route.
9HU\ODUJHWDQNHUV 8/&&VDQG9/&&V DFFRXQWHGIRU
DERXWSHUFHQWRIWRWDOFKDUWHULQJDFWLYLW\GRZQIURP
SHU FHQW LQ 7DQNHUV DW WKH ORZHU HQG RI WKH
$OOFOHDQWDQNHUV
UDQJH ±GZW DFFRXQWHGIRURYHUSHU
Freight rates on all four routes shown in table 29 declined FHQW &KDUWHULQJ DFWLYLW\ LQ WKH ¿UVW TXDUWHU RI E\EHWZHHQDQGSHUFHQWZLWKWKH3HUVLDQ*XOIWR GHFOLQHG VLJQL¿FDQWO\ WR PLOOLRQ GZW GRZQ IURP
-DSDQURXWHGHFOLQLQJWKHPRVW7KHORZSRLQWLQWKH\HDU PLOOLRQ GZW IRU WKH VDPH SHULRG LQ 5DWHV
RFFXUUHGLQ'HFHPEHURQWKH3HUVLDQ*XOIWR-DSDQURXWH YDULHGOLWWOHWKURXJKRXWPRVWRIWKH\HDUH[FHSWIRUDQ
DQGRQWKH&DULEEHDQWRWKH(DVW&RDVWRI1RUWK$PHULFD LQFUHDVH LQ 'HFHPEHU RI DURXQG SHU FHQW RYHU WKH
route. Rates continued to fall in 2009, by as much as two SUHYLRXVPRQWK)RUH[DPSOHHVWLPDWHGWDQNHURQH\HDU
WKLUGVRQWKH3HUVLDQ*XOIWR-DSDQURXWHGXHWRDPSOH WLPHFKDUWHUUDWHVIRUD¿YH\HDUROGVKLSRIGZW
VXSSOLHVDQGZHDNGHPDQGLQUH¿QHGIXHOV
ZHQWIURPSHUGD\LQ-DQXDU\WR
SHUGD\LQ-DQXDU\7KH¿UVWTXDUWHURIVDZ
7KHFKHPLFDOWDQNHUÀHHWFRQVLVWVRIDURXQGYHVVHOV a continuation of this trend, so that by March the rate
ZLWKDFDUU\LQJFDSDFLW\RIPLOOLRQGZW7ZRWKLUGV stood at $71,000 per day.
RI WKHVH YHVVHOV KDYH ,02 VSHFL¿FDWLRQV WR WUDGH
primarily in pure chemical cargoes such as styrene, B.
LIQUEFIED NATURAL GAS
[\OHQHDQGHDV\FKHPV$URXQGRIWKHVHYHVVHOVWUDGH
LQGHHSVHDWUDGHVZLWKDQRWKHUEDVHGLQWKH(XURSHDQ Introduction
UHJLRQDOPDUNHWDQGLQ3DFL¿F5LPUHJLRQDOWUDGHV
$URXQGRQHWKLUGRIFKHPLFDOWDQNHUVDUHFODVVL¿HGDV /LTXHI\LQJ QDWXUDO JDV UHGXFHV LWV YROXPH E\ DURXQG
IMO 3, or double-hull product tankers, trading only in SHU FHQW ZKHQ LW LV FRROHG WR ±ƒ& PDNLQJ LW
FKHPLFDOVDQGYHJHWDEOHRLOV/HVVWKDQSHUFHQWRI SRVVLEOHWRWUDQVSRUWODUJHYROXPHVE\YHVVHO7KHW\SLFDO
YHVVHOVSRVVHVVWKH,02VSHFL¿FDWLRQWRWUDGHLQWKH OLTXH¿HG QDWXUDO JDV /1* WDQNHU FDUULHV ±
most hazardous cargoes such as chlorosulphonic acid FXELFPHWUHVRIQDWXUDOJDVRQDVLQJOHYR\DJH
DQGWULFKORUREHQ]HQH0RVWRIWKHVHYHVVHOVDUHGHSOR\HG When YDSRUL]HGWKLVEHFRPHVPLOOLRQ±PLOOLRQ
in deep sea trades.2
cubic metres. 3 +RZHYHU OLTXHIDFWLRQ SODQW FRVWV
4 - Trade and Freight Markets
UHSUHVHQWWKHKLJKHVWSRUWLRQRIWKHFRVWVIRUDQ\/1*
SURMHFW7KHRWKHUPDMRUWUDQVSRUWPRGHIRULQWHUQDWLRQDO
VKLSPHQWRIJDVLVYLDSLSHOLQH7KLVKRZHYHULQYROYHV
LQFUHDVHGFRVWVSHUNLORPHWUH HJRIVWHHOSLSHVDQWL
FRUURVLRQ SURWHFWLYH FRDWLQJV VWDQFKLRQV HWF DQG LV
WKHUHIRUHSUHIHUDEOHRYHUVKRUWHUGLVWDQFHVRUZKHUHWKHUH
LVQRGLUHFWVHDDOWHUQDWLYH/1*VKLSPHQWVZRUNEHVW
RYHUORQJGLVWDQFHVZKHUHHLWKHUWKHXVHRIDSLSHOLQH
would render the project uneconomic, or the crossing of
many territories would pose too many potential risks of
DKLDWXVLQVXSSO\/LTXHIDFWLRQDQGUHJDVL¿FDWLRQFRVWV
rise less rapidly as a function of distance than pipeline
FRVWVGRDVRQFHWKHYHVVHODQGSODQWVDUHEXLOWWKHPDMRU
WUDQVSRUWDWLRQFRVWLVWKHRSHUDWLRQDOFRVWRIWKHYHVVHO
itself. Should there be a problem in supply, such as one
SDUW\QRWKRQRXULQJWKHLUFRQWUDFWLQWKHRU\WKHYHVVHOV
FDQEHPRYHGWRVHUYLFHDQRWKHUFOLHQWZKHUHDVLQWKH
FDVH RI SLSHOLQHV WKH DVVHWV DUH ¿[HG$V UHSRUWHG LQ
FKDSWHUQRJURZWKZDVUHFRUGHGLQWKH/1*WUDGHLQ
ZLWKWKHWRWDOYROXPHRI/1*VKLSSHGDPRXQWLQJ
WRELOOLRQFXELFPHWUHV EFP ,QFRPPRQZLWK
RWKHUVHFWRUVWUDGHLQ/1*LQVXIIHUHGIURPWKH
economic downturn, and from weak demand – especially
IRUHOHFWULFLW\7KHPDLQ/1*LPSRUWHUVLQFOXGHGERWK
GHYHORSHGDQGGHYHORSLQJFRXQWULHVQDPHO\-DSDQWKH
Republic of Korea, the United States, Spain, France
DQG,QGLD±DOWKRXJKLPSRUWVE\WKH8QLWHG6WDWHVKDYH
declined in recent years, dropping in 2008 alone by
DURXQGSHUFHQWWRPLOOLRQWRQV7KHPDLQ/1*
H[SRUWHUV ZHUH ORFDWHG LQ GHYHORSLQJ UHJLRQV ZLWK
4DWDUEHLQJWKHODUJHVW SHUFHQW 2WKHUH[SRUWHUV
included Algeria, Indonesia, Malaysia and Nigeria.
0DOD\VLD¶V0,6&%HUKDGLVWKHZRUOG¶VODUJHVWVLQJOH
RZQHURSHUDWRUZLWKDQ/1*ÀHHWRIYHVVHOV,QWKH
¿UVWWZRPRQWKVRIZRUOG/1*WUDGHGHFOLQHGE\
DURXQGSHUFHQW7KHGHFOLQHLQJOREDO/1*WUDGHLQ
ZDVGULYHQE\UHGXFHGH[SRUWV±LQWKHIDFHRID
weak global gas market – from Algeria, Nigeria, Qatar,
,QGRQHVLD(J\SWDQG(TXDWRULDO*XLQHD
91
JOREDO OLTXHIDFWLRQ FDSDFLW\ LQ WKH ¿UVW KDOI RI increased by a mere 1.9 per cent to 87.8 million
PHWULFWRQVSHU\HDU 007< DVPDMRUSURMHFWVZHUH
GHOD\HG LQFOXGLQJ 7DQJJXK ,QGRQHVLD 6DNKDOLQ
5XVVLDQ)HGHUDWLRQ <HPHQ/1* <HPHQ 4DWDUJDV
¶VWUDLQDQG5DV*DV¶VWUDLQ 4DWDU 87KHVHDQG
RWKHUSURMHFWVVKRXOGFRPHLQDQGSURYLGHDERXW
007<RIQHZFDSDFLW\7KH+DPPHUIHVW/1*SODQW
at Melkøya in northern Norway resumed operation in
2008 after a few start-up problems, while in the Russian
)HGHUDWLRQWKH¿UVWHYHUFRPPHUFLDO/1*H[SRUWFDUJR
OHIW WKH 3ULJRURGQR\H IDFLOLW\ RQ 6DNKDOLQ ,VODQG LQ
0DUFK7KHSODQWLVH[SHFWHGWREHSURGXFLQJDW
LWVIXOOFDSDFLW\RIPLOOLRQWRQVSHUDQQXPE\
Also in the Russian Federation is the giant Shtokman
GHYHORSPHQWLQWKH%DUHQWV6HDZKLFKLVH[SHFWHGWR
EHJLQH[SRUWVLQDQGWKH<DPDO3HQLQVXODVLWHLQ
the north-west of the country, which is still in the initial
VWDJHVRIGHYHORSLQJ/1*IDFLOLWLHV7KH¿UVWVKLSPHQWV
RI/1*FDUJROHIW7DQJJXKLQWKH6WDWHRI3DSXD%DUDW
Indonesia, bound for Gwangyang, Republic of Korea,
LQ-XQH7DQJJXKLV,QGRQHVLD¶VWKLUG/1*H[SRUW
FHQWUHWKHRWKHUVDUH%RQWDQJLQ(DVW.DOLPDQWDQDQG
$UXQLQ6XPDWUD7KHELOOLRQSURMHFWZLOOSURGXFH
/1*IURPWKH¿UVWRIWZRSURFHVVLQJWUDLQVZKLFKFDQ
produce up to 3.8 million tons per annum each.
2.
LNG freight rates
0RVW/1*YHVVHOVDUHLQVWDEOHORQJWHUPFRQWUDFWVDQG
WKXVGRQRWVXIIHUIURPWKHZLGHO\YDU\LQJVSRWPDUNHW
prices that affect other sectors. Daily charter rates in
ZHUHRQDYHUDJHLQWKHWRSHUGD\
UDQJHIRUPRVWRI+RZHYHUVXFKUDWHVIRU/1*
tankers on short-term hauls declined by 17 per cent in
WRDURXQGDGD\IRUVWHDPWXUELQHYHVVHOV
ZLWKDFDSDFLW\RIWRFXELFPHWUHVGXH
SULPDULO\WRDQLQFUHDVHLQWKHVXSSO\RIQHZYHVVHOV
7UHQGVLQ/1*QHZEXLOGLQJV
1.
Developments in LNG trade6
Whereas gas was once burnt off as a waste product in
WKH RLO H[WUDFWLRQ SURFHVV PHWKRGV KDYH GHYHORSHG
RYHU WKH ODVW IHZ GHFDGHV WR EULQJ WKLV SURGXFW WR
PDUNHW,QSDUWLFXODUWKHQXPEHURI/1*SURMHFWVKDV
LQFUHDVHG DV WUDQVSRUWDWLRQ WHFKQRORJ\ KDV LPSURYHG
7KH GHYHORSPHQW RI WKH 40D[ /1* FDUULHU KDV
allowed a decrease in transport costs by between 20
DQGSHUFHQW$VRI-XQHWKHUHZHUH/1*
OLTXHIDFWLRQ WUDLQV DW VLWHV ZRUOGZLGH7 +RZHYHU
7KHZRUOGÀHHWRI/1*YHVVHOVQXPEHUVDURXQG
,QYHVVHOVZHUHDGGHGWRWKHÀHHWE\VKLS\DUGV
located mainly in the Republic of Korea, and to a lesser
H[WHQW LQ -DSDQ DQG &KLQD$ IXUWKHU YHVVHOV DUH
SODQQHGIRUGHOLYHU\LQDQGDQRWKHULQ7KH
FDSDFLW\RIWKH/1*FDUU\LQJÀHHWJUHZLQE\
SHUFHQWWRPLOOLRQFXELFPHWUHVXSIURPPLOOLRQ
FXELF PHWUHV WKH SUHYLRXV \HDU ,Q -DQXDU\ WKH
RUGHUERRNIRUQHZYHVVHOVVWRRGDWEHWZHHQDQG
DQGDWDURXQGPLOOLRQFXELFPHWUHV FEP SHU
92
Review of Maritime Transport, 2009
FHQWRIWKHH[LVWLQJÀHHW 7KLVZDVGRZQIURPWKHSHDN
\HDUVRIDQGZKHQDQGYHVVHOVRIRYHU
FEP ZHUH GHOLYHUHG UHVSHFWLYHO\ 7KH SULFH
RI/1*FDUULHUVKDVUHPDLQHGVWDEOHRYHUWKHODVWIHZ
\HDUVUDQJLQJIURPWRPLOOLRQEHWZHHQ
DQG WKH ¿UVW SDUW RI 7KH ODUJHVW /1* FDUULHUV
ZKLFKDUHFDOOHG40D[YHVVHOVDQGKDYHDFDSDFLW\RI
FEPRSHUDWHPDLQO\IURP4DWDU7KHVFKHGXOHG
QHZ GHOLYHU\ RI /1* YHVVHOV LV H[SHFWHG WR GDPSHQ
freight rates in the medium term, as production capacity
at new facilities lags behind.
C.
DRY BULK SHIPPING MARKET9
Introduction
IRUPRUHGHWDLOVRQWKHRZQHUVKLSRIWKHZRUOG¶VÀHHW 7KHFRQWURORIWKHZRUOGÀHHWRIGU\EXONFDUULHUVE\
VKLSRZQHUVIURPGHYHORSLQJHFRQRPLHVLQFOXGHV&KLQD
ZLWKDÀHHWRIPLOOLRQGZWRUDSSUR[LPDWHO\SHU
cent, followed by the Republic of Korea, Hong Kong
&KLQD 7DLZDQ3URYLQFHRI&KLQD7XUNH\,QGLDDQG
Singapore.
1.
Developments in dry bulk trade
7KHGU\EXONPDUNHW±ZKLFKKDGEHHQULGLQJKLJKVLQFH
±FROODSVHGLQGHVSLWHDSURPLVLQJVWDUW7KH
%DOWLF([FKDQJH'U\,QGH[ZKLFKPHDVXUHVIUHLJKWUDWHV
IRUGU\EXONWUDQVSRUWHGE\VHDVDZDVLJQL¿FDQWGHFOLQH
DV D UHVXOW RI GHFUHDVHG WUDGH DFWLYLW\ LQ WKLV VHFWRU
7KH IROORZLQJ VHFWLRQV GHVFULEH VRPH RI WKH UHFHQW
GHYHORSPHQWVLQHDFKRIWKH¿YHPDLQEXONWUDGHV
7KHGU\EXONVKLSSLQJPDUNHWSULQFLSDOO\FRQVLVWVRIWKH
¿YHPDLQEXONFDUJRHVLURQRUHJUDLQFRDOEDX[LWH
alumina and phosphate, processed as inputs for products ,URQRUH
which in turn form the backbone of merchandise trade.
7KHGU\EXONVHFWRUDFFRXQWVIRUDURXQGSHUFHQWRI Iron ore is an important commodity as it forms the basic
WKHWRWDOYROXPHRIFDUJRWUDQVSRUWHGE\VHD$VUHSRUWHG ingredient for the production of steel, which in itself
LV D PDMRU FRPSRQHQW RI KHDY\
LQ FKDSWHU WKH WRWDO YROXPH RI
industrial production. Around
dry bulk cargoes loaded in 2008
The dry bulk market – which
98 per cent of iron ore goes into
VWRRG DW ELOOLRQ WRQV 7UDGH LQ had been riding high since
iron and steel production, with
the major dry bulks, which are
2003 – collapsed in 2008,
the remainder used in applications
considered in the following sections,
despite a promising start.
such as coal washeries and cement
was estimated at 2.1 billion tons in
manufacturing. Iron itself is the
2008. With a carrying capacity of
DURXQGPLOOLRQGZWDQGDQRUGHUERRNRIPLOOLRQ PRVWFRPPRQO\XVHGPHWDOPDNLQJXSSHUFHQWLQ
GZWDVRI0DUFKWKHZRUOGÀHHWRIGU\EXONFDUULHUV tonnage of global metal production. Iron is also alloyed
LVVHWWRJURZE\DURXQGSHUFHQWRYHUWKHQH[WIHZ with a number of elements such as carbon, manganese
\HDUV'XULQJQHZEXLOGLQJVZHUHGHOLYHUHG and nickel to produce stronger and harder steels which
WRWDOOLQJ VRPH PLOOLRQ WRQV ZKHUHDV YHVVHOV DUHLQGLVSHQVDEOHLQFRQVWUXFWLRQDQGIRUPRWRUYHKLFOHV
WRWDOOLQJPLOOLRQWRQVZHUHGHPROLVKHG7KHDYHUDJH ships, trains and railroad tracks.10
VL]H RI D QHZO\ GHOLYHUHG EXON FDUULHU LV WKXV DURXQG
GZWFRPSDUHGWRDQDYHUDJHVL]HRIGZW $XVWUDOLDDQG%UD]LODFFRXQWIRUWZRWKLUGVRIWKHZRUOG¶V
IRUVFUDSSHGYHVVHOVVKLSRZQHUVDUHFOHDUO\JHWWLQJULGRI exports of iron ore. China accounts for almost half of the
world's imports, and Japan remains the second-largest
ROGHUVPDOOHUWRQQDJHLQIDYRXURIQHZODUJHUVKLSV
LPSRUWHU ZLWK SHU FHQW 7KH WZR ELJJHVW LURQ RUH
In general, as a way of securing essential supplies, FRPSDQLHVDUH%UD]LO¶V9DOHDQGWKH%ULWLVK$XVWUDOLDQ
FRXQWULHVWHQGWRKDYHDPHUFKDQWÀHHWWKDWUHÀHFWVWKHLU 5LR7LQWRZKLFKHDFKH[SRUWDURXQGPLOOLRQWRQV
LPSRUWQHHGV)RUH[DPSOH&KLQDKDVDODUJHÀHHWRI RILURQRUHDQQXDOO\$URXQGWULSYR\DJHEHWZHHQ%UD]LO
bulk carriers, which supply it with raw materials for the DQG&KLQDWDNHVDERXWGD\VRQDYHUDJHFRPSDUHG
SURGXFWLRQRIJRRGV+RZHYHUWKLVFDQDOVREHWKHFDVH ZLWKDURXQGWULSYR\DJHIURP$XVWUDOLDWR&KLQDZKLFK
ZKHQRQHSURGXFWGRPLQDWHVH[SRUWVFRXQWULHVPD\KDYH WDNHVDERXWGD\V7KLVPHDQVWKDWDW\SLFDO&DSHVL]H
DPHUFKDQWÀHHWWKDWUHÀHFWVFDUULDJHRIWKDWJRRG)RU YHVVHOSO\LQJWKLVWUDGHFDQPDNHHLWKHUUHWXUQWULSV
example, Indonesia – a major oil exporter – has a large IURP%UD]LOWR&KLQDLQWKHVSDFHRID\HDURUUHWXUQ
RLOWDQNHUÀHHW7KXVGHYHORSLQJFRXQWULHVWHQGHLWKHUWR trips from Australia to China. Considering that these
specialize in bulk shipping that carries the raw material YHVVHOVXVXDOO\UHWXUQLQEDOODVWYDOXDEOHVDLOLQJWLPH
they need in order to produce manufactured goods, or to LV FRQVXPHG RQ ORQJHU YR\DJHV ZKHQ QR UHYHQXH LV
EHH[SRUWHUVRIRQHSDUWLFXODUFDUJRW\SH VHHFKDSWHU being earned.
4 - Trade and Freight Markets
'HVSLWH GHFOLQLQJ JHQHUDO WUDGH YROXPHV LQ RWKHU
sectors, China's imports of iron ore increased in 2008
WRPLOOLRQWRQVXSIURPPLOOLRQWRQVLQ
7KHVHFRQGDQGWKLUGTXDUWHUVRIVDZWKHKLJKHVW
LPSRUWOHYHOV7KHDYHUDJHPRQWKO\LPSRUWZDVDURXQG
PLOOLRQWRQVYDU\LQJIURPDKLJKRIPLOOLRQWRQV
LQ$SULOWRDORZRIPLOOLRQWRQVLQ2FWREHU
2008. In April 2009, China reached a new import high
IRULURQRUHDWPLOOLRQWRQV7KH¿UVWIHZPRQWKVRI
2009 showed an increase in iron ore imports by China
RI SHU FHQW RYHU WKH VDPH SHULRG LQ EULQJLQJ
VWRFNOHYHOVLQSRUWVWRDURXQGPLOOLRQWRQV XSIURP
DQDYHUDJHRIPLOOLRQWRQVLQ DQGLQVWHHOPLOOV
to around 20 million tons.11 According to data released
E\ WKH &KLQD ,URQ DQG 6WHHO$VVRFLDWLRQ GHDOHUV KDYH
LQFUHDVHGWKHDPRXQWRIWKHLULPSRUWVKRSLQJWREHQH¿W
IURPDQ\WXUQDURXQGLQWKHZRUOGHFRQRP\7KHVHFRQG
KDOIRIORRNVYHU\YRODWLOHIRUWKHLURQRUHVHFWRUDV
WKH&KLQHVH*RYHUQPHQWKDVVHWDOLPLWRQVWHHOSURGXFWLRQ
IRUDWPLOOLRQWRQVZKLFKLVGRZQSHUFHQW
RQ ¶V RXWSXW RI PLOOLRQ WRQV7KLV PD\ FDXVH
some mills to reduce their demand for iron ore imports
DVWKH\HDUFORVHV,IZHDVVXPHWKDWLWWDNHVRQDYHUDJH
WRQVRILURQRUHWRPDNHRQHWRQRIVWHHOWKLVPHDQVWKDW
WRQVRILURQRUHDUHQHHGHGSHU\HDUWKLVFRPSDUHV
ZLWKWKHWRQVRILURQRUHFRQVXPHGLQ&KLQD
SURGXFHG DSSUR[LPDWHO\ PLOOLRQ WRQV RI GRPHVWLF
iron ore during 2008. If domestic production stays the
same, then imported iron ore after August 2009 will either
fall – leading to lower freight rates – or it will contribute
to the stockpile and help maintain rates. In 2009, China
DOVRDQQRXQFHGWKHGLVFRYHU\RIQHZLURQRUHUHVHUYHVRI
DURXQGELOOLRQWRQVLQ/LDRQLQJSURYLQFH+RZWKLVZLOO
affect world markets is not yet clear, as it will depend on
WKHTXDOLW\DQGWKHHDVHRIH[WUDFWLRQ
,Q¿UVWKDOIRI5LR7LQWRVROGDURXQGSHUFHQWRI
LWVRUHRQWKHVSRWPDUNHWWKHUHPDLQGHULVVROGDWFRQWUDFW
SULFHV QHJRWLDWHG \HDUO\ ,Q FRPSDULVRQ %+3 %LOOLWRQ
sold around 20 per cent on the spot market. During 2008,
%+3%LOOLWRQDQG5LR7LQWRZHUHORFNHGLQQHJRWLDWLRQV
ZLWK&KLQHVHVWHHOPDNHUVRYHUWKHFRQWUDFWSULFH
IRULURQRUH%+3%LOOLWRQDQG5LR7LQWRZHUHKROGLQJ
out for a freight premium because of their geographical
DGYDQWDJH RYHU %UD]LO WKHLU PDLQ FRPSHWLWRU %UD]LO¶V
9DOHKDGSUHYLRXVO\ZRQDQLQFUHDVHRISHUFHQWEXW
DV$XVWUDOLDLVFORVHUWR&KLQDWKDQ%UD]LOLV$XVWUDOLDQ
FRPPRGLW\ PLQHUV ZDQWHG D ODUJHU LQFUHDVH WR UHÀHFW
WKH IUHLJKW VDYLQJV WKH\ HYHQWXDOO\ DFKLHYHG WKLV LQ
-XQH ZLWK DQ LQFUHDVH RI SHU FHQW +RZHYHU
LQ5LR7LQWRDJUHHGWRDWRSHUFHQWLURQRUH
price cut with Japan's Nippon Steel, the world's second-
93
largest steelmaker.12 13 7KLV KDV VLJQDOOHG WKH ZD\ IRU
IXUWKHUSULFHFXWVDVWKHJOREDO¿QDQFLDOFULVLVGHHSHQV
,Q-XQH9DOHVODVKHGLWVEHQFKPDUNLURQRUHSULFHV
E\DVPXFKDVSHUFHQWIRUVWHHOPDNHUVIURP-DSDQ
and the Republic of Korea.
7RZDUGV WKH HQG RI WKH ,QGLDQ *RYHUQPHQW
announced a series of financial measures aimed at
ERRVWLQJ LWV GU\ EXON WUDGH7KHVH LQFOXGHG DEROLVKLQJ
the country's 8 per cent export duty on iron ore, and a
UHGXFWLRQLQYDOXHDGGHGWD[IURPSHUFHQWWRSHUFHQW
2QHRIWKHLPPHGLDWHHIIHFWVZDVD¿YHIROGLQFUHDVHLQ
Indian iron ore imports by China, pushing the country's
total exports to 13.9 million tons for the month of
-DQXDU\6XEVHTXHQWPRQWKVVDZDGHFOLQHLQH[SRUWV
as the increasing cost of rail freight from Karnataka and
eastern India took effect. Draft restrictions at Indian ports
also been a contributing factor in limiting exports, as
RQO\WKHVPDOOHU6XSUDPD[YHVVHOV±UDWKHUWKDQ&DSHVL]H
YHVVHOV±FDQVHUYHWKLVWUDGHDQGWKLVPD\OHDGWRKLJKHU
OHYHOVRISRUWFRQJHVWLRQ
&RDO
In addition to being an important ingredient in steel
SURGXFWLRQ FRDO FRNLQJ LV XVHG WR PDNH PDQ\
SURGXFWV DQG LV DOVR XVHG WR FUHDWH HQHUJ\ WKHUPDO
FRDO WRIXHOLQGXVWU\7KHGHPDQGIRUFRDOLPSRUWVLQ
(XURSHGHFUHDVHGWRPLOOLRQWRQVLQIURP
PLOOLRQWRQVLQ/LNHZLVHLQ7DLZDQ3URYLQFH
RI&KLQDFRDOLPSRUWVGHFUHDVHGIURPPLOOLRQWRQV
LQWRPLOOLRQWRQVLQ2QWKHRWKHUKDQG
FRDO LPSRUWV LQWR -DSDQ LQFUHDVHG IURP PLOOLRQ
WRQVLQWRPLOOLRQWRQVLQ7KH5HSXEOLF
RI.RUHDLQFUHDVHGLWVOHYHORIFRDOLPSRUWVWRRIURP
PLOOLRQWRQVWRPLOOLRQWRQV
In other parts of the world, coal exports from Ukraine were
affected by a number of incidents, including a methane
explosion at the Karl Marx mine in the Donetsk region.
,Q 0DUFK WKH 8NUDLQLDQ *RYHUQPHQW LQWURGXFHG
a 13 per cent import duty on all coal, in order to protect
GRPHVWLF SURGXFHUV ,QGLD UHFHLYHG WKH ¿UVW LQ D VHULHV
RIVKLSPHQWVDPRXQWLQJWRPLOOLRQWRQVRIFRDOIURP
$XVWUDOLDQ PLQHV LQ:ROORQJRQJ7KLV FDPH DW D JRRG
time for India, which is facing increased costs for its coal
LPSRUWV IURP &KLQD DIWHU WKH *RYHUQPHQW WKHUH UDLVHG
H[SRUW WDULIIV IURP WR SHU FHQW ,Q 9LHW 1DP
WKH *RYHUQPHQW LQWURGXFHG D VHULHV RI WD[ LQFUHDVHV
on coal exports, bringing the duty up to 20 per cent. In
South Africa, exports of coking coal decreased during
March and April 2008 as domestic steel production rose.
94
Review of Maritime Transport, 2009
*UDLQ
Grains form the key ingredients that go into the
manufacture of food stock for humans and animal
IHHG 7KH VLQJOH ODUJHVW H[SRUWHU RI JUDLQV LV WKH
United States, followed by Argentina, Canada, the
(XURSHDQ8QLRQDQG$XVWUDOLD*UDLQH[SRUWVIURPWKH
8QLWHG6WDWHVGHFUHDVHGLQWRPLOOLRQWRQV
down from 98.2 million tons in 2007. Grain exports
from Canada also declined, from 22.2 million tons in
WRPLOOLRQWRQVLQ7KH(XURSHDQ8QLRQ
LQFUHDVHGLWVH[SRUWVIURPPLOOLRQWRQVLQWR
PLOOLRQWRQVLQIROORZLQJDUHFRYHU\LQWKH
KDUYHVWDIWHUDSDUWLFXODUO\EDG$XVWUDOLDLQFUHDVHG
its exports from 9.2 million tons in 2007 to 13.1 million
tons in 2008, while Argentina's exports of grain remained
UHODWLYHO\XQFKDQJHGDWPLOOLRQWRQVGHVSLWHPRQWKV
RI SURWHVWV DQG D GD\ IDUPHUV¶ VWULNH DJDLQVW WKH
*RYHUQPHQW¶VLQFUHDVHLQDJULFXOWXUDOH[SRUWWD[,QWKH
5XVVLDQ)HGHUDWLRQJRYHUQPHQWSURSRVDOVZHUHPDGH
regarding the creation of a state grain company to control
grain exports.
%DX[LWH$OXPLQD
LQ &KLQD FRPSDQLHV RSHUDWLQJ DERXW SODQWV
FRQWURO RYHU SHU FHQW RI &KLQHVH SURGXFWLRQ ,Q
WKHUH ZHUH DOPRVW QHZ DOXPLQLXP VPHOWHU
SURMHFWV RQ WKH GUDZLQJ ERDUG DW YDULRXV VWDJHV RI
GHYHORSPHQWZLWKDWRWDOFDSDFLW\RIPLOOLRQWRQV
SHU \HDU +RZHYHU FRQVWUXFWLRQ KDG EHJXQ DW RQO\
10 of these, with a total capacity of 2.8 million tons
per year. A new 300,000-ton-per-year smelter factory
began operations in Oman.
7KHZRUOG¶VODUJHVWDOXPLQLXPDQGDOXPLQDSURGXFHU
UC Rusal,18 restarted output at the Alscon plant in
Nigeria, which has a capacity of 197,000 tons annually.
/RFDWHGQRWIDUDZD\IURP1LJHULDLV*XLQHDZKLFK
KDV WKH KLJKHVW UHVHUYRLU RI EDX[LWH LQ WKH ZRUOG
and where UC Rusal owns the Friguia bauxite and
alumina complex, which has the capacity to produce
WRQV RI DOXPLQD DQG PLOOLRQ WRQV RI
EDX[LWHD\HDU7KH$OVFRQSODQWZKLFKLVRZQHGE\
8&5XVDO SHUFHQW WKH1LJHULDQ*RYHUQPHQW
SHUFHQW DQG)HUURVWDDO$* SHUFHQW ZDV
built in Nigeria because a smelter consumes an
enormous amount of energy, which Nigeria has in the
IRUPRIK\GURFDUERQV(OHFWULFDOSRZHUDQGDOXPLQD
remain the two costliest inputs in the production of
SULPDU\DOXPLQLXP+RZHYHUDVHFXUHDQGORZFRVW
supply of power is a more important factor than either
nearby raw materials or markets, when deciding on a
ORFDWLRQIRUDQDOXPLQLXPVPHOWHU([DPSOHVRIWKLV
DUHWKHODUJHVPHOWHUVLQ%DKUDLQ'XEDL2PDQ6RXWK
$IULFD 0R]DPELTXH DQG ,FHODQG 6RPH FRXQWULHV
VXFKDV&DQDGDDQG1RUZD\WDNHDGYDQWDJHRIERWK
plentiful hydroelectricity and nearby consumption
markets.
%DX[LWH DQG DOXPLQD DUH SULPDULO\ XVHG WR PDNH
DOXPLQLXPPHWDO2QDYHUDJHLWWDNHVWRQVRIGULHG
bauxite to produce 2 tons of alumina, which, in turn,
SURYLGHVWRQRISULPDU\DOXPLQLXPPHWDO$OXPLQLXP
PHWDOLWVHOILVXVHGPDLQO\LQWKHWUDQVSRUWDWLRQ SHU
FHQW RI GHPDQG FRQVWUXFWLRQ SHU FHQW DQG
SDFNDJLQJ SHUFHQW LQGXVWULHV177KHWRWDOXVHRI
aluminium, including all forms of secondary metal,
DPRXQWV WR DERXW PLOOLRQ WRQV DQQXDOO\ :RUOG
mine production of bauxite increased by an estimated
SHUFHQWWRUHDFKPLOOLRQWRQVLQ7KH *OREDOEDX[LWHUHVRXUFHVDUHHVWLPDWHGDWWRELOOLRQ
H[SDQVLRQRIEDX[LWHPLQHVLQ$XVWUDOLD%UD]LO&KLQD tons. In terms of regions, 33 per cent are located in
and India accounted for most of the slight increase South America and the Caribbean, 27 per cent in Africa,
in the worldwide production of
17 per cent in Asia, 13 per cent in
bauxite in 2008. Meanwhile, world
Oceania and 10 per cent elsewhere.
World mine production of
alumina production increased by an
7KH OHDGLQJ EDX[LWHSURGXFLQJ
HVWLPDWHGSHUFHQWLQ&KLQD bauxite increased by an
countries, which together account
estimated 1.5 per cent to
dominates the global aluminium
IRU WKUHH TXDUWHUV RI WRWDO ZRUOG
reach 205 million tons in 2008.
industry, accounting for one third
production, in decreasing order
of both world production and world
of tonnage mined, are: Australia,
consumption of primary aluminium. After China, %UD]LO&KLQD*XLQHDDQG-DPDLFD
the most important producing countries are the
Russian Federation, Canada, the United States, 7KH/RQGRQ0HWDO([FKDQJH /0( PRQWKO\DYHUDJH
$XVWUDOLD%UD]LO1RUZD\DQG,QGLDDFFRXQWLQJIRU cash price for high-grade aluminium fell from a record
DERXW WKUHH TXDUWHUV RI WKH ZRUOG RXWSXW RI SULPDU\ high of $3,070 per ton in July 2008 to $1,329 per ton in
aluminium. Globally, there are some 200 smelters )HEUXDU\DV/0(VWRFNVLQFUHDVHGIURPPLOOLRQ
that produce primary aluminium, half of which are tons to 3.2 million tons.
4 - Trade and Freight Markets
3KRVSKDWHV
95
7KH SULFH RI SKRVSKDWH URFN LQ UHFHQW \HDUV KDV
LQFUHDVHG VLJQL¿FDQWO\ RZLQJ WR ULVLQJ DJULFXOWXUDO
GHPDQG IRUIRRGXVHDQLPDOIHHGDQGELRIXHOV DQG
tight supplies. ,QDYHUDJHVSRWSULFHVIURP1RUWK
$IULFDDQGRWKHUH[SRUWLQJUHJLRQVDSSURDFKHG
SHUWRQZKLFKZDVPRUHWKDQ¿YHWLPHVWKHDYHUDJH
IRUWKHSUHYLRXV\HDU7KLVKDVKDGDNQRFNRQHIIHFW
on the price of other forms of fertilizer, such as
nitrogen, potash and sulphur.
3KRVSKDWHV DUH XVHG IRU D YDULHW\ RI SXUSRVHV EXW
most commonly in the agricultural industry, which
accounts for more than 90 per cent of world phosphate
URFNFRQVXPSWLRQ3KRVSKDWHURFNPLQHUDOVDUHWKH
only significant global resources of phosphorus,
which is an essential element for plant nutrition
HJ OLTXLG DQG VROLG IHUWLOL]HUV DQG IRU DQLPDO
QXWULWLRQ HJOLYHVWRFNDQGSRXOWU\IHHG ,QGXVWULDO
7UHQGVLQEXONFDUULHUQHZEXLOGLQJV
applications for rock phosphates include anti-corrosion
agents, cosmetics, fungicides, ceramics, water ,QWRWDOWKHUHZHUHGU\EXONFDUULHUVGHOLYHUHGLQ
WUHDWPHQWDQGPHWDOOXUJ\3KRVSKDWHURFNUHVRXUFHV XSIURPWKHSUHYLRXV\HDU7KHLUFRPELQHG
occur principally as sedimentary marine phosphorites. WRQQDJHZDVPLOOLRQGZWXSIURPPLOOLRQGZW
7KH ODUJHVW VHGLPHQWDU\ GHSRVLWV
in 2007. As reported in chapter 2,
are found in northern Africa,
the tonnage of dry bulk ships on
… the tonnage of dry bulk
&KLQD WKH 0LGGOH (DVW DQG WKH ships on order in 2009
order in 2009 outstripped that of
8QLWHG6WDWHV6LJQL¿FDQWLJQHRXV outstripped that of any other
DQ\RWKHUYHVVHOW\SH7KHGU\EXON
RFFXUUHQFHV DUH IRXQG LQ %UD]LO vessel type.
tonnage order book represents
Canada, the Russian Federation
SHUFHQWRIWKHH[LVWLQJGU\EXON
DQG 6RXWK $IULFD 7KH ZRUOG¶V
ÀHHW,Q%UD]LOLDQRUHPLQHU
large complexes for phosphate rock are located in &RPSDQKLD9DOHGR5LR'RFH 9$/( FDQFHOOHGDQ
WKH .KLELQ\ &RPSOH[ 5XVVLDQ )HGHUDWLRQ DQG RUGHU SODFHG LQ 0D\ IRU GHOLYHU\ LQ RI
WKH .DUD 7DX &RPSOH[ .D]DNKVWDQ DOWKRXJK YHU\ ODUJH RUH FDUULHUV 9/2&V ZLWK &KLQD¶V
Morocco remains the world's major exporter, and the WKLUGODUJHVWVKLSEXLOGHU-LDQJVX5RQJVKHQJ+HDY\
United States the world's major importer. Morocco's ,QGXVWULHV7KHYHVVHOVELJJHUWKDQWKH%HUJH6WDKO,
exports accounted for nearly half of world shipments, ZHUHWREHGZWPHWUHVOHQJWKRYHUDOO
totalling 32 million tons, the bulk of which was
/2$ DQGPHWUHVZLGHZLWKDGUDIWRIPHWUHV
H[SRUWHG WR (XURSH DQG WKH$PHULFDV 6KLSPHQWV DQG D FDUERQ IRRWSULQW SHU FHQW ORZHU WKDQ WKDW
by lesser exporters in other African countries and RIWUDGLWLRQDO&DSHVL]HYHVVHOV7KHRUGHUIRU
WKH0LGGOH(DVWDFFRXQWHGIRUSHUFHQWRIZRUOG 9/2&VZRXOGKDYHPDGH9DOHWKHODUJHVWJOREDO
H[SRUWV /DUJH SKRVSKDWH UHVRXUFHV KDYH EHHQ RSHUDWRU RI 9/2&V DQG ZDV UHSRUWHG WR EH ZRUWK
LGHQWL¿HGRQWKHFRQWLQHQWDOVKHOYHVDQGRQVHDPRXQWV ELOOLRQWRWKH&KLQHVHVKLS\DUG$VRIWKHUH
LQWKH$WODQWLF2FHDQDQGWKH3DFL¿F2FHDQ
ZHUHRYHURUHFDUULHUVRIRYHUGZWRQRUGHU
IRUGHOLYHU\LQDQG+RZPDQ\RIWKHVHZLOO
In 2008, world mine production of phosphates increased DFWXDOO\EHGHOLYHUHGUHPDLQVWREHVHHQ7KHYHQWXUHLQWR
E\ DQ HVWLPDWHG SHU FHQW WR UHDFK PLOOLRQ VKLSRZQLQJVWDUWHGIRU9DOHLQDVGU\EXONUDWHV
WRQV (VWLPDWHG NQRZQ ZRUOG
EHJDQ WR FUHHS KLJKHU7KH UHDVRQ
UHVHUYHV RI URFN SKRVSKDWH KDYH
IRU WKH PRYH LQWR VKLSRZQLQJ FDQ
In 2008 world mine production
been put at around 18,000 million
be seen in the rising freight costs,
of phosphates increased by
tons. China and Morocco hold
which meant that by mid-2008 it
an
estimated
6.5
per
cent
to
DSSUR[LPDWHO\ SHU FHQW DQG
cost nearly $108 per ton to ship iron
SHUFHQWUHVSHFWLYHO\IROORZHG reach 167 million tons.
RUH IURP %UD]LO WR &KLQD HURGLQJ
by South Africa with 8 per cent
9DOH¶V FRPSHWLWLYHQHVV DJDLQVW WKH
DQG WKH 8QLWHG 6WDWHV ZLWK SHU FHQW7KH OHDGLQJ Australian iron ore producers who are closer to the Asian
SURGXFHUV RI URFN SKRVSKDWHV DUH 2&3 *URXS PDUNHWDQGKDYHFKHDSHUIUHLJKWFRVWV%\WKHHQGRI
0RURFFR WKH0RVDLF&RPSDQ\ 8QLWHG6WDWHV OD 2008, the collapse in dry bulk freight rates saw rates for
&RPSDJQLHGHVSKRVSKDWHVGH*DIVD 7XQLVLD DQG VKLSSLQJLURQRUHIURP%UD]LOWR&KLQDGURSWRSHU
3&63KRVSKDWH 8QLWHG6WDWHV DFFRXQWLQJIRUDERXW WRQIRUWKH¿UVWWLPHLQQHDUO\VHYHQ\HDUVXQGHUPLQLQJ
SHU FHQW SHU FHQW SHU FHQW DQG SHU FHQW WKHSURVSHFWVIRUYLDEOHRSHUDWLRQRID9/2&ÀHHWZLWK
UHVSHFWLYHO\RIZRUOGFDSDFLW\LQ
QHZDQGFRVWO\YHVVHOV
96
2.
Review of Maritime Transport, 2009
Dry bulk freight rates
misery of those companies still standing. When Armada
6LQJDSRUH 3WH /WG ¿OHG IRU EDQNUXSWF\ LW ZDV RZHG
more than $100 million by Fortescue Metals, Ashapura
0LQHFKHP 3LRQHHU )UHLJKW )XWXUHV$WODV 6KLSSLQJ
%ULWDQQLD%XONDQG*ORU\:HDOWK20
A turning point in the fortunes of dry bulk shipowners
was reached in 2008 after four years of strong growth.
7KHGHPDQGIRUSUH2O\PSLFGHOLYHULHVOHGWRUHSRUWV
RIFRQJHVWLRQSUREOHPVLQ&KLQD%UD]LODQG$XVWUDOLD
helped tighten supply and lift freight rates at the start of 7KH GHFOLQLQJ HDUQLQJV PDUNHW QDWXUDOO\ DIIHFWHG WKH
the year. In northern China, high stockpiles of iron ore SULFHV RI YHVVHOV$ ILYH\HDUROG &DSHVL]H YHVVHO
LQWHUUXSWHGVFKHGXOHVDQGUHVXOWHGLQDQDYHUDJHGHOD\ cost $128 million at the start of 2008, then rose to
RIGD\VIRUYHVVHOVWREHUWKZKLOHLQ%UD]LOTXHXHV PLOOLRQLQ$XJXVWEHIRUHFORVLQJWKH\HDUDW
RIXSWRYHVVHOVZHUHUHSRUWHG$WWKH$XVWUDOLDQSRUW PLOOLRQ7KLVUDSLGGHFOLQHLQYHVVHOSULFHVIROORZHGWKH
RI1HZFDVWOHWKHUHZHUHYHVVHOV
GHFOLQHLQWKH%DOWLF([FKDQJH'U\
LQ WKH TXHXH ZDLWLQJ WR HQWHU WKH
Index, which peaked in May 2008
A turning point in the fortunes
port during June 2008, as a result of
and rapidly fell to record lows in
of dry bulk shipowners was
GHOD\VFDXVHGE\PDMRUÀRRGLQJ,Q
'HFHPEHU3ULFHVRIVHFRQG
reached in 2008 after four
HDUO\ ÀRRGLQJ LQ WKH UHJLRQ
KDQG&DSHVL]HYHVVHOVOHYHOOHGRII
years of strong growth.
again caused delays at the port.
GXULQJWKH¿UVWTXDUWHURIWR
UHDFKPLOOLRQLQ$SULODQGWKH
7KH %DOWLF ([FKDQJH 'U\ ,QGH[ %', SHUIRUPHG daily hire rate rose slightly to $21,300. Historically, these
VSHFWDFXODUO\GXULQJWKH¿UVWKDOIRIUHDFKLQJDQ ¿JXUHVFRPSDUHIDYRXUDEO\ZLWKWKHDYHUDJHHDUQLQJV
DOOWLPHKLJKRILQ0D\+RZHYHUE\WKHHQGRI RIEHORZSHUGD\IRUD&DSHVL]HYHVVHOLQWKH
WKH\HDUWKH%',KDGIDOOHQPRUHWKDQVHYHQWHHQIROG 1990s – a decade when the highest daily rate could not
WRSRLQWV,Q-XQHWKHDYHUDJHHDUQLQJVIRUD WRS
PRGHUQ&DSHVL]HVWRRGDWSHUGD\19+RZHYHU
by December 2008, rates had dropped tenfold to 7KH GU\ EXON PDUNHW FRQWLQXHV WR UHPDLQ YRODWLOH LQ
SHUGD\2QHDQDO\VWSXWWKHHDUQLQJUDWHVRI ,Q)HEUXDU\WKH%DOWLF([FKDQJH&DSHVL]H
&DSHVL]H 3DQDPD[ DQG 6XSUDPD[ YHVVHOV DW ,QGH[ %&, GRXEOHGLWVYDOXHRYHUWKHSUHFHGLQJPRQWK
DQG UHVSHFWLYHO\ IRU D %', UDWH LQ WKH to reach 3,822 points, from an all-time low of 830 points
ORZ V7KXV WKH RYHU SHU FHQW GHFUHDVH LQ WKH LQ'HFHPEHU7KLVZDVDWWULEXWDEOHWRLQFUHDVHG
%',PRVWDIIHFWVWKHRZQHUVRIODUJHYHVVHOVVXFKDV LURQRUHH[SRUWVIURP$XVWUDOLDDQG%UD]LO6SRWHDUQLQJ
&DSHVL]H VKLSV ,QIRUPDWLRQ SURYLGHG DW ¿UVW KDQG WR IRUP%UD]LODSSURDFKHGSHUGD\XSIURPDURXQG
81&7$' UHYHDOV WKDW RZQHUV RI VPDOO YHVVHOV VXFK LQ'HFHPEHU,Q)HEUXDU\3DQDPD[DQG
DV D GZW GU\ EXONHU XVHG LQ FRDVWDO VKLSSLQJ Supramax earnings were around $10,000 per day –
experienced freight rate declines of around 30 per cent WZLFHWKHOHYHORIWKHSUHYLRXVPRQWK%\-XQH
LQ+RZHYHUDWWKHVHUDWHVVKLSRZQHUVDUH¿QGLQJ UDWHVIRU&DSHVL]HYHVVHOVHYHQVXUSDVVHGWKH
LWGLI¿FXOWWRPHHWWKHLUPDUJLQDOFRVWV LHWKHLUGDLO\ per day mark, although the sustainability of these rates
UXQQLQJFRVWV OHWDORQHSD\WKHLUFDSLWDOFRVWV&DSLWDO VHHPVXQOLNHO\JLYHQWKHLQFUHDVLQJVXSSO\IDFWRUZKLFK
FRVWVYDU\FRQVLGHUDEO\DQGDVKLSRZQHUZKRERXJKWD DYHUDJHVRQHQHZYHVVHOSHUGD\
YHVVHODWWKHKHLJKWRIWKHPDUNHWZLOOXQGRXEWHGO\¿QG
FXUUHQWUDWHVGLI¿FXOWDQGH[LWVWUDWHJLHVOLPLWHG6RPH 7KHSULFHRIEXONFDUULHUVKDVDOVRIDOOHQVLJQL¿FDQWO\
FRPSDQLHV VXFK DV %ULWDQQLD %XON$WODV 6KLSSLQJ D¿YH\HDUROG3DQDPD[YHVVHOFRVWLQJPLOOLRQ
DQG$UPDGD6LQJDSRUH3WH/WGKDYH¿OHGEDQNUXSWF\ LQ 'HFHPEHU ZDV YDOXHG DW PLOOLRQ
SURFHHGLQJV7KHGHULYDWLYHVPDUNHWZKLFKZDVULGLQJ LQ 1RYHPEHU 6KLSRZQHUV XQDEOH WR VHOO
high for some time, just kept falling in December 2008, WKHLU YHVVHOV IDFH RSHUDWLRQDO ORVVHV DQG SRVVLEOH
DQG WKH VSHFXODWLYH SRVLWLRQV WKDW WKHVH VKLSSLQJ FDSLWDOVTXHH]HVEURXJKWRQE\WKH¿QDQFLDOFULVLV
companies took worked against them. Not only were &RQVHTXHQWO\ VKLSRZQHUV DUH IDFHG ZLWK WKH VWDUN
WKH\VWUXJJOLQJWRPHHWWKHLUFDSLWDOUHSD\PHQWVKDYLQJ FKRLFHRIHLWKHUZLWKGUDZLQJVHUYLFHVRUOD\LQJXS
JHQHUDWHGEDUHO\HQRXJKPRQH\WRFRYHUWKHLUUXQQLQJ ships in an effort to restore rates.21
costs on the physical side, but they also had to meet
KHDY\PDUJLQFDOOVWRFROODWHUDOL]HWKHLUSRVLWLRQVZLWK In 2008, the tramp market for dry cargo, both time
EDQNVDQGRWKHUVKLSSLQJFRPSDQLHV7KLVRIFRXUVH DQGWULSFKDUWHUVFRQWLQXHGWRULVHRYHUWKHFRXUVH
had a knock-on effect, and bad debts added further to the RIWKH¿UVWKDOIRIWKH\HDU VHHWDEOH +RZHYHU
4 - Trade and Freight Markets
97
Table 31
Dry cargo freight indices, 2006–2009
Period
January
February
March
April
May
June
July
August
September
October
November
December
Annual average
Dry cargo tramp time
Dry cargo tramp trip
charter (1972 = 100)
charter (1985 = 100)
2006 2007 2008 2009 2006 2007 2008 2009
302 491 812 193 294 632 1 018 154
298 480 657 259 292 577 908 227
327 550 810 305 321 644 1 221 296
326 576 795 254 325 707 1 080 277
323 671 1 055 306 304 712 1 544 358
331 626 1 009 410 359 759 1 250
360 673 868
421 875 1 036
417 718 716
475 920 976
447 828 550
518 1 078 657
450 985 313
522 1 044 267
447 1 013 192
463 1 280 117
484 926 181
594 1 251 121
376 711 663 288 407 873 850 262
Source: UNCTAD secretariat, based upon various issues of Shipping Statistics
and Market Review produced by the Institute of Shipping Economics and
Logistics.
Note:
All indices have been rounded to the nearest whole number.
the second half of the year saw a decline from
1,009 points in June to 181 points by December.
Similarly, the dry cargo tramp time charter declined
from 1,250 points in June to just 121 by December.
The peak month for both indices was May, with 1,055
points and 1,544 points respectively. The first quarter
of 2009 showed some small gains, although levels
were still around two thirds below their peak.
Dry bulk time charter (trips)
rates rose significantly in the first half of 2008, with
owners of the relevant ships receiving $112,765 per
day at the start of the year, compared to $66,630 for
the same period in 2007, and $192,845 by May 2008.
November 2008, however, marked a low point, with
rates down over 98 per cent, standing at a mere
$2,640 per day.
Dry bulk time charter (periods)
Estimates of rates for 12-month period charters
In 2008, freight rates for Capesize tonnage chartered (prompt delivery) indicate that rates for the first half
for transatlantic round trips experienced a rollercoaster of 2008 rose to reach a peak in June, before declining
ride. Rates were at $111,835
significantly. Capesize ships of
per day in January, rising to a
200,000 dwt aged five years
In 2008 freight rates for
high of $220,385 in May, before
fetched $125,000 per day at the
Capesize tonnage chartered
plummeting to end the year over
start of 2008 – against $63,000
for transatlantic round trips
97 per cent lower at a mere
for the same period in 2007 –
experienced a rollercoaster ride.
$5,055 per day. Rates on the
and peaked at $176,200 in June.
Singapore–Japan to Australia
The period from January 2008
route showed a similar trend to that observed on the to January 2009 saw an 82 per cent decline in rates
transatlantic route. For Capesize tonnage deployed for a one- to five-year-old Capesize of 170,000 dwt.
on the Singapore–Japan to Australia route, freight Freight rates for Panamax ships of 75,000 dwt aged
98
Review of Maritime Transport, 2009
¿YH\HDUVVWDUWHGDWSHUGD\LQ-DQXDU\XS
from $31,000 in January 2007, but ended the year
down, at $10,000 per day. Freight rates for Handymax
ships of 28,000 dwt aged 10 years saw a decline from
SHUGD\LQ-DQXDU\WRSHUGD\
by December 2008.
'U\EXONWULSFKDUWHU
,URQRUHIUHLJKWUDWHVIURP%UD]LOWR&KLQDVWDUWHG
DWSHUWRQXSIURPSHUWRQWKHSUHYLRXV
\HDU%\0D\WKLV¿JXUHKDGUHDFKHGSHU
WRQEXWLWHQGHGWKH\HDUDWDPHUHSHUWRQ7KH
IUHLJKWUDWHVIRU-DQXDU\RYHU-DQXDU\VKRZHG
DQ SHU FHQW ULVH KRZHYHU -DQXDU\ VKRZHG D
GHFOLQHRIDURXQGSHUFHQWZKHQFRPSDUHGWR-DQXDU\
2008. A similar picture emerges for all other routes, as
the effects of the global economic downturn curtailed
the demand for raw materials.
1.
Developments in the liner trade
*HQHUDOGHYHORSPHQWV
7KH PRVW QRWDEOH GHYHORSPHQW LQ WKH OLQHU WUDGH LQ
2008 was the repeal of the block exemption that liner
FRQIHUHQFHV KDG UHFHLYHG LQ WKH (XURSHDQ 8QLRQ
with regard to price and capacity setting. As of
2FWREHUIRUPHUPHPEHUVRIWKH)DU(DVW)UHLJKW
&RQIHUHQFHKDYHKDGWRHVWDEOLVKWKHLURZQWDULIIVDQG
surcharges, resulting in different rates and amounts
DSSOLHGDFURVVWKHERDUG7KHPXOWLSOLFLW\DQGYDULHW\RI
rates applied by shipping companies are putting an extra
EXUGHQRQVKLSSHUVZKRKDYHWRPDNHDGGLWLRQDOHIIRUWV
WRNHHSWUDFNRIWKHPDOO7RGDWHQRRWKHUFRXQWULHV
RUUHJLRQVDUHUHSRUWHGWRKDYHSXUVXHGWKH(XURSHDQ
Union approach.
)LJXUHV SXEOLVKHG E\ WKH (XURSHDQ /LQHU $IIDLUV
$VVRFLDWLRQ (/$$ VKRZWKDWFRQWDLQHUYROXPHVRQWKH
$VLD±(XURSHWUDGHIHOOE\DURXQGSHUFHQWLQ
D.
THE LINER SHIPPING MARKET22
%\WKHVWDUWRIFRQWDLQHUUDWHVRQWKLVURXWHZHUH
DWDURXQGSHU7(8±DIDOORIDURXQGSHUFHQW
Introduction
compared to the boom of 2007. In an effort to shore up
7KH OLQHU VKLSSLQJ PDUNHW LV PDLQO\ VHUYHG E\ UDWHVDIWHUWKHDEROLVKPHQWRI(XURSHDQOLQHUFRQIHUHQFHV
FRQWDLQHU VKLSV DQG UHSUHVHQWV DURXQG SHU $3/+DSDJ/OR\GDQG02/DOODQQRXQFHGLQFUHDVHV
cent of world goods loaded in
LQ WKHLU UDWHV WR OHYHOV KLJKHU WKDQ
YROXPH WHUPV WRQV :KLOH … container volumes on the
the spot price from 1 April 2009.
most items can be transported
As an additional measure to absorb
Asia–Europe trade fell by
in containers, including cargoes
capacity, some operators re-routed
around 15 per cent in 2008.
SUHYLRXVO\WUDQVSRUWHGLQEXONDQG
WKHLURSHUDWLRQVIURP(XURSHWR$VLD
components of products, containers
to transit the longer Cape of Good
PDLQO\FDUU\¿QLVKHGSURGXFWVUHDG\IRUFRQVXPSWLRQ +RSHURXWH:KLOHWKLVLQFUHDVHGDYHUDJHVDLOLQJWLPHV
In 2008, the total world containerized trade was RQWKDWURXWHE\VHYHQGD\VDQGEXQNHUVFRQVXPSWLRQE\
HVWLPDWHGDWELOOLRQWRQVDQLQFUHDVHRISHU around 30 per cent, the route eliminates transit fees for
FHQWRYHUWKHSUHYLRXV\HDU23 Full container trade is the Suez Canal. In some cases, this re-routing brought
HVWLPDWHGDWPLOOLRQ7(8VLQ7KHVKDUH DERXWVDYLQJVRIRYHUIRUWKHODUJHVWVKLSVHYHQ
of containerized trade, as part of the world's total dry after allowing for extra fuel and crew costs. With rising
FDUJRLQFUHDVHGIURPSHUFHQWLQWRSHU IXHO FRVWV KRZHYHU WKH ORQJWHUP YLDELOLW\ RI ORQJHU
FHQW LQ 7KH UDSLG JURZWK LQ FRQWDLQHUL]DWLRQ URXWHVZLOOFRPHLQWRTXHVWLRQ
RYHUWKHODVW\HDUVLVWKHUHVXOWRIDFRPELQDWLRQRI
factors that includes dedicated purpose-built container $V D FRQVHTXHQFH RI UHURXWLQJ UHYHQXHV IRU WKH
YHVVHOVODUJHUYHVVHOVFDSDEOHRIDFKLHYLQJLQFUHDVHG 6XH] &DQDO IHOO E\ RYHU SHU FHQW LQ$SULO HFRQRPLHVRIVFDOHLPSURYHGKDQGOLQJIDFLOLWLHVLQ compared to the same period in 2008. During April 2009,
ports, and also the increasing amount of raw materials YHVVHOVWUDQVLWHGWKHFDQDOLQFXUULQJIHHVRI
being carried in containers, for example base metals PLOOLRQ7KLVWUDQVODWHVLQWRDQDYHUDJHUDWHRIDURXQG
such as copper cathodes and copper concentrates. SHUYHVVHODOWKRXJKWKHODUJHVWFRQWDLQHUVKLSV
7KHÀHHWRIFRQWDLQHUVKLSVLQFUHDVHGE\PLOOLRQ can expect to pay twice that amount for a single transit.
GZWRUSHUFHQWWRUHDFKPLOOLRQGZWZKLFK Interestingly, in May 2009, MSC, which had re-routed
LVDSSUR[LPDWHO\SHUFHQWRIWKHWRWDOZRUOGÀHHW LWV HDVWERXQG WUDI¿F DURXQG WKH &DSH RI *RRG +RSH
$WWKHEHJLQQLQJRIWKHUHZHUHFRQWDLQHU UHYHUVHGLWVGHFLVLRQZLWKVRPHDQDO\VWVEHOLHYLQJLWKDG
VKLSVZLWKDWRWDOFDSDFLW\RIPLOOLRQ7(8V
negotiated a discount with the Suez Canal Authority.
4 - Trade and Freight Markets
,QDGGLWLRQWRVDYLQJIXHODQGDEVRUELQJVSDUHFDSDFLW\
UHURXWLQJVKLSVDURXQGWKH&DSHRI*RRG+RSHDYRLGV
the piracy hot spot off Somalia and the need to purchase
additional insurance. It has been reported that insurance
costs for piracy attacks rose more than tenfold in 2008.
7KHUHZHUHUHSRUWHGDWWDFNVRISLUDF\RII6RPDOLDLQ
D¿JXUHZKLFKHDUO\DQDO\VLVRIGDWDVXJJHVWV
will double.
)ROORZLQJDGHFOLQHLQWUDI¿FYROXPHVWKHOLQHUVKLSSLQJ
FRPSDQ\(YHUJUHHQDQQRXQFHGVHUYLFHDQGSHUVRQQHO
reductions in early 2009 relating to trade on the route
IURP$VLD WR WKH 3DFL¿F 7KH OLQHU VKLSSLQJ LQGXVWU\
in 2008 followed a trend similar to the tanker and dry
EXONVHFWRUVPHQWLRQHGHDUOLHU±ZLWKDVWURQJ¿UVWKDOI
IROORZHGE\DZHDNVHFRQGKDOIDVWKHJOREDO¿QDQFLDO
FULVLVVSUHDG2YHUDOOWKRXJKZDVQRWDEDG\HDU
IRURZQHUVRIOLQHUVKLSVZLWKDYHUDJHUDWHVIRUVPDOOHU
YHVVHOVDERYHWKHLUOHYHOV
As reported in chapter 2, the total seaborne containerFDUU\LQJÀHHWFDSDFLW\LQFOXGLQJIXOO\FHOOXODUFDSDFLW\
VWRRG DW PLOOLRQ 7(8V LQ $ ODUJH QXPEHU
of newbuildings were ordered in 2008, whereas up to
WKH¿UVWKDOIRIQRRUGHUVIRUQHZFRQWDLQHUVKLSV
ZHUHSODFHG9HU\OLWWOHWRQQDJHZDVUHSRUWHGEURNHQXS
in 2008: around 728,000 dwt from January to October.
7KHODVWLQDVHULHVRIHLJKWEHKHPRWKFRQWDLQHUVKLSV
IURP0DHUVN/LQH±WKH7(8(XJHQ0DHUVN–
HQWHUHGVHUYLFHLQDVZHOODVWKH7(806&
'DQLHOD which is owned and operated by the SwissEDVHG0HGLWHUUDQHDQ6KLSSLQJ&RPSDQ\ 06& 99
HFRQRPLHV ZHUH IURP GHYHORSHG HFRQRPLHV DQG
none were from countries with economies in transition.
$VLDQ HFRQRPLHV GRPLQDWHG WKH OLVW ± WKHUH ZHUH FRPSDQLHVIURPWKDWUHJLRQIURP(XURSHDQGIURP
/DWLQ$PHULFD7KHUHZDVRQHQHZPHPEHURQWKHOLVW
of the top 20 liner shippers, which entered at position 18
– namely the United Arab Shipping Company,
KHDGTXDUWHUHGLQ.XZDLWDQGRSHUDWLQJIURP'XEDLZLWK
YHVVHOVDQGDFDUU\LQJFDSDFLW\RI7(8V7KH
United Arab Shipping Company caused a stir in 2008
ZKHQLWUHYHDOHGDELOOLRQQHZEXLOGLQJFRQWUDFWIRU
QLQHFRQWDLQHUYHVVHOVRI7(8V02/+DQMLQDQG
+00DOOPRYHGXSWZRSODFHVGXULQJWRSRVLWLRQV
DQG UHVSHFWLYHO\$3/ DQG<DQJ 0LQJ ERWK
PRYHGXSRQHSODFHWRSRVLWLRQVDQGUHVSHFWLYHO\
&KLQD6KLSSLQJ&RQWDLQHU/LQHV &6&/ ./LQHDQG
3DFL¿F ,QWHUQDWLRQDO /LQHV 3,/ HDFK ORVW JURXQG E\
RQHSODFHWRRFFXS\SRVLWLRQVDQGUHVSHFWLYHO\
:DQ+DLIURP7DLZDQ3URYLQFHRI&KLQD±ZKLFKZDV
IRUPHUO\UDQNHGLQSRVLWLRQ±PRYHGRXWRIWKHWRS
20 as a result of a retrenchment programme to reduce
the number of ships it operates. Despite this, Wan Hai
increased its container-carrying capacity in 2008, and
DJUHHGZLWK3DFL¿F,QWHUQDWLRQDO/LQHVWRHQWHULQWRD
long-term strategic partnership.
0DHUVN /LQH PDLQWDLQHG LWV OHDG SRVLWLRQ FORVHO\
IROORZHGE\06&DQG&0$&*0+RZHYHUWKHJDS
EHWZHHQ¿UVWDQGVHFRQGSRVLWLRQFRQWLQXHGWRQDUURZ
IURP7(8WRMXVW7(8'XULQJ
06&JUHZE\SHUFHQWDQG&0$&*0JUHZE\
SHUFHQWZKLOHWKHPDUNHWOHDGHU±0DHUVN/LQH
± JUHZ E\ MXVW SHU FHQW RYHU WKH SUHYLRXV \HDU
0DHUVN/LQH¶VPDUNHWVKDUHLQWHUPVRIÀHHWFDSDFLW\
0DMRUOLQHUVKLSSLQJRSHUDWRUV
UHSRUWHGO\ IHOO IURP SHU FHQW WR SHU FHQW
2YHUWKHFRXUVHRIWKHFDUU\LQJFDSDFLW\RIWKHWRS between January 2008 and April 2009, whereas MSC's
10 global container ship operators increased by 11 per VKDUHZHQWIURPWRSHUFHQW,QZKHQ
FHQW±GRZQIURPWKHSUHYLRXV\HDU¶V
0DHUVN DFTXLUHG 3 2 1HGOOR\G
JURZWK UDWH RI SHU FHQW ± WR On 1 January 2009, the
LWV PDUNHW VKDUH LQ WHUPV RI ÀHHW
UHDFKPLOOLRQ7(8V WDEOH 20 leading operators
FDSDFLW\H[FHHGHGSHUFHQW7KH
7KLV LV VRPHZKDW ORZHU WKDQ WKH accounted for about 69 per
only major change in ownership
H[FHSWLRQDOO\KLJKJDLQVRISHU cent of the total container
with the top 20 liner companies
capacity
deployed,
down
by
FHQWDFKLHYHGLQ2YHUDOOWKH
ZDVZLWK+DSDJ/OR\GZKLFKZDV
around 1 per cent on 2008.
share of the top 20 liner operators
VROGE\LWVSDUHQWFRPSDQ\78,WRD
LQLQFUHDVHGE\SHUFHQW
Hamburg consortium in late 2008.
WR UHDFK PLOOLRQ 7(8V ,Q WKH SUHYLRXV \HDU WKH
fleet of the top 20 liner companies had grown by )LQDQFLDOSHUIRUPDQFHRIWKHPDMRUVKLSSLQJOLQHV
SHUFHQWKHOSLQJWRFRQFHQWUDWHWKHOLQHUPDUNHW
On 1 January 2009, the 20 leading operators accounted 7KH¿QDQFLDOSHUIRUPDQFHRIWKHPDMRUOLQHUVKLSSLQJ
IRU DERXW SHU FHQW RI WKH WRWDO FRQWDLQHU FDSDFLW\ companies in 2008 was significantly lower than in
deployed, down by around 1 per cent on 2008. Within SUHYLRXV \HDUV DV WKH JOREDO ¿QDQFLDO FULVLV EHJDQ WR
WKHWRSOLQHUFRPSDQLHVZHUHIURPGHYHORSLQJ LPSDFWRQZRUOGWUDGHLQWKHODVWTXDUWHU0DHUVN/LQH
100
Review of Maritime Transport, 2009
7DEOH
The 20 leading service operators of container ships at the beginning of 2009
QXPEHURIVKLSVDQGWRWDOVKLSERDUGFDSDFLW\GHSOR\HG 7(8V
Ranking Operator
Number of ships
in 2009
280
181
132
128
121
109
83
2 032
90
82
99
81
82
TEU capacity
in 2009
387 107
7 389 663
Total 1–20
2 784
9 951 392
:RUOGFRQWDLQHUFHOOXODUÀHHWDW-DQXDU\
9 447
14 429 080
1
2
3
4
5
6
7
8
9
10
Subtotal
11
12
13
14
15
16
17
18
19
20
Country/territory
0DHUVN/LQH
MSC
CMA-CGM Group
(YHUJUHHQ
+DSDJ/OR\G
COSCON
$3/
&6&/
02/
Hanjin
Denmark
Switzerland
France
7DLZDQ3URYLQFHRI&KLQD
Germany
China
Singapore
China
Japan
Republic of Korea
22&/
NYK
Yang Ming
./LQH
HMM
Hamburg Sud
Zim
UASC
3,/
&6$9
+RQJ.RQJ &KLQD
Japan
7DLZDQ3URYLQFHRI&KLQD
Japan
Republic of Korea
Germany
Israel
Kuwait
Singapore
Chile
6RXUFH 81&7$' VHFUHWDULDW EDVHG RQ &RQWDLQHULVDWLRQ ,QWHUQDWLRQDO 2QOLQH )OHHW 6WDWLVWLFV $YDLODEOH DW
http://www.ci-online.co.uk.
DQGUHODWHGEXVLQHVVUHSRUWHGO\PDGHPLOOLRQLQ
RQDWXUQRYHURIDURXQGELOOLRQ7KLVFRPSDUHV
YHU\ XQIDYRXUDEO\ WR WKH JROGHQ \HDU RI ZKHQ
0DHUVN/LQHPDGHDSUR¿WLQH[FHVVRIELOOLRQ In
ZLWKDURXQGSHUFHQWRILWVVKLSVO\LQJLGOHWKH
prospects for the world's number one liner company were
ORRNLQJYHU\FKDOOHQJLQJ&0$&*0¶VSUR¿WVGURSSHG
LQ E\ DURXQG SHU FHQW IURP PLOOLRQ LQ
WR PLOOLRQ DV IUHLJKW UDWHV SOXPPHWHG RQ
DOORILWVPDMRUWUDGHODQHV+RZHYHUZLWKVRPHWKUHH
TXDUWHUVRILWVÀHHWFKDUWHUHGLQDQGZLWKDURXQGRI
LWVÀHHWRIGXHIRUUHQHZDOLQWKHUHLVSOHQW\
of scope for CMA-CGM to reduce operating costs.27
(YHUJUHHQ/LQHUHSRUWHGUHGXFHGSUR¿WVLQRI
PLOOLRQQHZ7DLZDQGROODUV 17 PLOOLRQ GRZQ
VHYHQWHHQIROG IURP 17 ELOOLRQ PLOOLRQ D
\HDU HDUOLHU +DSDJ/OR\G DSSHDUV DV DQ H[FHSWLRQ WR
WKH WRS UXOH ZLWK UHYHQXHV LQFUHDVLQJ E\ SHU
FHQWWRELOOLRQLQDQGSUR¿WVE\SHUFHQW
WRPLOOLRQDVFDUJRYROXPHVURVHE\SHUFHQW
WR UHDFK PLOOLRQ 7(8V &26&2¶V UHYHQXH LQ
LQFUHDVHGE\SHUFHQWWRELOOLRQ\XDQ
ELOOLRQ ZKLOHSUR¿WVGHFOLQHGE\SHUFHQWWR
ELOOLRQ\XDQ ELOOLRQ 5HYHQXHIURPFRQWDLQHU
RSHUDWLRQVVOLSSHGE\SHUFHQWWRELOOLRQ\XDQ
ELOOLRQ LQ ZKHQ WKH FRPSDQ\ PRYHG
PLOOLRQ7(8VDERXWSHUFHQWPRUHWKDQLQ
1HSWXQH2ULHQW/LQHVUHSRUWHGDQHWSUR¿WIRURI
4 - Trade and Freight Markets
PLOOLRQZKLFKZDVSHUFHQWORZHUWKDQLQ
GHVSLWHLQFUHDVLQJWRWDOUHYHQXHE\SHUFHQWWR
ELOOLRQ02/¶VUHYHQXHGHFUHDVHGE\SHUFHQWLQ
RYHUWKHSUHYLRXV\HDUWR–ELOOLRQ ELOOLRQ while operating income plunged by 32 per cent to
–ELOOLRQ ELOOLRQ DQGQHWLQFRPHE\SHU
FHQWWR–ELOOLRQ ELOOLRQ &KLQD6KLSSLQJ
&RQWDLQHU/LQHV &6&/ VDZUHYHQXHGURSE\SHUFHQW
WRELOOLRQ\XDQ ELOOLRQ DQGQHWSUR¿WFROODSVH
E\SHUFHQWLQWRPLOOLRQ\XDQ+DQMLQPDGH
D WULOOLRQ ZRQ ELOOLRQ RSHUDWLQJ SUR¿W XS
E\SHUFHQWIURPDOOLWVGLYLVLRQVLQEDVHG
XSRQWRWDOUHYHQXHVRIWULOOLRQZRQ,WVFRQWDLQHU
GLYLVLRQDFKLHYHGUHYHQXHVRIWULOOLRQZRQXSE\
SHUFHQWRZLQJWRWKHLQFUHDVHGWUDQVSDFL¿FIUHLJKW
UDWHV+RZHYHURSHUDWLQJSUR¿WVGHFOLQHGE\SHUFHQW
WRELOOLRQZRQ PLOOLRQ 7KH SUHVVXUH IRU ORZHU IUHLJKW UDWHV LV EHLQJ IXHOOHG
by the global economic downturn combined with dire
IRUHFDVWVIRUZRUOGWUDGH7KHUHSRUWVRIYHVVHOVO\LQJ
LGOHDQGDODUJHVXSSO\RIQHZYHVVHOVRQWKHRUGHUERRNV
are exacerbated by the rising cost of fuel.
101
%\$SULOIUHLJKWUDWHVIRUPRVWYHVVHOVZHUH
EHORZWKHLU\HDUOHYHOV
)UHLJKWUDWHVRQPDLQURXWHV
7DEOH VKRZV WKH IUHLJKW UDWHV RQ WKH WKUHH PDLQ
FRQWDLQHUL]HG URXWHV 3DFLILF $VLD±(XURSH DQG
WUDQVDWODQWLF )UHLJKW UDWHV VKRZHG PL[HG UHVXOWV IRU
the three major routes during 2008. A comparison of
WKH IRXUWK TXDUWHU UHVXOWV IURP DQG IURP VXJJHVWWKDWWKHURXWHVIURP(XURSHWR$VLDIURPWKH
8QLWHG6WDWHVWR(XURSHDQGLQERWKGLUHFWLRQVRQWKH
WUDQVSDFL¿F URXWH H[SHULHQFHG JURZWK )UHLJKW UDWHV
GHFUHDVHG RQ WKH$VLD WR (XURSH DQG WKH (XURSH WR
United States routes during the same period. Freight rates
RQWKH$VLD±(XURSHURXWHKDGGURSSHGWRDQDOOWLPHORZ
RI]HURE\HDUO\7KHVRFDOOHG³]HUR´UDWHVZHUH
RQO\SRVVLEOHEHFDXVHRWKHULQHVFDSDEOHFRVWVLQYROYHGLQ
KDQGOLQJFDUJRZHUHELOOHGDVH[WUDV7KH¿JXUHVVKRZQ
LQ WDEOH KRZHYHU LQFOXGH WKHVH H[WUD FRVWV HJ
currency adjustment factors, bunker adjustment factors
DQGWHUPLQDOFKDUJHVWRJLYHDPRUHDFFXUDWH¿JXUHRI
freight rates along selected routes.
As mentioned earlier, as of 18 October 2008, liner
FRQIHUHQFHVWRDQGIURPWKH(XURSHDQ8QLRQZHUH
SURKLELWHGDQGDVDFRQVHTXHQFHWKHPDLQVRXUFH
&KDUWHULQJRIFRQWDLQHUVKLSV
RIIUHLJKWUDWHVRQWKHVHURXWHV±WKH)DU(DVW)UHLJKW
German shipowners dominate the global liner shipping &RQIHUHQFH ± QR ORQJHU H[LVWV /LQHU FRPSDQLHV
PDUNHWZLWK+DPEXUJEURNHUVFRQWUROOLQJDERXWSHU DUH FDXWLRXV RI UHYHDOLQJ UDWHV IRU IHDU RI WKLV
FHQWRIWKHFRQWDLQHUVKLSFKDUWHUWRQQDJHDYDLODEOH6LQFH EHLQJ LQWHUSUHWHG DV SULFH ¿[LQJ 7KH (XURSHDQ
/LQHU$IIDLUV$VVRFLDWLRQDWUDGH
1998, the Hamburg Shipbrokers'
association set up in the wake of
$VVRFLDWLRQ 9+66 KDVSXEOLVKHG
WKHFORVXUHRIWKH)DU(DVW)UHLJKW
WKH+DPEXUJ,QGH[ZKLFKSURYLGHV By April 2009, freight rates for
most vessels were below their
Conference, reported a decrease
a market analysis of container ship
year 2000 levels.
LQ WUDGH YROXPHV LQ WKH ILUVW
time charter rates of a minimum
TXDUWHURIRQWKH(XURSHWR
GXUDWLRQRIWKUHHPRQWKV7DEOH
SUHVHQWVWKHDYHUDJH\HDUO\UDWHVVLQFHWKH\HDU Asia route of 22 per cent on the westbound route
and monthly charter rates for container ships for 2008, from Asia and of 17 per cent on the eastbound
URXWHWR(XURSH7UDGHYROXPHVRQWKHWUDQVDWODQWLF
DVSXEOLVKHGE\9+66
ZHVWERXQG URXWH WR 1RUWK$PHULFD LQ WKH ¿UVW
$YHUDJH \HDUO\ FKDUWHU UDWHV IRU RI WKH W\SHV RI TXDUWHURIDOVRGHFUHDVHGE\SHUFHQWZKLOH
YHVVHOVVKRZQLQWDEOHIHOOLQIUHLJKWUDWHVIRU RQ WKH HDVWERXQG URXWH WR (XURSH YROXPHV ZHUH
YHVVHOV EHWZHHQ DQG 7(8V GHFOLQHG WKH down by 30 per cent.
PRVW±E\SHUFHQW(DUQLQJVIRUJHDUHGJHDUOHVV
YHVVHOV EHWZHHQ DQG 7(8V DFWXDOO\ JUHZ E\ 7DEOHLQGLFDWHVWKHGHYHORSPHQWRIOLQHUIUHLJKW
DOPRVWSHUFHQWDQGWKRVHIRUJHDUHGJHDUOHVVYHVVHOV rates on cargoes loaded or discharged by liners at
RI ± 7(8V RQO\ LPSURYHG PDUJLQDOO\ 7KLV LV ports of the German coastal range for the period
remarkable considering the decline experienced across ± 7KH DYHUDJH RYHUDOO LQGH[ IRU WKH VKLSSLQJ PDUNHW DV D ZKROH :KLOH DYHUDJH UDWHV GHFUHDVHGE\SRLQWVIURPWKHOHYHOWRUHDFK
ZHUHKLJKHULQWKDQWKHSHDNUHJLVWHUHGLQ SRLQWV WKH EDVH \HDU RI LV HTXDO WR the declines at the end of the year continued well into SRLQWV 7KHDYHUDJHKRPHERXQGLQGH[LQFUHDVHGE\
2.
Container freight rates
102
Review of Maritime Transport, 2009
7DEOH
Container ship time charter rates
SHUWRQVORWGD\
Ship type
Yearly averages
7(8V
2000 2001 2002 2003 2004 2005 2006 2007
2008
Gearless
200–299
31.71 27.22 300–500
21.73 22.27 Geared/Gearless
2,000–2,299
7.97
a
2,300–3,400
13.82 9.29 10.18 Geared/Gearless
200–299
17.77 17.81 17.01 18.93 27.00 29.78 32.12
300–500
28.82 21.39
b
23.70 c
9.11 12.07 18.37 600–799
700–999
1,000–1,299
11.87
8.78
1,600–1,999
7.97
11.77 12.79 10.77
Ship type
Monthly averages for 2008
7(8V
Jan
Feb
Mar
Apr
May
Jun
Jul
Aug
Sep
Oct
Nov
Dec
Gearless
200–299
29.23 28.77 29.10 29.87 23.89 20.31 300–500
22.37 23.77 21.88 23.82 13.91
9.78
13.18 13.10 12.78 11.98 Geared/Gearless
2,000–2,299
a
2 300–3,400
9.20
10.97 11.31 10.82 10.82 Geared/Gearless
32.39 30.70 200–299
23.37 22.22 21.33 300–500
b
18.27 c
17.39 18.18 17.21 1,000–1,299
10.89 10.19
9.37
1,600–1,999
13.09 11.30
7.13
600–799
700–999
103
4 - Trade and Freight Markets
7DEOH FRQWLQXHG
Ship type
Monthly averages for 2009
7(8V
Jan
Feb
Mar Apr May
Jun
Gearless
200–299
13.22 300–500
9.13
8.79
3.22
3.22
2.79
2.31
Geared/Gearless
2,000–2,299
a
2 300–3,400
Geared/Gearless
200–299
18.21 17.17 17.17 300–500
9.37
10.99
b
7.19
c
700–999
1,000–1,299
1,600–1,999
3.71
3.22
3.79
3.82
600–799
6RXUFH &RPSLOHGE\WKH81&7$'VHFUHWDULDWIURPWKH+DPEXUJ,QGH[SURGXFHGE\WKH+DPEXUJ6KLSEURNHUV¶$VVRFLDWLRQ
DYDLODEOH DW KWWSZZZYKVVGHKD[BSGI DQG IURP 6KLSSLQJ 6WDWLVWLFV DQG 0DUNHW 5HYLHZ YROXPH QXPEHU±SURGXFHGE\WKH,QVWLWXWHRI6KLSSLQJ(FRQRPLFVDQG/RJLVWLFV
a
7KLVFDWHJRU\ZDVFUHDWHGLQ7KHGDWDIRUWKH¿UVWKDOIRIWKH\HDUFRUUHVSRQGWRFHOOXODUVKLSVLQWKHUDQJH
±7(8VVDLOLQJDWNQRWVPLQLPXP
b
Sailings at 17–17.9 knots.
c
Sailings at 18 knots minimum.
SRLQWVWRRYHUWKH\HDU7KHPRQWKO\¿JXUHV
indicate a gradual strengthening of rates, with a
sharp decline in December 2008. In the outbound
WUDGHWKHDYHUDJHOHYHOLQGHFOLQHGWRSRLQWVD
UHGXFWLRQRISRLQWVZLWKDORZRILQ'HFHPEHU
VLJQLI\LQJDVKDUSGURSLQWUDGHIURP(XURSHWR$VLD
E.
CONTAINER PRODUCTION28
Introduction
)RUWKH¿UVWWKUHHTXDUWHUVRIFRQWDLQHUSURGXFWLRQRXWSXW
FRQWLQXHGPXFKWKHVDPHDVLQ+RZHYHUGXULQJWKHODVW
TXDUWHURISURGXFWLRQZDVVHYHUHO\FXUWDLOHGVRWKDWE\
the end of the year, the total number of new boxes produced
±PLOOLRQ7(8V±ZDVDOPRVWSHUFHQWOHVVWKDQLQWKH
SUHYLRXV \HDU 3ULRU WR WKLV FRQWDLQHU SURGXFWLRQ KDG EHHQ
LQFUHDVLQJVLJQL¿FDQWO\ZLWKSHUFHQWJURZWKLQDQG
SHUFHQWJURZWKLQ
7KHDYHUDJHSULFHRIQHZFRQWDLQHUVLQZDVVWLOO
KLJKHUWKDQLQKRZHYHUSULFHVZHUHH[SHFWHGWR
drop in 2009 as the market reacted to the lower demand
IRUQHZER[HV7KHJURZWKRIWUDGHDQGWKHH[SDQVLRQ
RIWKHZRUOG¶VFRQWDLQHUVKLSÀHHW FKDSWHU FRQWLQXHG
WR GULYH WKH SULFH RI FRQWDLQHUV XSZDUGV GXULQJ WKH
¿UVW WKUHH TXDUWHUV RI WDEOH $V WKH UDWH RI
GHOLYHULHVRIQHZYHVVHOVLQFUHDVHGWKHGHPDQGIRUQHZ
FRQWDLQHUVLQFUHDVHGH[SRQHQWLDOO\7KHUDWLRRIFRQWDLQHU
VKLSFDUU\LQJFDSDFLW\WRWKHZRUOGÀHHWRIFRQWDLQHUV
LVDSSUR[LPDWHO\WR$7(8VKLSUHTXLUHV
DSSUR[LPDWHO\7(8WRVHUYHLWVQHHGVDVVRPH
containers are needed for loading, some for discharge
and others carried onboard.
Increases in the costs of raw materials, especially Corten
VWHHOZHUHDOVRDIDFWRULQWKHKLJKSULFHRIQHZER[HV7KH
price was pushed upwards to adjust for the high demand
while container-producing factories were operating at
104
Review of Maritime Transport, 2009
7DEOH
Freight rates (market averages) per TEU on the three major liner trade routes
SHU7(8DQGSHUFHQWDJHFKDQJH
7UDQV3DFL¿F
2007
First quarter
Change (%)
Second quarter
Change (%)
Third quarter
Change (%)
Fourth quarter
Change (%)
2008
First quarter
Change (%)
Second quarter
Change (%)
Third quarter
Change (%)
Fourth quarter
Change (%)
2009
First quarter
Change (%)
Second quarter
Change (%)
Europe–Asia
Transatlantic
Asia–US
US–Asia
Europe–Asia Asia–Europe US–Europe
Europe–US
1878
-2
2
1 709
2
1 707
0
737
780
2
2
-1
792
21
1709
0
7
21
2 109
1009
1 032
-3
3
- 89
931
-2
1
1 707
2
3
1 890
-2
987
17
1 170
19
2
11
3
1 109
-3
2 030
1 937
1 837
- 12
7
1 381
10
19
1 731
-2
-1
0
- 12
1 383
- 21
913
802
- 12
- 23
- 13
1 023
- 37
897
- 12
-3
- 17
- 12
6RXUFH 81&7$'VHFUHWDULDWEDVHGXSRQ&RQWDLQHULVDWLRQ,QWHUQDWLRQDO2QOLQHDYDLODEOHDWKWWSZZZFLRQOLQHFRXN
1RWHV 7KHIUHLJKWUDWHVVKRZQDUH³DOOLQ´WKDWLVWRVD\WKH\LQFOXGHFXUUHQF\DGMXVWPHQWIDFWRUVDQGEXQNHUDGMXVWPHQW
IDFWRUVSOXVWHUPLQDOKDQGOLQJFKDUJHVZKHUHJDWHJDWHUDWHVKDYHEHHQDJUHHGDQGLQODQGKDXODJHZKHUHFRQWDLQHU
\DUGFRQWDLQHU\DUGUDWHVKDYHEHHQDJUHHG$OOUDWHVDUHDYHUDJHUDWHVRIDOOFRPPRGLWLHVFDUULHGE\PDMRUFDUULHUV
5DWHVWRDQGIURPWKH8QLWHG6WDWHVUHIHUWRWKHDYHUDJHIRUDOOWKUHHFRDVWV
XWLOL]DWLRQUDWHDYHUDJLQJSHUFHQW1HZVWDQGDUG7(8
SULFHVZHQWXSE\PRUHWKDQSHUFHQWEHWZHHQWKH¿UVW
DQGVHFRQGTXDUWHUVRIDQGE\SHUFHQWEHWZHHQ
WKHVHFRQGDQGWKLUGTXDUWHUV&RQWDLQHUSULFHVIHOOE\
DOPRVWSHUFHQWWRGXULQJWKHODVWTXDUWHURI
2008, when demand for containers suddenly dropped
DQGWKHÀHHWH[SDQVLRQRIFRQWDLQHUVKLSVOHYHOOHGRII
%HVLGHVKDYLQJWRORZHUSULFHVWRDWWUDFWFXVWRPHUVLQD
weak market, producers were forced to cut costs, and the
XWLOL]DWLRQOHYHORIIDFWRULHVGHFOLQHGWRSHUFHQW$W
WKHEHJLQQLQJRIWKHXWLOL]DWLRQOHYHORIIDFWRULHV
VWRRGDWDSSUR[LPDWHO\PLOOLRQ7(8VSHUDQQXP±OHVV
WKDQKDOIRIWKHLUWRWDOSURGXFWLYHFDSDFLW\$OWKRXJKLQ
2008 China remained the major producer of new boxes,
the impact of the crisis led to immediate and drastic
cost-cutting measures, such as the closure of many box
IDFWRULHVDQGWKHOD\RIIRIZRUNHUV7KHVXEVHTXHQWIDOO
in the cost of raw materials helped somewhat in bringing
down the price of new boxes. Figure 22 shows the yearly
trend of new boxes for the 2001–2008 period.
105
4 - Trade and Freight Markets
7DEOH
Liner freight indices, 2006–2009
PRQWKO\¿JXUHV Overall index
Month
Homebound index
Outbound index
2006
2007
2008
2006
2007
2008
2006
2007
2008
January
89
98
98
113
81
83
February
88
98
113
80
80
March
92
97
110
78
77
April
87
88
100
113
77
May
101
88
89
92
101
107
110
June
92
89
113
81
July
89
113
80
August
98
93
92
118
107
103
81
81
September
98
97
92
121
113
100
October
97
90
93
119
97
77
November
91
97
89
101
93
December
87
100
73
118
83
88
88
100
90
97
109
110
81
77
Annual average
6RXUFH &RPSLOHGE\WKH81&7$'VHFUHWDULDWRQWKHEDVLVRILQIRUPDWLRQLQ6KLSSLQJ6WDWLVWLFVDQG0DUNHW5HYLHZYROXPH
QXPEHU0DUFK±SXEOLVKHGE\WKH,QVWLWXWHRI6KLSSLQJ(FRQRPLFVDQG/RJLVWLFV
7DEOH
:RUOGFRQWDLQHUÀHHW
WKRXVDQGVRI7(8V
2005
2006
2007
2008
Global
Lessor
9 380
6HDFDUULHUÀHHW
6RXUFH 81&7$' VHFUHWDULDW EDVHG XSRQ ³$ QHZ OHDVH
RIOLIH´LQ&RQWDLQHULVDWLRQ,QWHUQDWLRQDO2QOLQH.
1 August 2008.
106
Review of Maritime Transport, 2009
&RQWDLQHUOHDVLQJ
At the end of 2008, alongside the fall in the price
of new boxes, the leasing rate also fell, to less than
SHUGD\RQD¿YH\HDUWHUPRSWLRQIRUVWDQGDUG
7(8 DQG WR OHVV WKDQ IRU )(8 IRUW\IRRW
HTXLYDOHQWXQLW KLJKFXEHER[HV)LJXUHVKRZV
WKHTXDUWHUO\OHDVLQJUDWHVGXULQJDQG
7KHDYHUDJHLQLWLDOFDVKLQYHVWPHQWUHWXUQLQ
IRUWKHVWDQGDUG7(8ZDVSHUFHQWDQGSHU
FHQWIRU)(8KLJKFXEH7KHOHDVLQJVHFWRUZLWQHVVHG
D KLJK OHYHO RI XWLOL]DWLRQ IRU LWV HTXLSPHQW DQG
D FRQVLGHUDEOH OHYHO RI LQYHVWPHQW GXULQJ /HVVRUVDFTXLUHGDERXWPLOOLRQ7(8VIRU
while ocean carriers and other operators purchased
OHVVWKDQPLOOLRQ7(8V&RQVHTXHQWO\WKHUHQWDO
PDUNHWIRUFRQWDLQHUVIRUPHGDERXWSHUFHQWRI
WKHJOREDOÀHHW$FFRUGLQJWRWKH-XQHUHSRUW
RIWKH,QVWLWXWHRI,QWHUQDWLRQDO&RQWDLQHU/HVVRUV
DW WKH HQG RI PRUH WKDQ 7(8V RI
container rentals were disposed of, putting the
RSHUDWLQJOHDVLQJÀHHWRIJOREDOFRQWDLQHUVDWDERXW
PLOOLRQ7(8V
Figure 22
Evolution of prices of new containers
SHUER[
4500
40ft HC
4000
40ft
3500
US Dollar
3000
2500
20ft
2000
1500
1000
500
0
2001
2002
2003
2004
2005
2006
2007
6RXUFH 81&7$'VHFUHWDULDWEDVHGXSRQ&RQWDLQHULVDWLRQ,QWHUQDWLRQDO YDULRXVLVVXHV 2008
4 - Trade and Freight Markets
107
Figure 23
Evolution of leasing rates
SHUGD\
1.6
1.4
US$ per day
1.2
1
0.8
0.6
0.4
0.2
0
Q1 2007
Q2 2007 Q3 2007 Q4 2007 Q1 2008 Q2 2008 Q3 2008 Q4 2008
6RXUFH 81&7$'VHFUHWDULDWEDVHGXSRQ&RQWDLQHULVDWLRQ,QWHUQDWLRQDO YDULRXVLVVXHV ENDNOTES
1
81&7$'VHFUHWDULDWEDVHGRQ6KLSSLQJ,QVLJKWE\'UHZU\6KLSSLQJ&RQVXOWDQWVYDULRXVLVVXHV)HDUQOH\V5HYLHZ,
DQG6KLSSLQJ5HYLHZDQG 2XWORRNE\&ODUNVRQ5HVHDUFK6HUYLFHVDQG
2
/OR\G¶V/LVW$ERXWWKHÀHHW$SULO
3
ibid.
KWWSHQHNHQLHHMRUMSHQGDWDSGISGI
KWWSZZZJOREDOOQJLQIRFRPGHYHORSKWP
%DVHGXSRQDSDSHUIURP0D\E\$XUHOLD5RFKHOOH)LJXHURDHQWLWOHG³3URSRVDOVSLSHOLQHVDQGSROLWLFV1DWXUDO
JDVVXSSO\VHFXULW\LQ(XURSH´
7
(QHUJ\&KDUWHU6HFUHWDULDW )RVWHULQJ/1*7UDGH5ROHRIWKH(QHUJ\&KDUWHU%UXVVHOV
8
KWWSZZZJOREDOOQJLQIRFRPGHYHORSKWP
9
81&7$'VHFUHWDULDWEDVHGRQ6KLSSLQJ,QVLJKWE\'UHZU\6KLSSLQJ&RQVXOWDQWVYDULRXVLVVXHV)HDUQOH\V5HYLHZ,
6KLSSLQJ5HYLHZ DQG2XWORRNE\&ODUNVRQ5HVHDUFK6HUYLFHVDQGDQG'U\%XON7UDGH2XWORRN
E\&ODUNVRQ5HVHDUFK6HUYLFHV0D\DQG-XQH
10
KWWSZZZDXVWUDOLDQPLQHVDWODVJRYDXDLPUFRPPRGLW\LURQBRUHMVS
11
KWWSZZZPHQDIQFRPTQBQHZVBVWRU\DVS"6WRU\,G %%($$(%'%$&)'
12
KWWSHQJOLVKFDLMLQJFRPFQKWPO
13
/OR\G¶V/LVW 27 May 2009.
(XURSH¶VROGPHPEHUFRXQWULHV
108
Review of Maritime Transport, 2009
&ODUNVRQ5HVHDUFK6HUYLFHV'U\%XON7UDGH2XWORRN. August 2008: 7.
7KHVH¿JXUHVUHIHUWRWKHPHPEHU6WDWHVRIWKH(XURSHDQ8QLRQSULRUWRWKHHQODUJHPHQW
17
KWWSXVFGQFUHDPHUPHGLDFR]DDVVHWVDUWLFOHVDWWDFKPHQWVBURVNLOOSGI
18
)RUPHGDIWHUWKHFRQVROLGDWLRQRIWKH5XVVLDQFRPSDQLHV5XVDODQG6XDOZLWK*OHQFRUHLQ
19
,QWKHSUHYLRXVPRQWKRQHYHVVHO±WKHGZWEXLOWFDUULHU&KLQD6WHHO7HDP – had reportedly been
FKDUWHUHGDWWKHXQSUHFHGHQWHGUDWHRIMXVWRYHUSHUGD\IRUDYR\DJHWRFDUU\LURQRUHIURP%UD]LOWR
China.
20
KWWSZZZWUDGHZLQGVQRFULVLVBZDWFKDUWLFOHHFH
21
KWWSZZZOOR\GVOLVWFRPOOQHZVYLHZ$UWLFOHKWP"DUWLFOH,G VUF UVV
22
81&7$'VHFUHWDULDWEDVHGRQ'UHZU\6KLSSLQJ,QVLJKWYDULRXVLVVXHV&RQWDLQHULVDWLRQ,QWHUQDWLRQDOYDULRXV
LVVXHV&RQWDLQHULVDWLRQ,QWHUQDWLRQDO2QOLQH KWWSZZZFLRQOLQHFRXN &ODUNVRQ5HVHDUFK6HUYLFHV&RQWDLQHU
,QWHOOLJHQFH0RQWKO\YDULRXVLVVXHVDQG6KLSSLQJ5HYLHZDQG2XWORRNDQG'\QDOLQHUV7UDGHV5HYLHZ,
/OR\GV6KLSSLQJ(FRQRPLVWYDULRXVLVVXHVDQG)DLUSOD\YDULRXVLVVXHV
23
&ODUNVRQ5HVHDUFK6HUYLFHV6KLSSLQJ5HYLHZDQG2XWORRN. May 2009.
7KLVIDFWZDVKLJKOLJKWHGLQZLWKWKHJURXQGLQJRIWKHFRQWDLQHUVKLS06&1DSROLZKHQLWZDVUHYHDOHGWKDW
LWKDGRQERDUGSHUFHQWRIWKHZRUOG¶VLQYHQWRU\RIQLFNHO±DYLWDOLQJUHGLHQWIRUVWDLQOHVVVWHHOSURGXFWLRQ
KWWSZZZEXVLQHVVGDLO\DIULFDFRPUYUZG
/OR\G¶V/LVW-XQH7KHQHZSUHVFULSWLRQWRFXUH0DHUVN/LQH¶VEOXHV
27
/OR\G¶V/LVW$SULO&0$&*0WRFXWPIURPFRVWVDVSUR¿WVIDOO
28
81&7$'VHFUHWDULDWRQWKHEDVLVRILQIRUPDWLRQSXEOLVKHGLQ&RQWDLQHULVDWLRQ,QWHUQDWLRQDO<HDUERRN, 2008 and
2009 issues.