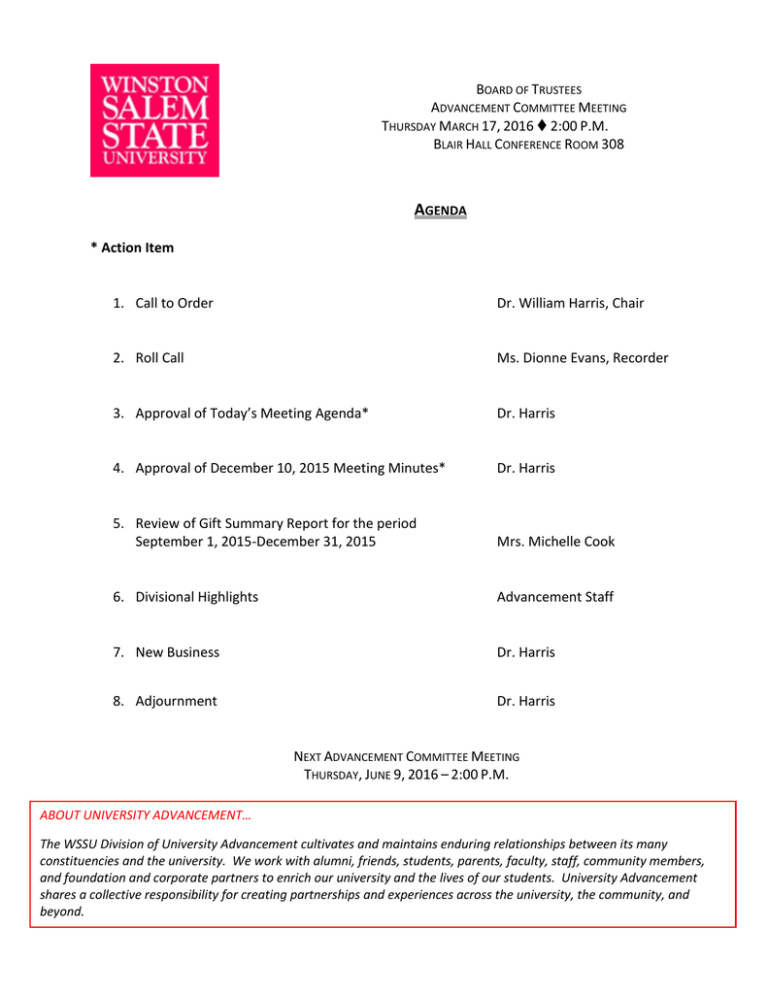 BOARD OF TRUSTEES
ADVANCEMENT COMMITTEE MEETING
THURSDAY MARCH 17, 2016  2:00 P.M.
BLAIR HALL CONFERENCE ROOM 308
AGENDA
* Action Item
1. Call to Order
Dr. William Harris, Chair
2. Roll Call
Ms. Dionne Evans, Recorder
3. Approval of Today's Meeting Agenda*
Dr. Harris
4. Approval of December 10, 2015 Meeting Minutes*
Dr. Harris
5. Review of Gift Summary Report for the period
September 1, 2015-December 31, 2015
Mrs. Michelle Cook
6. Divisional Highlights
Advancement Staff
7. New Business
Dr. Harris
8. Adjournment
Dr. Harris
NEXT ADVANCEMENT COMMITTEE MEETING
THURSDAY, JUNE 9, 2016 – 2:00 P.M.
ABOUT UNIVERSITY ADVANCEMENT…
The WSSU Division of University Advancement cultivates and maintains enduring relationships between its many
constituencies and the university. We work with alumni, friends, students, parents, faculty, staff, community members,
and foundation and corporate partners to enrich our university and the lives of our students. University Advancement
shares a collective responsibility for creating partnerships and experiences across the university, the community, and
beyond.