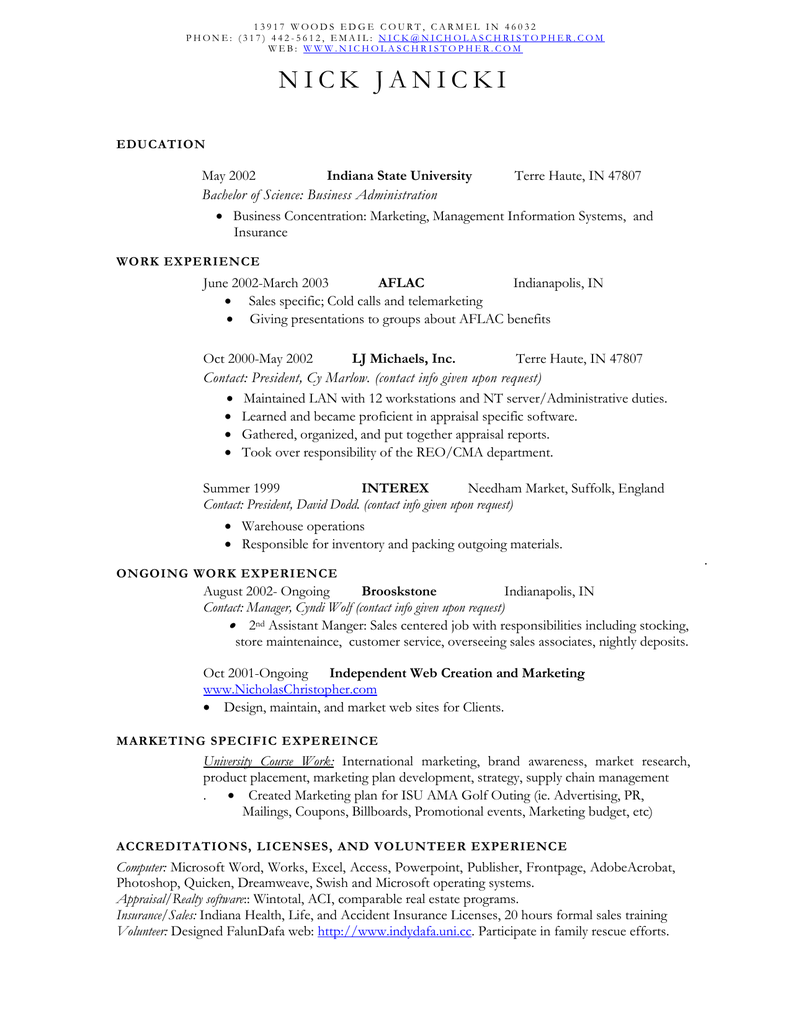 13917 WOODS EDGE COURT, CARMEL IN 46032
PHONE: (317) 442-5612, EMAIL: [email protected]
WEB: WWW.NICHOLASCHRISTOPHER.COM
NICK JANICKI
EDUCATION
May 2002
Indiana State University
Terre Haute, IN 47807
Bachelor of Science: Business Administration
 Business Concentration: Marketing, Management Information Systems, and
Insurance
WORK EXPERIENCE
June 2002-March 2003
AFLAC
Indianapolis, IN
 Sales specific; Cold calls and telemarketing
 Giving presentations to groups about AFLAC benefits
Oct 2000-May 2002
LJ Michaels, Inc.
Terre Haute, IN 47807
Contact: President, Cy Marlow. (contact info given upon request)
Maintained LAN with 12 workstations and NT server/Administrative duties.
 Learned and became proficient in appraisal specific software.
 Gathered, organized, and put together appraisal reports.
 Took over responsibility of the REO/CMA department.
Summer 1999
INTEREX
Needham Market, Suffolk, England
Contact: President, David Dodd. (contact info given upon request)
 Warehouse operations
 Responsible for inventory and packing outgoing materials.
ONGOING WORK EXPERIENCE
August 2002- Ongoing
Brooskstone
Indianapolis, IN
Contact: Manager, Cyndi Wolf (contact info given upon request)
 2nd Assistant Manger: Sales centered job with responsibilities including stocking,
store maintenaince, customer service, overseeing sales associates, nightly deposits.
Oct 2001-Ongoing Independent Web Creation and Marketing
www.NicholasChristopher.com
 Design, maintain, and market web sites for Clients.
MARKETING SPECIFIC E XPEREINCE
University Course Work: International marketing, brand awareness, market research,
product placement, marketing plan development, strategy, supply chain management
.  Created Marketing plan for ISU AMA Golf Outing (ie. Advertising, PR,
Mailings, Coupons, Billboards, Promotional events, Marketing budget, etc)
ACCREDITATIONS, LICENSES, AND VOLUNTEER EXPERIENCE
Computer: Microsoft Word, Works, Excel, Access, Powerpoint, Publisher, Frontpage, AdobeAcrobat,
Photoshop, Quicken, Dreamweave, Swish and Microsoft operating systems.
Appraisal/Realty software:: Wintotal, ACI, comparable real estate programs.
Insurance/Sales: Indiana Health, Life, and Accident Insurance Licenses, 20 hours formal sales training
Volunteer: Designed FalunDafa web: http://www.indydafa.uni.cc. Participate in family rescue efforts.
.