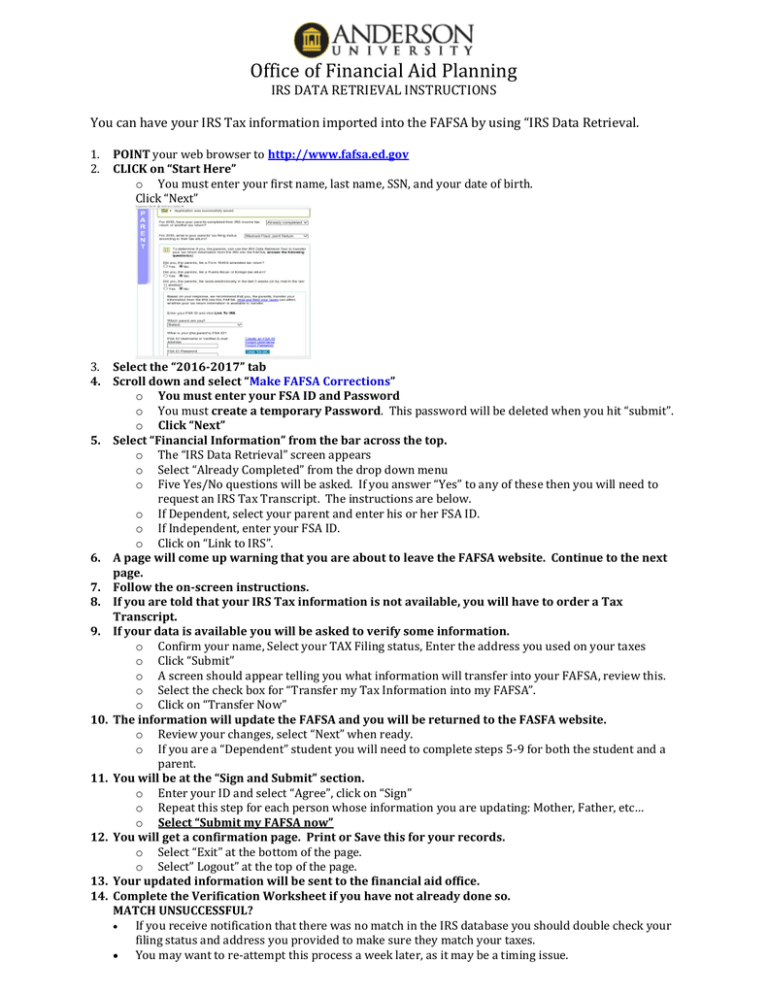 Office of Financial Aid Planning
IRS DATA RETRIEVAL INSTRUCTIONS
You can have your IRS Tax information imported into the FAFSA by using "IRS Data Retrieval.
1.
2.
POINT your web browser to http://www.fafsa.ed.gov
CLICK on "Start Here"
o You must enter your first name, last name, SSN, and your date of birth.
Click "Next"
3. Select the "2016-2017" tab
4. Scroll down and select "Make FAFSA Corrections"
o You must enter your FSA ID and Password
o You must create a temporary Password. This password will be deleted when you hit "submit".
o Click "Next"
5. Select "Financial Information" from the bar across the top.
o The "IRS Data Retrieval" screen appears
o Select "Already Completed" from the drop down menu
o Five Yes/No questions will be asked. If you answer "Yes" to any of these then you will need to
request an IRS Tax Transcript. The instructions are below.
o If Dependent, select your parent and enter his or her FSA ID.
o If Independent, enter your FSA ID.
o Click on "Link to IRS".
6. A page will come up warning that you are about to leave the FAFSA website. Continue to the next
page.
7. Follow the on-screen instructions.
8. If you are told that your IRS Tax information is not available, you will have to order a Tax
Transcript.
9. If your data is available you will be asked to verify some information.
o Confirm your name, Select your TAX Filing status, Enter the address you used on your taxes
o Click "Submit"
o A screen should appear telling you what information will transfer into your FAFSA, review this.
o Select the check box for "Transfer my Tax Information into my FAFSA".
o Click on "Transfer Now"
10. The information will update the FAFSA and you will be returned to the FASFA website.
o Review your changes, select "Next" when ready.
o If you are a "Dependent" student you will need to complete steps 5-9 for both the student and a
parent.
11. You will be at the "Sign and Submit" section.
o Enter your ID and select "Agree", click on "Sign"
o Repeat this step for each person whose information you are updating: Mother, Father, etc…
o Select "Submit my FAFSA now"
12. You will get a confirmation page. Print or Save this for your records.
o Select "Exit" at the bottom of the page.
o Select" Logout" at the top of the page.
13. Your updated information will be sent to the financial aid office.
14. Complete the Verification Worksheet if you have not already done so.
MATCH UNSUCCESSFUL?

If you receive notification that there was no match in the IRS database you should double check your
filing status and address you provided to make sure they match your taxes.

You may want to re-attempt this process a week later, as it may be a timing issue.