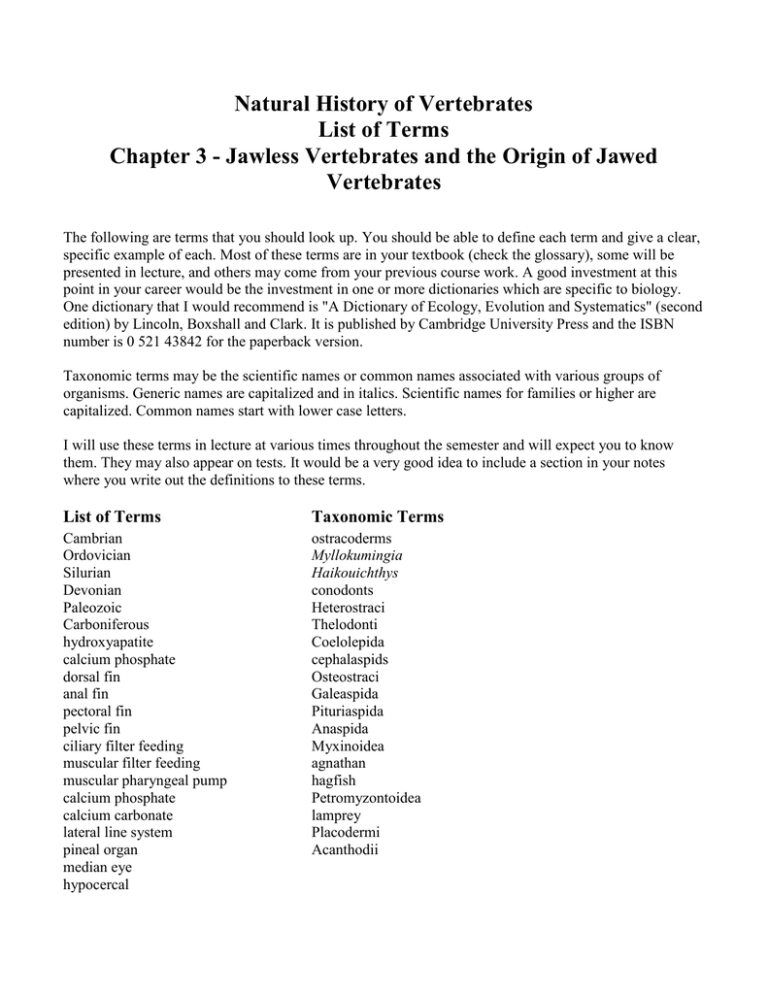 Natural History of Vertebrates
List of Terms
Chapter 3 - Jawless Vertebrates and the Origin of Jawed
Vertebrates
The following are terms that you should look up. You should be able to define each term and give a clear,
specific example of each. Most of these terms are in your textbook (check the glossary), some will be
presented in lecture, and others may come from your previous course work. A good investment at this
point in your career would be the investment in one or more dictionaries which are specific to biology.
One dictionary that I would recommend is "A Dictionary of Ecology, Evolution and Systematics" (second
edition) by Lincoln, Boxshall and Clark. It is published by Cambridge University Press and the ISBN
number is 0 521 43842 for the paperback version.
Taxonomic terms may be the scientific names or common names associated with various groups of
organisms. Generic names are capitalized and in italics. Scientific names for families or higher are
capitalized. Common names start with lower case letters.
I will use these terms in lecture at various times throughout the semester and will expect you to know
them. They may also appear on tests. It would be a very good idea to include a section in your notes
where you write out the definitions to these terms.
List of Terms
Taxonomic Terms
Cambrian
Ordovician
Silurian
Devonian
Paleozoic
Carboniferous
hydroxyapatite
calcium phosphate
dorsal fin
anal fin
pectoral fin
pelvic fin
ciliary filter feeding
muscular filter feeding
muscular pharyngeal pump
calcium phosphate
calcium carbonate
lateral line system
pineal organ
median eye
hypocercal
ostracoderms
Myllokumingia
Haikouichthys
conodonts
Heterostraci
Thelodonti
Coelolepida
cephalaspids
Osteostraci
Galeaspida
Pituriaspida
Anaspida
Myxinoidea
agnathan
hagfish
Petromyzontoidea
lamprey
Placodermi
Acanthodii
heterocercal
epicercal
denticles
odontodes
foramina
foramen
dermal bone
degenerate
rudimentary
semicircular canal
aneural heart
parasympathetic nervous system
anadromous
estuarine
convergence
innervated heart
flow-through ventilation
tidal ventilation
ammocoete
metamorphosis
exotic species
gnathostome
agnathan
vertebral centrum
tooth whorl
epaxial muscles
hypaxial muscles
conus arteriosus
neural crest
branchial arch
mandibular arch
palatoquadrates
pitch
yaw
roll
fin-fold theory
fin rays
benthic
hyoid apparatus
branchiostegal rays
operculum
Last updated on 20 January 2012
Provide comments to Dwight Moore at dmoore@emporia.edu.