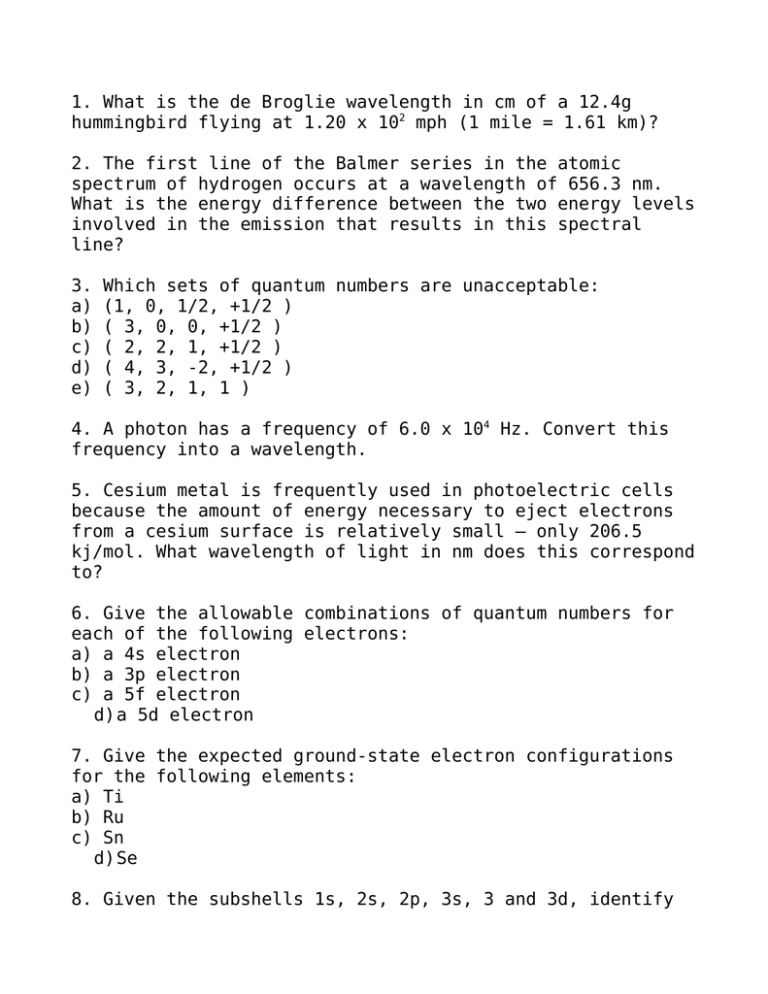 1. What is the de Broglie wavelength in cm of a 12.4g
hummingbird flying at 1.20 x 102 mph (1 mile = 1.61 km)?
2. The first line of the Balmer series in the atomic
spectrum of hydrogen occurs at a wavelength of 656.3 nm.
What is the energy difference between the two energy levels
involved in the emission that results in this spectral
line?
3.
a)
b)
c)
d)
e)
Which sets of quantum numbers are unacceptable:
(1, 0, 1/2, +1/2 )
( 3, 0, 0, +1/2 )
( 2, 2, 1, +1/2 )
( 4, 3, -2, +1/2 )
( 3, 2, 1, 1 )
4. A photon has a frequency of 6.0 x 104 Hz. Convert this
frequency into a wavelength.
5. Cesium metal is frequently used in photoelectric cells
because the amount of energy necessary to eject electrons
from a cesium surface is relatively small – only 206.5
kj/mol. What wavelength of light in nm does this correspond
to?
6. Give the allowable combinations of quantum numbers for
each of the following electrons:
a) a 4s electron
b) a 3p electron
c) a 5f electron
d)a 5d electron
7. Give the expected ground-state electron configurations
for the following elements:
a) Ti
b) Ru
c) Sn
d)Se
8. Given the subshells 1s, 2s, 2p, 3s, 3 and 3d, identify
those that meet the following descriptions:
a) has l = 2
b) can have ml = -1
c) Is empty in a nitrogen atom
d) is full in a carbon atom
e) contains the outermost electrons in a beryllium atom
f) can contain two electrons, both with spin ms = +1/2, in
a single orbital
9. A photon produced by an x-ray machine has an energy of
4.70 x 10-16 J.
a) what is the frequency of the photon?
b) what is the wavelength of radiation of frequency a)?
c) what is the velocity of an electron with a de Broglie
wavelength equal to b)?
10. How many photons at 660 nm must be absorbed to melt 5.0
x 102 g of ice? (it takes 334 J to melt one gram of ice at
0oC).