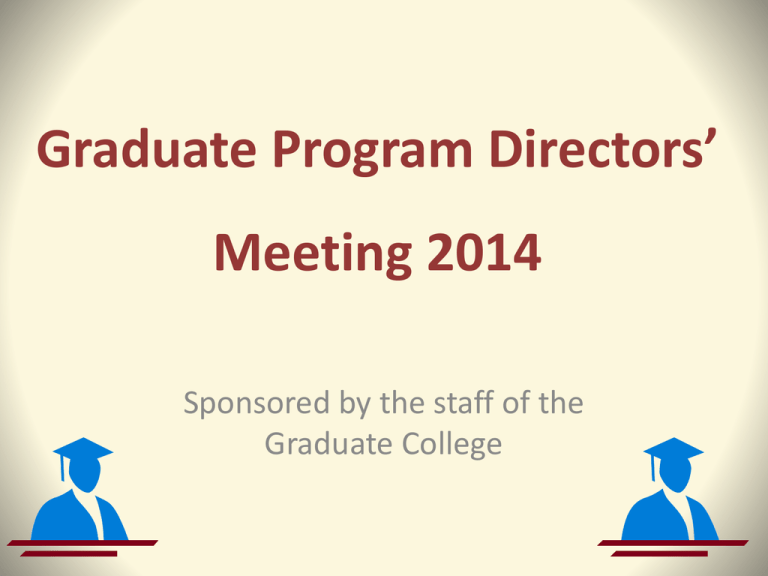 Graduate Program Directors'
Meeting 2014
Sponsored by the staff of the
Graduate College
Introductions
• Graduate College Staff
• Graduate Program Directors
• Duties of Graduate Program Directors
Announcements
• New Scholarships
• Tracking Active Students / Inactive Students
• Pass/No Pass Transcripts (Western Governors
University)
• Graduate Assistantship Eligibility
• Legal Issues? [Rachael Dockery]
Reminders
 "Start-semester" is critical in Banner
 Applications close after the first week of a semester.
 Admissions closes after census date (4 weeks)
 Don't admit someone for a semester in which they are already registered as a
post-bacc student.
 Adding /changing a program requires a new application or contact Michael
Edwards.
 Accelerated Masters candidates must apply for the semester they will truly be
a grad student, not when they want to take "mixed credit" classes as a senior
Reminders – International students

Need to take at least 6 credits face-to-face

Summer classes

"conditional admissions" for ELI students

Visa issues are complex

Contact International Services with questions
Reminders – Forms & Paperwork
• 9 credits of C or lower
• Letters from the Graduate College
• Removal from program when exceeded
• Post-baccalaureate students (non-degree seeking)
• Registration holds after 9 credits
• Apply to graduate (or complete a certificate)
• 8 year limits
DUTIES OF GRADUATE
PROGRAM DIRECTORS
Dr. Tom Tomasi
Associate Dean of the Graduate
College
Purposes of this Document:
• Ensure that students receive the best guidance
toward degree completion
• Ensure that no aspect of the process is
inadvertently omitted
• Document for administrators the effort &
commitment needed for successful grad programs
Offshoots from this process:
• Collecting info from across campus on how
graduate Program Directors are compensated
• Similar list of responsibilities ("manual") for
graduate advisors/mentors
Document Sections:
•
•
•
•
Recruitment
Admissions
Advising
Record Keeping
• Limitations & Caveats:
• Not all responsibilities will apply to all
programs
• Responsibilities may be delegated to a
variety of people:
»
»
»
»
Department Head
Departmental Graduate Committee
Advising office
Faculty mentors/advisors
• Programs will divide responsibilities in a
variety of ways . . . . . . and that's OK
Community Involvement
• Alex Johnson, Director of Community
Involvement and Service, Citizenship and
Service Learning
Degree Completion
• Student-Tracking updates -AAPS
– Degree Audits (vs. AAPS) – Oct 2015!!!
– Scan documents on GRADs
Christy Graham
GRADS Dashboard
Degree Completion
• Student-Tracking updates - Graduation
– Application to Graduate and to complete graduate
certificate: Students complete application by going
to My Missouri State - located under the Academics
Tab, Commencement Channel
• Reminders
–
–
–
–
–
Thesis funding & travel funding
Thesis Award & TA Award (MAGS)
8 year extensions
Comprehensive Examinations
Research requirements
Recruitment
• Activities this semester
–
–
–
–
36 Events
Virtual Fairs
Recruitment mini-grants
Facebook Ads
• Next Semester
–
–
–
–
–
–
12 Events
KY3 & KSPR33 online Ads
Google Ad Words
YouTube
Communication Plan
CRM
Misty Stewart
Admissions
•
•
•
•
Legal Issues Session
Recruiter Information Session
GRUC Exception (International Services)
Quarterly Newsletter
– November 15th / International Services
• Communication Plan updates
– Phone calls to all applicants
• Last 60 hours calculations
– Calculation available in GRADS
Michael Edwards
GRADS Dashboard
• GRADS Dashboard Manual
– Available upon request
•
•
•
•
GRE Percentiles
GPA Calculations
Statement of Purpose/Writing Sample
Credential Evaluation
– Grade Equivalency
– English Language Institute attendance
Electronic Transcripts
Traditional
Electronic
Reminders!
• GRADS Dashboard –
– Add an Administrative Assistant.
• Admission Recommendation Form – Formal
– Document is sent to applicant
• Applicant has not finished the application
package and semester has started?
– Don't wish to admit the student?
– What is the proper action to take?
Letters of Recommendation
Program Director Questions from Survey
QUESTIONS TO BE ADDRESSED
Reapplication Process
• "Eliminating the re-admission process as
unnecessary, or at least giving students five
years before they need to be readmitted".
– University requires updated biographical
information from a person after one year.
– Away for less than one year then applicant needs
only to send Graduate Admissions an email.
• Program Director must re-admit in GRADS Dashboard.
General Orientation for New P.D.
• The Graduate College handles orientation for
new Program Directors as directors are
replaced. Replacement is sporadic.
• Two options:
1. Make an appointment for Michael Edwards to
come to your office and walk you through
GRADS Dashboard and the process.
2. Make an appointment to sit down with Christy
Graham, Misty Stewart, Michael Edwards, etc.
Last 60 Hours & GRE
• "Please explain why applications are sent to the
department when GRE scores are not listed".
– The GRE is a program-specific requirement. A complete
application for the Grad College is when an application has
1. Application, 2. App fee, 3. Bachelor degree transcripts,
4. 2.75 GPA or meets one of the alternative criteria.
– GRE arrival email is sent when an app is at 'S'
• "Please explain why applications are sent to the
department when the last 60 credit hours are not
listed".
– All international applications have a last 60 hour
calculation made.
– Only domestic applications with a GPA less than a 3.00
have a last 60 hour calculation made.
Requested Updates to GRADS
•
•
•
•
•
•
•
•
•
•
•
•
•
•
2/1/2010 – Ability to have applicants submit documentation electronically.
7/1/2010 – Add ability to email all documents to a set of recipients.
7/1/2010 – Add the "personal statement" information to the Admission
Recommendation form.
8/2/2010 – Allow programs to annotate documents through GRADS
12/16/2010 – Multiple GRADS Access Assignments per person
12/16/2010 – Allow GRADS users to change email notification settings
9/13/2013 – Change term codes to readable format
12/12/2013 – Extra notes from Graduate College
1/9/2014 – GRADS needs better Mac support
3/27/2014 – Sent to department emails to departmental mailboxes
4/25/2014 – Change message for not authorized condition
5/22/2014 – GRADS and term-coded documents
5/29/2014 – Accelerated Master's filter
6/16/2014 – GRADS Test Score column
Contact Michael Edwards to put in requests for GRADS Dashboard updates.
GRADS Dashboard
• "How to clear my GRADS Dashboard folders
every semester. We have many students not
admitted".
– Graduate Admissions inactivates all applications
without a decision ('I', 'C', 'S', 'G') four weeks into
the semester. These apps will disappear unless
you check the Include Inactive Applications.
Banner Document Management System
• "How to add information (departmental
application materials to GRADS Dashboard)".
– Too technical to go into detail here.
– If enough Program Directors are interested in this
I'd be happy to put together a presentation.
– We already have manuals for this but one-on-one
help is available from our office. Contact us.
Emails Sent by Grad College
• "Emails sent to students from Grad College
regarding contact the program coordinator".
– Updates to Communication Plan
– Monthly email to 'S – Sent to Department'
applicants.
Pending Transcript
• Why does the transcript indicate 'Pending'?
Post-Baccalaureate Process
• "Post-baccalaureate students/process"
– Missouri Outreach handles the PB process.
1. Complete a Course Enrollment Form.
2. Deliver Methods:
1. Fax it to 417-836-4929.
2. Hand-deliver it.
3. Mail it.
3. Applicants can register for classes on the form.
4. Graduate Admissions will mail an acceptance
letter.
Grade Conversion Scales
GRADS Dashboard - Credential Evaluation – 'C' to the left of the BearPass Number
Statement of Purpose
Upcoming Meeting
• International Services (Lisa Gibson)
– International Credential Evaluation
– International Evaluation Process
• English Language Institute (Dr. Jane Robison)
– Conditional Admission
• Graduate Admissions Process (Michael Edwards)
Thesis Information
•
•
•
•
•
Thesis Guide (new version)
Checklist
Template
SafeAssign, not Turnitin
Deadlines
– Fall: November 24, 2014
– Spring: April 20, 2015
GEN 798 – Active in Research
• Zero credit hour course
• For those students with only their research
requirement remaining to be completed
• Provides the following:
– Access to the library
– Opportunity to purchase a parking pass
– Access to computer services, including email
• Graded as a "P" or "N"
• Register online like any other course
Assistantships & Financial Aid
• Graduate Assistantships
–
–
–
–
–
4 semesters for 1st degree
20 hr/week & 1000 hr/yr
Accelerated Masters students
GPA = 3.00
McNair Assistantships
• Graduate Scholarships (Diversity & Financial need)
• Financial Aid Loans
– In degree programs & most certificate programs
– Unsubsidized
• Work study
22nd Annual
Graduate
Interdisciplinary
Forum
April 25, 2015
Online Articulation Agreements
Missouri State Online - http://outreach.missouristate.edu/missouristateonline.htm
Alternate Pathways
Alternative Pathways Request Form
Alternate Pathways
Alternative Pathways Request Form
QUESTIONS
???