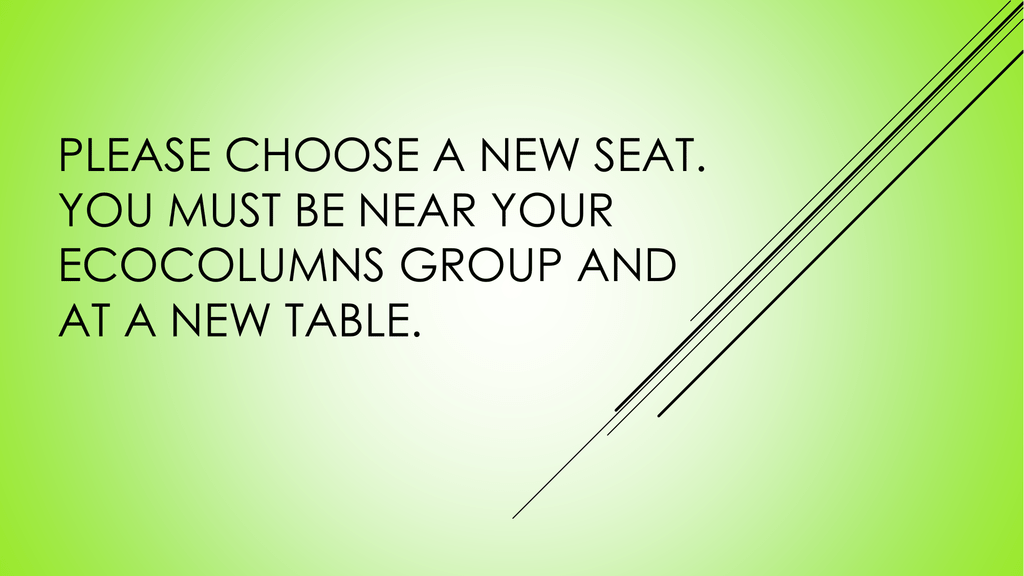 PLEASE CHOOSE A NEW SEAT.
YOU MUST BE NEAR YOUR
ECOCOLUMNS GROUP AND
AT A NEW TABLE.
APES 10/19 & 10/20
Please log in to a netbook
Take out your Current Event and
Energy Flow Worksheet
Prepare for a Warm-Up!
WARM-UP 10/19 & 10/20
 Suppose
your ecocolumn contains mung beans,
fungus, earthworms, a beetle, and rolly-pollies.
 Draw
a food web, with producer and consumer levels
labeled.
 Label
the one-way energy flow through the
ecosystem.
ENERGY FLOW WORKSHEET
Check
Ask
and correct your work.
questions in 5 minutes.
CURRENT EVENT #1- OCTOBER
 In
your group of 3-4, take turns sharing your
summaries of your current event. Try to make
it interesting 
 In
5 minutes, be prepared to share the most
interesting thing that came out of your
discussion.
PLEASE FILE YOUR CURRENT EVENT IN
YOUR FOLDER
ECOCOLUMNS, DAY 3?
 Change
your water
 Measure
phosphate, nitrate, dissolved oxygen,
pH, temperature
 Add/subtract
 Update
whatever you'd like
your spreadsheet
CYCLES OF MATTER
 Over
the next week we will study the ABIOTIC
components that affect ecosystems.
 Important
elements/molecules
 Climate
 Air/water
 Now:
currents
water, carbon, nitrogen, sulfur, phosphorous
cycles
PROJECT TIMELINE
 You
will have half of the class period
Wednesday/Thursday to work on your project
(otherwise it's homework)
 You
will have a quiz on the cycles on Friday.
 All
short answer/fill in pertaining to exactly what's
on the rubric.