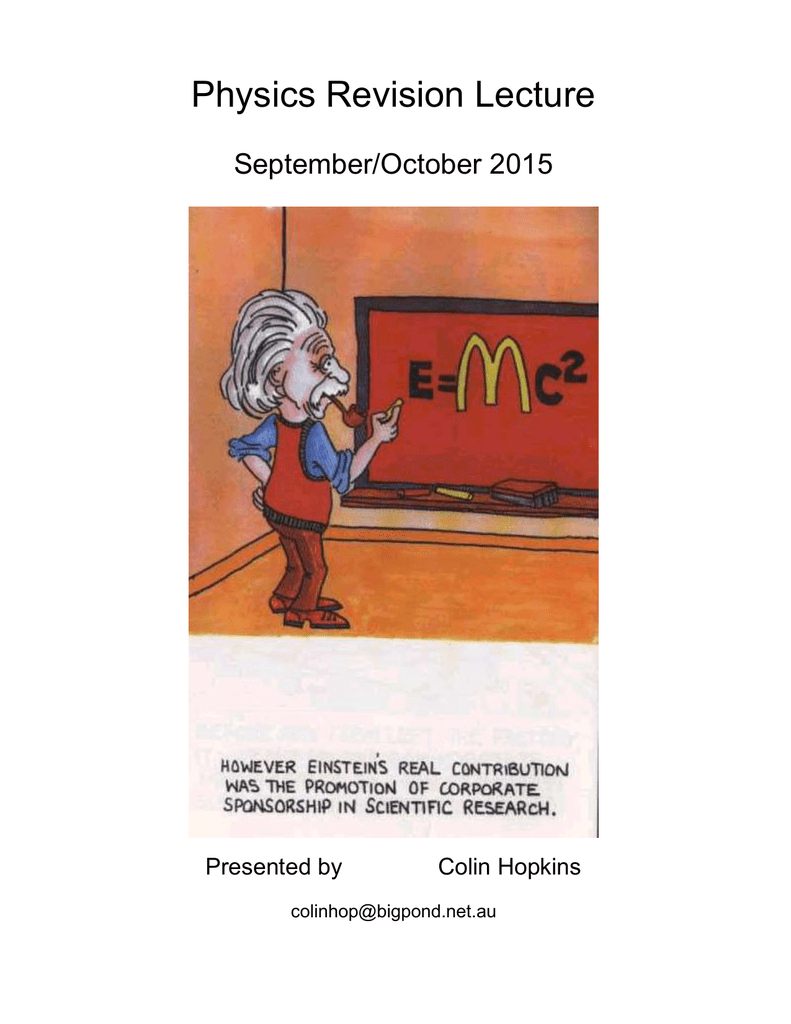 Physics Revision Lecture
September/October 2015
Presented by
Colin Hopkins
[email protected]
[email protected]
Physics revision 2015
2
Contents
Physics Study plan
3
Electricity solutions
212
Newton's three Laws
11
Young's Double-slit
227
Connected bodies
18
Photoelectric effect
236
Circular motion
27
Momentum of Photons
258
Projectiles
35
Diffraction
260
Energy and Momentum
43
Electron standing waves
270
Work
50
Energy levels
273
Springs
52
Light and matter solutions
282
Gravitational Motion
67
Materials
Forces
293
Weight/ weightlessness
75
Torques
295
Motion solutions
82
Young's modulus
309
Basic Electronics
97
Composite materials
313
Non Ohmic devices
101
Stress, Strain, Toughness
318
Brittle, Ductile
328
Materials solutions
329
293
LDR's, LED's Thermistors etc.
111
Amplifiers
124
Basic Photonics
129
Electronics/Photonics solutions
138
Sound
Basic definitions
Basic Electricity
146
Sound Intensity/Intensity level
305
Basic magnetism
152
Resonance
309
Magnetic forces
158
Harmonics in strings/tubes
316
DC motors
162
Microphones/Loudspeakers
321
Flux, Induced EMF
167
Phon
326
Generators/Alternators
188
Fidelity
328
Transformers
193
Diffraction
331
Transmission
200
Sound solutions
336
RMS
209
[email protected]
Physics revision 2015
3
Physics study plan Unit 3 2015
KNOWLEDGE
The general knowledge graph looks like this:
Knowledge
Testing
(ideally)
Learning
Time
The idea is that you start with a base level of knowledge about a concept; you increase this level,
hopefully peaking at the time of testing. After this, since you are learning other new work, your
comprehension of the original work diminishes with time. So to maximize your learning, you need
repetition of the information at regular intervals. This is achieved by either re-doing the work or by
study.
Exam
Revision
Year 12 Knowledge
Topic
Testing
(ideally)
Revision
Learning
Time
The process of revision means that you start from a higher base level, and hopefully, reach a
greater level of understanding of the material. The more often you undergo the revision process,
the greater the comprehension of the material.
 The scale on the time axis, can be either hours, days weeks or months
[email protected]



Physics revision 2015
4
Return to a concept soon after you have learnt it – most forgetting happens in the first 24
hours
Relearning is always quicker than learning for the first time, so the more often you do it,
the more efficient it becomes.
Theory suggests something along the following lines, (but this varies immensely with
individuals). In general you remember
~ 10% of what you hear
~ 25% of what you read
~ 40% of what you write
~ 70% of what you do
~ 85% of what you teach
AVOIDING PROCRASTINATION
Procrastination adds significantly more time to tasks, adding further stress and workloads.
 Ask yourself the following questions:
Why am I procrastinating?
What benefits will be derived by putting the task off until later?
What benefits will be derived by NOT putting the task off until later?
 Break large tasks into smaller more achievable milestones and/or start with the smallest
or most pleasant task. Hopefully this will get you into the right frame of mind and provide
you with the motivation to tackle the larger tasks at hand.
 Think about what you want to achieve before you sit down to study. This will help
organise your ideas and goals before you sit down and will help avoid procrastination, as
you will know where to begin.
 Write a realistic list of what you want to achieve in each session.
 Try to set early deadlines, instead of leaving the task to the last minute.
 Bottom line – just accept the fact that you have to complete the task and get on with it.
WORK YOU MUST DO IN PHYSICS
You need to gain understanding of the concepts by:
 reading, listening and taking notes
 asking questions in class
 doing questions from text books
 linking the practical work with the theory and the questions.
You can improve your understanding by:
 thinking about real life examples
 drawing concept maps, and finding the links between the different concepts
 rereading your notes and looking through worked examples.
[email protected]
Physics revision 2015
5
IMPROVING YOUR LINKS TO MEMORY
You need to train your brain to remember. You can do this by:
 regularly reviewing your work.
 looking at subjects (topics/ideas) from other angles and using other sources of
information.
 discussing ideas with other students.
 teaching other students, explaining ideas to others.
 writing the main points on cards and constantly referring to them.
 keep a separate log book for recording new techniques, facts and ideas.
 setting plans of attack to follow for specific problems. E.g. Always read the labels on the
axes of graphs, at the start of any question involving a graph.
IMPROVING YOUR UNDERSTANDING
When trying to understand new material you need to use as many senses as possible. Reading
material out aloud is a particularly useful process. It requires a lot more brain activity, but doesn't
take any more time.
 Listen to yourself as you read questions, this eliminates skipping over information.
 Practise this skill out aloud at home and at school, but train yourself to do it under your
breath in exams.
HOW TO INCREASE THE EFFECTIVENESS OF YOUR STUDY
 Set an achievable amount of work to get done.
 Use a list to structure your study
 Be active and focused throughout.
 Enjoy the challenge of improving yourself.
 Reward yourself with quality sport/leisure.
 Move forward with purpose and determination.
 You need to know what you know, and know what you don't know. Then work on your
areas of weakness.
 Quality, not quantity, is the secret.
 You need to practise the way you intend to perform on the exam.
HOW TO SUCCEED AT PHYSICS
 Always keep up to date.
 Try to read the notes for each lesson before the lesson. This way you are going in with a
higher initial level of understanding.
 Do as many questions as you can get your hands on. Focus on exam type questions,
 Do as many past papers as possible; you should be aiming to do a minimum of 8 - 12 trial
papers.
 Use a range of papers, you can download free papers from www.itute.com, or
http://engageeducation.org.au/
 You can join The School for Excellence and access free resources at www.TSFX.com.au
 For an alternative set of solutions to VCAA exams, use Vicphysics: www.vicphysics.org
 Ask questions of your teacher, both in class and out of class time. Come in each day with
a list of what you need to find out from your teacher.
 Only use a scientific calculator in class.
EXAM/SAC CHEAT SHEET
 You have the equivalent of 2 A4 sheets of notes.
 Make sure that all dot points are covered on your sheets.
 Have the information segregated into the different sections.
[email protected]



Physics revision 2015
6
Make sure that it is your own cheat sheet, don't try to use some-one else's.
You can put anything you like on it, but don't make the information so small that it is
illegible.
You can put some worked examples on it, maybe some sample calculations or some
sample answers to common explain type questions or to questions that you have
difficulties answering.
AT HOME EXAM PREPARATION
 You must have a timetable that is viable.
 Timetable in your interruptions. Ensure that you maintain a reasonable exercise regime. It
maintains balance, and helps you to sleep at night.
 Set out a program that has 60 min (or whatever you are used to) blocks.
 Remember, that very, very few people work best late at night or with music blaring in the
background, and this will not happen during the exam.
 Stick to the program that you have set out, and vary the tasks throughout the day. If your
timetable is impossible to maintain, then modify it to something that is achievable. You
need to get this sense of satisfaction from achieving your study goals.
 Don't try to work in long straight sessions as they become inefficient. The rate at which
material can be absorbed after a few hours drops for most people.
 Do as many past papers as possible. Instead of just giving yourself an overall
percentage, divide it up into the sections and analyse your performance.
 Discipline yourself to work on your areas of weakness. Don't write on the papers, so you
can do them many times over.
 If you don't have enough time to do a whole paper, just do part of it.
 Get another physics student to correct your answers if possible as well as correcting it
yourself.
 Make sure that you practice your reading time. It is extremely important this year!!!
EXAM PREPARATION
 Know when the exam is: Wednesday 11th November 2:00 pm – 4:45 pm
 Know what you are going to get on your exam.
Motion 25% - 30%, Electronics and Photonics ≈ 15%,
Electricity and Magnetism ≈ 25%, Light and Matter ≈ 20%, Detailed Study ≈ 15%
 Read past papers and the examiners reports to learn the style of the exam.
 Look at the dot points to see how they examine each one.
 150 marks for 150 minutes work.
 Prepare a start/finish time for each section. Leave 15 mins at the end to check over the
paper.
CHANGES TO THE EXAM
 The exam is on the entire year's work (since 2013)
 You only need to answer one detailed study (since 2013).
 You only have 15 minutes reading time to read approximately 50 pages.
EXAM DAY
 Make sure that you have had plenty of sleep. You need a clear mind, and in general,
most of what you try to cram in the night before just comes out jumbled in the exam. I
would recommend is a reading through the 2014 paper, solutions and examiners report.
 Check equipment: ruler, (preferably plastic, to make drawing lines of best fit easier),
scientific calculator (in degree mode), spare batteries for the calculator, cheat sheets,
black and blue pens and highlighter.
[email protected]
Physics revision 2015
7
READING TIME
 You have 15 minutes reading time to read the paper. This will be impossible, so you need
to read the questions that you find difficult, to ensure that you have a clear understanding
of what the question is requiring you to do.
 Check paper, by turning to back and finding the end of the paper.
 Read as many questions as is possible, carefully, to find the Physics.
 Look at all the graphs/pictures, try to guess the question, i.e. think about the question
 Read the axes of the graphs. Look for the variables on both axes, and check the units.
Make a mental note of all non-standard units
 Make sure that you use the entire 15 mins
WRITING
 Tidy up all the 'mental' notes that you made during reading time.
 Put in your start/finish times for each section, and try to stick to them.
 Get out your highlighter and start using it to pick out important information.
 Don't write in size 6 font because it is hard for the marker to read
 Don't use a light pencil because it can be difficult to read
 ONLY write on Black or Blue pen
 Only write within the box on the page
 Start your answer on the left hand side of the page, (not in the middle), in case you need
to cross it out and rewrite an answer
 Don't waste time on questions early in the paper, if you can't do them, come back to them
later
 Re-read all the questions, using the highlighter to identify key elements in the questions
 If the question is worth more than 2 marks, use the dummy principle to answer the
question, assume the marker is a dummy, spell your answer out in great detail.
 Use diagrams, worked examples etc. in explain type answers. Remember, that the
marker actually wants to give you marks, and a good diagram is always worth marks.
 Answer explain type questions in point form.
 For multiple choice questions the following technique should be used
 Don't read the answers, do the question yourself first. There is usually 1 correct
answer and 4 very good distracters
 Don't change your mind, unless you are absolutely positive that your first answer is
incorrect and that the second answer is brilliant
 Don't alter an answer by writing over it. Cross it out and write the correct answer next
to it.
PROBLEM SOLVING ON THE EXAM
 Sometimes it is difficult to work out what the question is asking, so cut out all the
peripheral information and find the physics.
 Try to remember similar questions in older papers, and answer the same way.
 Don't panic, if you don't know what a question is asking, leave it out for the moment, and
come back to it later.
 Look at the units in the answer box, for any clues
THEMES ACROSS THE PAPER
In each of the three sections of the paper there are some common elements.
Each section has a variety of styles of questions, ranging from straight forward to complex
 Substitute values into a formula
 Read information from a graph or table of values
 Interpret a diagram
[email protected]


Physics revision 2015
8
Apply information gained from a graph/table of values, to a new situation
Explain a concept, experiment or why something happens
EXAM TECHNIQUES
 Start where you want to.
 You may choose to leave the Detailed Study until last. If you have run out of time, then
multiple choice questions can be done quite quickly if necessary.
 Write start time for the beginning of each section. Allow between 20 - 30 min for each
section and 15 min at the end of exam to revise.
 Don't read the answers to the multiple choice questions until you have thought of an
answer to the question then make sure they agree with your answer.
 If you have time plan your answers.
 Expect the beginning parts of each question to be easy, so don't over complicate it.
 Make sure you are actually answering the question, have you given the response that you
were asked to?
 Don't just copy from your cheat sheet. These days the exam writers go to great lengths to
try to eliminate this. Reword your answer from your cheat sheet to fit the question.
 Check the answer is a reasonable value. Expect the answer to make sense.
LAST 15 MINUTES OF THE EXAM
 Check you have answered all questions.
 Fill in any empty spaces especially multiple-choice questions.
 Look at your significant figures and correct scientific notation. i.e. no surds.
EXAMINERS COMMENTS ON RECENT PAPERS
Written responses.
 Need to be clear and concise.
 Only give one answer, neatly cross out mistakes.
 Students should be encouraged to set out their work clearly, so assessors can follow
what they have done.
 Where an answer box has a unit printed in it, give your answer in that unit.
 Handwriting






Answer in dot point form. In particular, there is no need to restate the question in an
answer.
If question is worth 3 marks give 3 (but no more than 4) points.
'In questions worth more than 1 mark, appropriate working should be shown'. Full marks
may not be awarded where only the answer is shown, and some credit can often be given
for working even if the final answer is incorrect.
Use equations and/or diagrams when appropriate. Diagrams should be sufficiently large.
Many students lose marks from contradictions.
[email protected]








Physics revision 2015
9
Answers MUST relate to question, need a specific link to question, not just transposed
from cheat sheet.
Where values of constants are provided in the stem of the question or on the formula
sheet, students are expected to use the number of significant figures given.
Care needs to be taken when reading the scales on the axes and graphs.
Vectors should be drawn from correct position and be of an appropriate length. The
arrows representing the vectors should be drawn so that they originate from the point of
application.
Read and re-read your responses to be sure that they make sense.
It is important to show numbers substituted into formulas/equations
Answers should be simplified decimal form. Rounding off should be done only at the end,
not progressively after each step.
Students should ensure that their answers are realistic. Illogical answers should prompt
students to check their working.
Cheat sheet
 Can use an annotated worked solution to explain some questions, e.g transformers.
Include, before step-up, at step-up, after step-up, along lines, at step-down, after stepdown.
 Should contain some fully worked out solutions
 Should have a well-developed split ring/slip ring explanation
 Should have a clear explanation of the commutator in both motors and generators.
 In electromagnetic induction it is the change in flux that induces an EMF. It is not
sufficient to say a changing magnetic field. Current will be produced only if the circuit is
complete.
 Have conversions for areas.
 Include a table that identifies the formulas that apply to Photons and Matter.
 Include relationship between Intensity and sound level
 Include inverse square law
 You should always show all working, as markers look for it if answer is incorrect.
 If the question doesn't specifically state "show working" then markers go to answer in box.
 If specifically stated, you need to show the formula and your substitution to get full marks
 "Show that.." questions are carefully checked for fudging.
Calculators
 Students need to be familiar with the operation of the scientific calculator they will use in
the exam. In particular, they must ensure that it is in scientific mode and that it does not
truncate answers after one or two decimal places.
 Rounding-off calculations should be done only at the end, not progressively after each
step.
 Answers should be simplified to decimal form.
 Where values of constants are provided in the stem of the question or on the formula
sheet, students are expected to use the number of significant figures given.
 Use of calculators, don't round off too early in calculations.
[email protected]
Physics revision 2015
10
Areas of concern
 Application of vectors in Newton's second law and the constant acceleration formulas
 Connected bodies
 Energy conversion and conservation (particularly in springs)
 The conversion of units; for example, from nanometre to metre
 More complex projectile motion
 Apparent weightlessness
 Modulation
 Understanding of series circuits
 Hand rules in electromagnetism. You need to specify exactly what the thumb, fingers,
palm etc. are representing. There are MANY 'hand rules', and you need to be ultraspecific.
 Confusion between Faraday's law and Lenz's law
 Understanding of flux and EMF, direction of induced current
 Lots of issues with use of 'areas' in electricity.
 Be prepared for path difference, and Photo-electric effect questions.
 The distinction between matter and electromagnetic radiation, and which formulas can be
applied to each, as well as which value of Planck's constant to use
 In light, in order for diffraction to occur the wavelength just needs to be of the same order
of magnitude as the gap
 In the multiple choice questions answer all questions, find the best answer, don't put two
answers, unless it says one or more answers AND you are positive that all of your
answers are correct
 Understanding of the photoelectric effect
 Any calculated value for Planck's constant will be different to the expected value, but of
the right order of magnitude
 Electron energy levels diagrams and associated emissions and absorptions
 How the wave nature of matter can explain the electron energy levels
 Students should be able to correctly spell key Physics terms.