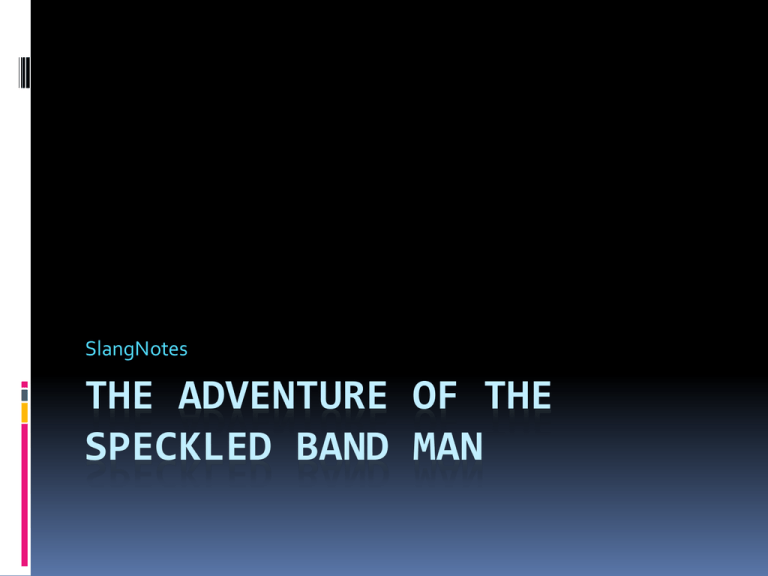 SlangNotes
THE ADVENTURE OF THE
SPECKLED BAND MAN
Characters
 Sherlock Holmes- The main detective who does all the thinking,
planning and discovering
 Watson- Sherlock's side man who assists with solving crimes.
 Helen Stoner- One of the sisters who is engaged. She comes to
Holmes regarding the sound of a bell and the death of her sister.
 Julia Stoner- The other sister who is killed after she hears the
hissing sound.
 Dr. Roylott- The step-father of the girls who is responsible for
killing Julia stoner because he didn't want them to have the
money from their mother's will.
Plot
 Another client goes to see Holmes one morning. Her name is Helen
Stoner and she lives with her step-father Dr. Roylott. He is the last
relative of a great family. Helen's mother died and the inheritance is
next in line for her and her sister. If either of them married, their
step father would be struggling financially.
 Helen's sister Julia is getting engaged and she explains that she
can't sleep because there is a whistling sound that is disrupting her
sleep. Helen dismisses it as nothing, but a week later she hears a
terrible scream coming from her sisters room. She finds her on the
floor and before her death she yells "It was the band, the specked
band". No one can figure out who could have killed Julia because the
room was locked up and there was no way in or out.
Plot (Continued)
 Two years pass and this time Helen is getting engaged. Her step
father Dr. Roylott insists that she moves into her sister's room so
that she can have more space to prepare for the wedding. That night
she hears the same whistling sound, so she stays awake the whole
night and visits Holmes in the morning.
 After explaining her situation to Holmes and Watson, they agree
that they will stop over there to observe the surroundings. Moments
later Dr. Roylott says that he'll be sorry if he gets involved.
 Holmes and Watson go over that night and notices a ventilator
connecting Helen's room and Dr. Roylott's room. Holmes also finds a
bell-rope that does not ring, and a locked safe. Holmes tells Ms.
Stoner to go to bed early that evening. She sleeps in the other room
so that noting will disrupt her sleep.
Plot (Continued)
 Holmes and Watson occupy the room that the hissing sound was
previously heard in Miss stoner's room. They hear a low hissing
sound and as soon as they hear it they hit the bell. Shortly after, a
terrible scream is heard coming from Dr. Roylott's room. Holmes
and Watson rush in there and find Dr. Roylott lying dead on the floor.
He has a yellow speckled band around his forehead that signifies
that a deadly Indain Swamp Adder snake bit and killed him.
 When the bell rung, the snake followed the sound of the bell and
attacked Dr. Roylott. If Dr. Roylott had rung the bell in his room, then
the bell would have sounded in Holmes' room and they snake would
have bit him. Holmes taps the snake again and it bites Dr.Roylott
again. Holmes says that his death will have no effect on his
conscience.
Themes (This Story)
 Vulnerability- Women are extremely vulnerable in the mysteries.
Helen Stoner had the ability to choose her fate by coming to Holmes
and Watson. If she hadn't come, she would have likely been killed
just like her sister.
Themes (Other Stories in Book)
 Cunningness and Cleverness: Canon Dolye emphasizes Holmes's
incredible ability to solve crimes. He explains how Holmes can easily
draw correct conclusions with minimal facts. Through Watson, the
narrator even says "Holmes was I take it, the most perfect reasoning
and observing machine that the world has seen". Holmes even gets
to show off how well he notices details on the clients as they come
in.
 Weakness : Crime is typically committed when a person experiences
moral weakness. Giving into temptation, greed, desire for revenge.
Doyle constantly writes about family fortunes, inheritance,
reputation and social status.

Justice and Judgment: Holmes is a private detective and he does not
have to obey the laws the police do. He makes his decisions based
on how he feels at the time..makes snake bite Mr.Roylott again.