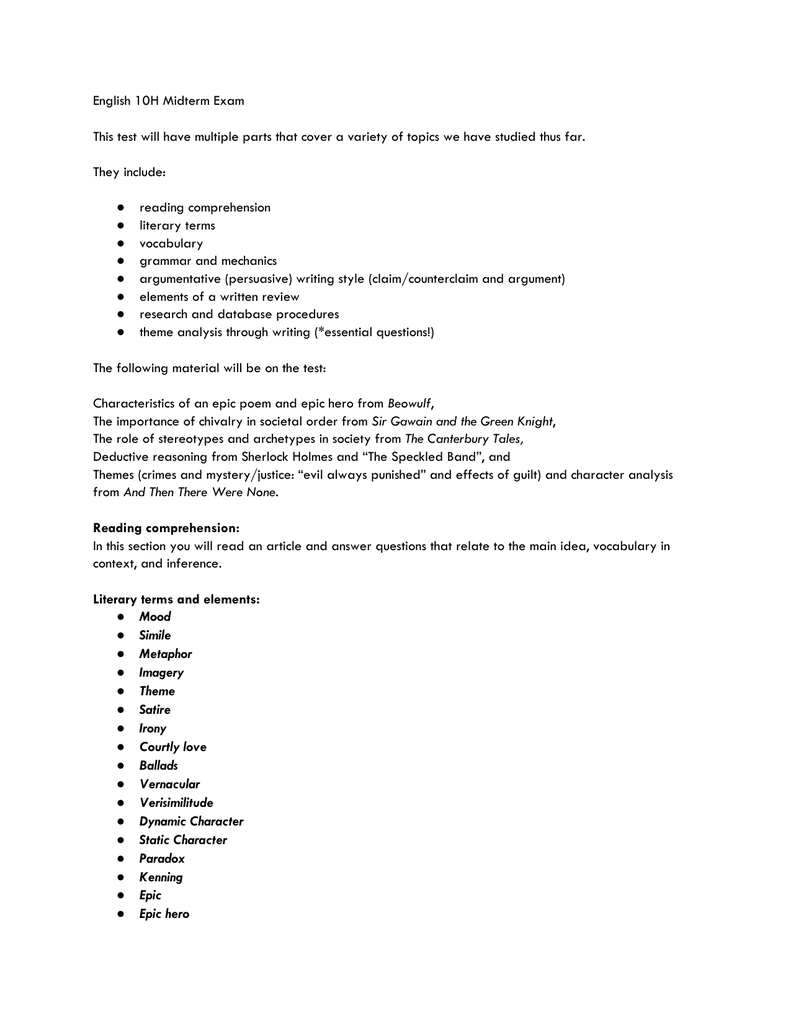 English 10H Midterm Exam
This test will have multiple parts that cover a variety of topics we have studied thus far.
They include:
●
●
●
●
●
●
●
●
reading comprehension
literary terms
vocabulary
grammar and mechanics
argumentative (persuasive) writing style (claim/counterclaim and argument)
elements of a written review
research and database procedures
theme analysis through writing (*essential questions!)
The following material will be on the test:
Characteristics of an epic poem and epic hero from Beowulf,
The importance of chivalry in societal order from Sir Gawain and the Green Knight,
The role of stereotypes and archetypes in society from The Canterbury Tales,
Deductive reasoning from Sherlock Holmes and "The Speckled Band", and
Themes (crimes and mystery/justice: "evil always punished" and effects of guilt) and character analysis
from And Then There Were None.
Reading comprehension:
In this section you will read an article and answer questions that relate to the main idea, vocabulary in
context, and inference.
Literary terms and elements:
● Mood
● Simile
● Metaphor
● Imagery
● Theme
● Satire
● Irony
● Courtly love
● Ballads
● Vernacular
● Verisimilitude
● Dynamic Character
● Static Character
● Paradox
● Kenning
● Epic
● Epic hero
Vocabulary
●
●
●
●
●
●
●
●
●
●
●
●
●
●
●
●
●
●
●
●
daunting
dwindle
incensed
unscathed
wield
insatiable
affliction
writhing
cowering
loathsome
deduction
haggard
dissolute
vagabond
morose
amiable
averse
delirium
sinister
insolence
Grammar and mechanics
●
●
●
●
●
●
●
coordinating conjunctions
commas
semicolons
conjunctive adverbs
phrases
dependent clauses
dependent markers
Research Skills
 Using the database
 Plagiarism
 MLA format—what comes first?